If you've driven to Las Vegas from Los Angeles or San Diego, you've passed by the abandoned Lake Dolores Waterpark.
Derelict buildings on the side of the highway on the way to or from Las Vegas are a common sight, so you probably didn't give it much thought.
After all, what more could there be?
Surprisingly, quite a lot.
One set of ramshackle buildings belongs to Lake Dolores Waterpark, an easy day trip from Las Vegas.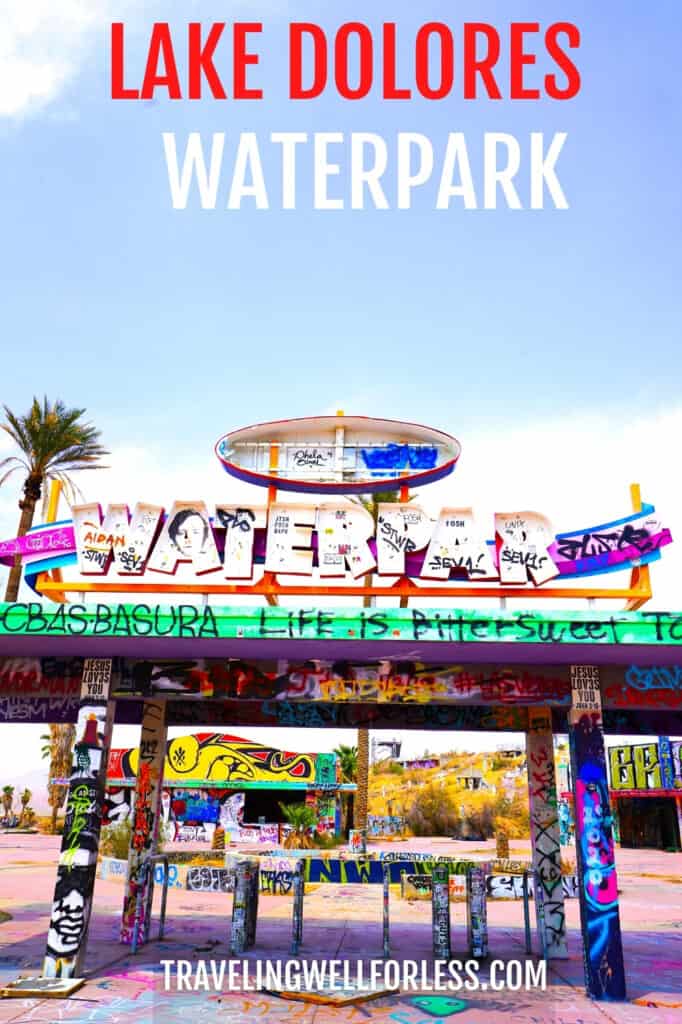 History of Lake Dolores
The abandoned Lake Dolores Waterpark was once the flourishing 273 acre Lake Dolores Resort RV campground and Rock a Hoola Water Park.
Now, it sits in ruins.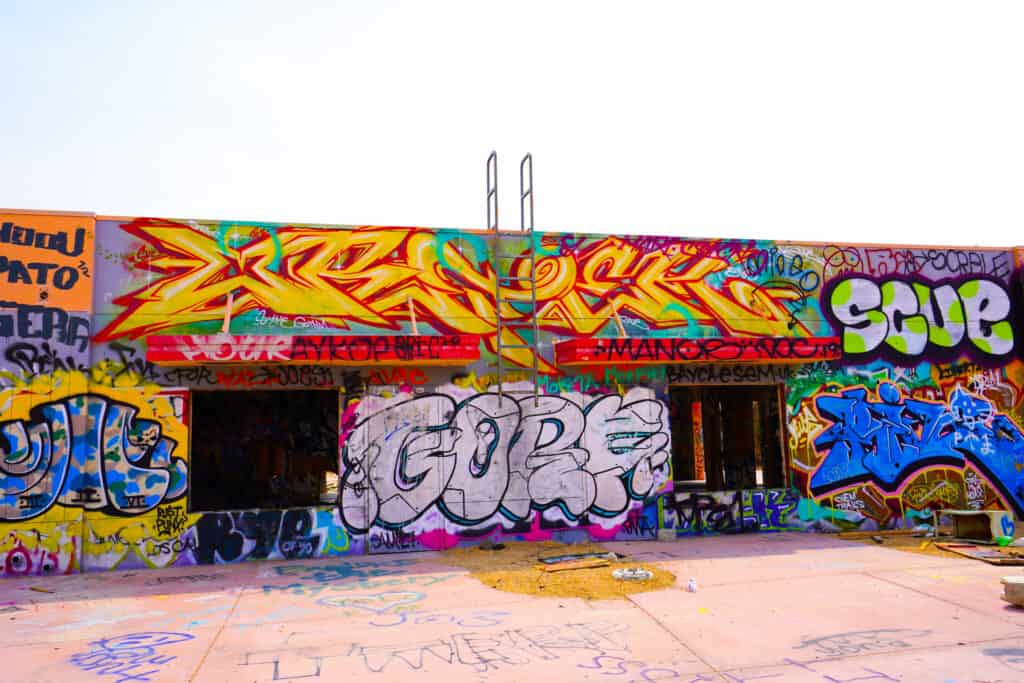 A playground for the urban explorer, skateboarder, tagger, and anyone else brave enough to check out the graffiti painted buildings.
Pro-tip: Lake Dolores Waterpark is private property.
Lake Dolores Waterpark was built by Bob Byers in 1962 as a place for his extended family to gather. The man-made lake was named after his wife, Dolores.
Byers added waterslides, ziplines, and other features to the park and opened it to the public. For two decades it was the hot spot.
In the 90s Beyer sold Lake Dolores Waterpark to an investment group who modernized the park, added memorabilia from the 1950s and 1960s, and renamed it Rock a Hoola Waterpark.
Rock a Hoola had a few good years until an off-duty employee was injured and won a $4.4 million lawsuit, forcing the park into bankruptcy.
The court gave the park back to Dolores Byers who then sold it to another investment company. After renovations, the waterpark reopened as Discovery Waterpark in 2002. But it couldn't stay in business and closed in 2004.
In March, the San Bernardino County Board of Supervisors approved a plan to restore Lake Dolores. Investors hope to reopen by 2023.
How to Get to Lake Dolores Waterpark
Lake Dolores Waterpark is located at 72 Hacienda Road, Newberry Springs, CA 92365
From the 15 North heading to Vegas, you exit Minneola Road, turn right. Then you turn left on Yermo Road. And turn Left on Coyote Lake Road. Drive a couple of miles and it will be on the left hand side.
From the 15 South leaving Las Vegas, you'll exit Harvard Road and turn right. Turn left on Hacienda Road. Drive a couple of miles and the park will be on your right.
Would you explore the abandoned Lake Dolores Waterpark?
Comment, tweet, or share this post.
Get the best credit card signup bonuses.
Follow us on Twitter | Facebook | Pinterest | Instagram | YouTube
Got a question? Or want help, suggestions, travel tips, learn how to travel for free, find out about travel deals, and maximize your miles and points? Use the subscription box below to sign-up and get post updates by email.
Traveling Well For Less has partnered with CardRatings for our coverage of credit card products. Traveling Well For Less and CardRatings may receive a commission from card issuers.
---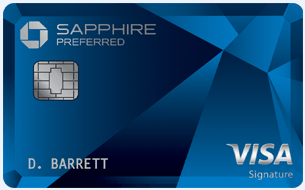 The Chase Sapphire Preferred is the best card for beginning travel hackers. It is the first card you should get to start traveling for free because the welcome offer is 100,000 points after spending $4,000 in the first three months.
My favorite perks about this card are earning 2X points on travel and dining, no foreign transaction fees, and transferring points to 13 airline and hotel partners like Hyatt, United, and Southwest.
---
---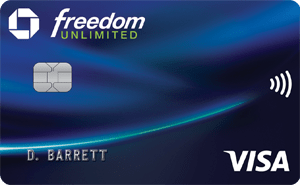 The
Chase Freedom Unlimited
is one of my favorite cards for earning cash back card and travel rewards.
 It offers a
welcome offer of $200
after spending $500 in the first three months.
My favorite perks about this card are earning
5% cash back at grocery stores the first 12 months (up to $12k)
,
unlimited 1.5% cash back on all purchases
and
no annual fee
. When paired with cards like the
Chase Sapphire Reserve
, you can use your points to travel for free.
Hey, great article! We're thinking of making the trek out there in April to take some cool pictures. Anything we should be on the lookout for? Did you run into any kind of security or have any pointers for a bunch of first-timers?
Thursday 15th of April 2021
Hi Jeremy,
Thanks, glad you enjoyed the article. Watch out for snakes. We did not run into any security. But we got there relatively early in the am, maybe 7 am or so.
Saturday 9th of January 2021
I had heard of this place a few times, and now that I read this, I find it even more appealing to go take a look. I used to travel a lot to California and can´t believe I never went. Also, seems like a very instagram photoshoot place!
Saturday 9th of January 2021
Hi Trisha,
It's definitely very Instagrammable. 😉
Saturday 9th of January 2021
How cool!!! Abandoned places are so fun to explore. Lucky that you got to go there before it's refurbished. I hope they leave some of the street art - I love how vibrant and colorful it is!
Saturday 9th of January 2021
Hi Jennifer,
They sure are. Agreed, I too hope they can keep the street art.
Saturday 9th of January 2021
It seems the park had a bad fate that it kept reopening and shutting down. I would totally be interested in visiting the abandoned park. I am intrigued by the cool graffities. Have not read about many abandoned parks, so this is really going to be intriguing.
Saturday 9th of January 2021
Hi Shreya,
The street art was really impressive. It would be great if they could keep it but there might be too much damage to some of those buildings.
Friday 8th of January 2021
I don't recall seeing the Lake Dolores Waterpark when we drove from Las Vegas. Good to know that some people are still enjoying this deserted spot. And that new investors have been found to open the park again.
Saturday 9th of January 2021
Hi LD,
Unless you know what you're looking for it's easy to miss given how many other abandoned buildings there are on the 15.