The Cathay Pacific The Pier First Class Lounge at the Hong Kong Airport was recently renovated. And with almost a seven hour layover I decided to do a Cathay Pacific lounge hop. On the same day I visited Cathay Pacific's The Pier, The Wing, The Bridge, and The Cabin lounges at the Hong Kong Airport.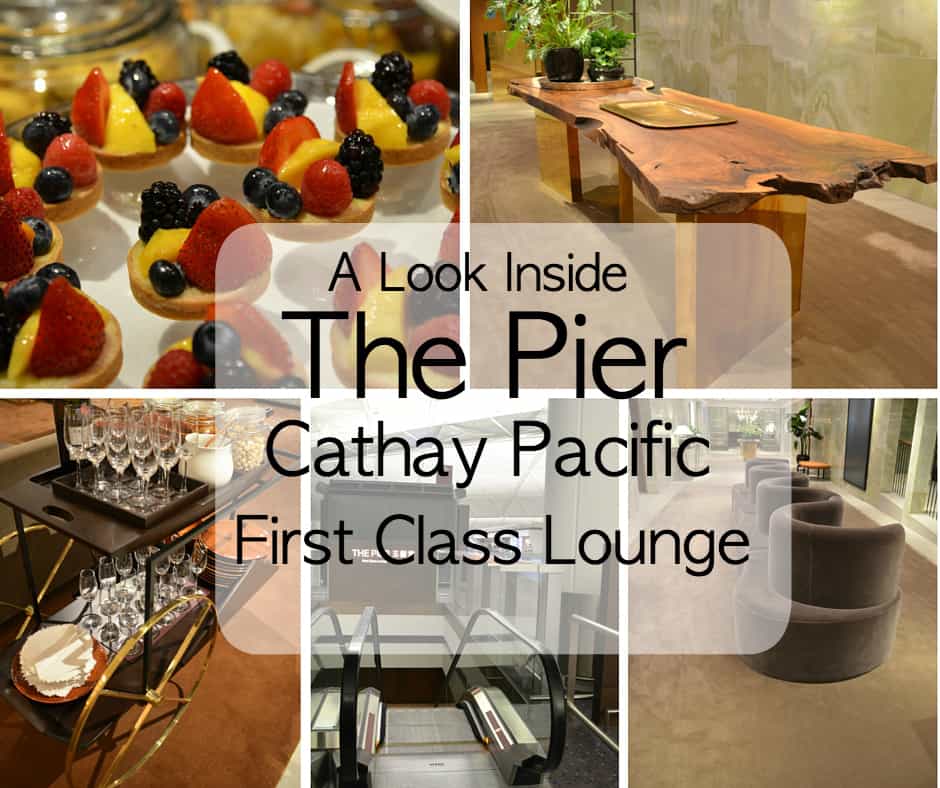 I've never wanted to trek all the way to Gate 63 to the Cathay Pacific The Pier First Class lounge. Because Cathay Pacific flights from Hong Kong to Los Angeles leave out of Gates 1 to 4.
So when I travel through the Hong Kong airport, I relax in The Wing, First Class lounge. This was my first visit to The Pier.
This is a very photo heavy post. The rest of the shots I took have been uploaded to my Smugmug account.
I use Smugmug to store my photos because you get unlimited storage for really cheap. The majority of my albums are private. That's because I only make them available once I've written my post.
You can also watch this video I made of the Cathay Pacific The Pier First Class Lounge.
The Pier First Class Lounge
Admission to The Pier, First in Hong Kong is open to:
Cathay Pacific and Dragonair First Class passengers and one guest (including people traveling on award tickets)
Marco Polo Diamond passengers and two guests flying on Cathay Pacific, Dragonair, or oneworld airlines
Oneworld Emerald passengers and one guest flying on Cathay Pacific, Dragonair, or oneworld airlines
Given that it was recently renovated, it's worth hoofing it out there to see the improvements. I ended up liking The Pier First Class lounge so much, I spent about four hours there.
You have to take the Automated People Mover (APM) aka Skytrain from Gates 1-32 to Gates 33-80. And it only goes one way. So you can ride there, but you have to walk back.
So plan accordingly. Especially if you want to board your flight early for photos. And then from there, you still have quite a walk to get to the Cathay Pacific The Pier First Class lounge. But it's worth it.
You can take the elevator or escalator down to the lounge.
As you get off the escalator (or out of the elevator), the customer service desk is to your immediate right. Because it was fully staffed with four Cathay Pacific employees working the desk I didn't take a photo.
After checking in, you'll make an immediate right to find yourself in what I'm calling the "hallway."
The Bar, Pantry, and one section of the Living Room are to your left. To your right you'll find another section of the Library, the Bureau, the Retreat (includes the Showers, Day Suites, and Foot Massage), the bathrooms, and the Dining Room.
The decor in the Cathay Pacific The Pier First Class Lounge is absolutely stunning! Warms woods, rich leather, soft colors, lots of light, very welcoming, and inviting.
LOVED those wood tables. But what's up with the brass legs?
There are two monitors on opposite sides of the hallway so you can see departing flight information.
The Pantry
The Pier has a well stocked pantry. It's a serve yourself buffet of fruit, sandwiches, light snacks, and desserts.
Perfect if you want to save room for food in Cathay Pacific First Class. Or if you want to eat in the Dining Room.
There is also a vodka station and speciality coffee maker.
And if that wasn't enough, there is an entire subzero refrigerator stocked with beer, sodas, water, fruit juice, pickled fruits, and yogurt.
The Bar
You can cozy up to the marble topped bar and order a drink. Choose something from The Bar drink menu or design your own.
If you don't want to sit at The Bar, you can sit in one of the three seating areas and the servers will come to take your order. The bartenders came around frequently.
During my visit, there were maybe 40 people at the most during the busiest time with only 8 or so in The Bar area. So you'll always have a full glass of whatever you're drinking.
Because I had been there for several hours and it was getting late and chilly, I ordered a hot chocolate.
The hot milk and chocolate are served separately so you can pour and mix it yourself.
The Living Room
At The Pier you can relax in the comfort of your "own" Living Room.
You have a choice of seating types, from comfy, plush blowback chairs, to leather chairs and ottomans. This area overlooks the runway so you can get your fill of plane spotting before your flight. There's a monitor at the far end of The Living Room with flight information.
If you're traveling with friends there's a group of chairs and leather couch in "center" of The Living Room.
Care for some port and light snacks?
There are no TVs in The Pier (probably too lowbrow), but there's plenty of reading material if you find yourself without something to do.
Every inch of The Pier has been carefully thought out, including the section across from the newspaper. Why waste space and add another bookshelf when you can add leather bench seats.
Although, I can't imagine The Pier gets so crowded that no other seats are available and someone has to sit there.
The Bureau
Need to check email but forgot your laptop? Head to The Bureau where you'll find six iMacs running both OS and Windows. The Bureau is to your right after you enter the hallway.
The Dining Room
The Dining Room is on your right at the end of the hallway, past The Retreat. Check in at the host desk and you'll be escorted to your table.
I appreciated the spaciousness of the restaurant. However, it would have been nice to have more room in between the tables for your carryon bags. I left mine by my chair in The Bar, but other diners had theirs next to them.
Yeah, I was stressing a little with my bags so far away and unattended so I didn't linger long.
If you're just popping in for a quick bite you can sit at the bar. I loved the purse/bag hooks so you can hang your purse instead of having to put it on the ground.
The Dining Room at The Pier along with the other restaurants in all Cathay Pacific lounges at the Hong Kong airport are catered by The Peninsula Hotel. This was the dinner menu on October 20, 2015. The contract with the Peninsula Hotel ends on May 1, 2016. So if you haven't had their food yet, now's the time to do so.
I wasn't too hungry as I had already before my flight and during my flight. What can I say, I'm a gluten for food. Yikes. 🙂
But I wanted to try something and figured the Wonton with Noodles in Soup with Shrimp and Pork dumplings in chicken broth wouldn't be too filling.
The wontons were cooked to perfection. The wrappers were light, tender as were the shrimp and pork filling. When wontons get overcooked the wrapper is gummy and the filling is rock hard.
The Kai-lan (Chinese broccoli) added a nice crunchy texture without being tough or bitter. And the noodles were tasty.
The portion is small so you definitely want to order something else if you were looking to fill up.
I also order the Fried rice noodles with pork, Chinese sausage, spring onions, and eggs. This was much spicy than I expected.
There were so few noodles that I kept looking at the menu trying to figure out if the waiter misunderstood what I had ordered and brought me something else.
I was dying to try several of the desserts, but I was stuffed. And I had left all my things in The Bar. I probably could have gotten dessert to go, but I wanted to save room for caviar and all the other goodies in First Class on my flight.
The Retreat
The Retreat area of The Pier is where the spa and showers are located. You can get a 20 minute foot and shoulder massage at The Retreat.
Massages are by appointment and they book fast. I'd recommend that you head straight to The Retreat to book your massage as soon as you get to The Pier.
You'll be given a pager that buzzes when your masseuse is ready.
There are only two workstations so only two people can get massages at the same time. There's no privacy and both men and women get massages at the same time.
So if it makes you uncomfortable to have bare feet in front of the opposite sex, you'll want to skip it.
The seats are large, but you can't really get comfortable. The backs are too far back to sit back and soak your feet at the same time. Unless you're a giraffe with 10 foot legs.
Extra pillows behind your back would have been a good idea. The one soft pillow they had there wasn't enough to provide any support or bridge the gap between the chair and my back.
Spa services are contracted to Gentlemen's Tonic out of Mayfair. Gentlemen's Tonic is exclusively a men's line.
While I understand that the majority of Cathay Pacific's First Class guests at The Pier might be men, you'd think they'd partner with someone that offered both men's and women's products.
Also on that note, during my four hours at The Pier and roughly 40 guests total, I was one of only four women.
The massage begins with a 10-minute foot soak in comfortably hot water. There may have been Epsom salts in the water but the bowl was filled before I arrived.
Not sure if I would call it a relaxing foot massage, more of a brisk, stimulating massage.
The shoulder massage was awkward. You sit on the little stool where the massage therapist sat for your foot massage and she leans into your shoulders. No support for your back at all. They should get those upright massage chairs that the Centurion Lounge uses.
Would I do it again? No. It was enjoyable but not relaxing and I didn't like not having any back support.
The Bathroom
Across from The Retreat are the bathrooms. There are five drop sinks set in a limestone counter along with a padded bench to sit or place your bags.
The brass sink controls are motion sensitive.
The Bathroom is furnished with Aesop brand toiletries.
Standard toilets but the flush buttons are high up on the wall. I won't embarrass myself telling you how long it took me to figure out where they were. At least I didn't have to ask anyone. 🙂
And each toilet stall has it's own sink so you can wash up before you leave the toilet.
The Showers
There are 14 showers in The Pier. You have to check in at The Retreat to book a shower. There was no wait when I made arrangements for my shower.
If you forgot or didn't bring something, you can order from a list of complimentary items such as razors, combs, and shaving cream.
Each shower room is comparable to a hotel bathroom complete with a sink and decent counter area, chair, and dressing area. There's more than enough room for one person, there's probably even enough room for two people.
On the sink counter is a box of tissue and a tray of Aesop toiletries, a shower cap, cotton balls, makeup kit, and a dental set.
You can shave before or after your shower because the mirror is fog-free.
By now I had figured out how to flush these toilets.
Each shower has two heads: a rainfall showerhead and a handheld showerhead. The handheld shower head is too low to use as a regular showerhead unless you shower in the squat position.
Aesop rules The Pier. Aesop shampoo, conditioner, and body cleanser.
The Day Suites
There are eight Day Suites in The Pier.
I discovered the Day Suites after my shower, which was right before I left the lounge. 🙁
The Day Suites overlook the runway. I didn't get a chance to use them so I'm not sure if you can hear the planes or not while resting.
The beds seemed comfortable enough for 1 1/2 hours. And definitely not big enough for two people.
There's a wooden hanger, mirror, and wooden shelf for your suitcase on the left side of the Day Suite.
Conclusion
The newly remodeled Cathay Pacific The Pier First Class lounge at the Hong Kong Airport is worth the long walk. I could spend hours there and plan to do so again the next time I fly through Hong Kong.
You can save some time taking the Automated People Mover to Gate 33 and walking the rest of the way. But the APM only goes one way so you have to walk back.
The Pantry offers an assortment of food and drinks, including a vodka station, that you can serve yourself and enjoy in The Living Room.
And if you prefer something a little stronger, you can order at The Bar or wait for a server to take your order.
For a seated prepared to order meal, you can eat at The Dining Room which is catered by The Peninsula Hotel. But do so before May 1, 2016 because that's when the contract with the Peninsula Hotel ends.
What do you think of the new changes at The Pier First Class Lounge? Is it worth the walk to Gate 63? Or would you rather spend more time at The Wing?
Stay tuned for my reviews of Cathay Pacific The Wing, The Bridge, and The Cabin lounges.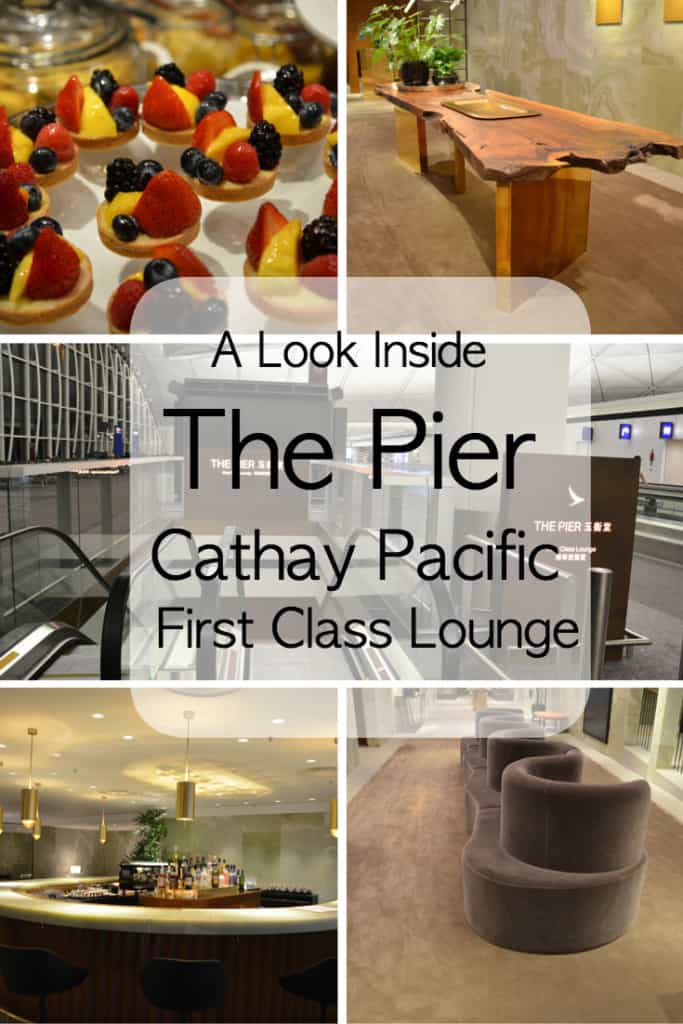 Comment, tweet, or share this post.
Get the best credit card signup bonuses.
Follow us on Twitter | Facebook | Pinterest | Instagram | YouTube
Got a question? Or want help, suggestions, travel tips, learn how to travel for free, find out about travel deals, and maximize your miles and points? Use the subscription box below to sign-up and get post updates by email.
Traveling Well For Less has partnered with CardRatings for our coverage of credit card products. Traveling Well For Less and CardRatings may receive a commission from card issuers.
---
All three Southwest Rapid Rewards® personal credit cards are offering a huge signup bonus!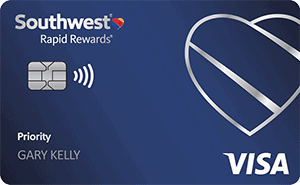 Southwest Rapid Rewards® Priority Credit Card
welcome offer is 75,000 points
after spending $5,000 in the first three months.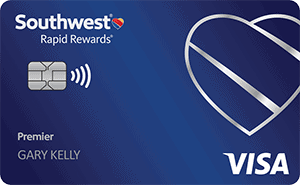 Southwest Rapid Rewards® Premier Credit Card
welcome offer is 75,000 points
after spending $5,000 in the first three months.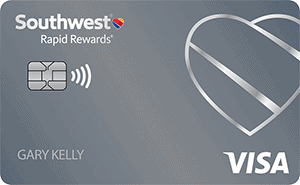 Southwest Rapid Rewards® Plus Credit Card
welcome offer is 75,000 points
after spending $5,000 in the first three months.
---
---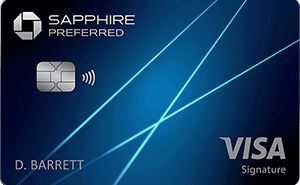 The Chase Sapphire Preferred
is the best card for beginning travel hackers.
It is the first card you should get to start traveling for free because the
welcome offer is 60,000 points
after spending $4,000 in the first three months.
My favorite perks about this card are earning 5X points on travel when booked through the Chase portal (2X if direct purchase), 3X points on dining , $50 yearly credit on hotels booked through the Chase portal, no foreign transaction fees, and transferring points to 13 airline and hotel partners like Hyatt, United, and Southwest.
---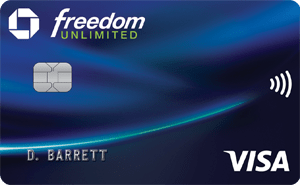 The
Chase Freedom Unlimited
is one of my favorite cards for earning cash back card and travel rewards.
It offers a
welcome offer of 3% cash back = an extra 1.5% cash back
on up to $20,000 in purchases your first year.
My favorite perks about this card are earning
6.5% cash back on travel booked through the Chase Travel Portal
,
4.5% cash back at drugstores and restaurants
,
unlimited 1.5% cash back on all purchases
and
no annual fee
. When paired with cards like the
Chase Sapphire Reserve® Card
, you can use your points to travel for free.