Searching for an inexpensive Hanoi hotel in the French Quarter? This review of the Hilton Garden Inn Hanoi will make the decision for you. Plus it's the only Hanoi hotel that offers a secret free perk that will save you money!
Thanks to the Cathay Pacific New Year's Eve mistake fare I spent a few days in Hanoi. The first night at the Hilton Garden Inn Hanoi and the last two at the Sofitel Legend Metropole Hanoi.
I was taking a chance booking the Hilton Garden Inn Hanoi, a hotel with only a review or two outside of TripAdvisor.
Staying in a place without a lot of reviews can be risky. Sometimes the gamble doesn't pay off but this time it did.
Read my Hilton Garden Inn Hanoi review to find out why this is the best budget hotel in Hanoi's French Quarter.
Hilton Garden Inn Hanoi Review Best Budget Hotel in French Quarter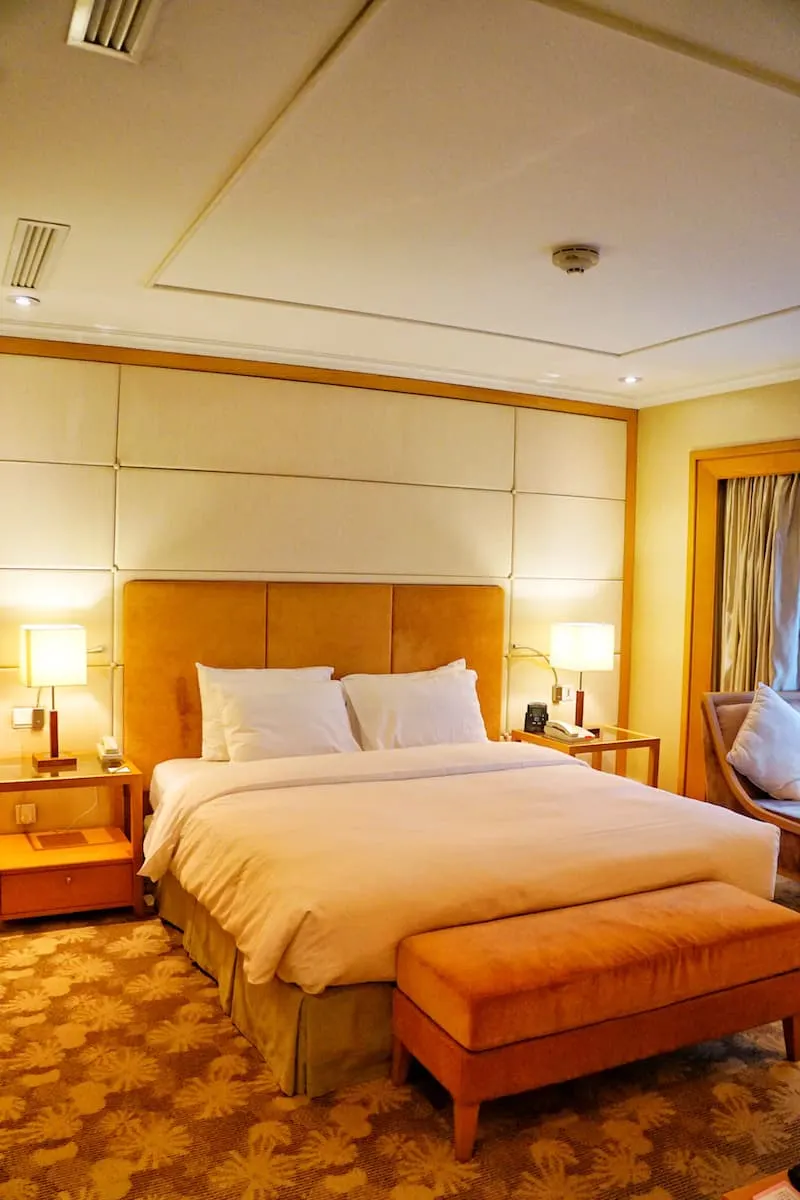 Located in the Central Business District (CBD) of the French Quarter, the Hilton Garden Inn Hanoi offers 87 modern rooms with free Wi-Fi.
Built in 2013, the 11 story hotel is one of the newer hotels in the area. Guest rooms are located on floors 3 through 10. The top floor belonging to the Santal Spa.
Pro-tip: The spa is not affiliated with Hilton so you can't charge services to your room nor earn Hilton points.
Want an outstanding massage? Go to La Siesta Spa Trendy. I had one of the best massages of my life. A 90-minute massage for 713,000 VND or $30.44. So worth every penny!
I stayed in the French Quarter because my friend was staying at the Hilton Hanoi Opera. I considered staying there but the Hilton Garden Inn Hanoi was a better value.
The Hilton Garden Inn Hanoi is comparable to a Hyatt Place. A hotel without the extras like bellhops and concierges.
Think of a Hilton Garden Inn as a base model car. You get what you want and need but don't have to pay more for things you wouldn't use.
Getting to the Hotel
Getting to the hotel from the Hanoi (NoiBai) Airport was easy. The Hilton Garden Inn Hanoi is about 45 minutes from the airport. You can take a taxi, hire a car, or take a bus. The cheapest option is the bus but it takes longer because of all the stops.
Private roundtrip transportation from Hanoi Transfer costs $24. I planned to book a different company for the return trip for comparison purposes. So I booked a one-way from the airport for $16. But I had great service from Hanoi Transfer that I used them again for the $11 return trip.
My driver was a polite young man who was waiting for me with a sign with my name. He helped with my bag and even opened the car door.
Pro-tip: The fastest way to book with Hanoi Transfer is via email.
I emailed Hanoi Transfer and booked my pickup while at the airport lounge in Danang. The flight to Hanoi was only 1 hour 20 minutes. Very impressed that they were able to arrange and have a driver waiting for me given the short notice.
Check-In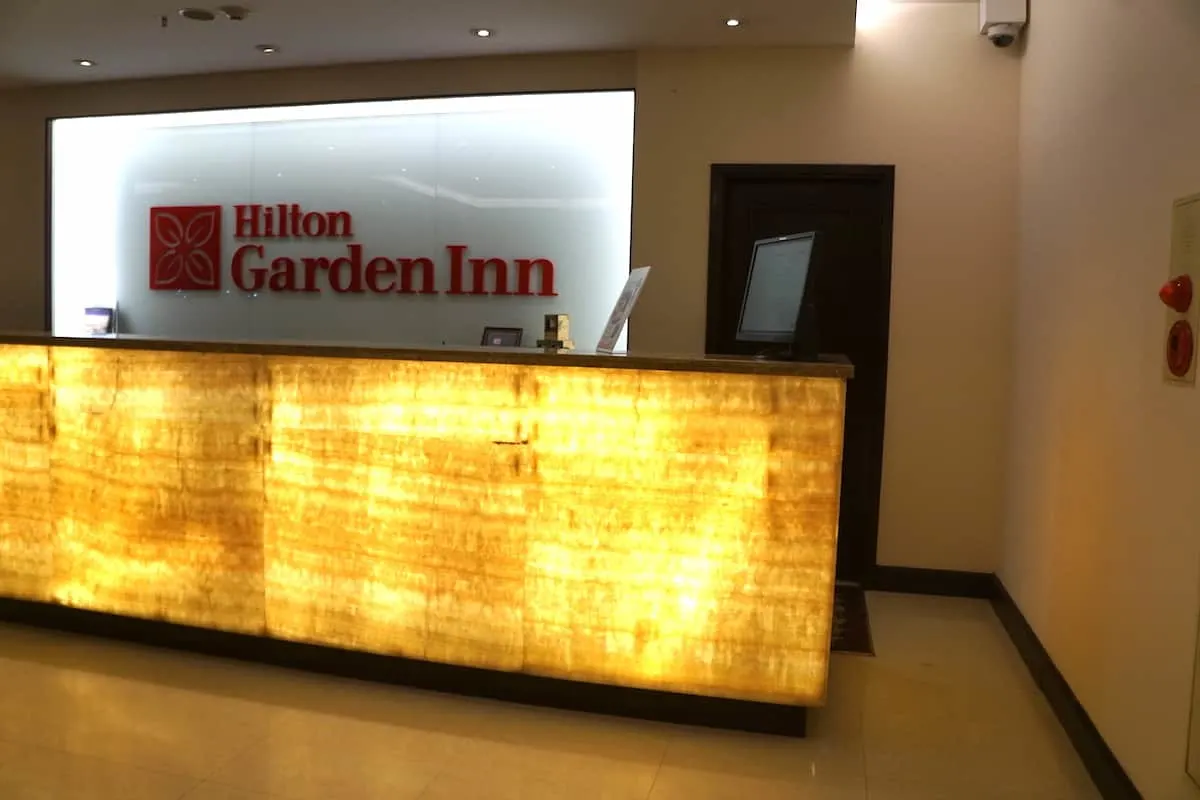 Check-in was quick and efficient. I arrived at about 4:16 PM and it wasn't very busy. They acknowledged my Hilton Honors Diamond status, offered me a chilled welcome drink, and upgraded me to a 1 bedroom King Suite.
Pro-tip: If you have any level Hilton elite status such as Gold status, the Hilton Garden Inn Hanoi will upgrade you to a suite.
King One Bedroom Suite With Living Room
Each of the six rooms on the 10th floor is a 538 square foot king one bedroom suite with living room. My suite, 1002, was near the elevator.
If you're traveling with family or just want extra space to spread out, a one bedroom King Suite is the way to go. The entire suite from the half bath, living room, bedroom to the bathroom is roomy. It's not huge but it's spacious and non-confining.
Pro-tip: The air conditioning turns off when you leave the room. So after being gone all day, it may take a few minutes for your room to cool down.
Half Bath
To the left of the room upon entering the room was a generous sized half bath. The marble countertop had a sink, box of tissue, two face cloths, and a bar of soap. But no hand towel. 🙁
The toilet included a Toto washlet. Most hotels have a hand spray vs a washlet which is more common in hotels that cater to American guests.
A nice feature was the telephone extension on the wall by the toilet. Because we've all been there – on the pot and the phone rings…
Living Room
The living room had a two seater sofa, chair, large ottoman, small glass top table, desk, work chair, TV, DVD player, and console.
The console held a small refrigerator, coffee pot, two coffee mugs, two glasses, coffee, tea, and an ice bucket.
Having an empty fridge to chill water bottles and other beverages is a great perk in a city like Hanoi where it can get hot.
Behind the TV was a surge protector power strip with two AC outlets, an ethernet connection, and a USB port.
The desk was medium sized, large enough to hold a lamp, telephone, computer modem, two bottles of water with room for a laptop and some paperwork.
Pro-tip: The internet slowed significantly after 8:30 PM. The other guests must have returned to their rooms and started checking Facebook. 🙂
Closet
The closet is in the living room along the half bathroom wall.
Before the closet is a builtin luggage rack with drawer and slanted pull out shoe rack.
Inside the closet were a laptop-sized safe, clothes hangers, two sets of slippers, and two more drawers.
The last door contained an ironing board, iron, and another clothes rack.
Bedroom
The bedroom is roomy and you can walk around the bed without stumbling or having to turn or angle your body. There are at least three feet of clearance on each side of the bed.
The King Serta Suite Dreams bed with 250 thread count sheets was so comfortable. A good thing but unfortunate when I don't have time to lounge around and relax in bed.
All the rooms have a Serta bed and 250 thread count sheets. So whatever room type you book, you'll enjoy a great night's sleep. And if you can't sleep and want to read, each side of the bed has a reading light.
Two glass top bedside tables flanked the bed. Each had a drawer and space for storage. The one closest to the window had a lamp, clock, and telephone. While the table nearest the bathroom had a lamp and telephone extension.
An ottoman padded bench was at the foot of the bed. This makes it easy to sit down and take off your shoes.
By the window was an armless chair for watching TV.
The TV was along the wall across from the bed. Next to this was a second desk that functioned as a vanity.
Bathroom
The bathroom design feature to make the room look larger is the one area where some people may have an issue. There's a glass window separating the bedroom and bathroom.
But there are closable blinds. So if you're traveling with someone or want privacy, you don't have to provide a peep show.
There's a single sink large marble countertop with Crabtree & Evelyn toiletries.
Unlike the half bath, there isn't a washlet in the full bath but there's a telephone extension.
The other off thing about the bathroom is the towel rack. Instead of being near the shower and/or bathtub, it's next to the toilet. I'd understand the towel placement if there was a washlet but there isn't. I think it's more that there wasn't any other place to put it.
Pro-tip: The washcloths were super thick but the hand and body towels were very thin. That small detailed reminded me that this was a value priced hotel.
The bathroom had a large step up glass shower with rainwater showerhead, separate handheld, and a soaking tub.
Not your typical tiny shower where you have to worry about knocking your elbows on the wall. At the Hilton Garden Inn, two people can fit in the shower with room to spare.
As in many other countries, except the US, the tub included a handheld shower nozzle.
Water pressure was perfect and it didn't take too long for the water to heat up.
View
My room overlooked the front of the hotel.
Fitness Center
The fitness center is open 24 hours. It's not very big, a couple of treadmills, elliptical, bench, free weights and a few other pieces of equipment. But it's air conditioned so you can get your work out in without dying of heat stroke.
Laundry Room
The laundry room is the Hilton Garden Inn Hanoi's secret perk that no one knows about. Now you do…
Located on the 10th floor, it's free for hotel guests. Yep, free to wash and dry. You provide the soap.
How cool is that! I didn't have to use my Scrubba to wash my clothes. This is a great feature for families, if you're visiting Hanoi during the hotter months, or are staying for a week or more.
Pavilion Pantry Market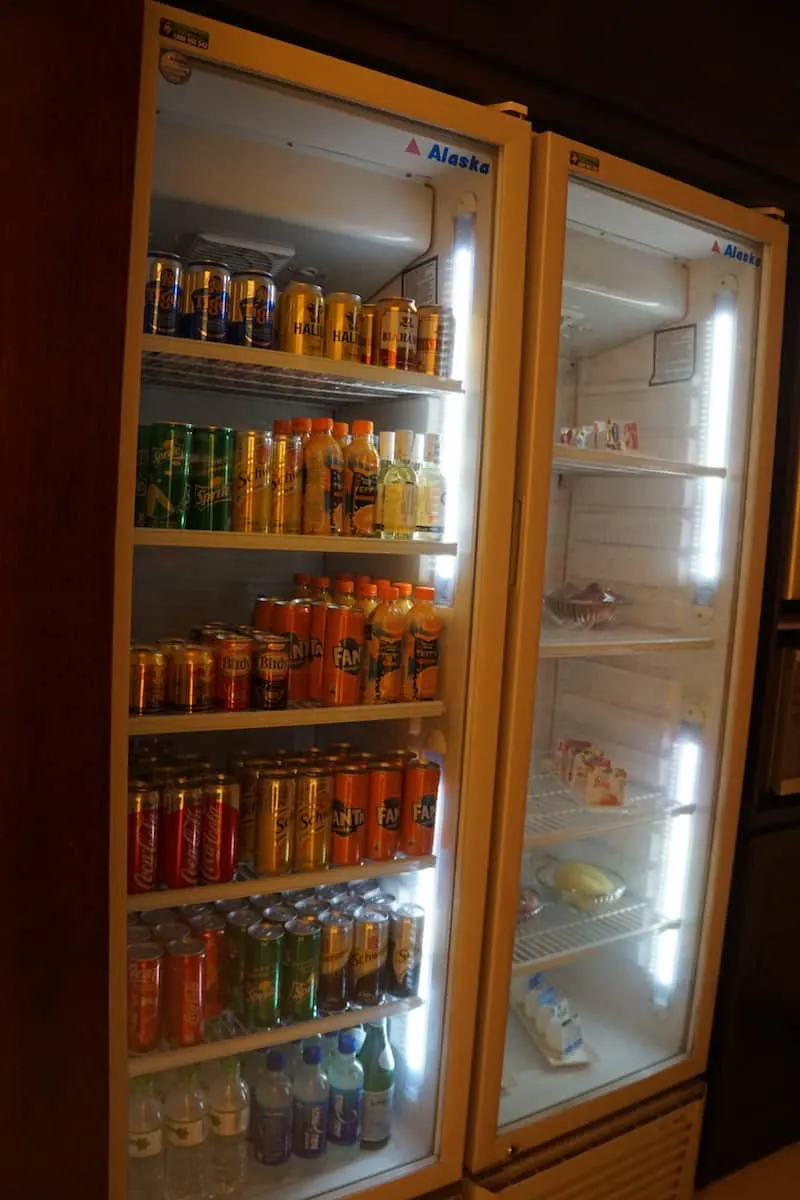 Open 24 hours you can pick up essentials and snacks in the Pavilion Pantry Market located in the lobby.
Business Center
Located in the lobby across from the front desk, the business center has a computer, printer, and copy machine available for use.
There are also empty desks for laptop users.
Food
The Garden Bar
After checking in, dropping off my luggage, taking photos and video of my room, I was hungry. Too hungry to go out so I ate at the hotel bar/restaurant.
The Hilton Garden Inn Hanoi's on-site bar, The Garden Bar, is open from 10 am to 10 pm. On the same level as the lobby, if you sit by the window you can people watch.
Be sure to check out the bar specials. They had a glass of Sapporo beer and snack (choice of a cheese plate, chicken wings, beef skewers, or fish & chips) for 130,000 VND or $5.55.
The Heart of the Garden special included a Caesar salad with grilled chicken, grilled Norwegian Salmon, creme brulee, and tea or coffee for 299,000 VND or $12.76.
I ordered the grilled steak baguette: grilled rump steak on a crispy baguette served with fries and a side salad for 215,000 VND or $9.18.
The food was good and hit the spot. I was able to go to sleep with a full belly. 🙂
Later back in my room I realized that it cost more to eat in the restaurant than ordering room service. 🙁
Had I ordered the same item from room service the price was 185,000 VND or $7.90.
Pro-tip: Menu prices in Hanoi and other cities in Vietnam includes taxes and tip.
The Garden Grille
If your room includes breakfast at the Hilton Garden Inn Hanoi you'll want to stop by The Garden Grille on R floor. Open from 6 am to 10 am (10:30 am on Saturday and Sunday), the all you can eat buffet serves a variety of dishes.
There's no way you'll walk away hungry. Everything from fresh fruits, salad, pastries, and cereals. American breakfast items such as bacon. Asian selections like dim sum, noodles, and pho.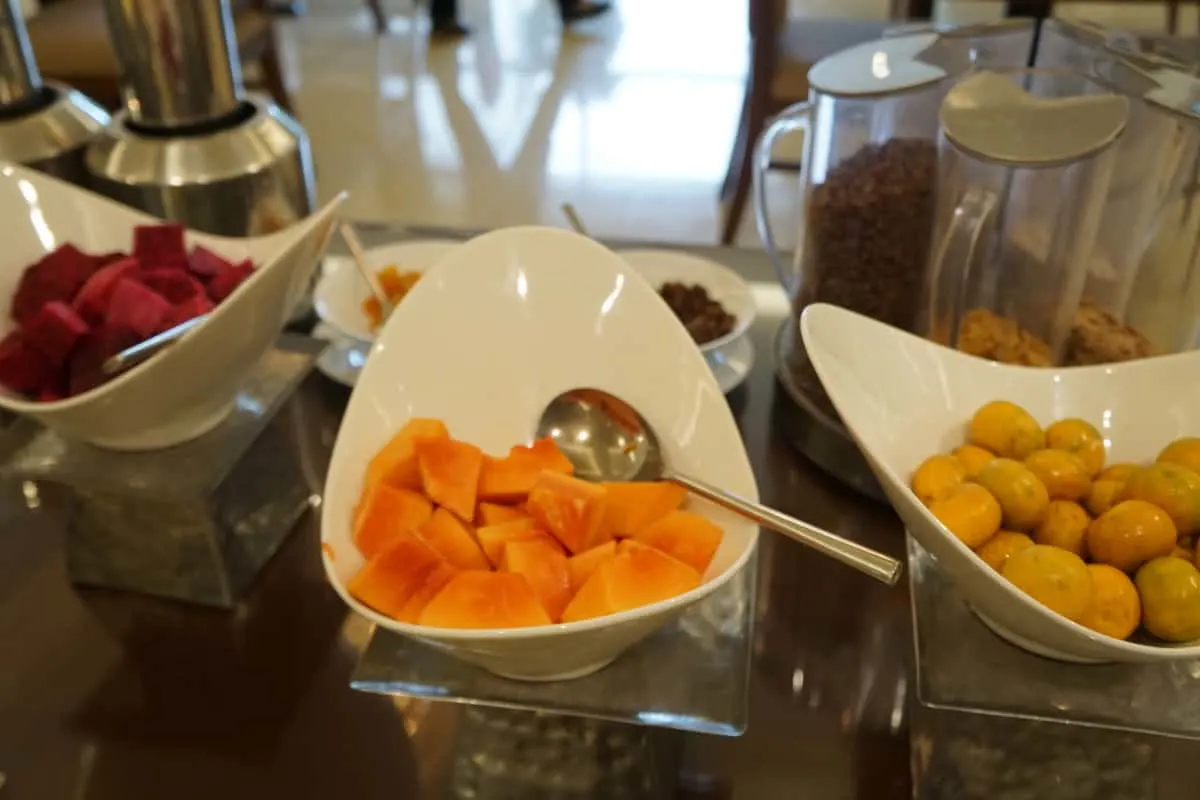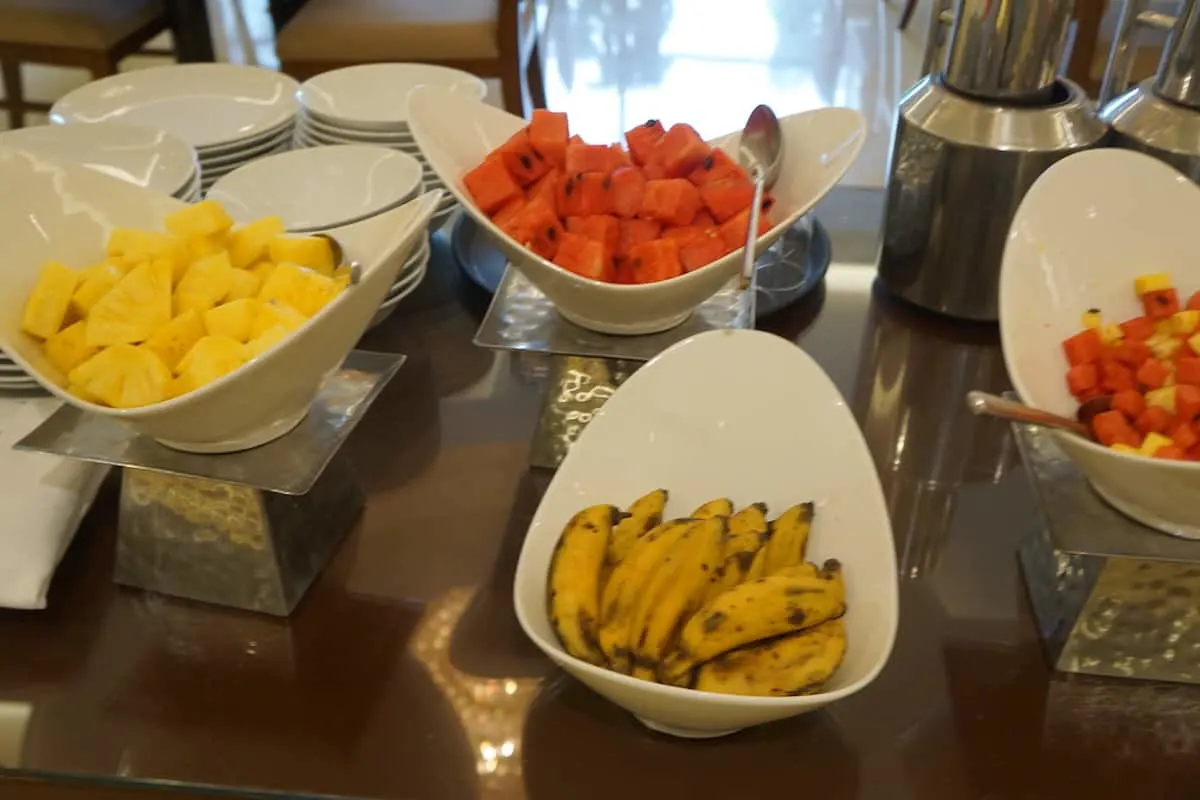 There's even a made to order egg station.
Service was fantastic. The friendly servers were quick to remove plates and were eager to please. The chef even came over to see if I wanted a bowl of pho.
Use Points or Pay Cash
Hilton stopped using a traditional award chart instead they use dynamic flexible pricing. A free night at a Hilton hotel can cost 5,000 points to 95,000 depending on the hotel category (which they no longer use).
A free night at the Hilton Garden Inn Hanoi can cost as little as 10,000 points. Because hotel rooms are inexpensive and I'm using my points for another trip, I paid cash.
You should do what works best for you. Hilton points are easy to earn if you have cards like the card_name and card_name.
Hilton Garden Inn Hanoi
20 Phan Chu Trinh
Hoan Kiem, Hanoi
84 24 3944 9396
Check rates and read reviews | Hilton.com | TripAdvisor
Things to Do & See Nearby
You can't beat the location of the Hilton Garden Inn Hanoi. You can easily walk to the Hanoi Opera House and Hoa Lo Prison.
The Old Quarter, Hoan Kiem Lake, and Ho Chi Minh Mausoleum are a further but doable walk.
Conclusion
Hope you enjoyed my review of the Hilton Garden Inn Hanoi. It offers a budget-friendly value without sacrificing air conditioning and Wi-Fi.
At only 10,000 Hilton points, it's a great redemption for award nights. But be sure to check the cash rate because it could be worth paying for your stay.
Close to major attractions and with free self-service laundry the Hilton Garden Inn Hanoi should be your first choice when staying in Hanoi.
Here's how to get a Vietnam visa.
Would you rather use points or pay cash for your hotel?
Comment, tweet, or share this post.
Get the best credit card bonuses.
Follow us on Twitter | Facebook | Pinterest | Instagram | YouTube
Got a question? Or want help, suggestions, travel tips, learn how to travel for free, find out about travel deals, and maximize your miles and points? Use the subscription box below to sign-up and get post updates by email.
Traveling Well For Less has partnered with CardRatings for our coverage of credit card products. Traveling Well For Less and CardRatings may receive a commission from card issuers.
---
You can earn 75,000 points from all three personal Southwest cards: Southwest Rapid Rewards(R) Priority Credit Card, card_name, and card_name when you spend $3,000 on purchases in the first 3 months.
---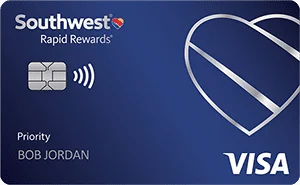 My favorite perks about this card are earning 4 upgraded boarding each year, 3X points on Southwest purchases, 2X points on internet, cable, phone, select streaming, ride share, hotel and car rental partners , $75 yearly Southwest credit, and no foreign transaction fees.
---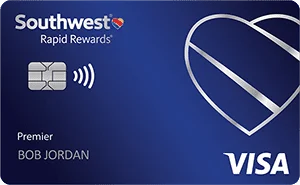 The is an easy way to fly free. You can earn 75,000 points after spending $3,000 in the first three months.
My favorite perks about this card are earning 2 EarlyBird Check-Ins each year, 3X points on Southwest purchases, 2X points on internet, cable, phone, select streaming, ride share, hotel and car rental partners, and no foreign transaction fees.
---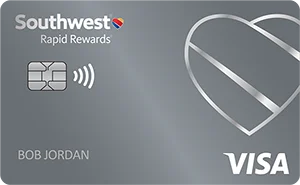 The
card_name
is the least expensive way to earn a Companion Pass from a credit card.
You can earn 75,000 points
after spending $3,000 in the first three months.
My favorite perks about this card are earning the 2 EarlyBird Check-ins every year, 2X points on Southwest purchases, internet, cable, phone, select streaming, ride share, hotel and car rental partners, and the lowest annual fee among all the Southwest credit cards .
---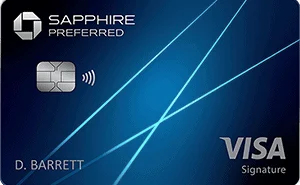 card_name
is the
best card to get started in the world of miles and points.
It is the first card you should get to start traveling for free because the
welcome offer is 60,000 points
after spending $4,000 in the first three months.
My favorite perks about this card are earning 5X points on travel when booked through the Chase portal (2X if direct purchase), 3X points on dining, $50 yearly credit on hotels booked through the Chase portal, no foreign transaction fees, and transferring points to 13 airline and hotel partners like Hyatt, United, and Southwest.
---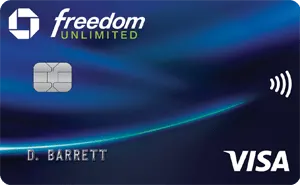 The
card_name
is one of my favorite cards for earning cash back card and travel rewards. It offers a
welcome offer of unlimited matched cash back
on all your purchases your first year.
My favorite perks about this card are earning
5% cash back on travel booked through the Chase Travel Portal
,
3% cash back at drugstores and restaurants (including delivery and takeout)
,
1.5% cash back on all other purchases
and
no annual fee
. When paired with cards like the
card_name
, you can use your points to travel for free.