Last week I showed you how to get into the Miami Airport lounges. What if you aren't flying through the Miami airport? It's helpful to know how to get into every airport lounge. Here are some tricks and tips on how to get airport lounge access.
How to Get Into Every Airport Lounge
Have you walked past those double doors at the airport? Sometimes they're frosted glass or solid wood.
Often they're restricted to access to a select few passengers.
Passengers who've paid for the privilege in one form or another.
But no longer.
From being a frequent flyer, buying a day pass, to having the right credit card, here are all the ways you can get into an airport lounge.
Book a First Class or Business Class Ticket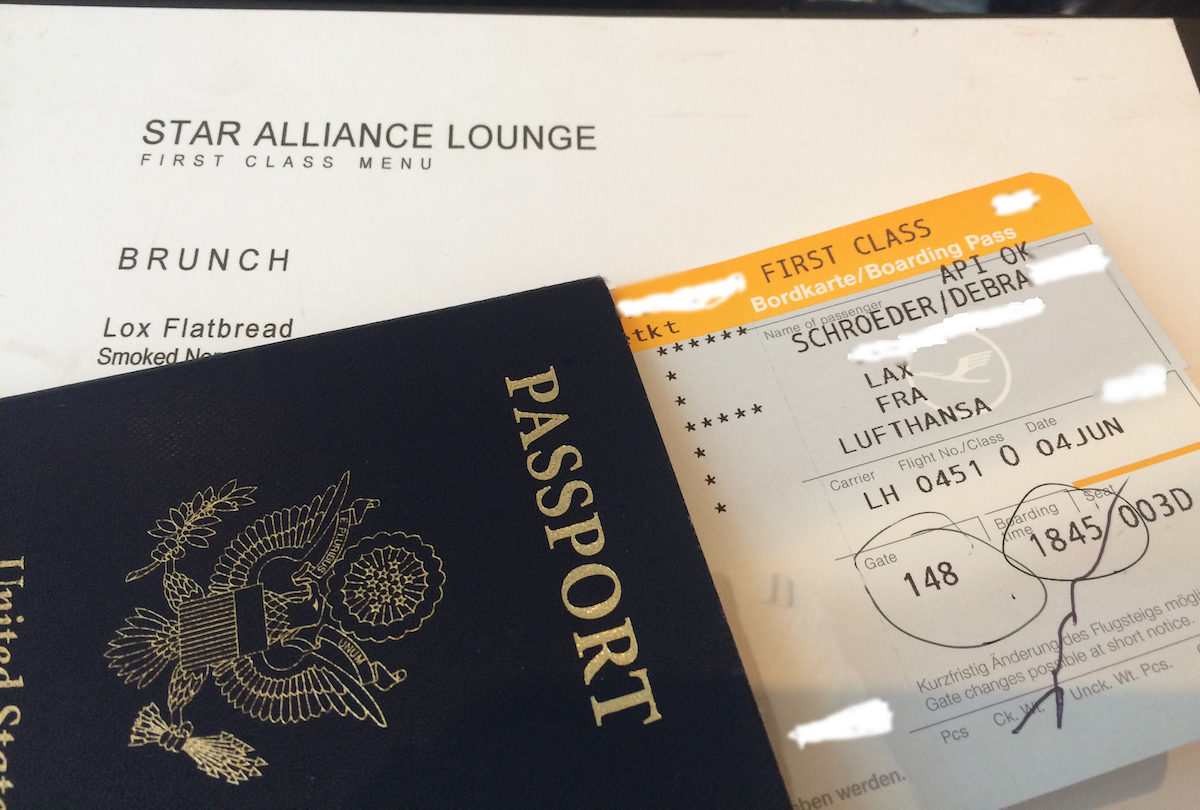 You can get airport lounge access when you book Business Class and First Class tickets. But each airline has different requirements depending on where you're flying.
Domestic Flights
For flights in the United States, a First Class or Business Class ticket will not get you lounge access. Unless you are flying First Class on transcontinental flights.
Transcontinental flights are non-stop flights from the East Coast to the West Coast and vice versa.
Examples of transcontinental flights:
Boston to San Francisco (Delta starting June 8, 2017)
Los Angeles to New York
Miami to Los Angeles
San Francisco to New York
Washington, DC to Los Angeles (Delta starting April 24, 2017)
International Flights
An international First Class or Business Class ticket gets you airport lounge access. Some airports like Los Angeles have separate First Class and Business Class lounges.
Pro-tip: American Airlines and Delta Airlines consider certain international flights as domestic flights:
Flights between the US and the Bahamas, Bermuda, Canada, the Caribbean, and Mexico (except Mexico City) on American Airlines
Flights on Delta to/from the US and the Caribbean, Guam, Palau, and Saipan
Have Elite Status
Frequent flyers with elite status can get free airport lounge access. And the best part, you get lounge access flying coach or on an award ticket.
American Airlines Executive Platinum Members get access to American Airlines and OneWorld lounges when flying internationally.
Delta SkyTeam Elite members on international flights can use the Delta lounges. And you get lounge access on a domestic flight with an international connection.
If you have United Airlines Gold elite status and are flying internationally, you get free airport lounge access to Star Alliance lounges. You can get into United Club lounges if you have Gold Elite status on a different Star Alliance airline such as Turkish or Aegean.
Pro-tip: Qantas Frequent Flyer Gold members can't use the Qantas Domestic Business Lounges.
Get Invited
Don't have elite status and are flying in in coach? You can get invited into an airport lounge. If you're traveling with friends, family or colleagues, they can guest you in.
But what if you're traveling solo? Or no one in your party has lounge access? Time to get friendly and cozy up to a stranger.
Consider hanging out near the door to the lounge. Muster up your courage and ask someone if they'd be willing to guest you in. Too shy to ask in person? Post your request on Flyertalk.
Don't take it personally if someone turns your request down. They might be flying on a coach ticket, or have a restricted membership. Or they could be uncomfortable. Keep trying until you find someone who says yes. Or you get chased away by the lounge staff.
Pro-tip: Dress sharp. No one wants to invite a backpacker or scruffy looking person into a lounge as their guest.
Buy an Airline Lounge Membership
Buying an airline lounge membership could be worth it, especially if you fly a lot on the same airline. Membership can range from $400 to $745 a year.
Before you purchase a membership make sure that the airports you're flying into have lounges. Not all airports have lounges. Some airports may only have non-airport lounges, also known as contract lounges.
Pro-tip: Sometimes the airlines offer discounts on airline lounge membership.
Buy a Day Pass
If buying a yearly airline lounge membership is too rich for your blood or you don't fly enough to make it worth it, buy a day pass. Not all airlines sell days passes to their lounges so you'll have to check the airline you're flying.
You can buy a one day, single visit airline lounge pass for the American Airlines Admirals Clubs, United Clubs, or Delta Sky Club for $59. A day pass for an Alaska lounge is $45. Qantas sells days passes by invitation.
A one day pass on Alaska Airlines and American Airlines allows you to visit several lounges on the same day. Day passes are not valid at American Airlines clubs under construction.
Whereas a day pass for Delta and United airport lounges is a single visit pass. Meaning you have to pay $59 for each Delta or United lounge you visit, even if you're flying through many airports on the same day.
Pro-tip: You can apply the cost of your day pass to a full airline lounge membership if you join within 30 days.
Use Independent or Third-Party Lounges
What are your options if you aren't flying in First Class or Business Class? If the airline you're flying doesn't have a lounge or sell day passes? Or no one will guest you into a lounge?
Some airports offer public, third-party, or contract lounges you can use for a fee. Fees vary depending on the lounge. You can buy at the lounge or book in advance through an app like Loungebuddy. LoungeBuddy sells day passes to 220 airport lounges worldwide.
Purchase a Lounge Membership
If you usually fly coach and on different airlines, you should get a Priority Pass membership.
With over 1,000 airport lounges worldwide, Priority Pass membership gives you flexibility. Lounges in their network include third party, airline, and VIP lounges.
I use my Priority Pass membership to get into airport lounges without an airline lounge. Being able to relax in the Panama Airport lounge in during a mileage run with a 3-hour turn, made a huge difference.
There are three different Priority Pass membership levels:
Standard – $99 yearly fee, $27 visits
Standard Plus – $249 yearly fee, 10 free visits, $27 thereafter
Prestige – $399 yearly fee, free visits
Pro-tip: You can save 10% on your Priority Pass membership for the first year.
Have the Right Credit Card
Did you know that you can get free lounge access from your credit card? Yep, some credit cards offer free airport lounge access.
Some cards like the Gold Delta Skymiles from American Express get you into airline lounges. Other credit cards like the Chase Sapphire Reserve give you access to independent lounges.
Pro-tip: You get free access to the most airport lounges if you have an American Express Platinum card (personal or business).
Conclusion
Relax in comfort, enjoying free Wi-Fi, snacks, and all the amenities that come with airport lounge access. Airport lounge access is usually reserved to those who buy expensive tickets like First Class and Business Class. Or who have an airline lounge membership.
But with these easy tips and tricks, you can get into every airport lounge, even if you're flying coach or on using airline miles. It can be as simply as having a credit card that gives you airport lounge access like the Citi Prestige or American Express Platinum card.
What's your favorite way to access an airport lounge?
Related posts on airport lounges:
Pin this to your travel or travel tips board: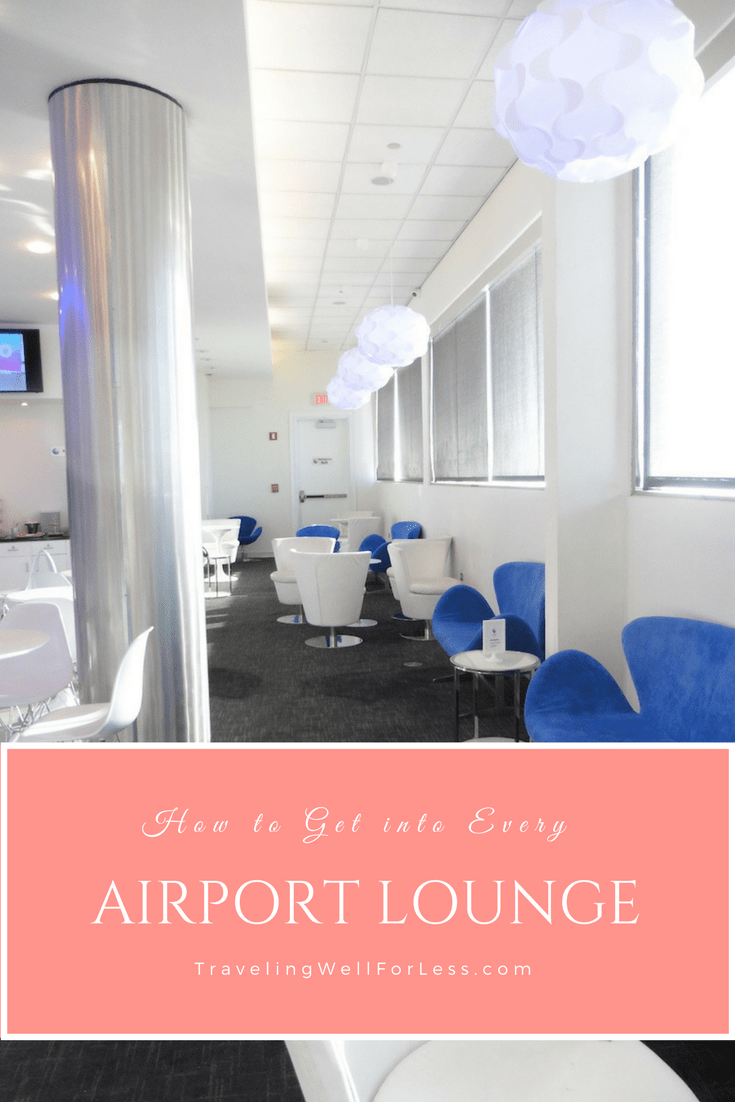 Comment, tweet, or share this post.
Get the best credit card signup bonuses.
Follow us on Twitter | Facebook | Pinterest | Instagram | YouTube
Got a question? Or want help, suggestions, travel tips, learn how to travel for free, find out about travel deals, and maximize your miles and points? Use the subscription box below to sign-up and get post updates by email.
Traveling Well For Less has partnered with CardRatings for our coverage of credit card products. Traveling Well For Less and CardRatings may receive a commission from card issuers.
---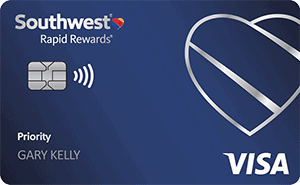 T
Southwest Rapid Rewards Priority Card's
newest signup bonus can get you up to 2 years of free flights!
 The
welcome offer is 100,000 points:
50,000 points after spending $2,000 in the first three months; another 50,000 points after spending a total of $12,000 in the first 12 months.
My favorite perks about this card are earning 3X points on Southwest purchases, 2X points on internet, cable, phone, streaming, ride share, and Rapid Rewards hotel and car rental partners, $75 yearly travel credit, 4 upgraded boardings each year, and no foreign transaction fees.
---
You can also get the 100,000 bonus
on the
---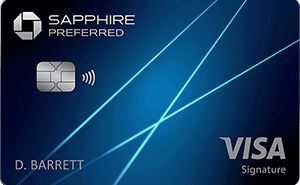 The Chase Sapphire Preferred
is the best card for beginning travel hackers.
It is the first card you should get to start traveling for free because the
welcome offer is 60,000 points
after spending $4,000 in the first three months.
My favorite perks about this card are earning 5X points on travel when booked through the Chase portal (2X if direct purchase), 3X points on dining , $50 yearly credit on hotels booked through the Chase portal, no foreign transaction fees, and transferring points to 13 airline and hotel partners like Hyatt, United, and Southwest.
---
---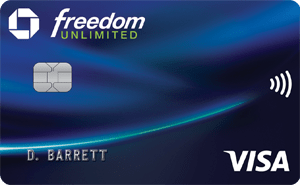 The
Chase Freedom Unlimited
is one of my favorite cards for earning cash back card and travel rewards.
 It offers a
welcome offer of $200
after spending $500 in the first three months.
My favorite perks about this card are earning
5% cash back at grocery stores the first 12 months (up to $12k)
,
unlimited 1.5% cash back on all purchases
and
no annual fee
. When paired with cards like the
Chase Sapphire Reserve
, you can use your points to travel for free.
Saturday 15th of July 2017
CSR includes free Priority Pass membership too.
Hi Lela, Frugal Nellie,
Yep, the CSR does include free Priority Pass membership. My post on which airlines cards give you free lounge access is still in my drafts folder. Looks like I need to finish it. :)
Wednesday 26th of April 2017
These are all great advice! I haven't had any experience being in the lounge but I would love to check it out and relax in there. I didn't know there are many ways to get in. It would be cool if I can go in as a guest just to get a taste of it.
Tuesday 25th of April 2017
These are some nice tips for getting access to a lounge. But not everybody can fly business class. Generally I use a Priority Pass to get into lounges. Some of the lounges in India do allow you to redeem credit card point/air miles as well.
Tuesday 25th of April 2017
I like your advice on being friendly! It always comes handy! hahaha. Oh, I never thought there's a website where you can post and get invited. Cool! Thanks for sharing.
Sunday 23rd of April 2017
These are great tips! I would add, find a kind stranger with a elite status or lounge privilege :D Haha not the easiest way to get in, but QANTAS a while back stopped accepting my platinum AMEX as entry to the lounge and as I was leaving dejected a lovely man was walking in and told me to come in as his +1. Loved it :D!