Great food isn't the first thing that comes to mind when you think about an Indian casino restaurant. Edible food, maybe. But the Pechanga Lobby Bar and Grill is an exception.
When you go to a casino restaurant, you don't come for the food.
You're there to eat. To get enough sustenance to keep you fueled so you can continue gambling.
That's it. Nothing more. Nothing Less.
Food is energy. Energy so you can stay on the slots and at the tables longer. In the hopes of winning big.
Sometimes casino restaurant food is edible. Sometimes it's even passable.
But the food at the Pechanga Lobby Bar and Grill can hold it's own. With intriguing menus, fresh flavors, and entrees for all diets, the Pechanga Lobby Bar & Grill is worth a visit for the food alone.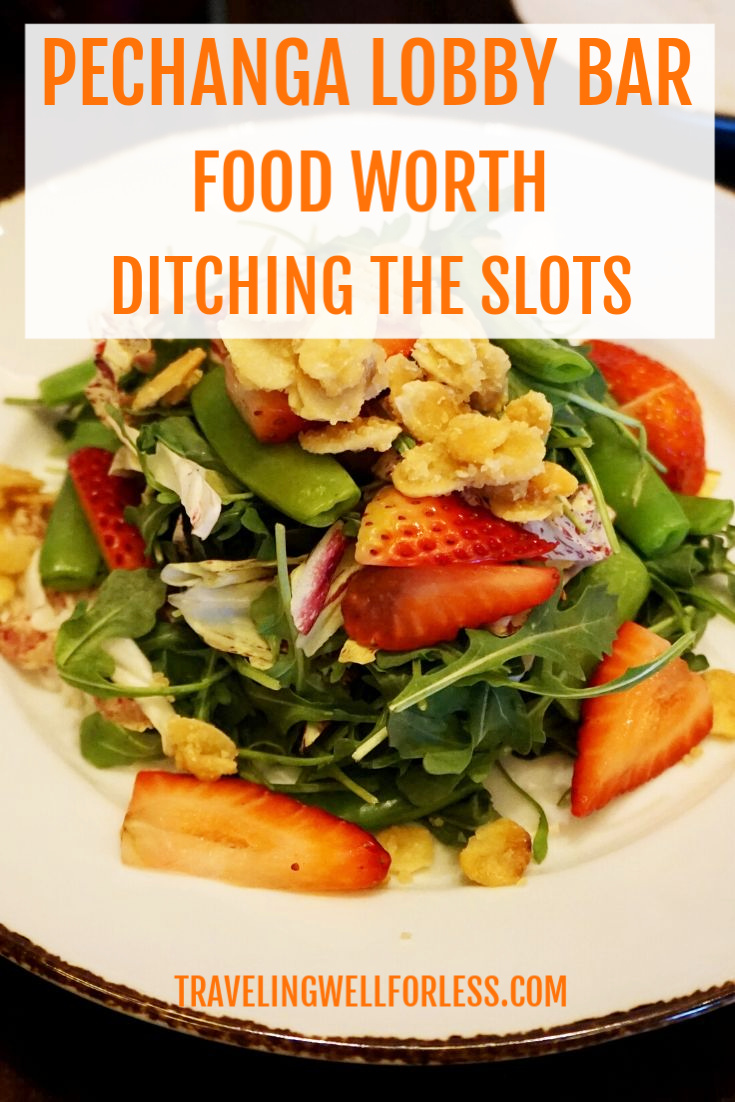 Disclosure: I was a guest of Lobby Bar and Grill at Pechanga Resort Casino. All opinions are 100% mine.
Pechanga Lobby Bar and Grill: Food Worth Ditching the Slots
One of my resolutions this year is to make time each week with people I care about. Traveling two weeks or more every month means less time to spend time with friends.
So I was looking forward to having lunch with a group of food and travel writers at the LobbyBar and Grill at Pechanga Resort Casino.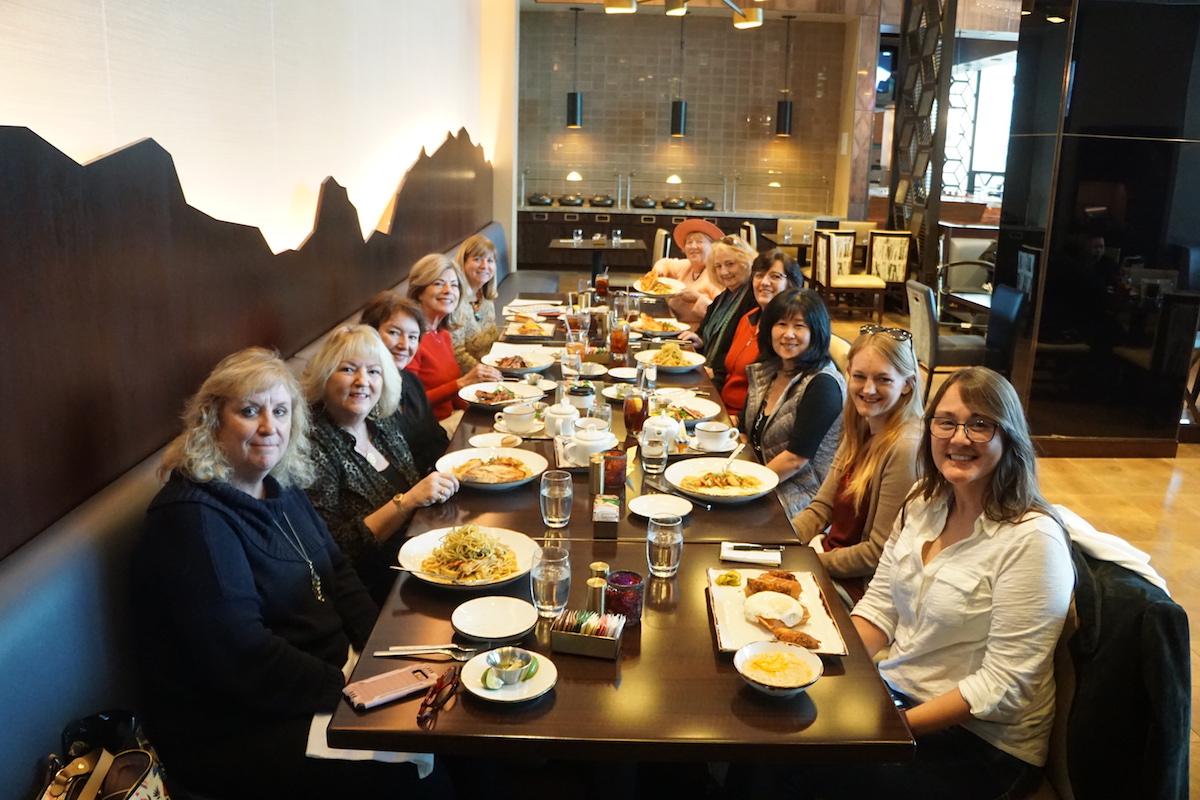 I've been to Pechanga Casino when I spent a day in Temecula. It's an easy drive from San Diego and now having had the food, a drive I plan to do more often.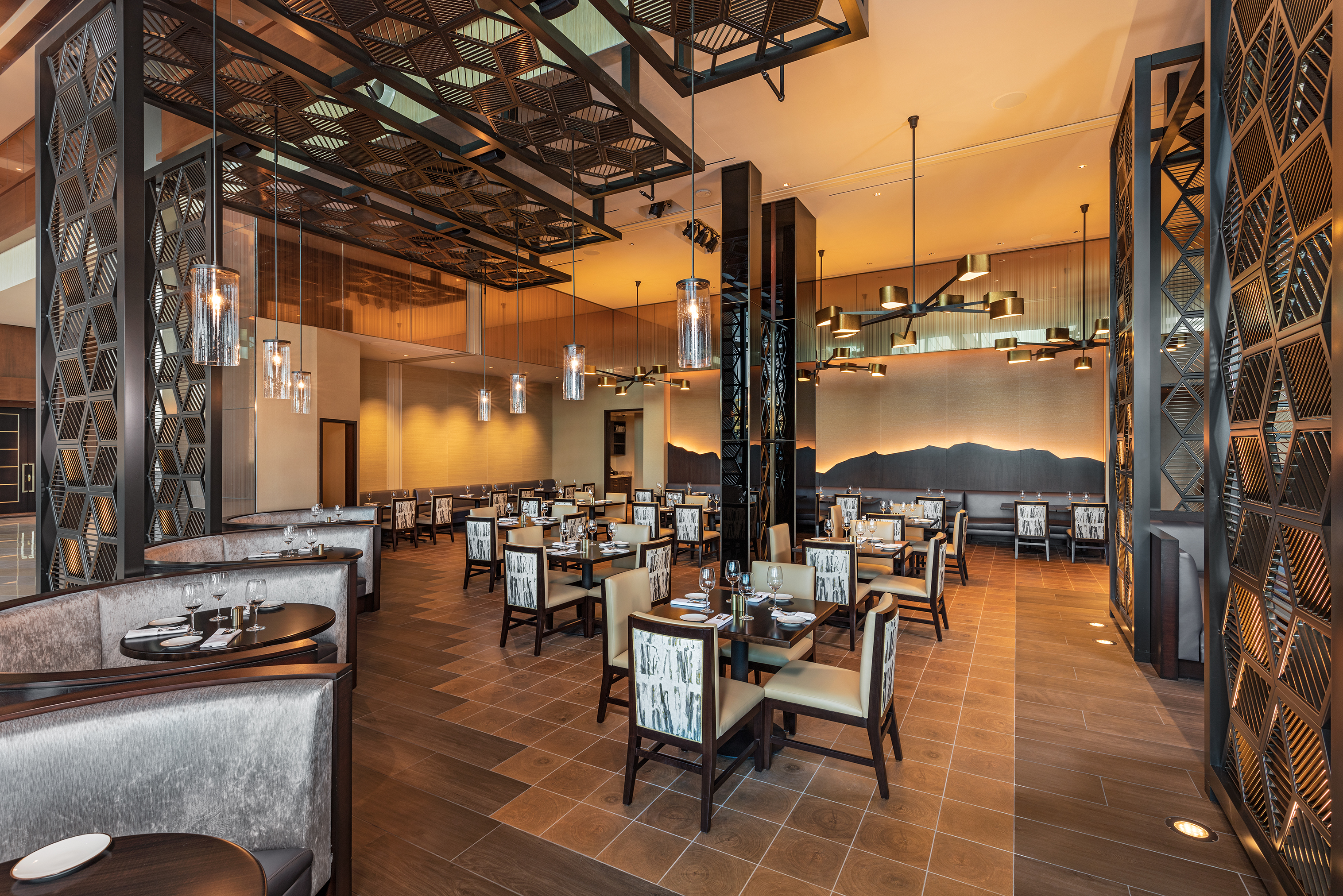 The Lobby Bar and Grill in the center of the atrium at Pechanga Resort Casino is a delightful find.
One of those places that once discovered, you'll find yourself making excuses to return.
The casually elegant restaurant caters to all dietary restrictions from gluten-free, vegetarian, and vegan.
Chef Jose Mendoza creatively combines locally sourced Temecula Valley produce and unique flavor combinations to add bursts of flavor and excitement to a traditional menu.
Mendoza started his culinary career at Pechanga before moving to Las Vegas to work at Bellagio, Aria, and the Green Valley Ranch.
The San Diego native returns home as head chef a the Lobby Bar and Grill.
Menu
Pechanga Lobby Bar and Grill offers a breakfast, lunch, and dinner menu. They also offer an entirely vegetarian wellness menu where all but three items are gluten-free and the majority are vegan.
Pro-tip: The Lobby Bar and Grill offers a Dinner and a Laugh menu Thursday through Sunday for those 21 and older. The 3-course meal includes an appetizer, entree, and a dessert plus free admission to the Comedy Club for $39 per person.
Macaroons
Forgot flowers. Pechanga's centerpiece for our meal was a tray of five flavors of macaroons resting on a bed of sugar crystals.
Who doesn't love dessert first?
These tasty macaroons were crunchy on the outside, soft and gooey on the inside. I would have happily devoured the entire tray and been content snacking on macaroons for lunch.
Common sense prevailed and I ordered a salad and entree.
Strawberry Fields Salad
The Strawberry Fields salad, a little nod to The Beatles, is gluten-free and vegetarian. And if you chose not to have the dressing as I did, it's vegan.
Tasty and healthy. I loved the combination of textures of fresh strawberries, sugar snap peas, and caramelized almonds served on a bed of arugula and radicchio greens.
It's offered on the lunch, dinner, and wellness menu.
Pro-tip: Strawberry Fields salad is hearty and a generous portion so you may want to share if also ordering an entree.
Chicken and Waffles
For my entree, I chose Chicken and Waffles.
Regular readers know, if there's a waffle on the menu, I'm in!
If you are a connoisseur of chicken and waffles you will want to order the chicken and waffles at the Pechanga Lobby Bar and Grill.
Even if you've never had chicken and waffles, the Lobby Bar at Pechanga Resort sets the bar for chicken and waffles.
Pro-tip: The chicken and waffles are available on the breakfast and lunch menu.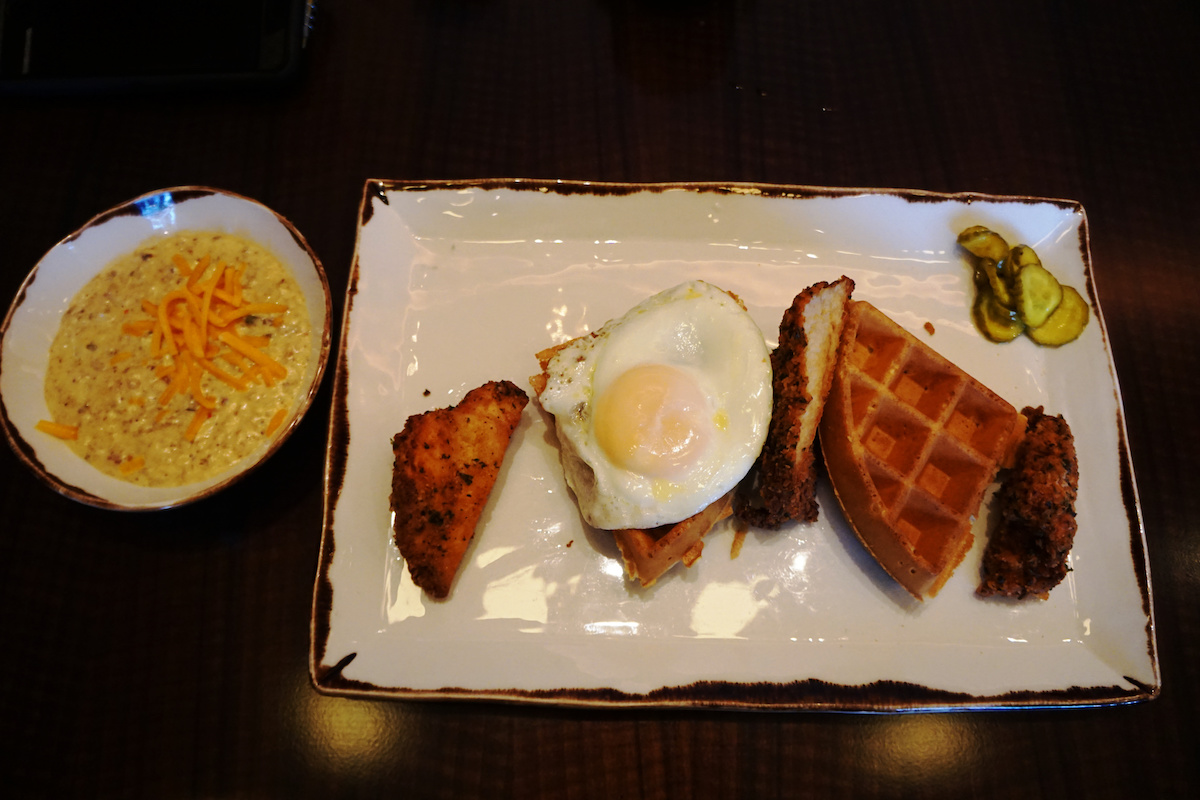 Fried chicken breast, potato cheddar waffle, fried egg, sausage gravy, and house pickles.
The tender flaky crispy chicken is mouthwateringly delicious with just a hint of pepper and spice.
Waffles are crisp yet soft inside.
And sausage gravy. Oh my god!
Sausage gravy!
I like beef gravy but not on my waffles. And I've never been a fan of sausage gravy.
Until now.
Sausage and gravy on waffles?
Yes!
The Pechanga Lobby Bar and Grill's sausage and gravy will make you think you are in the South.
This spicy combination of thick rich gravy is the perfect accompaniment for your chicken and waffles.
Topped with a shredded cheddar cheese it is oh so delicious!
It was all I could do to not grab a spoon and start digging in.
Pro-tip: The Chicken and Waffles are a meal and then some. Wear stretchy pants or something with an expandable waistline. Or plan to share or bring your leftovers home.
But be warned that sausage and gravy is almost too good not to eat all at once.
Pechanga Lobby Bar and Grill
45000 Pechanga Pkway
Temecula, CA 92592
951-770-8440
Sunday to Thursday 7 am to 10 pm
Friday and Saturday 7 am to 11 pm
Conclusion
Pechanga Lobby Bar and Grill. Come for the food. Consider staying to gamble, see a show, and/or stay the night.
Do yourself a favor.
Fill your belly instead of emptying your wallet.
What was your favorite dish at the Pechanga Lobby Bar and Grill?
If you're never eaten at the Lobby Bar and Grill at Pechanga Resort Casino, which casino restaurants have you had great food?
Comment, tweet, or share this post.
Get the best credit card signup bonuses.
Follow us on Twitter | Facebook | Pinterest | Instagram | YouTube
Got a question? Or want help, suggestions, travel tips, learn how to travel for free, find out about travel deals, and maximize your miles and points? Use the subscription box below to sign-up and get post updates by email.
Featured image courtesy Pechanga Resort Casino
Traveling Well For Less has partnered with CardRatings for our coverage of credit card products. Traveling Well For Less and CardRatings may receive a commission from card issuers.
---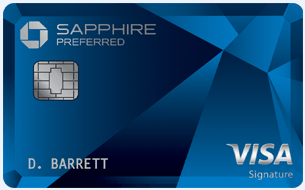 The Chase Sapphire Preferred is the best card for beginning travel hackers. It is the first card you should get to start traveling for free because the welcome offer is 60,000 points (after spending $4,000 in the first three months).
My favorite perks about this card are earning 2X points on travel and dining, no foreign transaction fees, and transferring points to 13 airline and hotel partners like Hyatt, United, and Southwest.
---
---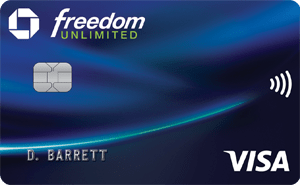 The
Chase Freedom Unlimited
is one of my favorite cards for earning cash back card and travel rewards.
 It offers a
welcome offer of $200
(after spending $500 in the first three months).
My favorite perks about this card are earning
5% cash back at grocery stores the first 12 months (up to $12k)
,
unlimited 1.5% cash back on all purchases
and
no annual fee
. When paired with cards like the
Chase Sapphire Reserve
, you can use your points to travel for free.
Tuesday 25th of February 2020
Wow I mean looking at the decor of the restaurant can itself blow one's mind away .. And a casino coupled with good food. Always associated with drinks and casino but this is something different . I was literally drooling over macaroons decorations over sugar crystals at the centre .I am sure they must be very tasty . I wonder how would the combination of chicken and the waffles taste like ? Hahaha may be interesting
Tuesday 25th of February 2020
I have never given casino restaurants too much of a thought. Somehow, I always felt their focus was on slots and not the food. However, this reading makes me realize how wrong I can be. You are so right when you say that it can hold up on its own. What with that strawberry fields salad and the waffles. ...totally yummy. And yes, I am with you on the desserts at the start of meal.
Tuesday 25th of February 2020
I am glad you got to experience the dining options at this wonderful resto-bar. There are varied eating options which are so thoughtfully planned. Being a vegetarian, I often find it hard to search for a veggie-resto. Happy to read about this place. And, those Macaroons are drool-worthy, and, so does that Strawberry salad!
Monday 24th of February 2020
I loved the ambiance of Lobby Bar and Grill at Pechanga Resort Casino and that too there are many healthy salads too. I loved their price too which includes the 3-course meal starting with appetizer, entree, and a dessert plus with a free admission to the Comedy Club and that too all for $39 per person. Strawberry fields salad looks exotic salad and it really looks a big one. Thanks for your candid reviews.
Monday 24th of February 2020
I have had dinner at Pechanga and it was great! However, I didn't have a macaroon centerpiece and I feel a little neglected. You made the chicken and waffles sound incredible, I think a drive up is in order. Would like to do the dinner and laugh menu some weekend
Comments are closed.