It's been more than a few years since I have gone rock climbing. So I was pretty excited to see Rise Up Climbing on the itinerary for my Lynchburg, Virginia trip.
One of the fun things I did in Lynchburg, besides eating and drinking, was going indoor rock climbing.
Indoor rock climbing has been around since 1964. But the Rise Up Climbing gym has only been in Lynchburg since 2008.
Once a place for outdoor climbers to train and stay in shape. Now you'll find kids burning off excess energy, retirees, and people looking for new ways to exercise and strengthen their core.
A session at an indoor climbing gym is a high intensity but low impact workout. It engages your core, arms, legs, glutes, and back without leaving you feeling like you made a bad decision.
It's a great exercise for a natural high that lasts all day.
And a great way to spend a rainy or snowy day in Lynchburg, VA.
Keep reading to learn what everything you need to know about indoor rock climbing and my experience at Rise Up Climbing.
After you've spent the day climbing, grab a bowl of ramen or sushi at Aji Ramen and Sushi.
Disclosure: As is common in the travel industry, my trip was provided for review purposes. All opinions are 100% mine.
Rise Up Climbing Get High All Day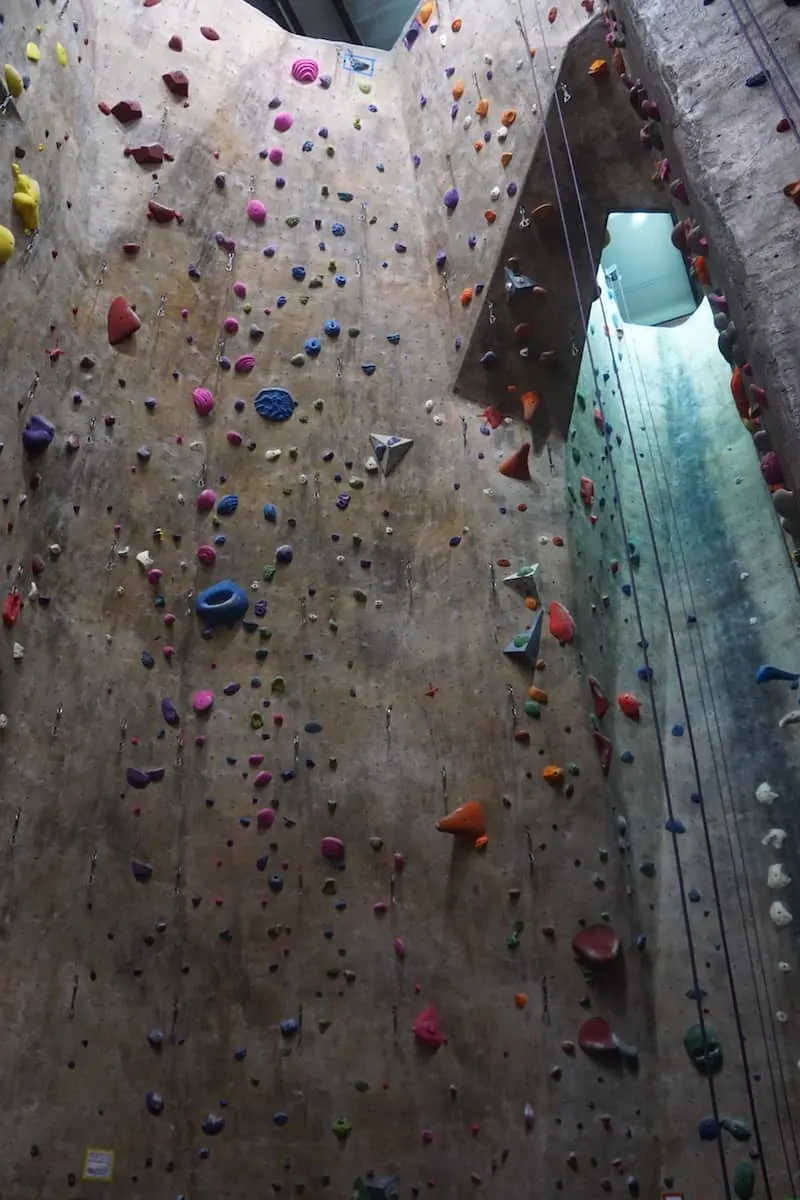 Behind the glass doors of a nondescript brick building in downtown Lynchburg, is an impressive indoor climbing gym.
Rise Up Climbing, housed in a former electric company warehouse, offers over 6,000 square feet of climbing areas including bouldering and a 40-foot wall.
Founded by Dan Hague, co-author of The Self Coached Climber, the gym welcomes first time climbers, beginners, and advanced climbers a clean, well designed, space to rock climb indoors. After a short safety briefing, you can scale the wall.
Several climbing options are available at Rise Up Climbing. From auto belay (no partner required) to top roping (partner required), bouldering (no partner needed) to lead climbing. They even have a staff belayer option.
Pro-tip: Rise Up Climbing updates the routes to keep climbers challenged.
Scroll down to read my experience and see more photos of the climbing walls.
What You Should Know About Indoor Rock Climbing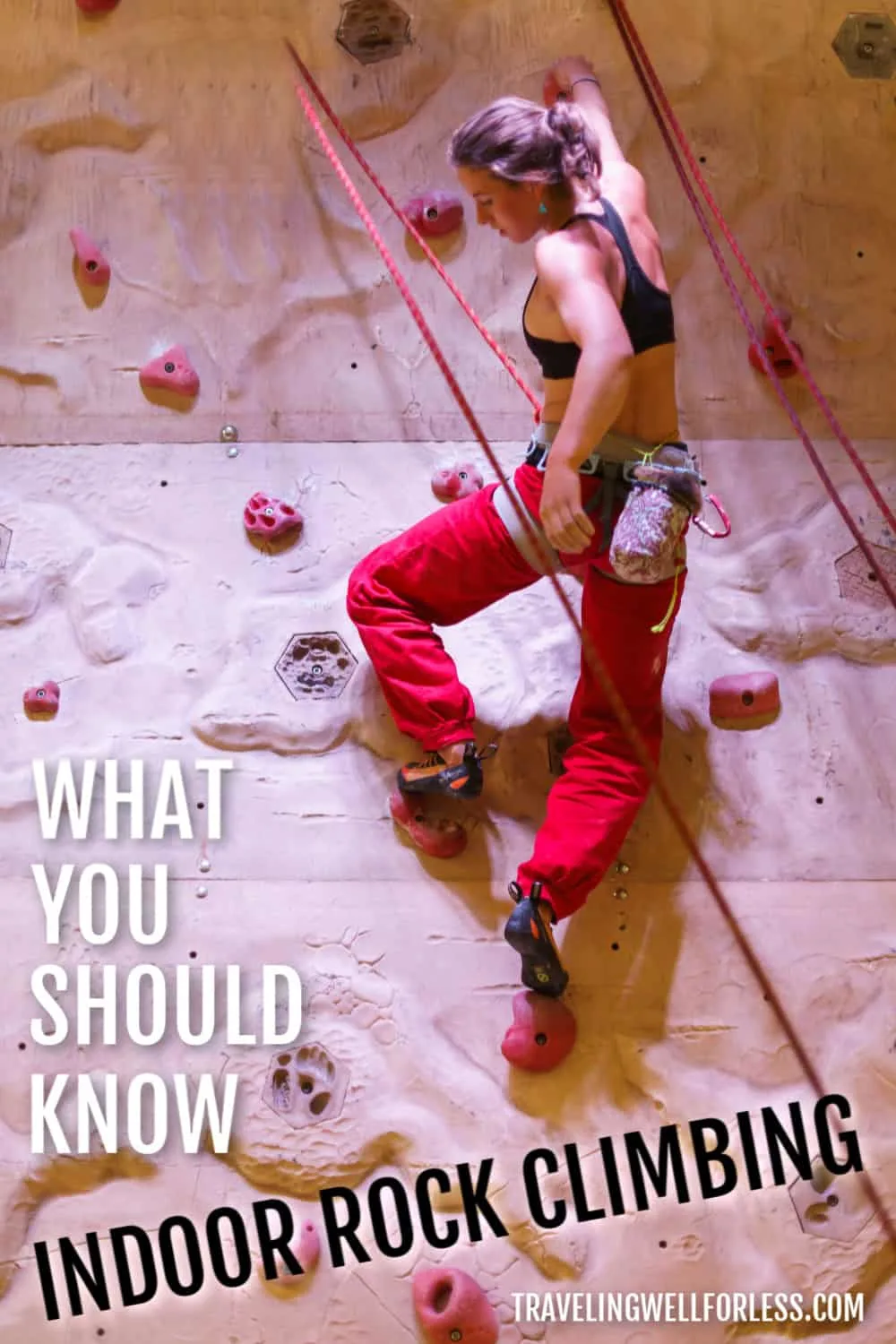 Thinking of trying bouldering or indoor rock climbing for the first time? Here's what you should know.
Wear Comfortable Clothes
You should wear comfortable clothes for indoor rock climbing.
Clothes that don't restrict your movement. Loose fitting yet snug cotton shirts or wicking fabrics (if you sweat a lot).
Shorts or fitted or stretchy pants or leggings. I wore a pair of prAna stretchy capris.
Trim Your Nails
It may seem like a no brainer but you should trim your nails before going climbing.
You don't want your nails to be too long and scrape against the wall. Leave a small amount of white nail bed.
Pro-tip: If you forget to trim your nails before you arrive, most gyms have nail clippers. Although, you may want to have your own pair.
Rent Climbing Shoes
It is worth renting climbing shoes.
Climbing is easier with the proper gear.
They aren't the most attractive shoe with its hard outer shell, sticky rubber sole, and pointy-toe like a caveman's version of a ballet slipper.
Your experience will be more enjoyable because climbing shoes make it easier to put your foot into the footholds.
Shoes should fit tight without pain.
Normally you don't wear socks with climbing shoes but when you're renting shoes, trust me, wear your socks. Lets put it this way, indoor rock climbing is an active sport/exercise. Enough said.
Pro-tip: If you wear a half size, go down to the next size.
Harness Should Be Snug
When rock climbing your harness should be snug, tight, and sit above your hips.
Pro-tip: You don't need a harness for bouldering.
Know the Commands
To keep you and your partner safe you should know the commands when you're rock climbing.
Communication is crucial. You only need to learn a few basic commands:
On belay – climber asks the belayer if they're hooked into the belay system
Belay on – belayer confirms you have a locked carabiner
Climbing – climber signals they are ready to climb
Slack – climber needs more rope to comfortable climb
Up rope – climber wants belayer to take up the extra slack in the rope
Take – climber signals belayer that they're ready to be lowered down
Off belay – climber is safely down and can be off belay
Pro-tip: Always confirm that your partner has heard your command.
Choose A Route
It's a good idea to study the wall before you climb so you can choose a route.
You want to have a general idea of your path before you start climbing. I wish I had spent more time doing this before I started my climb.
Look for the same colors and pick the route that you can do.
Some indoor rock climbing gyms grade their routes using the Yosemite Decimal System such as 5.1 or 5.7. Easier routes have a lower number after the decimal.
Pro-tip: Hand and foot holds are bigger and closer together on easier routes.
Your Legs Do All the Work
Rock climbing is about letting your legs do all the work.
Your legs should push you up the wall instead of your arms pulling you up.
Think of it this way. With indoor rock climbing, you're walking up a vertical wall. All the weight and forward motion come from your feet. This means your legs do all the work.
Engage your core, keep your hips over your feet, arms straight, and stay close to the wall.
Pro-tip: Focus on your feet when you're going up the wall. Figure out where you're going to put your foot instead of where you're going to put your hand.
Breathe and Relax
Remember to breathe and relax.
Indoor rock climbing isn't work. Technically, you have to work at doing it.
But it's not a job. No one is going to give you a performance evaluation (unless you ask a staff member for critique). You can't get fired.
Pro-tip: Relax and have fun. You'll get the hang of it. 🙂
My Experience at Rise Up Climbing
When I've gone rock climbing before, I studied the wall to plan my route. Figuring out holds to use and the best way up to the top.
We arrived at Rise Up Climbing shortly before 3 pm. The gym was empty except for two climbers and a staff member.
Just the way I like it. Lee people to see me make a fool of myself. I have my dork moments.
After gearing up (putting on the rental shoes and harness) and watching the safety video, we were ready to go.
They gave us the option of partnering or using the climbing walls with the auto belay. Rise Up Climbing has two rock walls that have auto belay devices.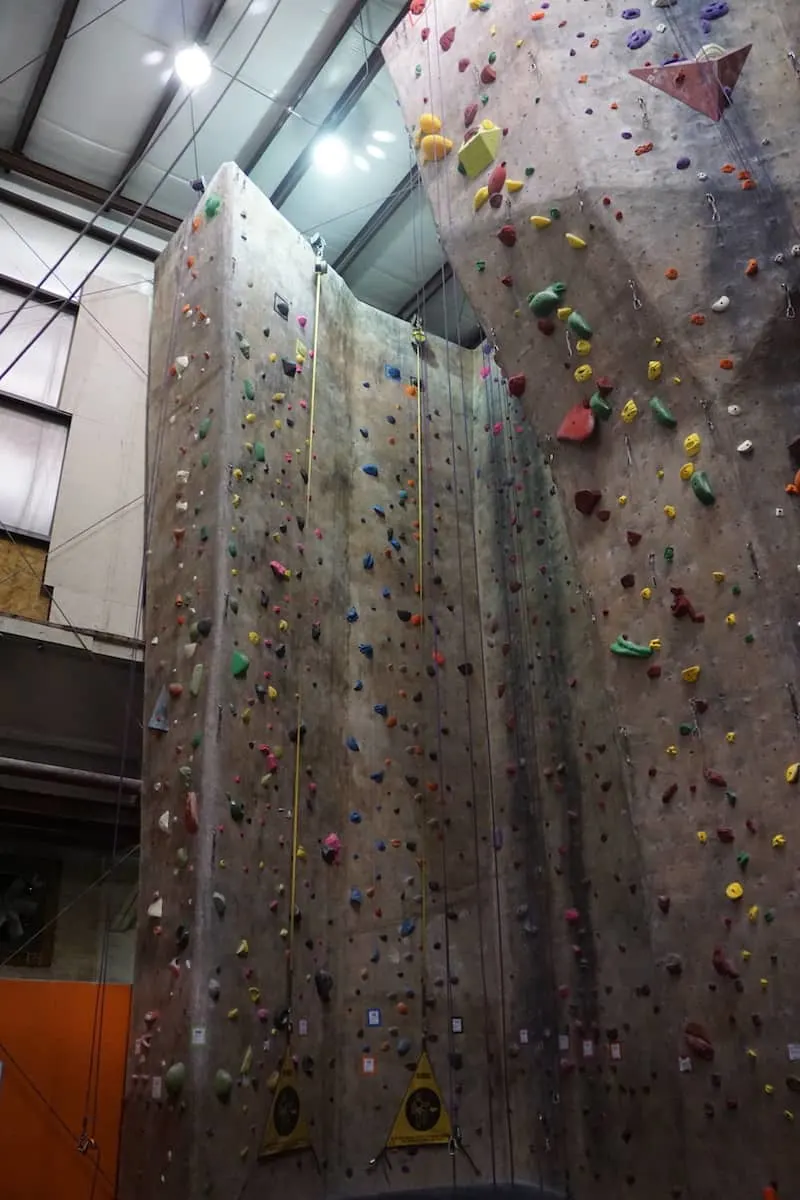 With an automatic belay, you don't need a partner. This is great for solo climbing.
Or if you don't want to have the responsibility of someone's life in your hands.
Literally.
Both auto belay walls are next to each other. If you're climbing with a friend you can climb at the same time.
The routes on every wall, including the auto belay walls, at Rise Up Climbing are unique.
Because no two walls are the same each wall presents its own challenges and opportunities to learn and grow.
You can still race your friend to the top but it won't be an equal or fair race.
But it's still fun anyway. 🙂
We shot video of each other climbing so didn't climb at the same time.
This time, I just started climbing. Ignoring colors, choosing the handhold and foothold that seemed the easiest to navigate.
It made it more difficult, took longer, and required more engagement of my core.
At my age and lack of regular exercise (hello, travel writer who sits around a lot on the computer when not jetting all over the world), it showed and affected my climb.
Instead of being tight against the wall, my butt stuck out.
After the climb, my arms were, "Oh, no you didn't."
Going up a second time wasn't happening. Which was a bummer because I really wanted to keep climbing.
But it all worked out because only going up once meant I had more time before dinner.
Exercise or eat?
You obviously know my answer to that question.
Would I go rock climbing at Rise Up Climbing in Lynchburg, VA again?
Heck yeah! It was so much fun!
I loved that there are lots of climbing walls including ones for bouldering.
Bouldering looks interesting but I like to get high vs staying low to the ground. It's a great option if you're scared of heights.
Plus there are no harnesses in bouldering. When you lose your grip, you fall. Don't worry there are very thick pads around the bouldering walls.
The auto belay walls are great for solo travelers. The staff is friendly and safety is their first priority. Constantly changing and improving climbing routes mean you'll never get bored. The prices are reasonable.
Try it yourself!
Rise Up Climbing
1225 Church Street
Lynchburg, VA 24504
434-845-7625
The gym offers day passes and several membership options. Discounts available for students and active-duty military.
Pro-tip: Additional discounts available on weekdays before 1 pm and Monday, Wednesday, and Friday. Check the website for more details.
Open Monday to Saturday from 11 am to 10 pm. Sunday from 1 pm to 7 pm. Closed on July 4, Thanksgiving, Christmas Eve, Christmas Day, and New Year's Day.
Conclusion
Rise Up Climbing in Lynchburg, VA offers an indoor rock climbing and bouldering experience.
This fun, family-friendly activity is perfect for any time of the year. Especially when rainy or snowy days keep you inside.
You can learn more about rock climbing, improve your climbing skills, and strengthen your core.
With over 6,000 square feet of walls and constantly changing routes, you'll never get bored.
Afraid of heights? Try the bouldering walls. You stay low to the ground while learning how to use the hand and footholds.
Single day passes and various membership options are available. Be sure to check out the special offers page for discounts throughout the week.
After you've rock climbed, fuel up at Aji Ramen and Sushi.
I had such a great time on my trip to Lynchburg. I can't wait to do it again the next time I'm in town.
What's stopping you from going rock climbing?
Comment, tweet, or share this post.
Get the best credit card bonuses.
Follow us on Twitter | Facebook | Pinterest | Instagram | YouTube
Got a question? Or want help, suggestions, travel tips, learn how to travel for free, find out about travel deals, and maximize your miles and points? Use the subscription box below to sign-up and get post updates by email.
Traveling Well For Less has partnered with CardRatings for our coverage of credit card products. Traveling Well For Less and CardRatings may receive a commission from card issuers.
---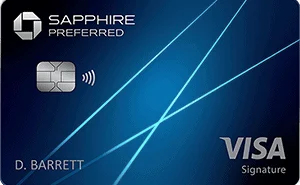 card_name
is the
best card to get started in the world of miles and points.
It is the first card you should get to start traveling for free because the
welcome offer is 60,000 points
after spending $4,000 in the first three months.
My favorite perks about this card are earning 5X points on travel when booked through the Chase portal (2X if direct purchase), 3X points on dining, $50 yearly credit on hotels booked through the Chase portal, no foreign transaction fees, and transferring points to 13 airline and hotel partners like Hyatt, United, and Southwest.
Learn more about the card_name and how to apply
---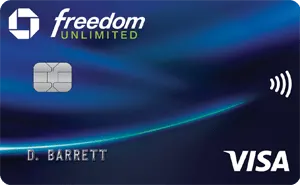 The
card_name
is one of my favorite cards for earning cash back card and travel rewards. It offers a
welcome offer of 3% cash back = an extra 1.5% cash back
on up to $20,000 in purchases your first year.
My favorite perks about this card are earning
6.5% cash back on travel booked through the Chase Travel Portal
,
4.5% cash back at drugstores and restaurants (including delivery and takeout)
your first year up to $20,000,
unlimited 1.5% cash back on all purchases
and
no annual fee
. When paired with cards like the
card_name
, you can use your points to travel for free.
Learn more about the card_name and how to apply