I've traveled with my kids from when they were a month old to now, their old bad teenage selves. So I've learned a few tips on flying with a baby or toddler.
And while I always look fondly upon a child when they board a plane vs. cringing and wishing you and your child were on another flight, I may be an exception. Here are expert tips on flying with a baby or toddler to keep your sanity and avoid irritating other passengers.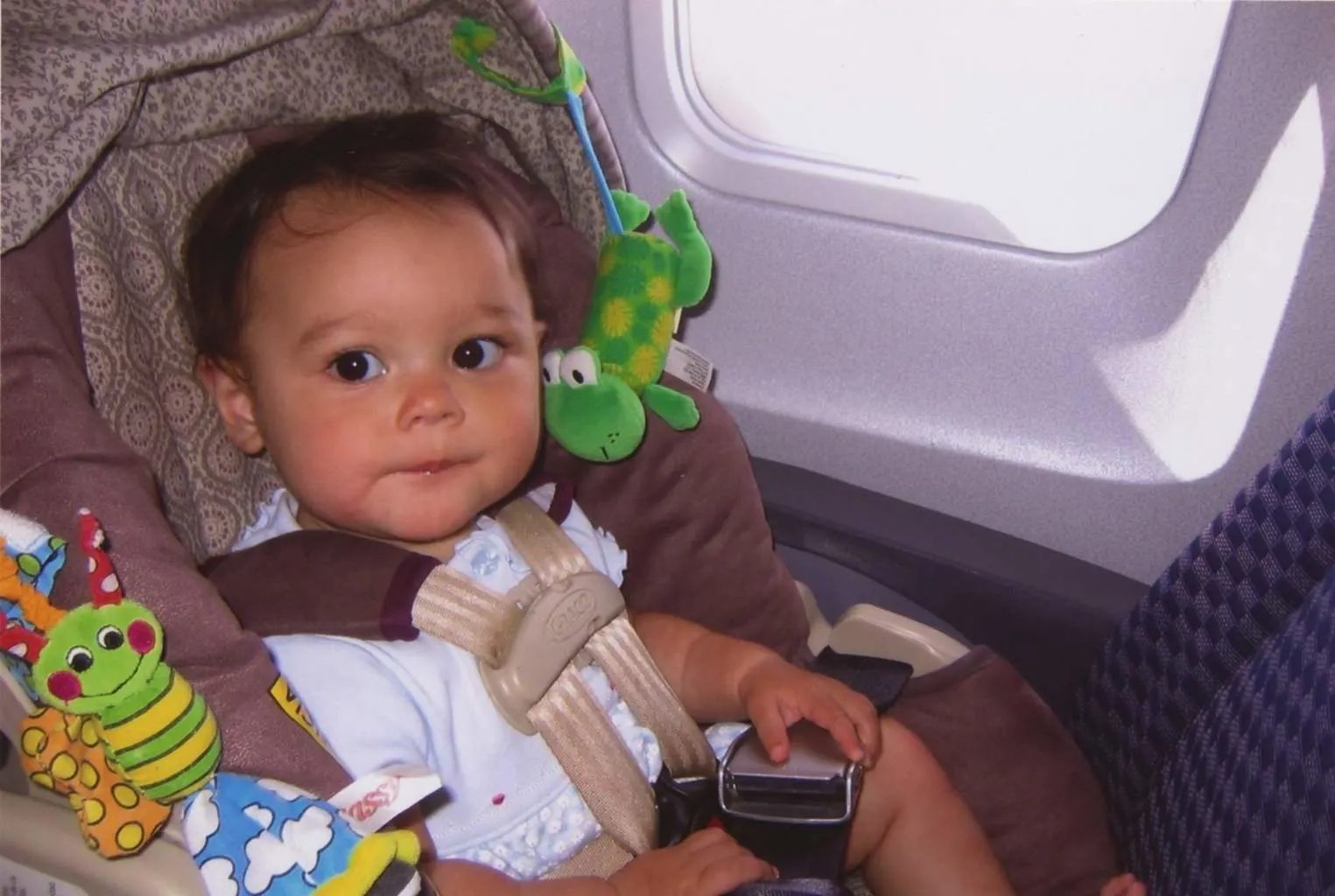 Tips On Flying With A Baby Or Toddler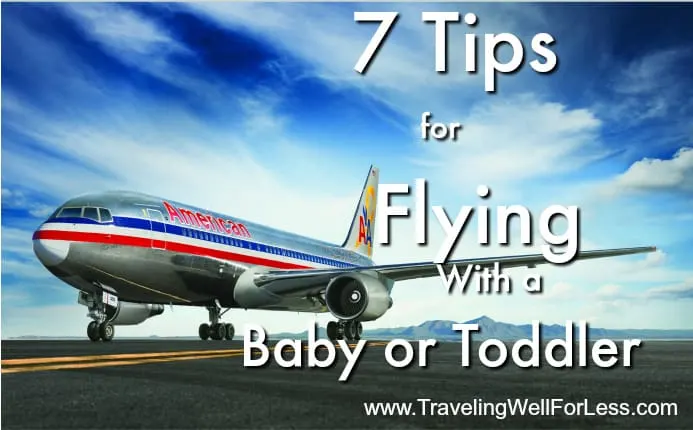 1. Book the First Flight
Book the first flight of the day. Think dawn patrol.
Yes, I'm aware that an early morning flight means getting your butt out of bed at o'dark thirty; been there, done that. There are benefits to the first flight of the day so keep reading and un-bunch those panties.
Pro tips on flying with a baby or toddler and why you should book the first flight:
Early morning flights tend to be the least expensive.
Security lines can be shorter for early morning flights.
Generally, early morning flights are the least crowded flights.
If there are flight delays or cancellations, you'll have more options.
Early morning flights have milk when cereal is a breakfast option for First Class passengers. Midmorning, afternoon, and evening flights do not stock milk.
Pro-tip: Looking for cheap flights? Read this post on Tricks to Save Money on Airline Tickets
2. Fly During Naptime
Timing is everything. If an early morning flight is not an option or you're just too lazy to drag yourself out of bed that early in the morning, fly during your child's naptime. This does not mean depart at naptime but depart before naptime.
If your child naps from 10 am – 12 pm and your flight options are a 9 am or a 10 am flight, book the 9 am flight. This gives your child time to settle in before he/she drifts off to la-la land.
Booking a flight that departs right at nap time will make your child, you, and those around you miserable. And yes, those nasty looks in your direction when the child's shrieks rival a banshee's are for you.
Pro-tip: Need a quiet spot in before your flight? Visit an airport lounge. Here's how to get into every airport lounge.
3. Skip the Red-eye Flight
Avoid the red-eye flight. Ok, I get it where you're going on this one. You're thinking your baby will sleep on the plane and you'll arrive at our destination, and it'll be great. Not! Do not book that red-eye. I repeat do not book the red-eye. Never ever on a red-eye.
Sure, you think your child is going to sleep, but sometimes they don't. Then what? It sucks, that's what. It sucks for you, your child, and every single person on the plane. You will become the devil incarnate and the scorn and hatred of every passenger.
If that isn't enough to dissuade you, take into consideration that you will arrive at your destination exhausted. Is that really how you wanted to start a vacation? Tired, pissed, and an object of hate? I think not.
4. Book a Nonstop Flight
Where possible, book a nonstop flight. Nonstop does not mean direct. Many people confuse direct with nonstop.
Direct means a stop or stops (as in more than one) but no plane change. Nonstop means 1 plane, 1 stop – at your destination. Always book the nonstop.
Why you should book non-stop flights:
You'll get to your destination sooner.
Your bags have less chance of getting lost.
It's easier for you and your child. One takeoff and one landing mean your child only has to endure ear pressure twice.
You irritate fewer people because you're on one plane vs two or three.
5. Buy Your Baby or Toddler a Seat
Save your lap for a lap dance and buy your baby or your under age 2 toddler a seat. If your flight is long, transcontinental or transpacific, a separate seat for your baby is a sound investment.
You're already bringing their car seat. Keep it with you in the cabin vs. getting thrown around by the luggage handlers.
Your child is safer strapped in a car seat vs. being held in your arms on your lap. Would you drive down the street with your child in your lap? Then why fly at 530 mph with only your arms to keep your child safe?
Holding your child on your lap for hours gets tiring. And no, it's NOT the flight attendant's job to hold your child so you can have a break.
Do you really think your child is going to sit still and quietly stare at the back of the seat cushion that is a mere 5 inches from their face?
The person seated next to and in front of you won't have to endure hours of your baby kicking or hitting their leg or back of the seat.
If you aren't bringing your child's car seat because you have one at your destination, consider the CARES harness system. I don't have first-hand experience with CARES (it wasn't around when my boys were little) so I can't vouch for their effectiveness or ease of use.
6. Be Prepared
Even if your flight is only an hour, anything can happen from flight delays to an irritable, hungry parent child. Be prepared.
Bring lots of diapers. You never know when your child is going to have a blowout. And while we're on the subject, use the lavatory to change your baby, not the tray table, aisle or seat. That's just gross. Keep your little one's privates, private. The last thing you want is some pervert snapping a photo of little Jane or Jimmy's special parts for his "collection."
Bring a change of clothes and maybe an extra shirt for yourself.
Pack healthy age-appropriate snacks: peanut butter, celery sticks, string cheese, apple slices, carrot slices, bananas, graham crackers, fruit leather, whole grain cereal, and crackers.
Bring both familiar and new toys to comfort and entertain your child. Debbie suggests wrapping toys individually and bringing toys that work together such as a Playmobile horse and man.
Bring chewable Benadryl (if you want to assist your child in sleeping).
Buy milk at the airport. See bullet 4, section 1 Dawn Patrol. Milk is not always stocked on all flights so plan on purchasing a carton or bottle of milk after security.
Bring pacifiers, bottles, sippy cups, and other types of chewing toys to soothe ear pressure.
7. Consider Your Fellow Passengers
The world does not revolve around you. Remember to be considerate of the other passengers. Some may be traveling for work and using the downtime on the plane to work. Remember the Golden Rule, treat others as you wish to be treated? Keep that in mind and plan ahead. I love how Tara takes this one step further by offering free earplugs to those seated near her.
And one last tip to keep in mind…
8. Watch and Control Your Kids
Watch and control your kids. Free range chicken is good free-range children are not. This curly haired cutie, ala Shirley Temple was on my last flight. She along with her older brother were out of control: standing on the seats, leaning over, jumping up and down, and running down the aisles when the fasten seatbelt light was on.
Not only were they running up and down the aisles at full speed they were hitting everyone's arms and legs and laughing. Visions of "Family kicked off the plane" headlines ran through my head.
Where were their parents? Mom was one row up by herself. The only time she made her presence known was at boarding and deboarding. Not once did she talk to or address her children's actions. Nor did she speak to her husband.
The father? He was in the middle seat with the daughter on one side and the boy on the other. But then again, they didn't stay in their seats. And no, he didn't say a word to the kids either.
The parents need to read tip 7. And they deserve the worst parents ever award.
Hopefully, these tips will help your flight with a baby or toddler more enjoyable. Because not all hotels have cribs or pack and plays available so consider bringing a portable crib like the Guava Lotus Travel Crib.
Conclusion
Flying with a baby or toddler can either be a pleasurable or miserable experience.
Because no one wants a miserable experience these 7 tips can make flying with a baby or toddler more comfortable for you, baby, and everyone on the plane:
Book the first flight of the day
Fly during your child's naptime
Do not book a red-eye
Fly non-stop (not direct)
Buy your child their own seat
Be prepared
Consider your fellow passengers
Parent your child when needed
Do you have any other tips that have worked for you?
Pin this to your travel tips, travel or vacation board.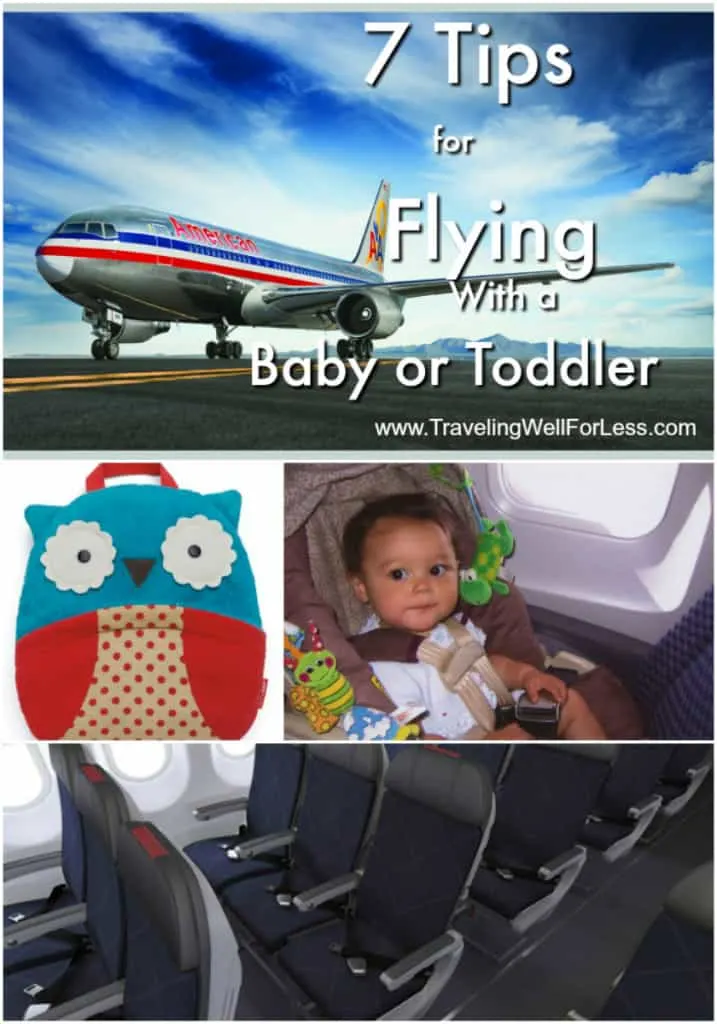 Comment, tweet, or share this post.
Get the best credit card signup bonuses.
Follow us on Twitter | Facebook | Pinterest | Instagram | YouTube
Got a question? Or want help, suggestions, travel tips, learn how to travel for free, find out about travel deals, and maximize your miles and points? Use the subscription box below to sign-up and get post updates by email.
Traveling Well For Less has partnered with CardRatings for our coverage of credit card products. Traveling Well For Less and CardRatings may receive a commission from card issuers.
---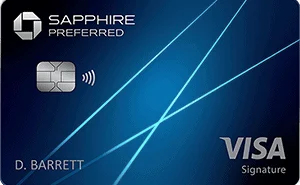 card_name
is the
best card to get started in the world of miles and points.
It is the first card you should get to start traveling for free because the
welcome offer is 60,000 points
after spending $4,000 in the first three months.
My favorite perks about this card are earning 5X points on travel when booked through the Chase portal (2X if direct purchase), 3X points on dining, $50 yearly credit on hotels booked through the Chase portal, no foreign transaction fees, and transferring points to 13 airline and hotel partners like Hyatt, United, and Southwest.
Learn more about the card_name and how to apply
---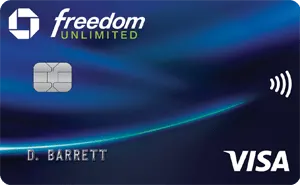 The
card_name
is one of my favorite cards for earning cash back card and travel rewards. It offers a
welcome offer of 3% cash back = an extra 1.5% cash back
on up to $20,000 in purchases your first year.
My favorite perks about this card are earning
6.5% cash back on travel booked through the Chase Travel Portal
,
4.5% cash back at drugstores and restaurants (including delivery and takeout)
your first year up to $20,000,
unlimited 1.5% cash back on all purchases
and
no annual fee
. When paired with cards like the
card_name
, you can use your points to travel for free.
Learn more about the card_name and how to apply