White Sands National Park, formerly White Sands National Monument and the newest national park in the US. White Sands, became a national park on December 20, 2019.
Located in New Mexico on U.S. Route 70, White Sands National Park is an easy drive from El Paso, Las Cruces, and Alamogordo. It's a doable day trip from Albuquerque, Roswell, Santa Fe, and Tucson.
Having seen pictures, it had been on my bucket list for quite some time. During a visit to El Paso and Big Bend, I drove out to White Sands to go sledding and catch the sunset.
With over 600,000 visitors every year, White Sands National Park is one of the most visited national parks in New Mexico.
The draw…endless white sand dunes.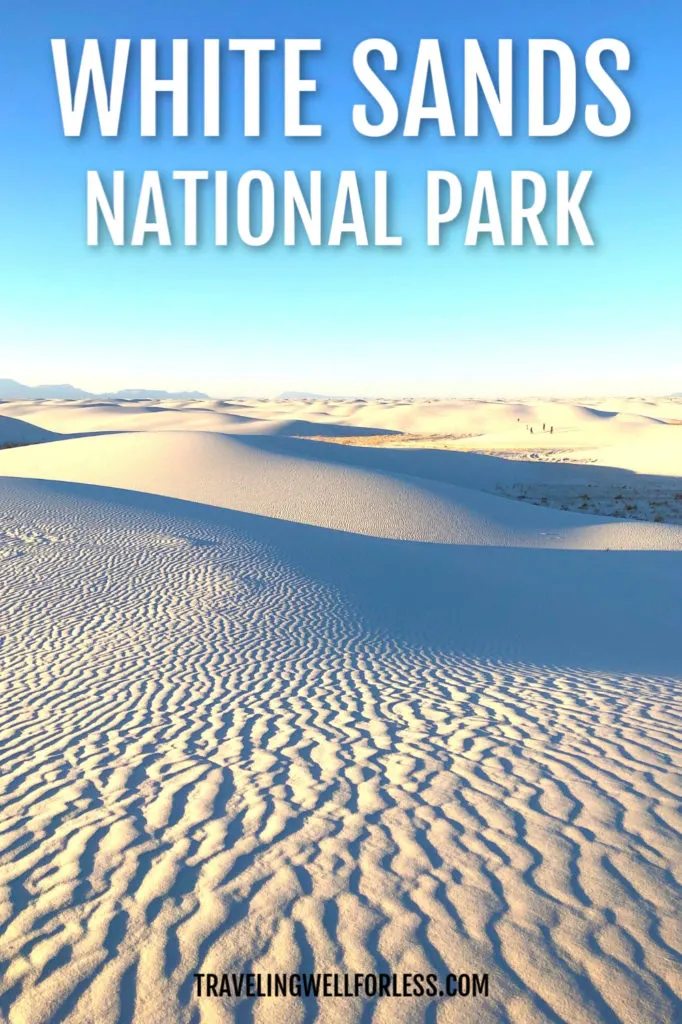 Stretching over 275 square miles the stark white sands allures visitors from all over the world and Hollywood. White Sands National Park has appeared in many movies such as White Sands, Transformers, Transformers 2, The Men Who Stare at Goats, Year One, and The Book of Eli.
The white sand dunes created from gypsum crystals is the largest gypsum dunefield in the world. Snow and rain from the San Andres Mountains breaks down the gypsum washing it into the Tularosa Basin. Without an outlet, nature pounds the gypsum crystals into sand which the wind carries away into the dunes.
The gypsum at White Sands National Park is finely grained and soft, like talc. Making it cushy soft and perfect for sledding.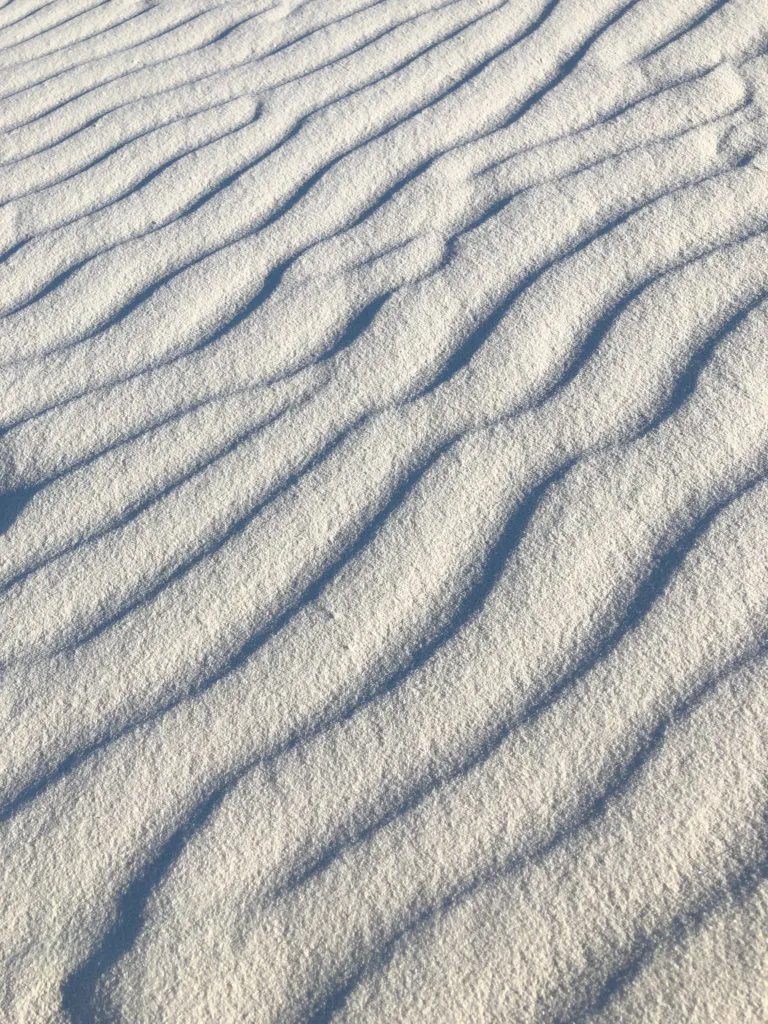 Pro-tip: Gypsum doesn't absorb heat like sand. It is cool to the touch even on hot days. Hiking boots aren't necessary. A pair of tennis shoes, hiking sandals or you can go barefoot.
How to Get to White Sands
Alamogordo and Las Cruces are the closest cities to White Sands National Park but neither have a commercial airport. The closest airport is El Paso. From El Paso Airport, the drive is about 1 hour and 35 minutes. Coming from the Roswell Airport it will take 2 hours and 24 minutes.
Albuquerque International Airport is 3 hours and 25 minutes from White Sands. Santa Fe is only farther, about 3 hours and 47 minutes. While Tucson is a 4 hour and 40 minute drive from Tucson's airport.
Public transportation isn't available so if you fly into any of those cities you'll need to rent a car.
Pro-tip: Put in the visitor center's address in Google Maps or your GPS.
When to Visit White Sands
The best time to visit is April through October. During the summer it gets very hot so consider going in spring and fall to avoid the heat. In the winter the temperature drops below freezing.
Pro-tip: March and July are the busiest months. To avoid crowds, plan accordingly.
Park Entrance Fees
Park entrance fees are payable via cash, check, or credit card at the Dunes Drive entrance station. Fees are valid for seven consecutive days from the date of purchase.
$25 per vehicle (no limit on the number of people in the car)
$15 per person for solo travelers
$20 per motorcycle
$45 annual pass
Pro-tip: Save money and visit during free entrance days.
Visitors with leashed pets are welcome. There is a six foot leash limit.
Pro-tip: Dunes Drive is closed when the nearby White Sands Missile Range does missile testing.
Get Free Admission for Four People
Interagency Annual Pass, Interagency Senior Pass, Interagency Access Pass, Interagency Volunteer Pass, and White Sands Annual Pass holders and three other adults arriving in a private vehicle get free admission.
White Sands Camping Fees
Backcountry camping fees are in addition to the park entrance fee. Camping fees are an extra $3 per person (16 years and older) and $1.50 per person (under age 15). Federal Access and Senior Pass holders get a 50% discount.
Things to Do at White Sands National Park
Planning your visit and not sure what to do at White Sands National Park? Here are the things you can do at White Sands.
1. Explore the Dunes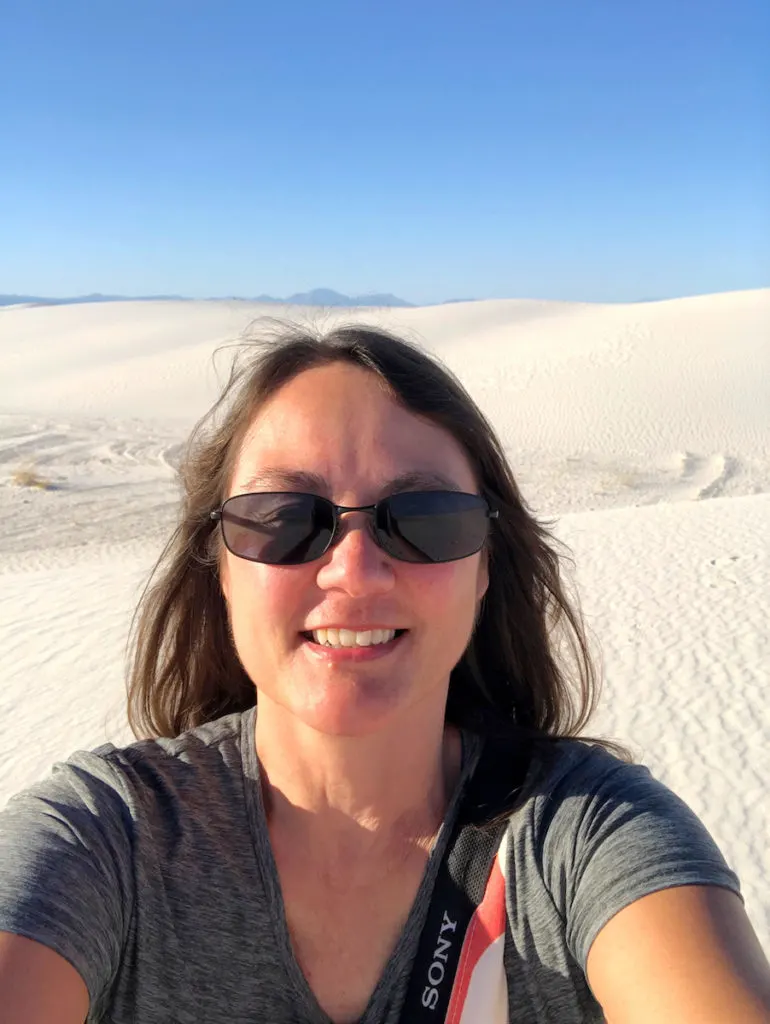 With 275 miles of park you'll have plenty of opportunities to explore the dunes. Dunes are easy to climb, suitable for all ages, and best climbed with a partner. The soft sand is gentle and cool to touch.
There are four types of dunes at White Sands: dome, barchan, transverse, and parabolic.
Dome dunes are small low mounds with little vegetation. These dunes move 24 to 38 feet per year. Barchan dunes are crescent-shaped with most of their sand in the middle. These dunes move 6 to 13 feet a year.
Long ridges of sand form transverse dunes. These tall, thick mounds are close to each other and move slowly, only 4 to 12 feet a year. While parabolic dunes, shaped like a wave move very slow, 2 to 4 feet a year.
2. Go on a Hike
There are five hiking trails at White Sands.
The Interdune Boardwalk, the easiest of the trails, is wheelchair accessible. The 0.4-mile hike on a wooden boardwalk takes you on a gentle loop through the dunes. The loop takes about 20 minutes.
The Playa Trail, green trail marked, is a 1/2 mile roundtrip hike that takes about 30 minutes.
For those seeking a more moderate hike, the blue trail marked Dune Life Nature Trail is a 1 mile that that includes two dune climbs. This trail takes an hour to complete.
The Backcountry Camping Trail, marked with orange trail markers, is a 2-mile hike over steep dunes. Mostly used by campers to reach the backcountry campsites, this trail is open to hikers who want to venture in the heart of the dunes. It takes 1 1/2 hours to finish this hike.
The Alkali Flat Trail is the most rigorous hike. Marked with red trail markers, this 5-mile roundtrip journey is difficult, unshaded, and is a constant up and down trek among steep dunes. The strenuous trek takes three hours to complete.
3. Take a Ranger-Led Hike
If traveling solo or interested in learning about White Sands National Park flora and fauna, go on a ranger-led hike.
The park offers these one-hour Sunset Strolls hikes an hour before sunset. Reservations aren't required for these ranger-guided hikes. Interested participants should meet at the Interdune Boardwalk.
Every month on the night before the full moon from April through October, White Sands National Park offers Full Moon Hikes. This hike, limited to 40 people, costs an $8 per person program fee (16 years and older) or $4 for children aged 15 and younger, plus park entrance fees. Buy tickets through Recreation.gov or by calling 1-877-444-6777.
If you're interested in learning more about White Sands, the park offers Lake Lucero Tours once a month from January through April, November, and December. Limited to 50 people, this three-hour tour costs $8 per person program fee (16 years and older) or $4 for children aged 15 and younger, plus park entrance fees. Buy tickets at Recreation.gov or by calling 1-877-444-6777.
4. Enjoy the Sunset
If you aren't able to take part in the ranger-led Sunset Stroll, you can enjoy the sunset on your own. Sunset at White Sands is an unforgettable experience.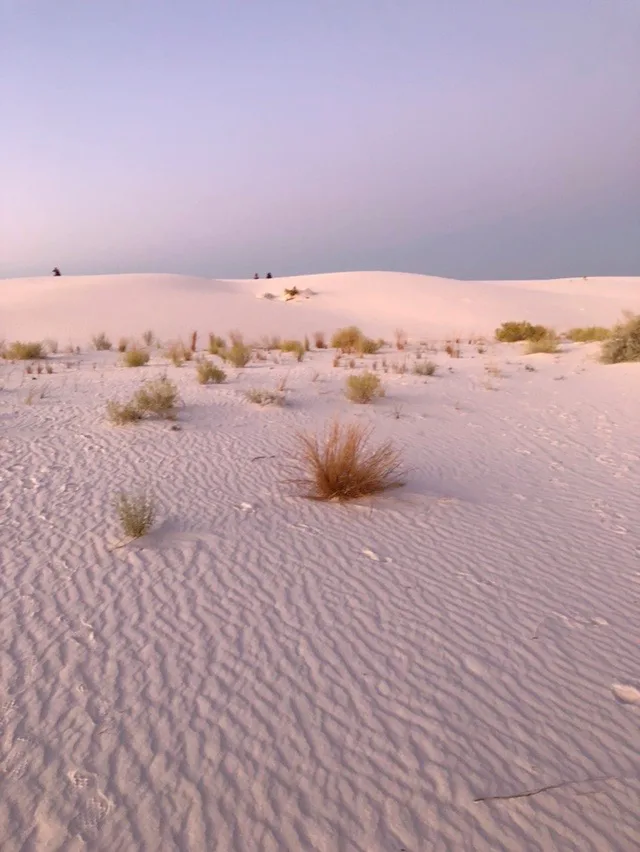 The sky turns various shades of pink and blue creating a stunning contrast against the stark white sanded dunes. Because the park is so big, there are plenty of vantage spots to see the sunset without having to worry about someone in your photos.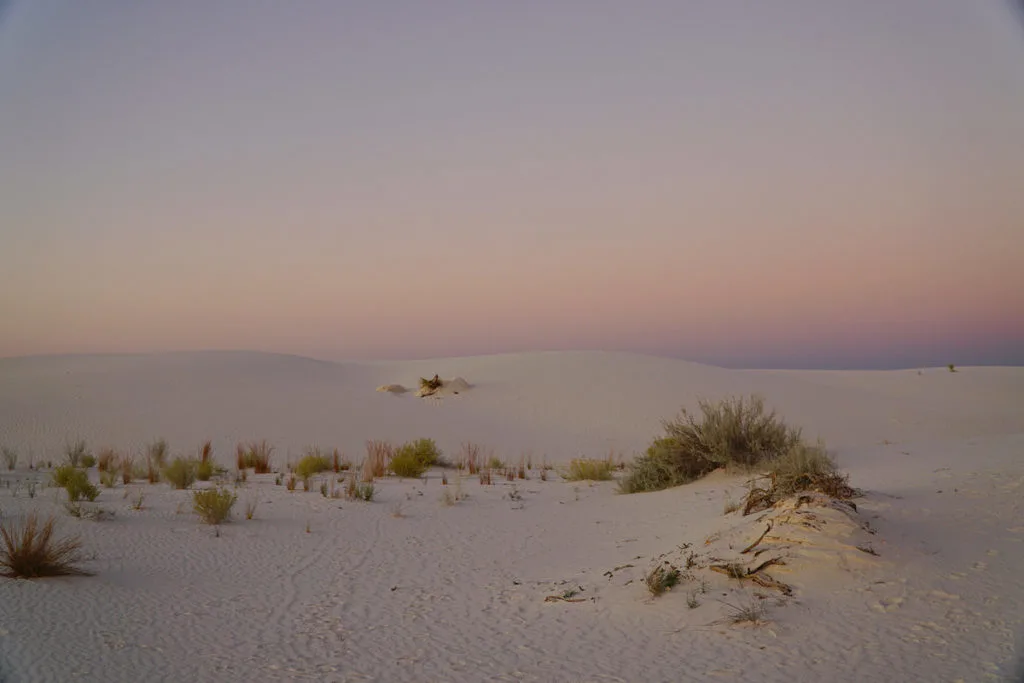 5. Stargazing
Dark skies and endless stretches of white sand provide a unique setting for stargazing. Depending on the evening, there's a chance of some light pollution from nearby Alamogordo and Las Cruces. The best time for stargazing is during a full moon.
6. Go Sand Sledding
Sledding at White Sands National Park is fun for all ages. Unlike the sand dunes in Dubai, the dunes at White Sands are powdery soft and much easier to hoof back up after a trip down.
Despite its snowlike appearance, the soft texture is unlike snow and requires a bit more effort when sledding.
Visitors can bring their own sled, rent or buy plastic snow saucers from the park's gift shop:
New Sled – $18. Buy back for $5
Used Sled – $10. Buy back for $3
Wax – $2. Buy back for $0.50
Pro-tip: Sleds sell out quickly so call the gift shop to make sure they have sleds.
Wax is crucial otherwise the sled won't move on the snow.
If visiting during the winter, the local Walmarts sell snow saucers for less than what the park charges.
Because I visited in October, none of the Walmarts had any sleds in stock. I lucked out and the gift shop had saucers in stock. But only new ones. 🙁
Sledding at White Sands National Park was a lot of fun and I can't wait to visit again!
White Sands Sledding Tips
When sledding, pick a dune with a gentle slope. And while you may want to lay fresh tracks, you'll get a better ride choosing an already carved path.
Choose a steep transverse or parabolic dune at the end of Dunes Drive. Although the sand is soft, the dune base is hard and you can get injured when reaching the bottom.
Avoid sledding down dunes that end in the parking lot. At the bottom, you could skid into a parked or oncoming car.
Be sure to apply lots of wax on your sled. Rub the wax top to bottom in the same directional pattern. Don't rub it on in a circle because it will cause the sled to spin.
Sit or lay on the sled. You'll go faster if you lean back and raise your legs. It's a little tricky getting started so you might need someone to give you a push.
7. Have a Picnic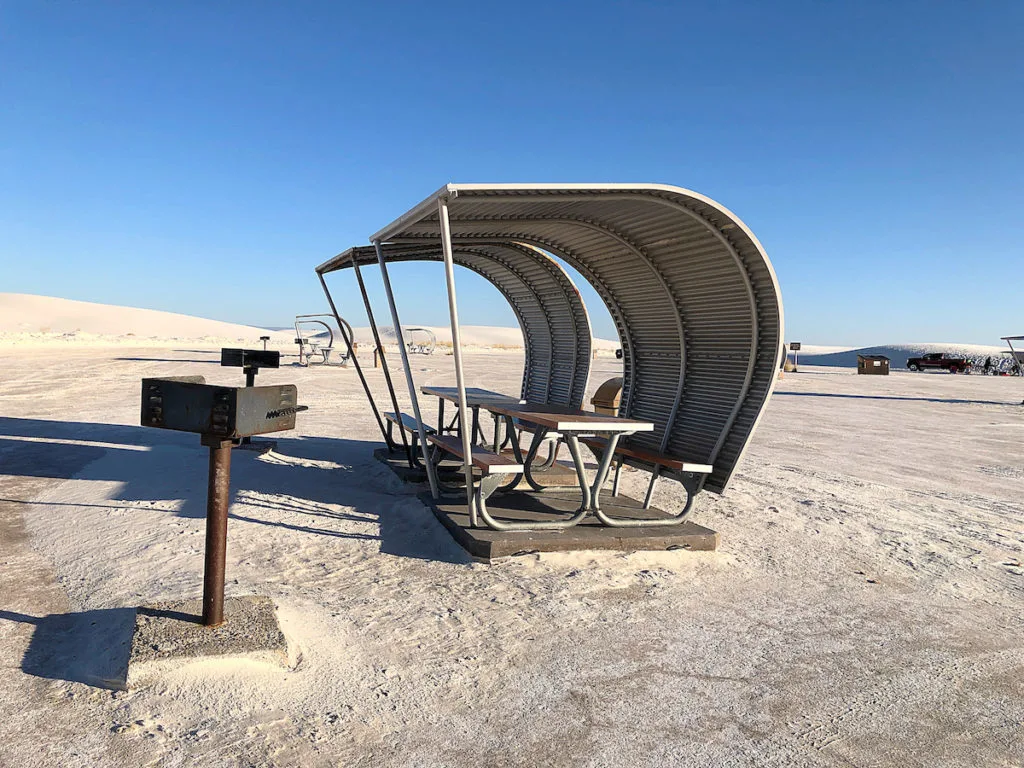 White Sands National Park encourages and provides three main areas off Dunes Drive for visitors to have a picnic: Primrose, Roadrunner, and Yucca. Each picnic area has 62 covered tables with a grill. Tables are available on a first-come, first-serve basis. ADA accessible tables are available.
Pro-tip: If you have a large group of up to 20, grab one of two picnic pavilions in the Roadrunner Picnic Area.
The park allows personal grill use on Dunes Drive provided you take your charcoal out of the park. If using a park grill, douse with water and leave the charcoal in the grill. Recycling bins, trash cans and dumpsters are available.
8. Go Camping
Ten overnight backcountry camping sites are available at White Sands. Spots are first-come, first-served, and fill fast! RV camping is not allowed.
Pro-tip: Get to the park when the visitor center opens at 9 am to better your chance of getting a camping site. Fees to camp are $3 per person (16 years and older) and $1.50 per person (under age 15) in addition to park entrance fees. Federal Access and Senior Pass holders get a 50% discount.
The park only allows you to book one night at a time. If you want to camp for multiple nights, you have to reserve a spot every morning.
Campsites are 0.4 miles to 1.1 miles from the parking lot and marked with orange signs. Keep that mind when choosing your spot because you have to hike all your gear. Poles mark the trail but the constantly shifting sand often covers the poles and markers.
Pro-tip: As the furthest out, Campsite 5 offers the most privacy.
White Sands Camping Tips
The park service provides GPS coordinates of each campsite. Cell service is spotty at best. So consider dropping a pin on Google maps to find your way back.
Bring layers and a warm sleeping bag because it can get very cold at night and hot during the day.
Watch out for scorpions, snakes, and spiders.
Pack plenty of food and water. At least one gallon of water per person per day. The visitor center sells snacks and drinks during operating hours. Park gates get locked nightly at 5 pm so you aren't able to exit and enter.
Campfires aren't allowed but you can use a camp stove.
Backcountry camping is exactly as it sounds. Spartan and primitive. You're paying for a spot on the sand. Toilets are available at the trailhead parking lot, a mile away.
9. Ride Horses
White Sands allows you to ride horses in the national park. You have to bring your own horses and a trailer. Free permits are available at the fee station.
Horses aren't allowed on the Backcountry Camping sites, trails, Interdune Boardwalk, Group Use Area, Co-Use area, and in the picnic areas.
Pro-tip: Overnight camping isn't allowed if you bring horses into the park.
Tips for Visiting White Sands
Ensure a safe and successful trip with these tips for visiting White Sands National Park.
1. Bring Water
It's easy to get dehydrated. Plan on at least a gallon of water per person per day. Having extra water is better than running out of water. If needed, you can buy water at the visitor center.
2. Pack Food
If you're planning a short visit bring high energy packable snacks like energy bars. Picnicking or camping overnight plan your meals so you have enough food.
3. Rest
Remember to rest or take a break during your visit if hiking or spending the day at the park.
4. Wear Sunscreen and Sunglasses
Bring, apply, and reapply sunscreen while visiting White Sands National Park. The white sands reflect the sun's rays and can cause sunburns. Due to glare, sunglasses are a necessity.
5. Don't Hike Alone
Be safe and don't hike alone. With unmarked trails and regularly shifting sands, it's easy to get lost and lose track of your footsteps.
6. Arrive Early or Close to Sunset
The best time to visit the park is early in the morning or close to sunset. Going early or late in the day avoids the heat, crowds, and gives you great picture taking opportunities. During my visit in October, I arrived in the late afternoon. The temperature was pleasant, there weren't many people at White Sands, and I was able to get sunset photos.
7. Check for Closures
White Sands National Park closes when the missile range does missile testing. During my trip to El Paso, there were only two days that the park was open.
Hours: Daily from 7 am to 9 pm. Open all year except Christmas.
Check the website because hours can vary.
Conclusion
If you only visit one national park, it should be White Sands National Park. Stunningly beautiful, protected, and unlike anything you may have ever seen, it's worth the trip.
Few places in the world offer picturesque opportunities like White Sands. Pillowy dunes of white sand stretching for miles.
Enjoy hiking and sand sledding on a surreal extraterrestrial landscape. Stay for gorgeous sunset photos, possibly camp overnight.
As the 62nd US national park, entrances fees are inexpensive. Go for free when you time your visit to coincide with free park days.
My short visit was wonderful and I am looking forward to going back again soon.
What's your favorite national park?
Comment, tweet, or share this post.
Get the best credit card bonuses.
Follow us on Twitter | Facebook | Pinterest | Instagram | YouTube
Got a question? Or want help, suggestions, travel tips, learn how to travel for free, find out about travel deals, and maximize your miles and points? Use the subscription box below to sign-up and get post updates by email.
Traveling Well For Less has partnered with CardRatings for our coverage of credit card products. Traveling Well For Less and CardRatings may receive a commission from card issuers.
---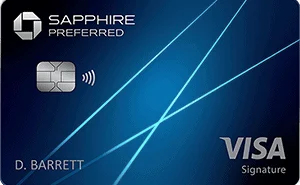 card_name
is the
best card to get started in the world of miles and points.
It is the first card you should get to start traveling for free because the
welcome offer is 60,000 points
after spending $4,000 in the first three months.
My favorite perks about this card are earning 5X points on travel when booked through the Chase portal (2X if direct purchase), 3X points on dining, $50 yearly credit on hotels booked through the Chase portal, no foreign transaction fees, and transferring points to 13 airline and hotel partners like Hyatt, United, and Southwest.
Learn more about the card_name and how to apply
---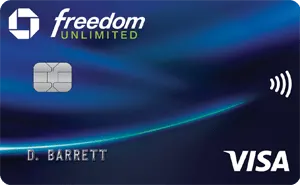 The
card_name
is one of my favorite cards for earning cash back card and travel rewards. It offers a
welcome offer of 3% cash back = an extra 1.5% cash back
on up to $20,000 in purchases your first year.
My favorite perks about this card are earning
6.5% cash back on travel booked through the Chase Travel Portal
,
4.5% cash back at drugstores and restaurants (including delivery and takeout)
your first year up to $20,000,
unlimited 1.5% cash back on all purchases
and
no annual fee
. When paired with cards like the
card_name
, you can use your points to travel for free.
Learn more about the card_name and how to apply