I've won another Versatile Blogger Award and Liebster Award. And I'm finally getting around to announcing them now. Keep reading to learn more about these awards and discover 7 new blogs to read.
2-Time Versatile Blogger Award & Liebster Award Winner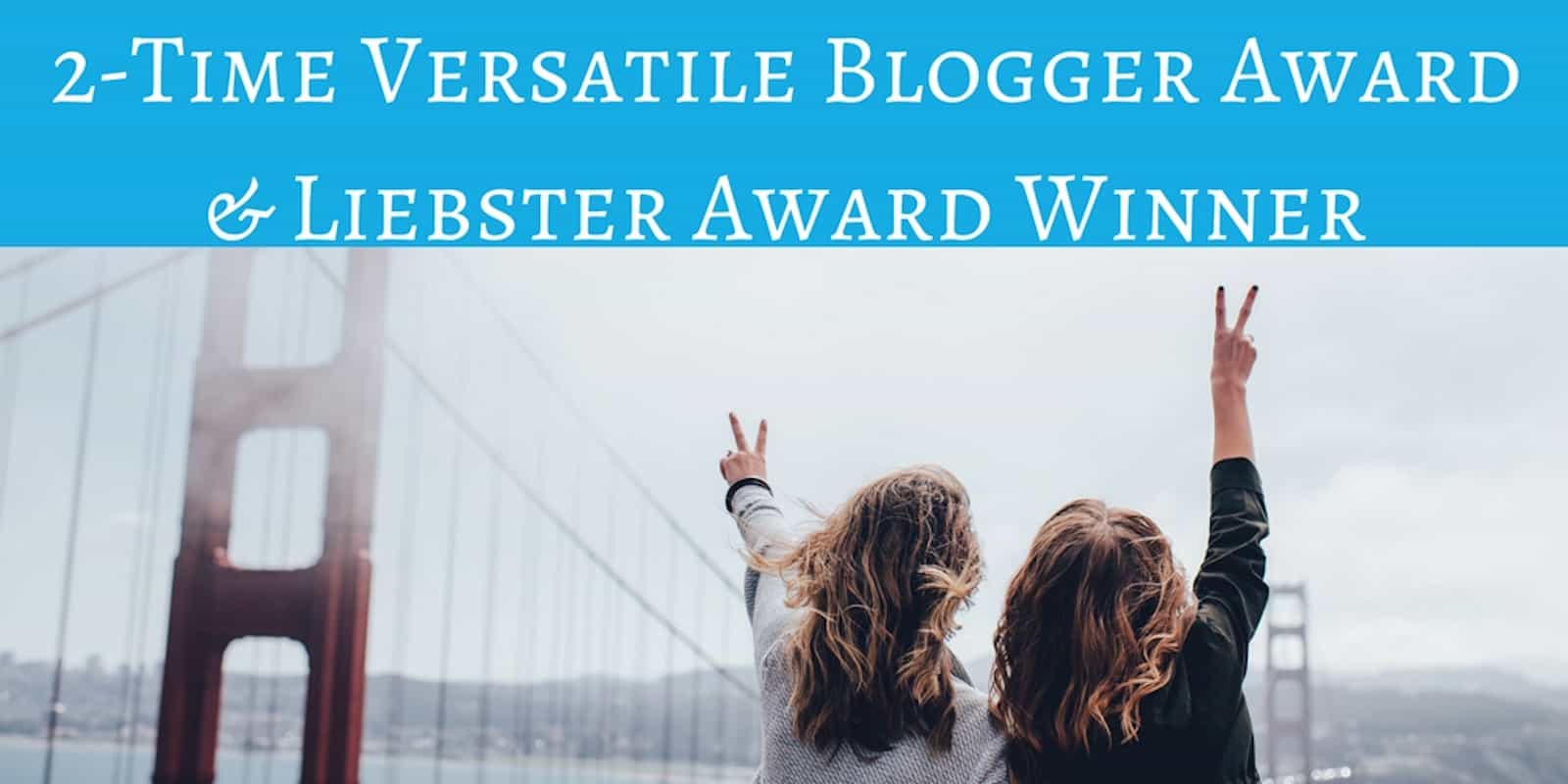 If you're a regular reader you know, I don't always post my trips right away. So waiting a couple of years before I post an award I received, is standard.
That said, on November 15, 2015, The Traveling Gals nominated me for my first Versatile Blogger Award. But it wasn't my first blog award.
My first blog award was the Liebster Award in 2013. Three years later, on March 26, 2016, I won my second Liebster Award courtesy of Hot Mama Travel.
And now I've won another Versatile Blogger Award thanks to Luxury Backpacking.
Blog Awards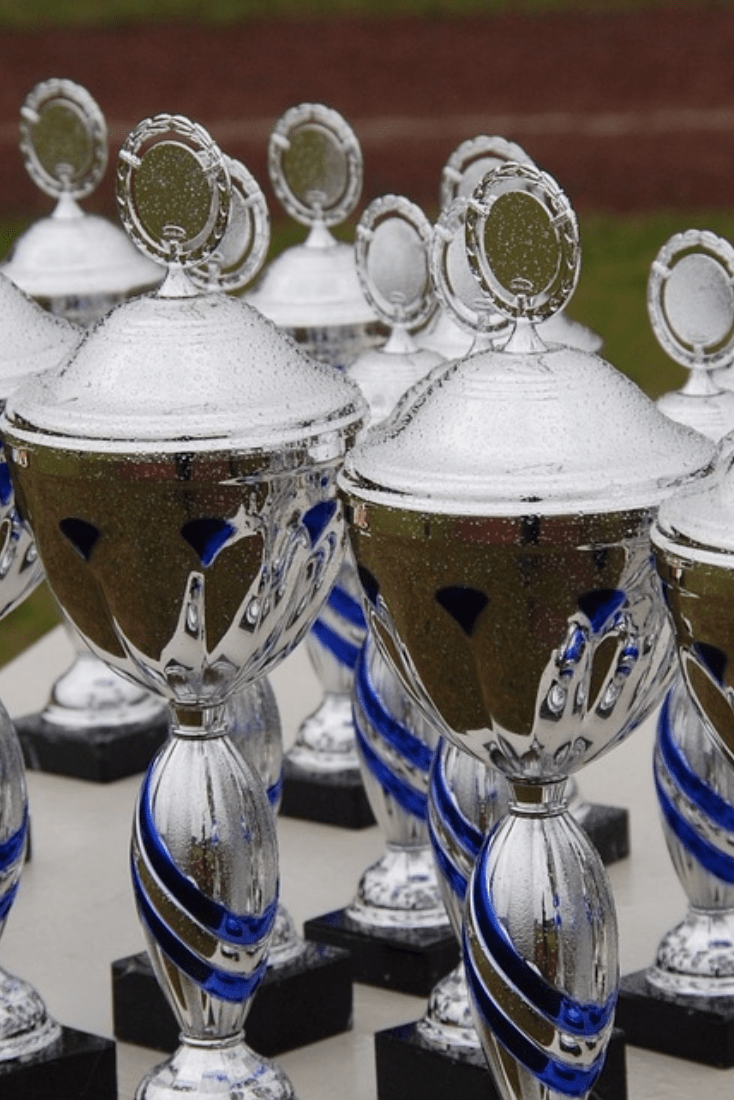 How is the Versatile Blogger and Liebster Award any different from the Top 100 Travel Blogs, Best Female Traveler, Sexiest Traveler, or any of those other awards floating around cyberspace?
In a word: nothing.
That's right. There is no difference in scrutiny or judgment criteria. Yep, the Versatile Blogger, the Liebster, and the other blog awards are all ranked the same.
But the perception is different.
So if a popular blog creates a blog award and nominates other bloggers, people think, "Oh, my god. I won an award." And they pat themselves on the back and give each other high fives.
But is it really an award or another way to glorify their friends?
So it brings the question, are their true blog awards? Yes and no.
Some blogs win awards based on votes. It boils down to a popularity contest. The more people you can get to vote for you, either by coaxing or paying then you win.
Versatile Blogger Award & Liebster Award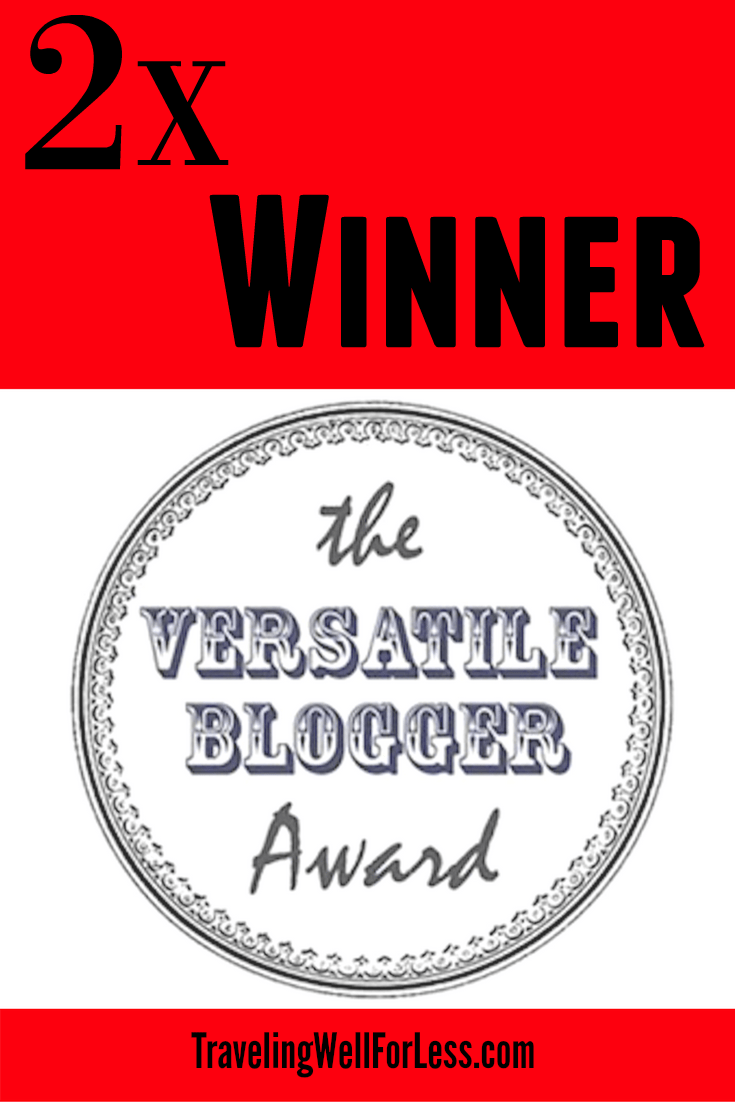 The Versatile Blogger Award and Liebster Award are online blog awards. There's no voting process or traditional nominating procedure.
You can't submit your blog somewhere for consideration. Nor can you pay a fee to enter.
The only way to get nominated and win is from the blogging community. Another blogger has to nominate you.
Liebster is the German word for dearest. It's also used to mean beloved or sweetheart.
The Versatile Blogger Award and Liebster Award are ways for another blogger to say, "Hey, I love your blog."
In the spirit of community, the nominated blogger then spreads the love to 5 to 11 other bloggers. Who in turn, do the same.
Think of the Versatile Blogger Award and the Liebster Award as a blogging award chain letter. But without the negative icky connotation.
It's been almost two years that I received my second Liebster Award. So I'm not going to nominate any other bloggers. Sometimes you've got to break the chain.
But I will answer the questions. The bloggers I've nominated for the Versatile Blogger can also claim a Liebster Award.
Versatile Blogger Award Rules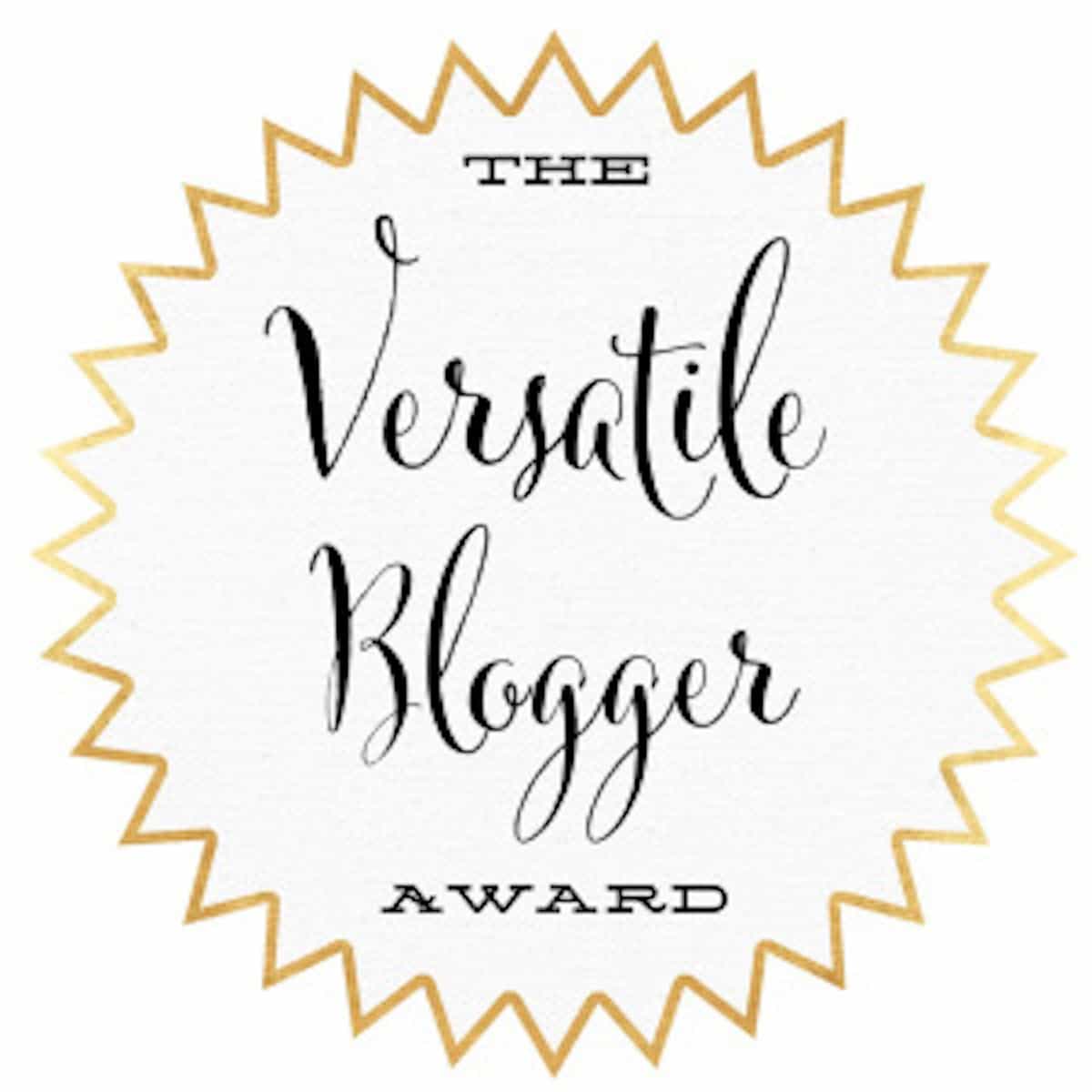 Winners have to:
Thank their nominator on social media and in their blog post announcing their win.
Share 7 facts about themselves.
Choose up to 10 other blogs to award.
7 Facts About Debra
Frugal
I'll spend a dollar if I have to. But you better believe I'm going to get the most value from that dollar. And the experience will be worth it.
Hence the whole concept of the blog.
And if I can use travel rewards to travel for free, all the better.
Miles and Points Obsessed
I've used miles and points to pay for my travel since 1994.
And have done crazy things to earn lots of points. From buying boxes of cereal, signing up for lots of credit cards, to mileage runs. Everything has been fair game.
Travel Hard, Play Harder
A fearless adventurer, I go all in.
I broke some ribs trying to zipline with one hand in Cancun.
Doing Zumba is good for you. But when you do it 3 times a day, 5 days a week, that's a bit much. My never healed correctly stress fracture in my foot is a testament to that.
Solo Traveler
Most of my travel is solo travel. What started with 2-day trips morphed into week long trips.
Craft Beer Lover
I love craft beer, particularly stouts.
It's funny because I used to hate beer. But that was back before the craft beer movement. And before I discovered 5 Denver beers even beer haters will love.
The Hops Highway is my playground. Check out 5 best North County San Diego beers.
Semi-Crunchy
Depending on who you talk to, being semi-crunchy is either something to be proud about. Or something that should be kept to yourself.
I'm not a hippie-granola girl. But I'm a fan of eco-living. I save rainwater, grow vegetables in our garden, and generate electricity from solar panels.
Extremely Type-A
Being type-A can be a blessing and a curse.
So when I suggest ways to do things or offer advice, it's coming from a place of love. And not because I think I know everything. Although, I do. 🙂 ROFL!
7 Nominees for Versatile Blogger Award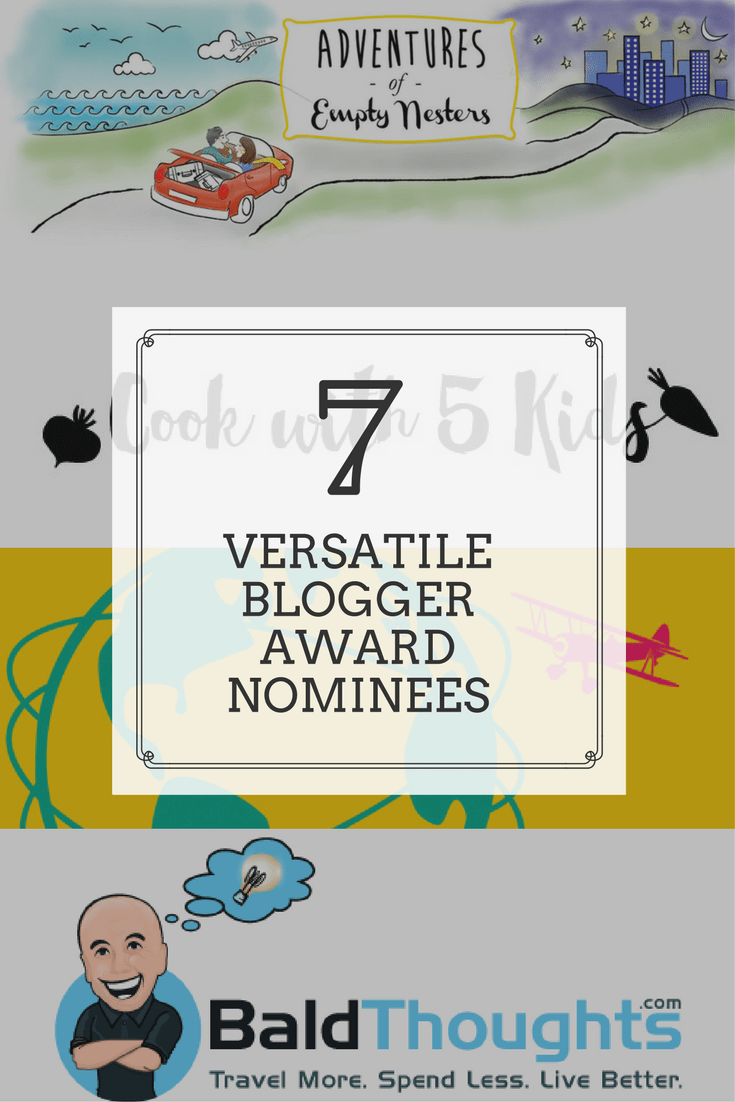 Listed in order of how I contacted each of them, here are my seven nominees for the Versatile Blogger Award:
Adventures of an Empty Nester
Suzanne and I met at the Women in Travel Summit conference last year. She writes about traveling now that the kids are out of the house on Adventures of an Empty Nester
Wherever I May Roam
Melody and I are in several Facebook groups. We finally met in person at the same conference I met Suzanne and Amanda. Melody's travel blog is Wherever I May Roam.
Travel Blogger Buzz
I promised to keep his real identity secret. So I'll call him by a code name. I've known him for several years and he's one of the nicest guys.
Deepthroat writes Travel Blogger Buzz, the TMZ of miles and points blogs in his alter-ego, Dr. Jekyl.
Bald Thoughts
Lee and I have known each other via Facebook for a couple years. But only met in real life at FinCon last year.
He has the best tag line ever: Travel More. Spend Less. Live Better. I wish I had thought of it first because it fits my blog perfectly. Lee's blogs at Bald Thoughts.
Cook With 5 Kids
Because life isn't just about travel, I'm including Sara from Cook With 5 Kids. Sara and I met at a Type-A Conference two years ago.
I was loading up a plate with food placing a few items on my plate in Grand Lounge at the Grand Hyatt Atlanta when one of us struck up a conversation.
Sara and Tabatha (see below) are among my favorite bloggers to hang out with.
A Half Dozen Life
Tabatha is Sara's partner in crime at conferences. She is one of the funniest people I know. Tabatha blogs at A Half Dozen Life.
M'Liss Travels
M'Liss and I met last year at the Women in Travel Summit conference. And we're also members of the San Diego Travel Massive Community and IFWTWA.
Her nomination will be a surprise. She's on her way to Hawaii so she may or may check her email. M'Liss is a travel writer who blogs at Mlisstravels.com.
Liebster Award Rules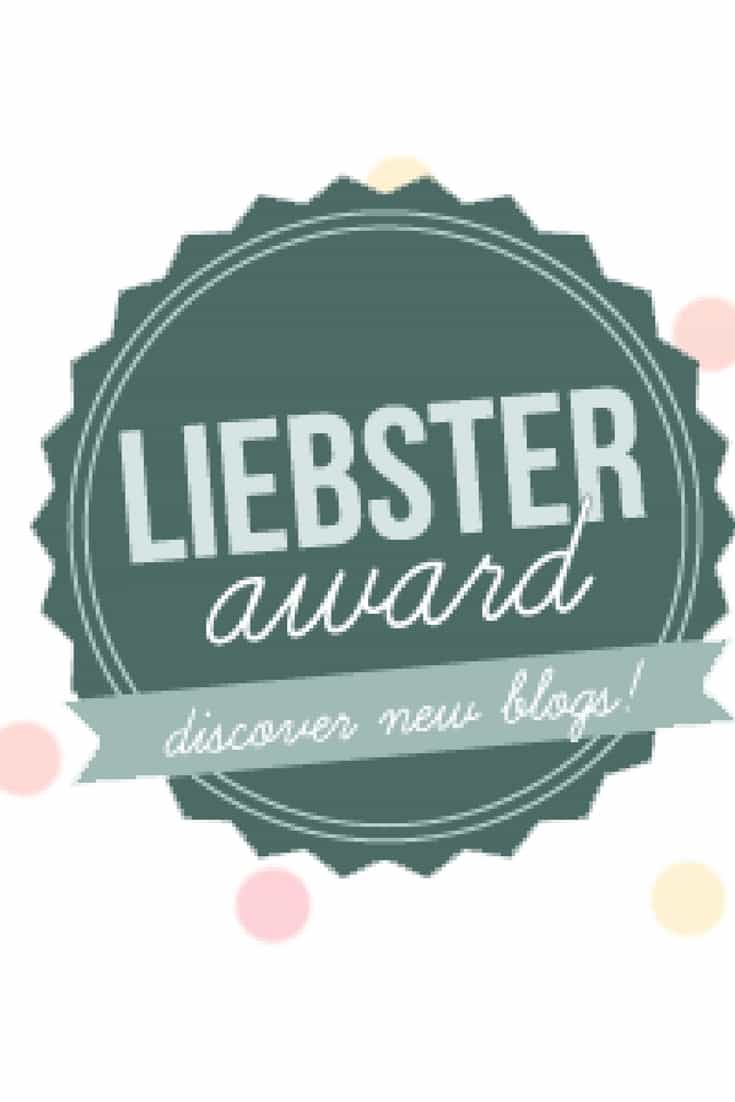 The winners of the Liebster Award have to:
Thank the blogger who nominated them and link to their blog.
Answer 10 questions from the person who nominated them.
Nominate up to 11 bloggers.
Create 10 questions for their nominees.
Liebster Award Questions
What inspired you to become a travel blogger?
I won't give you that song and dance, "I started blogging to help people" line that you've read before on other blogs.
The original plan was an online resume for my travel writing. But I never posted any of my published work.
And as I stopped writing on my personal blog, Traveling Well For Less evolved into sharing travel tips, tricks, and deals.
What is the one trip you still can't believe you took?
This is a hard one because I've been fortunate to take many amazing trips. And each has been unique for special reasons:
Jeff and I spent a week in Sydney for less than $600 including First Class flights, hotels, food, and activities.
Summer vacations in Hawaii every year for free.
Two weeks in Israel with my church. Some of this was posted on my personal blog.
Unfurling the Chicago Cubs flag on the Great Wall of China.
Traveling to Madrid with two of my travel buddies. Both of whom are men. And yes, we all had our own rooms. But try to explain that your friends from church or people who aren't as addicted to travel.
What destination is still on your bucket list?
Africa is still on my bucket list.
A couple of years ago I bought a cheap ticket thanks to an Etihad deal but had to cancel.
One day I'll get there and see the Big Five.
What was your biggest travel fail and what lessons did you learn?
Hmm, either the time I almost involuntarily became an expatriate. Or when English isn't English.
If you could choose any travel buddy past or present who would it be and why?
I've got awesome travel buddies with whom I'd go anywhere with like:
Laura
Sagy
Steve
Tammy
Tiy
Plus the ones I see at conferences like Cheryl, Cliff, Paula, Ray, Sang, Sheri, and Russ. But have yet to take a trip together.
What is your surprise "must-have" travel item?
There are several things I always bring when I travel:
But my surprise "must-have" item is PDI Sani-cloth germicidal wipes.
These aren't regular wipes. They kill MRSA, staff and are what hospitals use. PDI Sani-cloth wipes are serious stuff.
So I keep them stocked in my backpack. I use them on every flight and in the hotel room.
Has terrorism affected how you travel?
Terrorism hasn't affected my travel. But you can read how the travel ban did.
What is your travel style? Are you a planner or spontaneous? Tourist attractions or off the beaten path?
I'm a planner. I schedule out the entire day from the wee hours of the morning until the bars close.
But when traveling with my travel buddies, I'm spontaneous and flexible.
I want to see and do it all. So if that means tourist attractions so be it.
But I love finding those off the beaten path places, the hidden gems. The spots where the locals go.
When travel is a part of your job, how do you find the balance between work & play?
Finding the balance between work and play hasn't been an issue. But creating time to write blog posts is another story.
I'm totally guilty of not posting trips soon enough. Because I travel two weeks of every month.
I don't have a staff of writers or an assistant. I'm a one-woman show. Although, Jeff has been helping out recently by liking Facebook posts.
And when I travel, I want to see and do things. Because isn't that the purpose of traveling in the first place?
To see, experience, and embrace the local culture.
So it may take a while before I write a blog post about my trip.
Who is your favorite travel celebrity?
I'm not even sure who is a travel celebrity. So I'm gonna pass on this question.
Thank you again to Amanda from Hot Mama Travel for the Liebster award. She and I met last year at the Women in Travel Summit conference.
And thanks to The Traveling Gals and Emma from Luxury Backpackin who each gave me a Versatile Blogger Award.
Conclusion
I've won the Versatile Blogger Award and the Liebster Award twice.
The Versatile Blogger Award and the Liebster Award are online blogging awards. Bloggers are nominated by their peers and automatically win once nominated.
The winners then choose 5 to 11 other bloggers to nominate. It's a fun chain letter or slam book type of award.
And the benefit for our blog readers? You get introduced to new blogs.
Travel for Cheap Using Reward Points
How to Travel for Free
Read these blog posts on how to travel for free.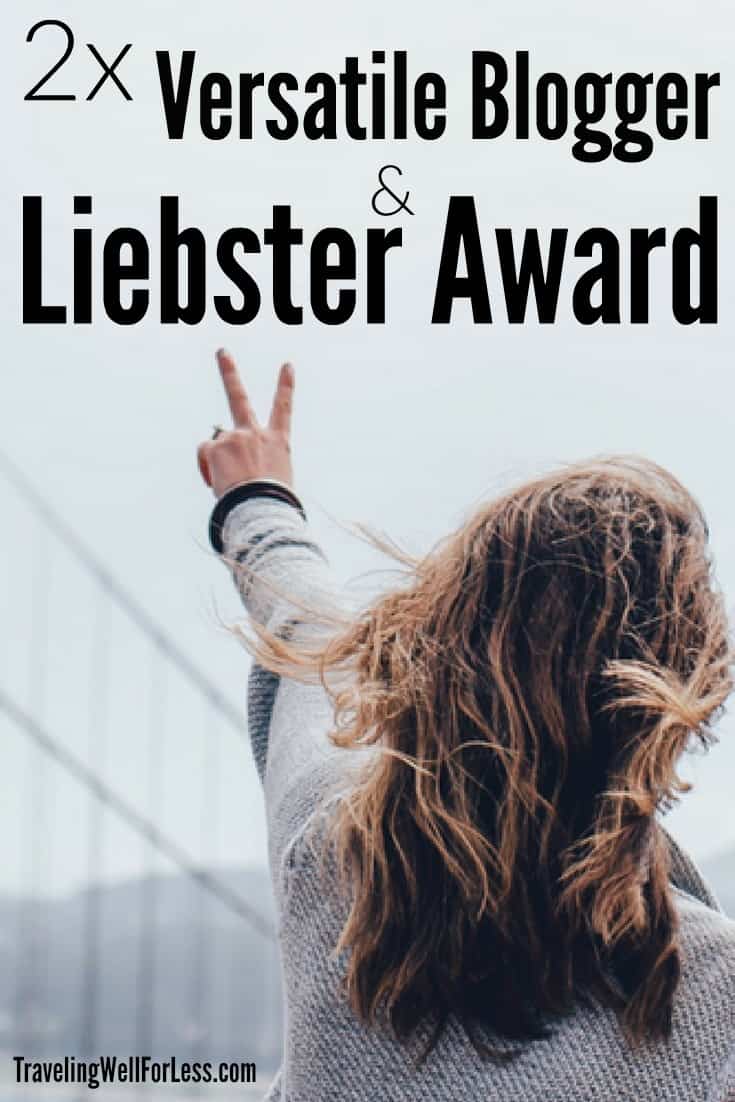 Comment, share this post, tweet, or give me a +1.
Follow us on Twitter | Facebook | Pinterest | Instagram | Google+
Got a question? Or want help, suggestions, travel tips, learn how to travel for free, find out about travel deals, and maximize your miles and points? Use the subscription box below to sign-up and get post updates by email.
Traveling Well For Less has partnered with CardRatings for our coverage of credit card products. Traveling Well For Less and CardRatings may receive a commission from card issuers.
---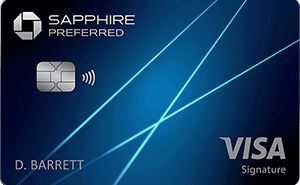 The Chase Sapphire Preferred
is the best card to get started in the world of miles and points.
It is the first card you should get to start traveling for free because the
welcome offer is 60,000 points
after spending $4,000 in the first three months.
My favorite perks about this card are earning 5X points on travel when booked through the Chase portal (2X if direct purchase), 3X points on dining , $50 yearly credit on hotels booked through the Chase portal, no foreign transaction fees, and transferring points to 13 airline and hotel partners like Hyatt, United, and Southwest.
---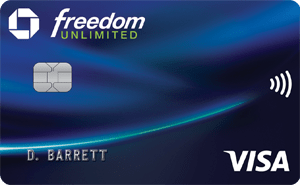 The
Chase Freedom Unlimited
is one of my favorite cards for earning cash back card and travel rewards.
It offers a
welcome offer of 3% cash back = an extra 1.5% cash back
on up to $20,000 in purchases your first year.
My favorite perks about this card are earning
6.5% cash back on travel booked through the Chase Travel Portal
,
4.5% cash back at drugstores and restaurants
,
unlimited 1.5% cash back on all purchases
and
no annual fee
. When paired with cards like the
Chase Sapphire Reserve® Card
, you can use your points to travel for free.