The lights on the pager flashed. It was time. Time to head to a sealed glass box 984 feet (300 meters) above the city. Where I would be suspended, alone, supported only by cables and pieces of steel, for who knows how long. What had I gotten myself into? Keep reading for my review of Eureka Skydeck.
Review: Eureka Skydeck, the Best Views of Melbourne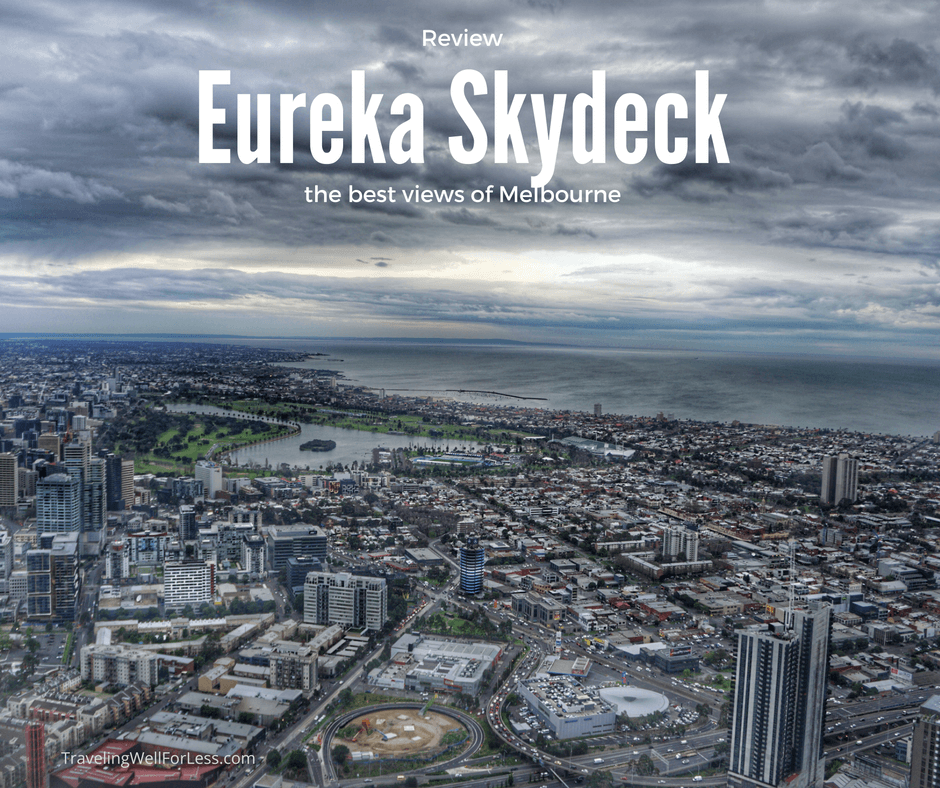 I've done the Space Needle, Rockefeller Center Observation Deck, and the Shanghai Tower. But the Eureka Skydeck and the Edge was different.
The Edge at Skydeck isn't just a large tower. It's literally a glass box. That extends out over the cityscape. And once you're in, there's no way out. Until your time is over.
I was exploring the city of Melbourne for a few days and wanted to do something unique. Something outside of the traditional museum. Something adventurous like sandboarding or zip lining. Because that's how I roll. Something that was uniquely Melbourne.
Read: Carving it up: sand boarding in Dubai
And viola, I found Eureka Skydeck and the Edge. Where else can you be trapped in a small glass cube that prjoects out from one of the tallest buildings in the world?
Skydeck
The Eureka Skydeck has the best views of Melbourne. At 984 feet, it's the "highest public observation deck and fastest elevator trip in the Southern Hemisphere." 38 seconds from top to bottom. Yep, that's quick!
Fun fact: The Eureka Skydeck has 24 carat gold plated glass windows.
At the Skydeck, you're treated to spectacular great views of Melbourne. (Excuse the slight glare in my photos from the lights.)
The rain had stopped so I could see to Port Phillip Bay.
Just a peek of the sunset (darn clouds) overlooking the Docklands.
View of Melbourne city including the luxury apartment building sculpted in the image of William Barak, an Wurundjeri-william clan (Aboriginal) elder.
The Yarra River, Melbourne Park (blue-topped buildings where the Australian Open (tennis) is played), and Melbourne Cricket Ground (MCG) (round stadium).
The Rod Laver Arena (Australian Open) and the Melbourne Rectangular Stadium (AAMI – where rugby and soccer are played).
South Melbourne towards St. Kilda and Albert Park Lake (with the island in the middle). In the upper right edge of the photo, you can see the left corner of the Edge.
There are 30 viewfinders pointed toward attractions, like Queen Victoria Market. Great if you're directionally challenged like me.
The bird's eye view of the city was cool. It gave a different vantage point on some of the buildings. Although it did make me wish I had brought my telephoto lens.
There were quite a few people enjoying the Skydeck. Probably to be expected because it was close to sunset and a cold, drizzly day.
I wandered around the Skydeck taking photos and then ventured out to the Eureka Terrace.
Eureka Terrace
If you're not sure you want to do the Edge. Or if you'd rather save money, you can do the poor man's Edge – the Eureka Terrace. The Eureka Terrace is pressure-locked open-air observation deck.
Before you can step out onto the terrace, you have to wait until the light turns green before the sealed doors open.
Floor to ceiling steel chain-link fencing prevents you falling. The openings are just big enough to put a few fingers through. But not quite big enough to get your camera lens through. So your photos taken from the Eureka Terrace will have the fencing in the foreground.
There's only 1 set of high powered binoculars so you have to wait your turn.
And it can get really windy. Like insane, loud, rip-roaring windy.
Despite the wind, I enjoyed hanging out on the Terrace. It was rarely crowded and the open air concept really enforced the "you're towering over the city" feeling.
I was still on the Terrace when my pager flashed. Time to head for the Edge.
The Edge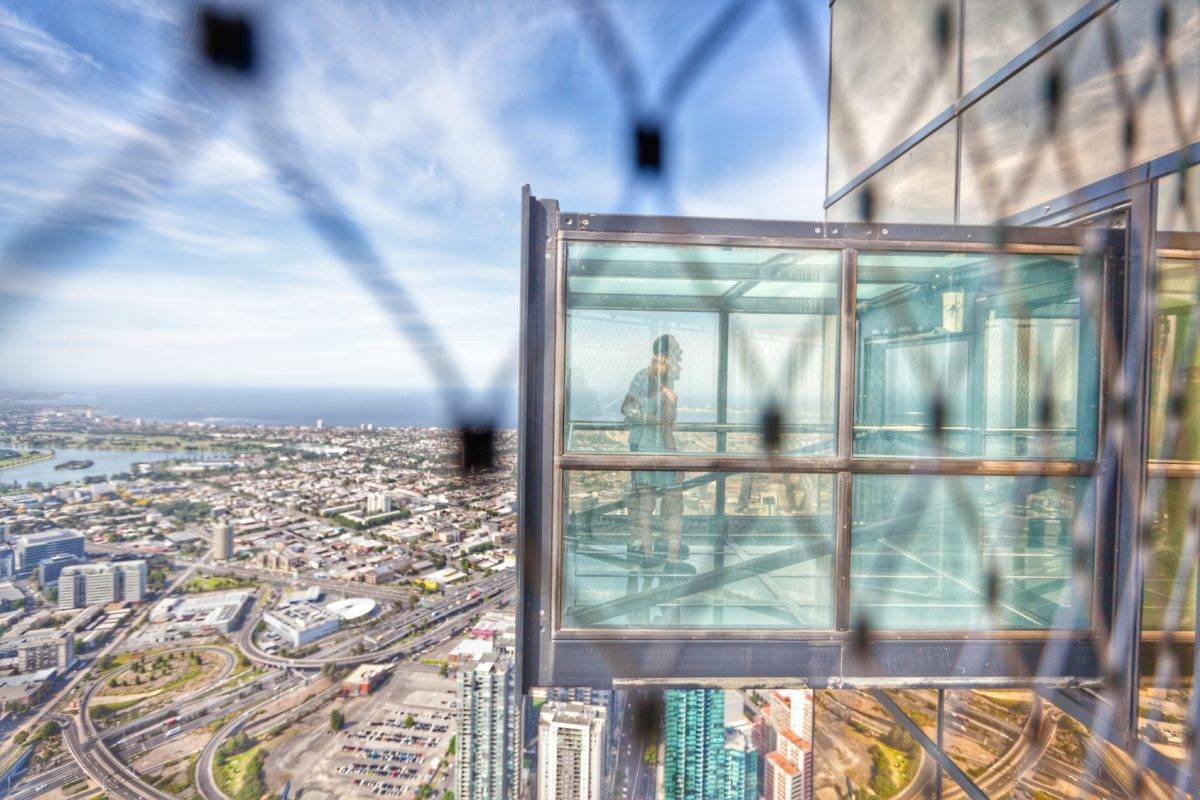 The Edge is a glass cube that projects 10 feet from the building over the city. It seemed to be about 10 feet by 10 feet.
Instead of one large glass panel, the floor of the Edge is made up of 8 skinny (2 x 5) glass panels. Definitely stronger and more reinforced this way. A good thing because plunging 984 feet isn't fun.
I was given neoprene booties similar to sand socks for my shoes to protect the glass from scratches. There were cubbies in the interior chamber to leave my backpack, purse, or other items. I kept my backpack on but should have taken it off. Because it made it harder to lie down.
Then I was put in the box. And the heavy door slammed shut. Tight.
All the windows were completely dark and clouded over as the glass cube slowly extended out from the building.
It's kind of an ominous beginning. It's kinda creepy because you're not really sure what is happening because you can't see anything and there's a lot of noise.
There was a loud crack, like a switch turning on. And like that, the glass was no longer cloudy. The Edge was now extended fully and I could see all of Melbourne. Or at least the areas that the cube faced.
The two sides of the Edge are made up of four large panels of clear glass. The front is made up of two large 24-carat gold plated glass panels.
The view looking through the gold plated glass wasn't as clear as I had thought it would be. The glare from the gold may have affected the view as well as the weather conditions and time of day.
Looking out toward the MCG and AAMI.
The view of Albert Lake and Port Phillip Bay from inside the Edge. (Excuse the glare from the Terrace.)
The sunset view of the Melbourne Docklands.
Melbourne's ballerina tower, the Arts Centre.
There's a mounted DSLR camera in the back of the cube to take souvenir photos: one serious and one funny.
Overall, it was a pretty cool experience. And worth the time to try it.
Note: You're not allowed to take photos. But I was given an exception so that I could use my own photos.
Read: TripAdvisor reviews about Eureka Skydeck and the Edge
Conclusion
When I planned my third trip to Australia, I had no idea I'd spend part of it hanging out in a 10 x 10 glass box, 984 feet above the city of Melbourne.
Melbourne's the Edge and Eureka Skydeck is worth the trip if you want the best views of the city.
You could spend several hours enjoying the views both on the Skydeck, in the Eureka Terrace, or in the Edge. There's also The Walk, a green room experience where it looks like you're walking on a wire suspended between two buildings.
There's free Wi-Fi, reasonably priced sandwiches and snacks for purchase, and a smartphone charging station to keep you occupied.
Eureka Skydeck is a great spot to take in the city. And the views during sunset are spectacular.
What glass observation decks, cubes, or boxes have you tried?
Eureka Skydeck
Riverside Quay, Southbank, Melbourne 3006
(03) 9693 8888
10 am to 10 pm daily
Eureka Skydeck
Tickets are $20 for adults, $15.50 for seniors and students, and $11.50 for children (4 to 16 years old). Children 3 and under are free. Prices are in Australian dollars.
You can add on the Edge for $12 (adults), $10 (students and seniors), and $8 for children.
I recommend booking the Sun & Star package for an additional $5.50. Because it lets you come back a second time. So you can visit in the morning and at sunset or at night.
Pin this to your travel, vacation, or Australia board: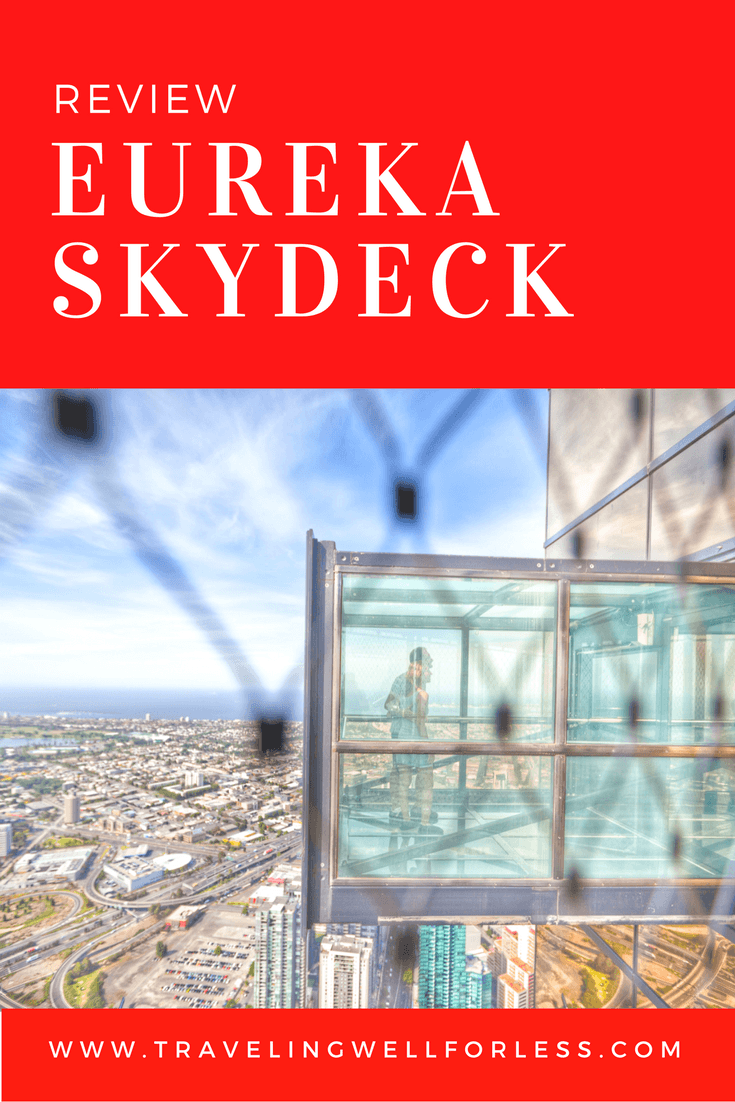 Comment, tweet, or share this post.
Get the best credit card signup bonuses.
Follow us on Twitter | Facebook | Pinterest | Instagram | YouTube
Got a question? Or want help, suggestions, travel tips, learn how to travel for free, find out about travel deals, and maximize your miles and points? Use the subscription box below to sign-up and get post updates by email.
Traveling Well For Less has partnered with CardRatings for our coverage of credit card products. Traveling Well For Less and CardRatings may receive a commission from card issuers.
---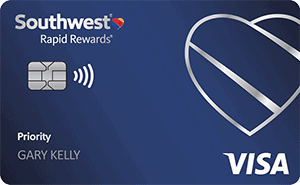 T
Southwest Rapid Rewards Priority Card's
newest signup bonus can get you up to 2 years of free flights!
 The
welcome offer is 100,000 points:
50,000 points after spending $2,000 in the first three months; another 50,000 points after spending a total of $12,000 in the first 12 months.
My favorite perks about this card are earning 3X points on Southwest purchases, 2X points on internet, cable, phone, streaming, ride share, and Rapid Rewards hotel and car rental partners, $75 yearly travel credit, 4 upgraded boardings each year, and no foreign transaction fees.
---
You can also get the 100,000 bonus
on the
---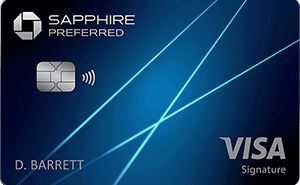 The Chase Sapphire Preferred
is the best card for beginning travel hackers.
It is the first card you should get to start traveling for free because the
welcome offer is 60,000 points
after spending $4,000 in the first three months.
My favorite perks about this card are earning 5X points on travel when booked through the Chase portal (2X if direct purchase), 3X points on dining , $50 yearly credit on hotels booked through the Chase portal, no foreign transaction fees, and transferring points to 13 airline and hotel partners like Hyatt, United, and Southwest.
---
---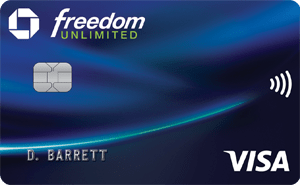 The
Chase Freedom Unlimited
is one of my favorite cards for earning cash back card and travel rewards.
 It offers a
welcome offer of $200
after spending $500 in the first three months.
My favorite perks about this card are earning
5% cash back at grocery stores the first 12 months (up to $12k)
,
unlimited 1.5% cash back on all purchases
and
no annual fee
. When paired with cards like the
Chase Sapphire Reserve
, you can use your points to travel for free.
Thursday 9th of February 2017
I want to go to the Eureka skydeck too. I hope I can visit someday with my family.
Friday 23rd of September 2016
This looks Gorgeous! I'd love to visit it someday
Tuesday 1st of November 2016
Hi Shirley Martinez,
Thanks. I too, hopeyou can visit someday.
Thursday 22nd of September 2016
Australia is at the top of my list of places to go. Heck, I'd move there in a heartbeat if I could.
Tuesday 1st of November 2016
HI Gabriel,
We would too. We thought it about when we first visited in 1994 but wasn't sure about the job market. So we visit instead.
Hope you get to cross Australia off your bucket list. :)
Thursday 22nd of September 2016
I am loving all the wonderful views you got to see and experience but my fear of heights has my heart tripping over itself.
Tuesday 1st of November 2016
Hi Anosa,
:( Yikes, at least you could enjoy the photos. :)
Wednesday 21st of September 2016
I want to go to the Eureka skydeck too. What a wonderful experienced of yours!
Tuesday 1st of November 2016
Hi Nicole Etolen,
Yes, definitely try it. You'll love it!