Year round great weather, outdoor activities from beaches, mountains, to deserts, and home to theme parks like Disneyland, Legoland, and SeaWorld make California the most popular state to visit. So a trip to California can be expensive. But you can enjoy a Southern California vacation on a budget. Here's how you can spend a weekend, a week, or even a month or longer in California without going over budget by staying in the San Jacinto Valley.
Disclosure: My trip to San Jacinto was provided courtesy of Visit San Jacinto Valley for the #VisitSJV Blogger Press Trip. All opinions are 100% mine.

The San Jacinto Valley, a Hidden Gem
Tucked away in the heart of Southern California lies a hidden gem, the San Jacinto Valley.
Imagine that instead of depositing Dorothy, Toto, and her aunt's house in Oz, the tornado plopped everything down in California, more specifically the San Jacinto Valley. That small town warmth, friendliness and welcome that the Midwest is famous for, you'll find in the San Jacinto Valley.
And if you're not into all that love and good feeling, that's okay because there are lots of things to do in San Jacinto Valley.
Only 90 minutes from Los Angeles and San Diego, the San Jacinto Valley is perfect for:
A base for taking a day trips to Disneyland, Legoland, and other Southern California attractions
Frugal travelers who want to get more value from their California vacation
Off the beaten path travelers who want unique experiences
History buffs who appreciate the beauty of antiques and the story behind things
You won't be bored when you stay or visit the San Jacinto Valley. There's something to do for everyone, from the adventurous to shop till you drop traveler.
Adventurous Things to do in San Jacinto Valley
Crave outdoor adventure? You can camp, paraglide, off-road, mountain bike, hike, golf, and fish in the San Jacinto Valley. There are half-mile circuit and exercise stations along the trails. And you can bike the 37 mile around Diamond Valley Lake.
Diamond Valley Lake
You can go boating and fish on Diamond Valley Lake.
But don't go in the water. As one of the largest reservoirs in Southern California, Diamond Valley Lake supplies fresh water for the Inland Empire. So no wading, swimming, or piddling allowed.
Off the Beaten Path Things to do in San Jacinto Valley
Victorian Bridal Museum
If you're a regular reader of the blog, you'll know I'm not a girlie girl. So the idea of a bridal museum doesn't get me weak in the knees. Or have me dreaming of the perfect wedding.
But I do love history. And you can learn the history of these Victorian bridal gowns from Eve Faulkner when you visit the Victorian Bridal Museum. Be sure to look for the dress that was worn by a close friend of Abraham Lincoln's.
Eve began researching and collecting the vintage wedding gowns when she and her husband hosted themed weddings in their Victorian home to raise money for their church. A move to Hemet led Eve to open Le Boutique Consignment store where you can view the gowns.
Need any clothes for a themed party? Le Boutique Consignment is the place to shop. I found a vintage hat, dress, and gloves for a 1937's event.
The Victorian Bridal Museum is open Tuesday to Saturday from 11 am to 5 pm. Admission is free.
Things to do in San Jacinto Valley for Culture Lovers
Ramona Bowl
The Ramona Bowl is one of a handful of natural amphitheaters in California and hosts concerts, performances, events, and the "Ramona" (also known as the Ramona Pageant) play.
The official outdoor play of California, "Ramona" has been performed continuously since 1923, a distinction no other outdoor performance can claim.
Adapted from Helen Hunt Jackson's novel of the same name, "Ramona" is a fictional love story based on the social commentary of the time – the mistreatment of Native Americans in 1884.
Fun fact: Raquel Welch starred as Ramona in the 1959 production.
Performances are held annually from mid-April to early May. You can purchase tickets online:
Adult tickets are $30 to $44
Child tickets are $18 to $44
Seniors $28 to $44
The novel has never been out of print and was influential in the passing of the Dawes Act in 1887. You can purchase a copy of Ramona on Amazon or at the Ramona Bowl gift shop. I was given a copy of the book and
have been waiting for uninterrupted time to read it. I know it'll be one of those books that once I start, I won't be able to put down. I'm looking forward to seeing the "Ramona" play next year.
Be sure to leave time to explore the on-site museum. It's small so it won't take long, but you'll appreciate seeing all the Ramona memorabilia, Native American relics, and the only fresco painted by Milford Zornes.
Hemet Theatre
Built in 1921 at a time when going to the theatre was a luxury, the Hemet Theatre seats 397 people. You won't find cupholders or fancy reclining chairs but each seat is comfortably wide. And there's room to stretch out your legs in between seats.
No knocking your knees on the back of the seat in front of you. Any knocking sounds you hear might be coming from something or someone else because supposedly the Hemet Theatre is haunted.
You can watch classic movies, tribute band concerts, local performances and is available for rental.
Western Science Center
Paleontologists (and I'm not referring to the Paleo diet) of all types will love the Western Science Center for it's collection of fossils. The Western Science Center is home to:
"Max" – the largest mastodon remains found in the western US
"Xena" – a Columbian mammoth
"Li'l Stevie" – one of the most complete mastodon skeletons found in the western US
Other exhibits include the history of the Domenigoni and Diamond Valleys, Native American culture, and a recreated archaeology and paleontology dig site.
The Western Science Center is open Tuesday through Sunday from 10 am to 5 pm.
Admission is:
$8 for Adults (13 years and older)
$6.50 for Students (13 to 22 years with school ID)
$6.00 for Children (5 to 12 years old)
$6.50 for Seniors (62 and older)
Free for children age 4 and younger
Free for Active Duty Military (with ID)
Free for museum members
Estudillo Mansion
If you love old buildings and unique architectural details like marble cameos inlaid on a fireplace and an original built-in safe, you'll love the Estudillo Mansion.
Francisco Estudillo, Jr., San Jacinto's first postmaster and US Government Mission Indian Agent, built the mansion in 1884 as his personal residence for $5,000 to $6,000. The Estudillo Mansion is listed in the California Register of Historic Resources.
After years of neglect and the crippling effects of the 1998 Landers-Big Bear earthquake, in 2010 the mansion was restored. You aren't allowed to take photos inside but here are shots of the gorgeous wood railings and doorways and photos of the interior.
The Estudillo Mansion is open on Saturdays from 11 am to 4 pm. Admission is free, but donations are welcomed.
San Jacinto Museum
If you love antiques, Civil War relics, and Indian artifacts, the San Jacinto Museum is a must see when you visit or stay in the San Jacinto Valley.
There are displays of vintage sewing machines (some may even work), cash registers, farm equipment, ophthalmology equipment, and more.
There's also an exhibit (complete with a short video) about the 1937 transpolar flight from Russia to San Jacinto.
The docents are extremely knowledgeable and can answer any question you have about the exhibits and history of the San Jacinto Valley.
The San Jacinto Museum is open Friday to Sunday from 11 am to 4 pm. Admission is free.
Hemet Depot (Hemet Museum)
If you haven't already gotten the sense that the San Jacinto Valley has lots of treasures, a tour of the Hemet Museum will refresh your memory.
Housed in the old Santa Fe Railroad train station, the Hemet Museum (Hemet Depot) is one of the oldest buildings in Hemet.
You'll be in heaven if you love antique and railroad paraphernalia. Because there are so many fascinating, cool things to check out.
The Hemet Museum is open Tuesday to Sunday from 11 am to 3 pm September to July. Admission is free, but donations are appreciated.
Things to Do Just Outside the San Jacinto Valley
Old Town Temecula
You'll find an easy blend of the old and the new in Old Town Temecula. Antique stores, works of art, wineries, and fine dining co-mingle to offer shopping, sight-seeing, and entertainment.
Temecula Wineries
A short drive to the Temecula Valley where you'll find over 30 quality (and affordable) wines. You can take one of many wine tours or do a leisurely self-drive and choose your own wineries.
Monte De Oro Winery
The Monte De Oro Winery, one of the newest wineries in the Temecula Valley, has a 2,450 square foot tasting room with two bars. So no long waits between sips.
If you're wearing a dress or skirt, you may not want to walk on the glass panels in the middle of the tasting room. That's because the barrel cellar is directly below the tasting room.
Several tasting tours are offered at the Monte De Oro Winery. I recommend the Barrel Tour & Tasting Experience which gives you a behind the scenes tour of the barrel cellar where you can try wine straight from the barrel.
I've tapped fresh beer kegs before, but this was my first wine barrel tap.
The Monte De Oro Winery is open daily from 10 am to 5 pm.
Bel Vino
If you're looking for a boutique winery with solid wines, other events, and a wine country B&B, you'll want to check out the Bel Vino Winery.
The Bel Vino Winery is open daily for wine tastings from 10 am to 5 pm. Get your pipes ready to sing during karaoke every Saturday night from 6pm to 9 pm.
Where to Eat in the San Jacinto Valley
Breakfast
Based on the number of breakfast spots in the San Jacinto Valley you get the idea that breakfast is the most important meal of the day.
You'll find everything from traditional favorites like Marie Callender's where you can enjoy traditional favorites and weekday specials starting at $5.99 to small independently owned restaurants like Mia's Country Kitchen.
With Marie Callender's, there are no surprises. The menu is the same nationwide and it's open daily until 9 pm.
Mia's Country Kitchen is open for breakfast and lunch only. I'm not sure how well they do lunch, but the breakfast portions are generous, the service is quick and friendly, and the price is right.
Lunch
Downtown Deli & Coffee Company
Don't let Hemet's one block downtown fool you. There's treasure in them thar' streets, if you know where to look.
I'm not a huge sandwich fan, but I love good bread. And Downtown Deli & Coffee has it in spades. Sandwiches are served on New York Hoagie rolls.
And I'm not talking, "Fake, you call this a hoagie." But a real hoagie, from New York. Yep, Downtown Deli & Coffee gets their hoagies from JJ Cassone Bakery in New York. And that makes the sandwiches from Downtown Deli & Coffee worth a visit.
And we weren't the only ones, the line at lunch was out the door. You'll pay less for a quality sandwich here than at Subway. My 6″ Philly Cheesesteak was tasty, but for a more authentic flavor I'd go with Big Daddy's Cheesesteaks, one block north of Downtown Deli & Coffee.
Sweet Baby Jane's
Head one block south and you'll find Sweet Baby Jane's BBQ, winner of the Best BBQ in the San Jacinto Valley.
Sweet Baby Jane's serves Texas style BBQ in a comfortable, casual setting but without the Texas sized portions (believe me, your waistline will be happy).
If you don't like BBQ, burgers, fish, and salad are also available.
Dinner
Maze Stone
I know what you're thinking, "Dinner at a country club? That's out of my budget." Thankfully the good folks at the Country Club at Soboba Springs have created a fine dining experience at the Maze Stone Restaurant that's not only casual but affordable.
For my visit I enjoyed the Mixed Greens salad, the oven roasted cedar plank salmon with asparagus risotto and broccolini, and the caramel & toffee bread pudding topped with a bourbon sauce and whipped cream.
Everything was delicious and perfectly cooked, even the risotto.
El Patron
In Southern California, there's a Mexican restaurant on every corner.
But what separates El Patron Mexican Grill & Cantina from the rest of the pack is one key ingredient, owner Abel Sanchez.
The hospitality and service that Abel and his staff provide is unparalleled. It's rare for a restaurant owner to prepare homemade guacamole tableside for guests. But that's exactly the type of warmth and welcome you receive at El Patron Mexican Grill & Cantina.
With weekly specials including Sunday brunch and a live Mariachi Band the third Friday of the month, El Patron should be your next stop for dinner in the San Jacinto Valley.
You can chase away those back to work blues on Mondays with $2.50 margaritas all day long.
Anchor Bar Club Restaurant
Hankering for a good Swiss dish? You'll find it at the Anchor Bar Club Restaurant. Owned by husband and wife team Benedict and Nicole who hail from Switzerland, the menu at the Anchor Bar Club and Restaurant offers traditional American favorites and some of Nicole's favorite Swiss dishes from home. The Zuerichgeschentzeltes (pork tenderloin in a creamy white sauce) is a hearty and filling meal for a cold evening.
Dessert
La Michoacana
If you're like me, you can never have too much dessert. And when it's 100% natural and made from fresh fruit, all the better.
La Michoacana owner, Juan Garcia, serves up over 100 flavors of homemade ice cream made from organic local fruit, without artificial ingredients or sugars. Everything is made daily using secret family recipes.
You can order ice cream, fruit bars, and mangonadas (fruit drink made with chamoy sauce, mangos, lime juice, and chili powder).
You get quality ice cream and extremely large portions for a fraction of what you'd pay elsewhere:
$1.75 for one scoop
$3.25 for two scoops
$4.85 for three scops
Where to Stay in the San Jacinto Valley
The San Jacinto Valley offers a variety of affordable lodging. Value priced chain hotels such as Quality Inn, Motel 6, and Super 8 are common.
If you prefer something a bit more mid-scale, there's a Hampton Inn & Suites. And for those who want a resort experience without the resort price, you can stay at the Golden Village Palms RV Resort.
Golden Village Palms RV Resort
RVs are not required to stay at the Golden Village Palms RV Resort. You can stay in one of the rental cottages or the two-bedroom VIP condo.
The resort offers countless activities from water aerobics, shuffleboard, card games, to concerts. And it's all included (exception are the concerts) with your stay.
You can read my review of the Golden Village Palms RV Resort.
Conclusion
You can save money on a California vacation when you stay in the San Jacinto Valley.
Most accommodations are budget priced, perfect for the frugal traveler and for families. Just a short drive to Los Angeles, San Diego, and Temecula (home to over 30 wineries) the San Jacinto Valley offers it's outdoor and cultural activities along with unique and varied experiences like the Ramona Bowl and Victorian Bridal Museum.
A visit to the museums in the San Jacinto Valley is like being transported to another time. A time when things were simpler.
And with free admission to all the museums, you'll have more money to spend on other activities, shopping, and food.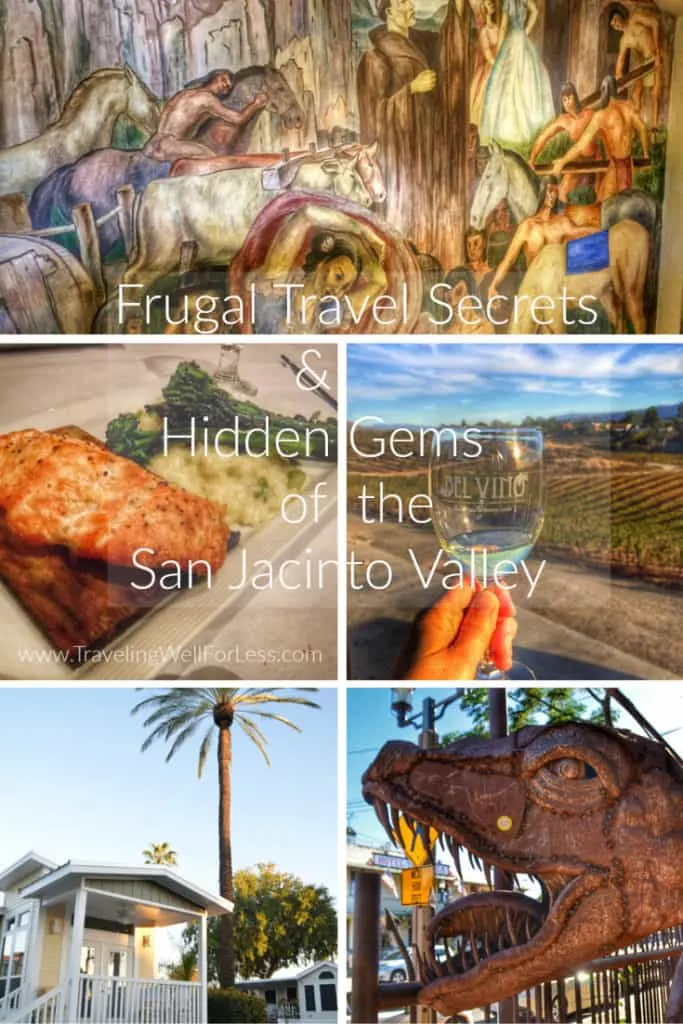 Comment, tweet, or share this post.
Get the best credit card signup bonuses.
Follow us on Twitter | Facebook | Pinterest | Instagram | YouTube
Got a question? Or want help, suggestions, travel tips, learn how to travel for free, find out about travel deals, and maximize your miles and points? Use the subscription box below to sign-up and get post updates by email.
Traveling Well For Less has partnered with CardRatings for our coverage of credit card products. Traveling Well For Less and CardRatings may receive a commission from card issuers.
---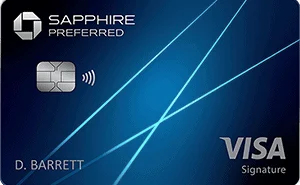 card_name
is the
best card to get started in the world of miles and points.
It is the first card you should get to start traveling for free because the
welcome offer is 60,000 points
after spending $4,000 in the first three months.
My favorite perks about this card are earning 5X points on travel when booked through the Chase portal (2X if direct purchase), 3X points on dining, $50 yearly credit on hotels booked through the Chase portal, no foreign transaction fees, and transferring points to 13 airline and hotel partners like Hyatt, United, and Southwest.
Learn more about the card_name and how to apply
---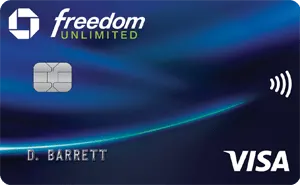 The
card_name
is one of my favorite cards for earning cash back card and travel rewards. It offers a
welcome offer of 3% cash back = an extra 1.5% cash back
on up to $20,000 in purchases your first year.
My favorite perks about this card are earning
6.5% cash back on travel booked through the Chase Travel Portal
,
4.5% cash back at drugstores and restaurants (including delivery and takeout)
your first year up to $20,000,
unlimited 1.5% cash back on all purchases
and
no annual fee
. When paired with cards like the
card_name
, you can use your points to travel for free.
Learn more about the card_name and how to apply