This is a sponsored post written by me on behalf of The Nature Conservancy. All opinions are 100% mine.
Staycations: Save Money and the planet. That's my goal for next year.
By taking staycations, I can travel more.
Who doesn't want to travel more? Especially when you can travel well for less. Traveling more doesn't have to be expensive. Nor does it have to hurt the environment.
Unless you've met me in person you'd never know I live a pretty green life. Green in the sense of eco-friendly. And also green in the sense of I like my green dollar bills. 🙂
Some of my friends call me semi-crunchy because I'm not full on granola. You won't find me burning my bra. But I recycle, vermicompost, have rainwater barrels, and eat organic where possible.
So I was pretty excited to read the Everyday Sustainability Guide from The Nature Conservancy (TNC). It's a quick read with seven easy to apply tips to help the planet.
Pro-tip: These are simple things anyone can do when traveling or as part of your daily lifestyle.
My favorite is tip # 3 – choose vacations closer to home.
Staycations: Save Money and the Planet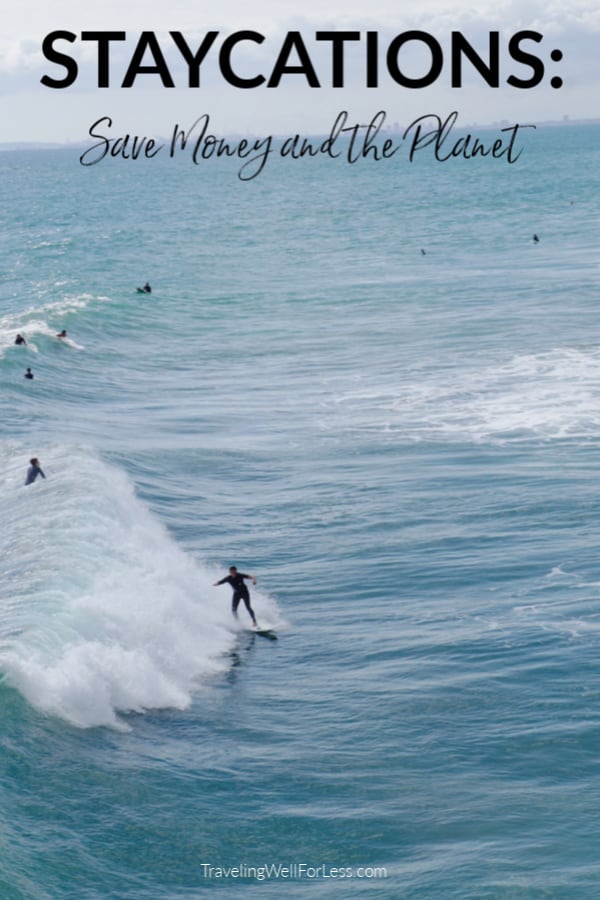 The timing of TNC's guide couldn't be more perfect because lately, I've been taking a lot of staycations and nearcations.
A staycation is where you stay at home and be a tourist in your own city. While a nearcation is when you visit somewhere near your home. Although, both terms have become interchangeable.
Even though we only live 8 miles from the beach, we rarely go.
Yeah, I know, crazy.
Our out of state relatives say the same thing.
What's even funnier? When we travel we visit beach destinations!
LOL, yeah, I know pretty ironic.
Living in California, it's not that hard to vacation close to home. We've got the beach, the mountains, the desert, and wine country.
Pro-tip: California wine country isn't just Napa Valley. We have 12 wine country destinations.
I bet it's the same where you live. You might not have a beach. But you might be near the Great Smoky Mountains National Park, Antelope Canyon, or museums like the Smithsonian.
Save Money
One of the best things about staycations is that you can save money.
A staycation can be as long or short as you want, you have complete control.
1. Travel offseason or midweek
Staycations allow you to travel during the offseason or travel midweek.
Hotel prices drop during the offseason. As do some tours and activities.
You can save a pretty penny on things you've always wanted to do like whale watching or taking a Segway tour.
2. Find free things
Staycations give you more time to find free things to do. Free is one of my favorite words. When you can combine free and luxury, even better!
When you take a staycation, you save money, avoid jet lag, save on gas, and reduce the carbon footprint.
Save the Planet
Staycations don't have to be in your backyard. They can be within driving distance.
A staycation is anywhere you don't have to fly. Did you know it's more environmentally friendly to drive than fly?
The further you drive, the more gas you use, the more money it costs, and the more impact it has on the environment.
One gallon of gasoline produces 19.60 gallons of carbon dioxide compared to 21.10 gallons produced from a gallon of jet fuel.
Planes burn a gallon of jet fuel every second!
It takes the same amount of energy to support the average US family for one year as it does to fly from Washington, DC to Borneo, Indonesia.
Some frequent flyers buy carbon offsets to reduce their footprint. But not me.
Instead, I'm spending more time traveling within the US.
Sure, international travel is exciting and awesome. But our country is pretty fantastic too! After all, 76.9 million international visitors can't be wrong.
Conclusion
I plan on taking more staycations to save money and the planet.
But that doesn't mean I'm going to travel less. I'm going to travel more but be more mindful of how I travel.
Vacationing close to home means I'll spend less and it's more eco-friendly.
Looking for more ways to make a positive impact? Download Everyday Sustainability Guide from The Nature Conservancy to read the 7 easy ways you can change the world. One little step at a time.
What are your goals for next year? Will you be taking more staycations or road trips to help the planet?
Comment, tweet, or share this post.
Get the best credit card signup bonuses.
Follow us on Twitter | Facebook | Pinterest | Instagram | YouTube
Got a question? Or want help, suggestions, travel tips, learn how to travel for free, find out about travel deals, and maximize your miles and points? Use the subscription box below to sign-up and get post updates by email.
Traveling Well For Less has partnered with CardRatings for our coverage of credit card products. Traveling Well For Less and CardRatings may receive a commission from card issuers.
---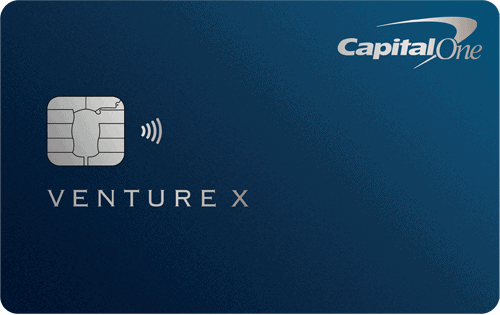 The Capital One Venture X
has one of the largest welcome offers among travel rewards cards.
The
welcome offer is 100,000 points
after spending $10,000 in the first six months.
My favorite perks about this card are $300 yearly travel credit , $200 credit on vacation rentals , 10X miles per dollar on hotels & rental cars and 5X miles when you book through Capital One , and 10,000 miles every year you renew your card .
---
---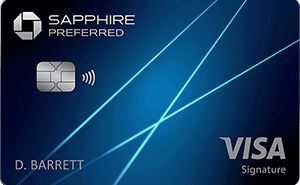 The Chase Sapphire Preferred
is the best card for beginning travel hackers.
It is the first card you should get to start traveling for free because the
welcome offer is 60,000 points
after spending $4,000 in the first three months.
My favorite perks about this card are earning 5X points on travel when booked through the Chase portal (2X if direct purchase), 3X points on dining , $50 yearly credit on hotels booked through the Chase portal, no foreign transaction fees, and transferring points to 13 airline and hotel partners like Hyatt, United, and Southwest.
---
---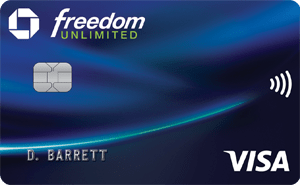 The
Chase Freedom Unlimited
is one of my favorite cards for earning cash back card and travel rewards.
 It offers a
welcome offer of 3% cash back = an extra 1.5% cash back
on up to $20,000 in purchases your first year.
My favorite perks about this card are earning
6.5% cash back on travel booked through the Chase Travel Portal
,
4.5% cash back at drugstores and restaurants
,
unlimited 1.5% cash back on all purchases
and
no annual fee
. When paired with cards like the
Chase Sapphire Reserve
, you can use your points to travel for free.
Tuesday 15th of January 2019
Applaud the thought behind keeping things local - and hope you're going to that beach near you more from now on! :) I'd add to the pot of ideas, using online liftshares to share your ride and petrol, or pooling together with friends to share a cheap family hotel room.
Sunday 6th of January 2019
Love this mentality. We live in our camper, so every day is a staycation AND a vacation for us. And we try to limit our driving and really dig into a location....then move a small amount of miles to the next "nearcation" lol. Great blog. Thanks for raising awareness to the environmental damage caused by air travel.
Sunday 6th of January 2019
Hi Mike,
You're really embracing sustainability living in your camper. :) Thanks for the kind words and glad you enjoyed the post.
Thursday 3rd of January 2019
I never heard about a staycation or nearcation. Thank you for introducing me! I love to read about the advantages of staying at home or in driving distance and being a tourist in your own city. I am planning to live more green and sustainable in 2019, so I am definitely going to try this!
Sunday 6th of January 2019
Hi Daphne,
Glad the post helped. Here's to a more green and sustainable 2019! :)
Thursday 3rd of January 2019
Good advice, and I should staycation more often. (Also, I have a beach like a mile away and I rarely go there). But, staycation case in point: we've booked to go to Copenhagen next year, very much the other side of the world. My son's teacher came up to me the other day and said "I heard you're going to Denmark .. and as soon as I heard I knew because it's you it is Denmark in Europe, not Denmark down south" (we have a little town called Denmark here - lovely spot!). Of course, she was right, and my son has never been to the lovely town of Denmark just a short drive away ... but will soon have been all the way to European Denmark. But I need to fix that with more local vacationing!
Sunday 6th of January 2019
Hi Amanda,
ROFL. That teacher has you pegged. :) Let me know when you "finally" make it to Denmark, AU. :)
Monday 31st of December 2018
I love staycations! Especially living in San Diego, there are plenty of amazing places for a staycation. I think it's a great idea to escape somewhere nearby if you are on a budget or don't have a lot of time off from work :)
Monday 31st of December 2018
Hi Candy,
You're right, we're totally lucky to live in San Diego. Glad you enjoyed the post. :)