Part of the fun of traveling is experiencing new things. But I could have done without one experience – getting lost in Tiananmen Square. Keep reading to learn 10 tips on how not to get lost when traveling.
I've had my fair share of adventures while traveling from getting kicked out of a Las Vegas casino, being detained in Nicaragua, to hitching a ride in the back of a white panel van driven by a guy who looked straight out of the movie Deliverance.
But I had never felt scared or panicked. Until I was lost in a big city.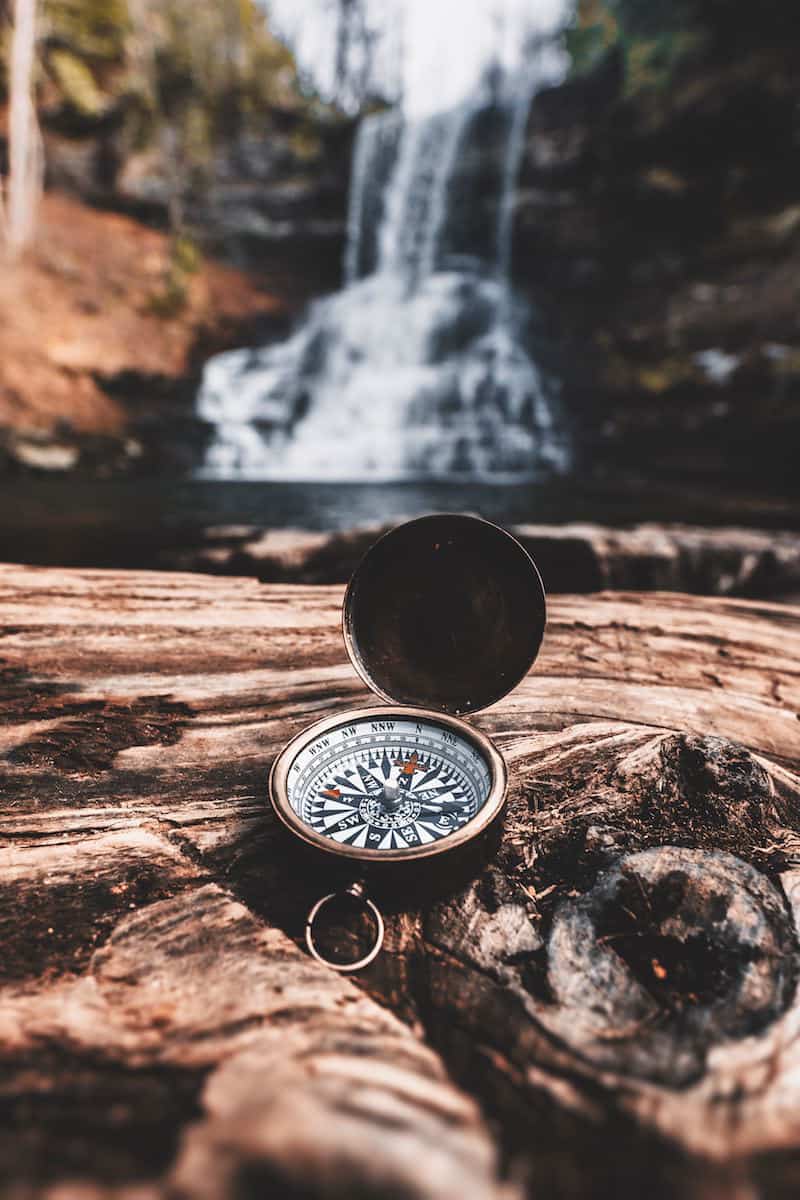 Getting Lost in Tiananmen Square
We came to Beijing for a mileage run. My friends and I love our American Airlines Executive Platinum status. So Laura, Tammy, and I booked a flight to Beijing to earn enough miles to keep that status.
Although we were here for the weekend, we wanted to see everything!
My friend Russ (for whom I make Guest of Honor bookings) gave me the name of a FANTASTIC guide, Lei Li aka Sunflower of Sunflower Tours China.
Because Sunflower was escorting us the entire time we were in Beijing, we didn't get a local SIM card. So none of our phones had service.
Early the next morning we met Sunflower and went to Tiananmen Square.
The food truck in the middle of Tiananmen Square intrigued me. A symbol of capitalism in what was Mao's place. I turned to my friends, "I'm going to grab a quick shot of that food truck."
I took 15 steps toward the truck and shot two photos. It took two minutes. But when I looked back towards my friends, they were gone.
Groups of Chinese tourists filled the empty patch of concrete where they once stood.
Surrounded But Alone
I was among thousands of people but lost in Tiananmen Square.
A sea of people, but no one I recognized. Dressed in dark colors it was hard to make out any defining characteristics. My friends and I were similarly dressed. It was like looking for a needle in a hay stack.
Without a working phone, I had no way to contact anyone.
I couldn't ask for help because I don't speak Chinese and everyone around me was Chinese.
The day had just started and I was alone.
I travel solo 99% of the time. But traveling solo purposefully and getting lost when you're with a group are completely different.
Panic started to creep in. Do I move? Do I stay put?
I started walking towards the Forbidden City not sure if or when I'd see my friends again that day. All the while still looking around, hoping to spot them.
Minutes passed. It felt like an eternity.
An idea struck. Find a group of English looking tourists with a Chinese guide. I scanned the crowd anxiously.
I must have looked like a crazy woman on the verge of hysteria. Running toward them I asked for help explaining that I had gotten separated from my group, didn't have cell service, and needed to call my guide.
Before the phone could connect, I turned around and there they were Tammy, Laura, and Sunflower.
Those two minutes taking photos caused twenty-eight minutes of unrest. Thankfully, the rest of the trip was uneventful.
10 Tips on How Not to Get Lost When Traveling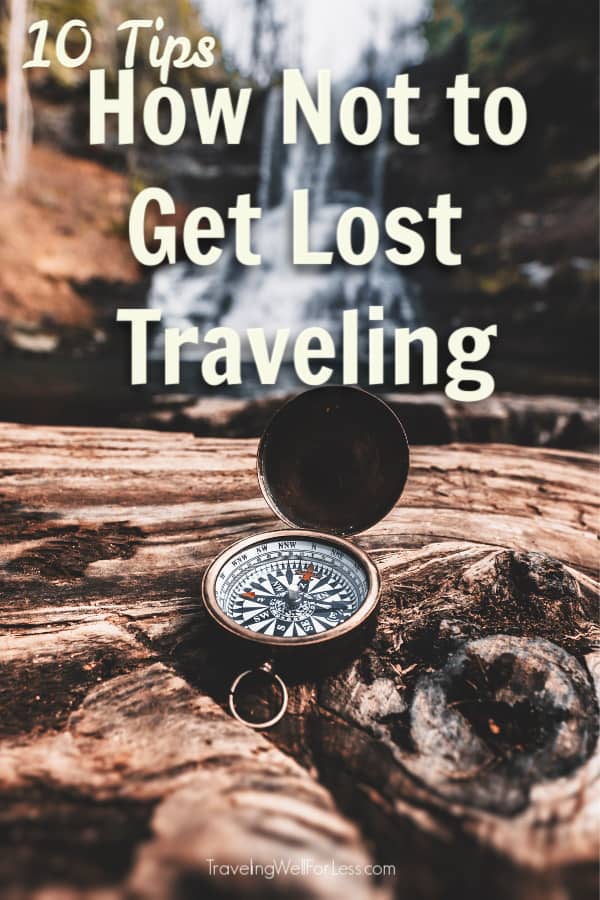 Getting lost when traveling can be scary. So that you don't find yourself in a similar situation, here are 10 tips on how not to get lost when traveling.
1. Learn the Language or Key Phrases
It's a good idea to learn the language or key phrases of the places you're visiting. You can Google common phrases or if you're traveling for an extended period of time get a Rosetta Stone subscription.
2. Get a Local SIM
This was one of few trips that I didn't get a local SIM. After that trip, I always bought a local SIM.
I've heard great things about Google Fi. My friend Steve uses it but I'm an Apple girl. Now I have TMobile on my old phone and use that when traveling.
3. Carry a Phone Charger
It's a good idea to carry a phone charger when traveling. Taking photos or videos and using Google Maps can drain your battery.
4. Make a Plan
When traveling with friends, make a plan in case someone gets lost or wants to wander off on their own. Set a time and place to meet up.
5. Let Someone Know Your Itinerary
Because I travel solo most of the time, I always let someone know my itinerary. I leave a hard copy for Jeff at home, keep a copy on my phone in Dropbox, and leave a printed copy in my hotel room (worst-case scenario).
6. Carry Some Cash
Having some local cash gives you the option to take a taxi or public transportation to your hotel instead of walking.
7. Grab a Hotel Business Card
It's a good idea to grab a business card from your hotel. Some cards, especially those in China, have directions in Chinese on the back. This makes it easy to get back to your hotel.
8. Know the Location of the Embassy
Know the location of the Embassy where you're traveling. Because anything can happen. Whether you lose your passport, there's a natural disaster or civil unrest.
9. Ask for Help
If you're lost, ask for help. Use common sense and be cautious in who you approach.
10. Enroll in STEP
Before I leave on an international trip I enroll in STEP (Smart Traveler Enrollment Program). It's free, easy to enroll, and lets the US Embassy know what countries you're visiting and where you're staying. It's also a good idea to buy travel insurance. I'm a huge fan of Travel Guard and use them exclusively.
Have you ever been lost while traveling? What did you do?
Pin this to your travel and travel tips boards: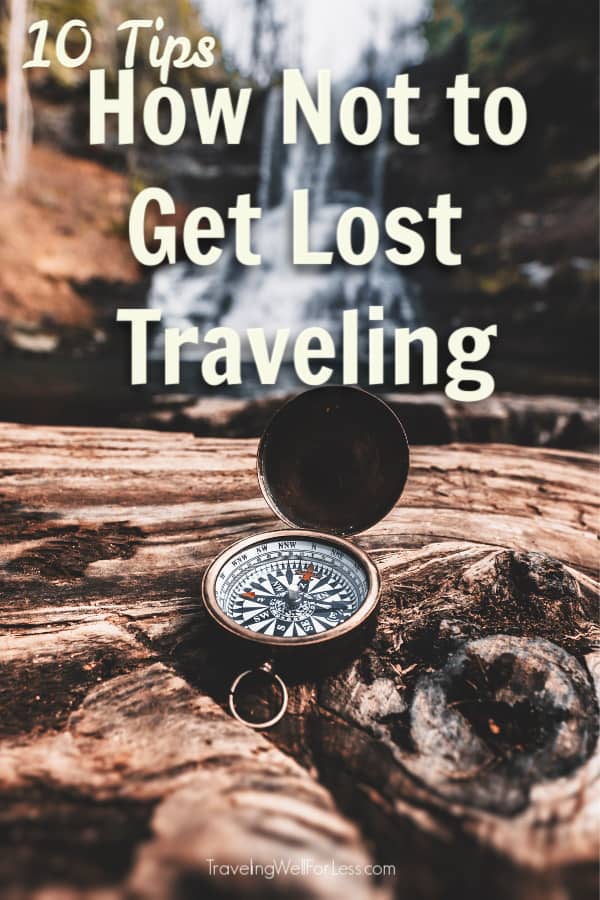 Comment, share this post, tweet, or give me a +1.
Get the best credit card signup bonuses.
Follow us on Twitter | Facebook | Pinterest | Instagram | Google+
Got a question? Or want help, suggestions, travel tips, learn how to travel for free, find out about travel deals, and maximize your miles and points? Use the subscription box below to sign-up and get post updates by email.
Featured image courtesy: Bryan Minear via Unsplash
Traveling Well For Less has partnered with CardRatings for our coverage of credit card products. Traveling Well For Less and CardRatings may receive a commission from card issuers.
---
All three Southwest Rapid Rewards® personal credit cards are offering a huge signup bonus!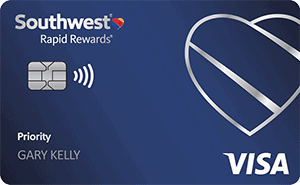 Southwest Rapid Rewards® Priority Credit Card
welcome offer is 75,000 points
after spending $5,000 in the first three months.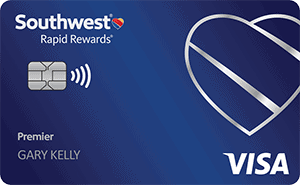 Southwest Rapid Rewards® Premier Credit Card
welcome offer is 75,000 points
after spending $5,000 in the first three months.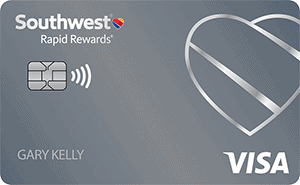 Southwest Rapid Rewards® Plus Credit Card
welcome offer is 75,000 points
after spending $5,000 in the first three months.
---
---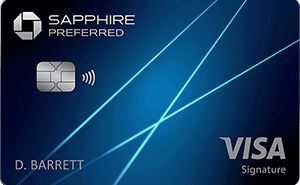 The Chase Sapphire Preferred
is the best card for beginning travel hackers.
It is the first card you should get to start traveling for free because the
welcome offer is 60,000 points
after spending $4,000 in the first three months.
My favorite perks about this card are earning 5X points on travel when booked through the Chase portal (2X if direct purchase), 3X points on dining , $50 yearly credit on hotels booked through the Chase portal, no foreign transaction fees, and transferring points to 13 airline and hotel partners like Hyatt, United, and Southwest.
---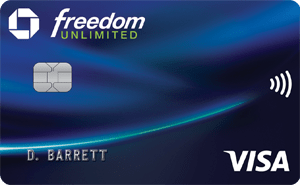 The
Chase Freedom Unlimited
is one of my favorite cards for earning cash back card and travel rewards.
It offers a
welcome offer of 3% cash back = an extra 1.5% cash back
on up to $20,000 in purchases your first year.
My favorite perks about this card are earning
6.5% cash back on travel booked through the Chase Travel Portal
,
4.5% cash back at drugstores and restaurants
,
unlimited 1.5% cash back on all purchases
and
no annual fee
. When paired with cards like the
Chase Sapphire Reserve® Card
, you can use your points to travel for free.