Looking for the best movies about England? Here are the best movies to watch before going to London and other parts of England. From feel-good romantic comedies to thrilling action movies, this list of films about England will stir your wanderlust.
Fair warning, after watching these movies you might have to start planning a trip to England.
I have a secret. Movies are my guilty pleasure. Kicking back relaxing with a bowl of buttery popcorn at home or at the theatre. I'm guilty of binging and staying awake watching all the newest releases even when flying. Especially those filmed in the country where I'm traveling.
Movies can inspire visiting a new destination. Often it's a great way to relive travel memories. Those "I've been there" moments.
Other times watching movies is an escape, a way to travel without traveling. Old school virtual traveling. A little chaser to satisfy your travel lust when you're stuck at home and planning your next travel hack to Europe.
Check out this list of movies to watch before going to England. These award-winning films were set and filmed in England and give you inspiration for the best things to do in London and England.
Best Movies to Watch Before Going to London and England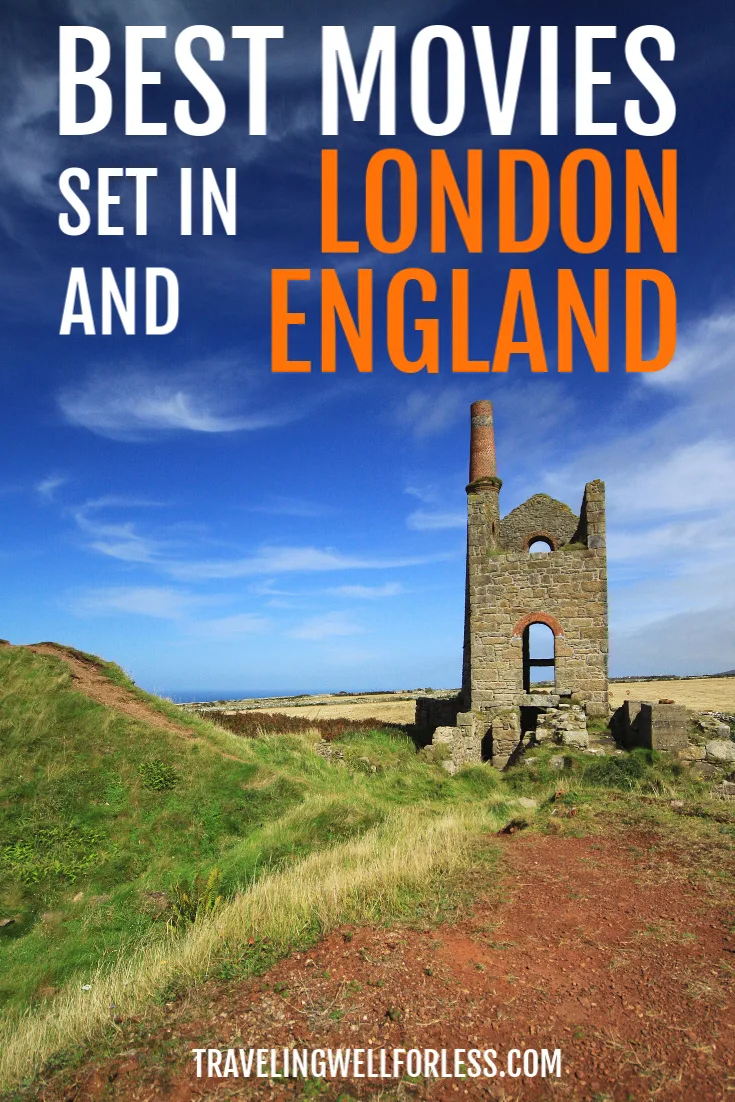 One of the best movies set in England is The Princess Bride.
Action, adventure, comedy, fantasy, and romance all in one family-friendly movie. It's no wonder that The Princess Bride is a cult classic.
Ranked number 88 in the 100 greatest love movies of all time by the American Film Institute, The Princess Bride tells the story of Westley, a poor farmhand, who rescues his one true love Princess Buttercup from evil Prince Humperdinck.
As inconceivable as it may be the movie wasn't an instant hit, only when it was released on video did it gain popularity and an ardent fan base.
All the Harry Potter movies will give you a taste of various parts of London, England, and the United Kingdom.
Based on the books by J.K. Rowling, the Harry Potter movies combine adventure, coming of age, drama, and fantasy for hours of family-friendly entertainment.
With eight movies in the series, you can spend the weekend binge watching:
What's a list of the best movies about England without including a James Bond movie? Of all the 26 Bond movies, Skyfall is the most London and England centric.Travel and James Bond go together like peanut butter and jelly. Each of the Bond movies features thrilling action in a fabulous destination.
Released on the 50th anniversary of the James Bond series Skyfall gives viewers more than spies, villians, and gorgeous women. The movie goes into Bond's backstory.
Another book made into a movie filmed in London is Bridget Jones's Diary. This romantic comedy stars Renee Zellweger as Bridget Jones, a thirty-something loveless woman who smokes and drinks too much.
Desperate to change her life she charts her progress of losing weight, stopping smoking, and finding love in her diary, hence the title of the movie. Other movies in the series include Bridget Jones: The Edge of Reason and Bridget Jones's Baby.
Filmed in England, the movie Sense and Sensibility brings the Jane Austen book to life. The formerly wealthy now destitute Dashwood sisters must marry to avoid ruin.
Sense and Sensibility feature Emma Thompson as Elinor Dashwood, the oldest sister opposite Hugh Grant as Edward Ferrars.
Kate Winslet's character Marianne Dashwood won her a British Academy of Film and Television (BAFTA) Award, cementing her role as an actress.
Nominated for seven Academy Awards, the movie earned Thompson the Academy Award for Best Adapted Screenplay. It's success led to several of Austen's book made for film:
Looking for movies filmed in London? Check out Sherlock Holmes.
In this version of Sherlock Holmes, Robert Downey Jr. gives Holmes a playful less stiff appeal. A contrast to the character portrayed in Arthur Conan Doyle books. Downey Jr.'s performance won a Golden Globe Award for Best Actor.
Be sure to watch the sequel Sherlock Holmes: A Game of Shadows.
About Time is one of the cutest travel movies to watch before visiting London and Cornwall, England.
In this dramatic romantic comedy Domhnall Gleeson plays Tim Lake who upon his 21st birthday learns his can travel back in time. Tim uses his time travel powers to woo Mary played by Rachel McAdams.
If you're obsessed with the British monarchy, in particular Princess Diana, you'll want to add The Queen to your watch list.
Filmed in London and Scotland the movie is a dramatized version of the royal family response to Princess Diana's death and the clash between Prime Minster Blair and The Queen.
Helen Mirren portrayal of the Queen Mother won her an Oscar, Golden Globe and BAFTA for Best Actress.
Filmed in the English countryside, Calendar Girls is a dramatized version of the true story of the Rylstone and District Women's Institute's nude calendar fundraiser.
Helen Mirren stars as Chris Harper credited with coming up with the idea of the nude pinup calendar. The calendar was a success and earned $550,000 in the first year for leukemia research.
Watch Calendar Girls
One of the best movies set in London is Notting Hill.
In this romantic comedy, Hugh Grant plays William Thacker, a predictably boring bookstore owner whose life changes after a visit from actress Anna Scott, played by Julia Roberts.
If you prefer the countryside, you'll love the scenery and setting in Robin Hood: Prince of Thieves. Robin returns to England to avenge his father's death by the cruel Sheriff of Nottingham.
The star-studded action-adventure movie stars Kevin Costner as Robin of Locksley and Morgan Freeman as Azeem Edin Bashir Al Bakir.
Alan Rickman won a BAFTA for Best Actor in a Supporting Role as the Sheriff of Nottingham. Sean Connery has a brief appearance as King Arthur.
Despite being the second highest-grossing film in 1991, Robin Hood: Prince of Thieves wasn't appreciated by movie critics.
Among the films to see before visiting England is Far From the Madding Crowd.
Filmed in Dorset, in this adaption of Thomas Vinterberg's book, Carey Mulligan plays the fiercely independent Bathsheba Everdene.
When Bathsheba experiences financial gain farmer Gabriel Oak played by MatthiasScoenaerts suffers a reversal of fortune. This patterns continues throughout the movie. When life treats one well, the other suffers loss.
This dramatic romantic has enough angst to keep you unsure of what will happen next.
Gosford Park is a period murder mystery movie filmed in England.
There are so many red herrings and twists and turns it's like Twister and Clue in one.
Gosford Park's star-packed cast includes Maggie Smith as Constance Trentham, Kristin Scott Thomas as Sylvia McCordle, Clive Owen as Robert Parks, and Helen Mirren as Mrs. Wilson.
Julian Fellowes won the Academy Award for Best Original Screenplay.
Filmed in London, Four Weddings and a Funeral, takes you through the city and outskirts on this delightful romantic comedy.
The movie features a group of young professionals who are can't find love. Hugh Grant plays Charlies who meets Andie MacDowell's character Carrie at a funeral. They spend one night together before Carrie has to return to the United States. But their paths continue to cross at other weddings and finally, a funeral.
Grant won a Golden Globe Award and BAFTA Award for Best Actor launching his international acting career.
The Bourne Ultimatium gives you a taste of what you might see while visiting London.
In this fast packed action adventure Matt Damon stars as Jason Bourne, a former CIA agent suffering memory loss and seeks his true identity.
Experience London through the movie Man Up.
Man Up stars Lake Bell as Nancy, a single 34 year old who doesn't believe in love. While on the train to London, she gets into an argument with Jessica, another woman on the train. Jessica leaves her self help book for Nancy.
Nancy disembarks the train and runs into Jack played by Simon Pegg who mistakes her for Jessica, his blind date. Nancy doesn't correct his error and the two embark on an interesting evening.
Another film set in London is Sliding Doors.
This modern romantic drama stars Gwyneth Paltrow as Helen. After getting fired from her job, Helen rushes to catch the train, the screen splits showing Helen living parallel lifes.
In one life, she dumps her boyfriend after he cheats on her, finds a new love, and improves her life. In the second life, she's ignorant of her boyfriend's infidelity and is miserable.
The Holiday showcases Surrey, England and Hollywood, California.
Set during Christmas, this romantic comedy stars Kate Winslet as Iris and Cameron Diaz as Amanda who swap houses to try to heal from broken relationships.
Iris trades her English cottage for Amanda's palatial Hollywood Mansion. While on holiday, both women meet new love interests played by Jude Law and Jack Black.
Love Actually is among our picks for best travel movies based in London.
Love Actually is a Christmas themed romantic comedy starring Bill Nighly, Colin Firth, Emma Thompson, Hugh Grant, Alan Rickman, Liam Neeson, and Laura Linney.
The movie centers around short stories about the characters and their love relationships.
Conclusion
Whether you're planning a future trip to London or want to relive your last trip to England check out this list of the best movies to watch before going to London and England. With beautiful scenery, a bustling city scene, these movies filmed in London, England will stoke your wanderlust.
Have I left off any of the best movies to watch before going to London and England?
Comment, tweet, or share this post.
Get the best credit card bonuses.
Follow us on Twitter | Facebook | Pinterest | Instagram | YouTube
Got a question? Or want help, suggestions, travel tips, learn how to travel for free, find out about travel deals, and maximize your miles and points? Use the subscription box below to sign-up and get post updates by email.
Traveling Well For Less has partnered with CardRatings for our coverage of credit card products. Traveling Well For Less and CardRatings may receive a commission from card issuers.
---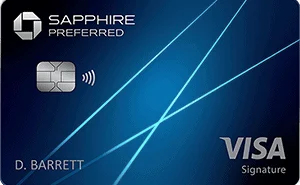 card_name
is the
best card to get started in the world of miles and points.
It is the first card you should get to start traveling for free because the
welcome offer is 60,000 points
after spending $4,000 in the first three months.
My favorite perks about this card are earning 5X points on travel when booked through the Chase portal (2X if direct purchase), 3X points on dining, $50 yearly credit on hotels booked through the Chase portal, no foreign transaction fees, and transferring points to 13 airline and hotel partners like Hyatt, United, and Southwest.
Learn more about the card_name and how to apply
---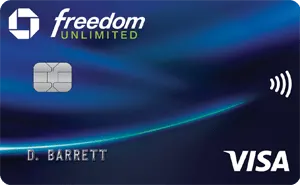 The
card_name
is one of my favorite cards for earning cash back card and travel rewards. It offers a
welcome offer of 3% cash back = an extra 1.5% cash back
on up to $20,000 in purchases your first year.
My favorite perks about this card are earning
6.5% cash back on travel booked through the Chase Travel Portal
,
4.5% cash back at drugstores and restaurants (including delivery and takeout)
your first year up to $20,000,
unlimited 1.5% cash back on all purchases
and
no annual fee
. When paired with cards like the
card_name
, you can use your points to travel for free.
Learn more about the card_name and how to apply