Whether you have a few days or a few hours in London, there's so much to see and do. Here are all the best things to do in London.
The capital of England is a must-visit on a trip to the United Kingdom.
London offers a variety of attractions and activities that appeal to everyone. From first time visitors to people who have been to London before, London thrills and delights.
Even locals enjoy exploring London's many sights, some of which date back to Roman times.
From cultural attractions like museums to large spacious gardens, you can stimulate your mind and body. From thrill-seeking adventures to luxury shopping, whatever gets your heart moving. Some of these attractions play a pivotal role in movies made in London.
Pro-tip: Most of the museums in London are free!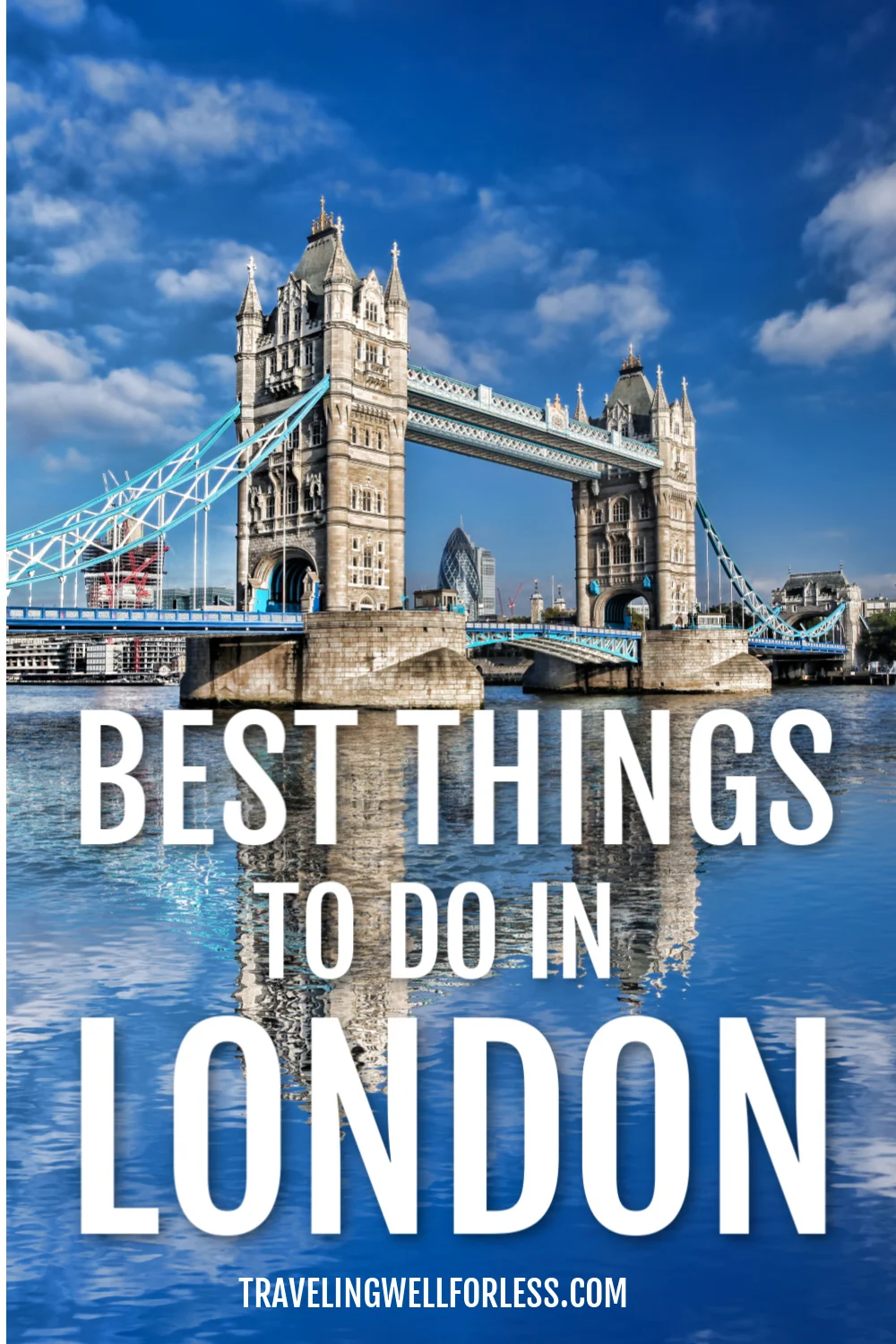 Best Things to Do in London
Here are all the best things to do in London. To make the most out of your trip, I've listed attractions by area, grouping those that are near each other.
I visited several of these attractions during my $23,000 ten day trip to Europe for $633. Because there's so much to see in London, several travel bloggers contributed their favorite things to do in London for this article.
This way you can maximize your time and see everything there is to see and do while visiting London.
Hyde Park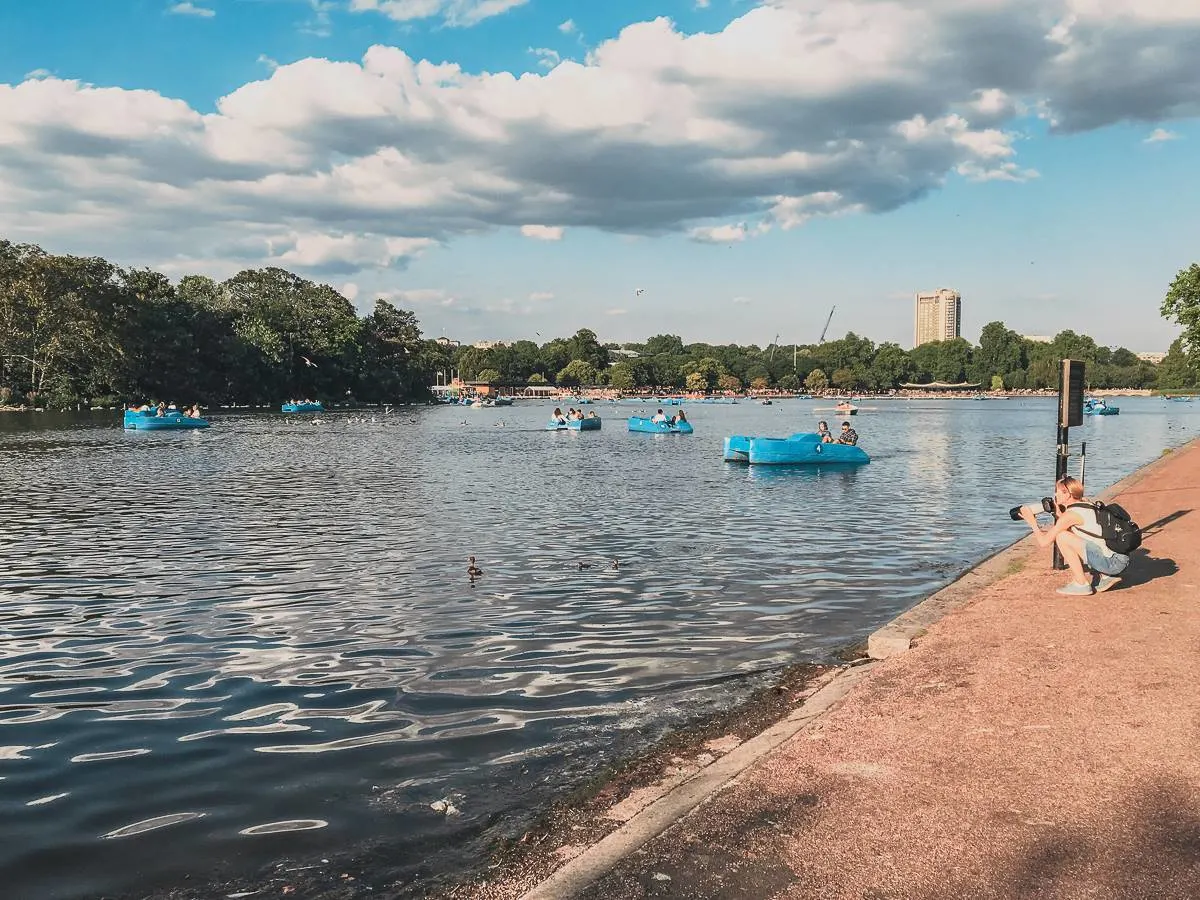 One of the best things to do in London is to visit Hyde Park. Hyde Park offers 350 acres of green space to both visitors and London locals.
This expansive park was once a royal hunting ground but opened to the public by Charles I in 1637. Today, Hyde Park is a welcome retreat from the hustle and bustle of London and is completely free to enter.
There are many ways to enjoy time spent outdoors in Hyde Park. This is a great place to spend a slow afternoon picnicking with a significant other or group of friends.
Hyde Park offers the perfect opportunity for children to run around and release some of their youthful energy.
Fitness lovers enjoy the many shady walking and designated biking trails through Hyde Park, particularly in the cool mornings before the crowds.
In the summer months, for a small fee, the park's famous Serpentine lake is open for swimming or renting paddle boats to enjoy an afternoon on the water.
Finally, don't forget to visit the Princess Diana Memorial Fountain, where you are actually allowed to dip your toes into the water. Much appreciated on a hot summer day in London!
Pro-tip: To avoid the worst of the crowds, avoid visiting Hyde Park in midday. Especially on summer weekends, as families flock here to enjoy the weather.
Visitors can reach Hyde Park via the tube from Hyde Park Corner (Piccadilly Line), Knightsbridge (Picadilly Line), Lancaster Gate (Central Line), and the Marble Arch (Central Line) stations.
Hyde Park London W2 2UH. Cost: Free. Hours: Daily from 8 am to Midnight.
Best Things to Do in London Pick by Theresa McKinney, Fueled by Wanderlust
Kensington Palace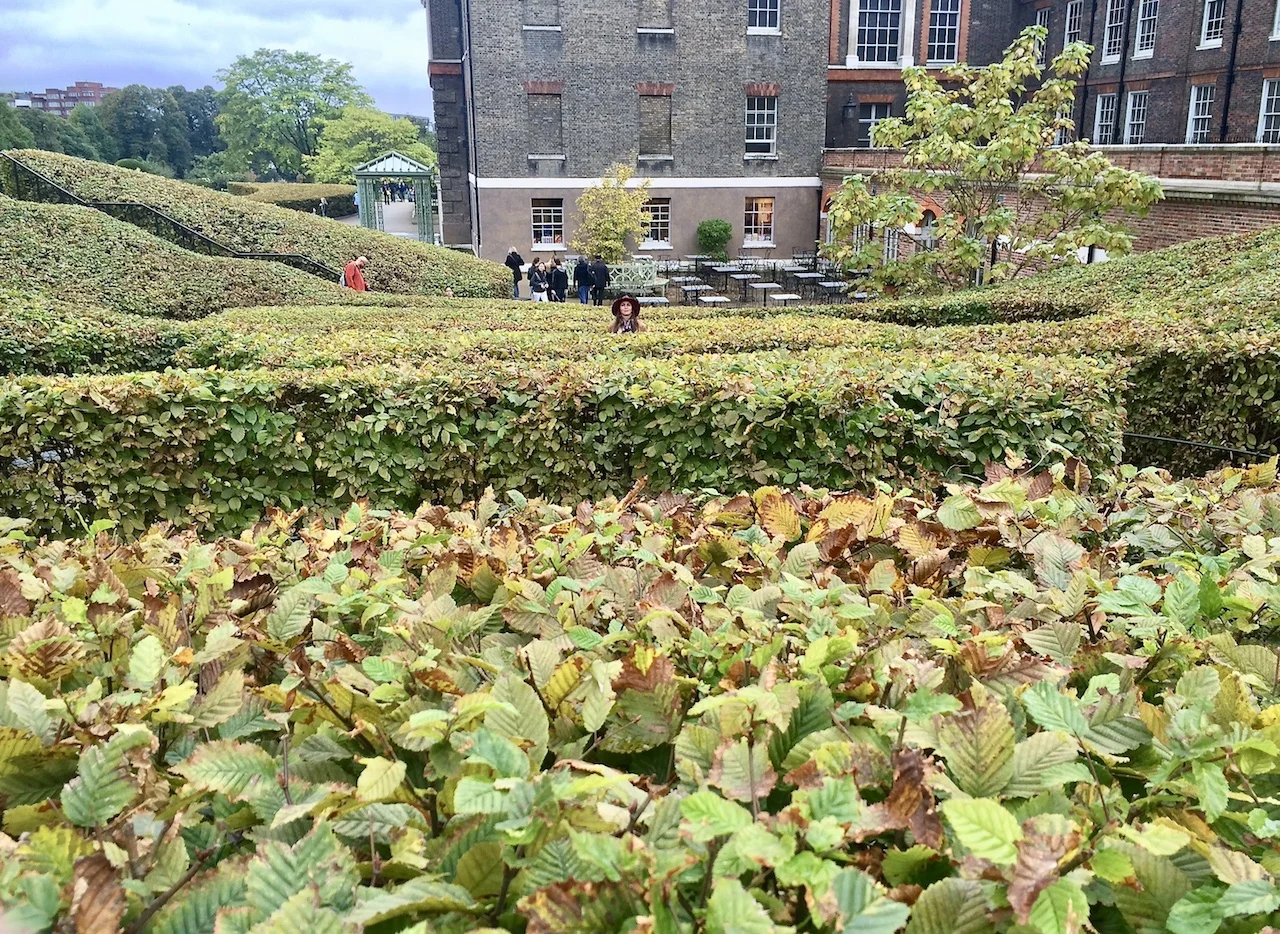 Located in West London, adjacent to Hyde Park, Kensington Palace is a must for any first visit to London.
Both indoors and outdoors are worth your time and attention. At Kensington Palace, you'll discover 300 years of royal history.
Inside there are public and private areas. You can explore the four main public areas with your tour ticket to Kensington Palace.
Pro-tip: Save money by booking your Kensington Palace tour online.
The elaborate King's Staircase leads you to the King's State Apartments. Pause there to discover the details in the art reflecting the lavish parties hosted by King George I.
Move in for a closer look to see William Kent, the commissioned artist, in an artist's cap holding a palette.
Followers of the Princess Diana's fashion will love The Diana (Her Fashion Story) exhibit. You can see her wardrobe displayed.
And also on the tour is the Queens State Apartments where little has changed since 1690. Victoria Revealed explores the childhood of the woman destined to be Queen.
The outside of the palace has beauty and history as well. The beautiful Sunken Gardens and the Round Pond, the Cradle Walk and Formal Gardens.
Pro-tip: The grounds are free to explore!
The Sunken Gardens is where Prince Harry announced his engagement to Meghan Markle. The Cradle Walk makes for amazing photos plus shelter from sun or rain. When Anne became Queen in 1702, she created an English-style garden that is now the Formal Gardens.
Kensington Palace Kensington Gardens, Kensington, London W8 4PX. Cost: Kensington Palace $21 for adults, $17 for seniors, $10 for children. Hours: Summer (March 1 to October 31) daily from 10 am to 6 pm, last entry at 5 pm. Winter (November 1 to February 29) daily from 10 am to 4 pm, last entry at 3 pm. Closed December 24 to December 26.
Book your Kensington Palace Entrance ticket.
Best Things to Do in London Pick by Cyndi Graham, The Travel Graham
Natural History Museum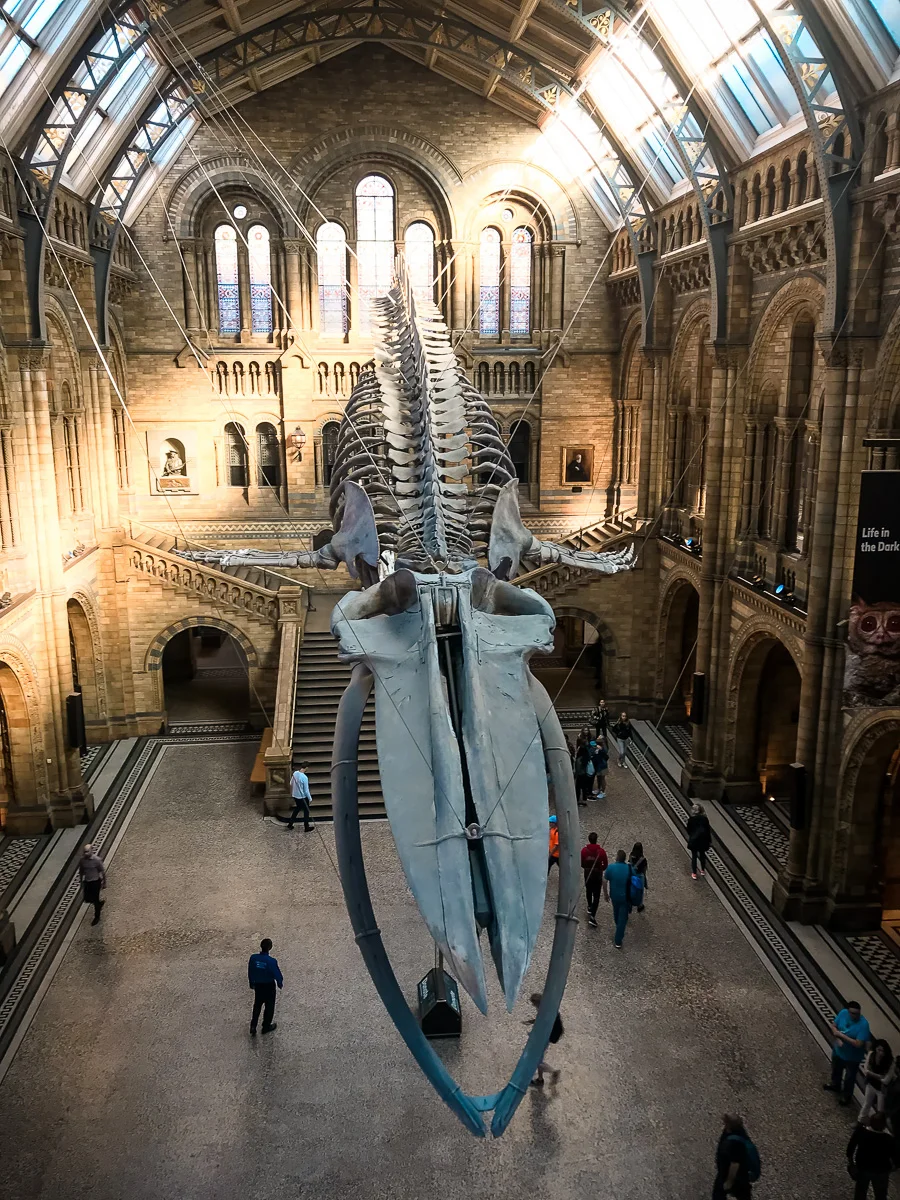 If you love animals, you'll want to visit the he Natural History Museum in London. It is one of the best natural history museums in the world.
It's the perfect place to spend a day or even longer. There's so much to see I had to drag out my kids out of there. Another advantage is that like most museums in London, it is free of charge.
Walking in you're greeted by an 82-foot blue whale skeleton suspended from the ceiling.
We thought it would be a dinosaur. But learned that the whale replaced an earlier dinosaur who stood there for 112 years. The reason for the change was that the whale represents the care we should be taking of our planet today and for the future.
But for Dino-lovers, the Natural History Museum has plenty of Dinosaurs. In fact, you can find everything here starting from the big bang and through to human evolution.
Divided into four galleries called zones, it's easy to find your favorite exhibits. The Red Zone describes the history of the planet Earth. The Green Zone has fossils, birds and creepy crawlies.
The Blue Zone features dinosaurs, nature, mammals, marine invertebrates, fish, amphibians and human biology. The Orange Zone comprises a Wildlife Garden and Darwin Center.
It can take at least half a day to explore each zone so plan accordingly. Each gallery has special activities for children and a place to eat.
Popular with Londoners and visitors, the National History Museum gets crowded on the weekends and school holidays.
Pro-tip: Get there before 10 am.
National History Museum Cromwell Road, South Kensington, London SW7 5BD. Cost: Free. Hours: Daily from 10 am to 5:50 pm, last entry is 5:30 pm. Closed December 24 to 26.
Best Things to Do in London Pick by Ania James, The Travelling Twins
Kew Gardens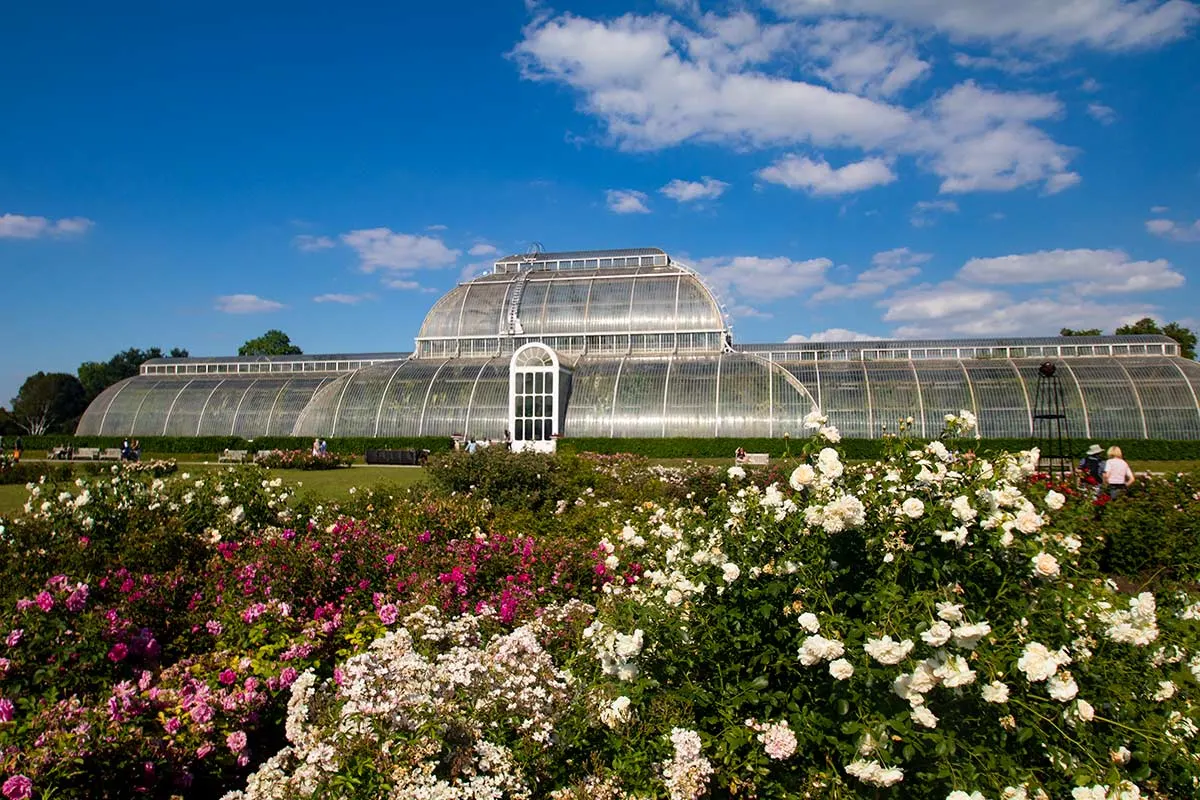 Kew Gardens are among the finest in the UK and a must when you visit London.
They are a UNESCO World Heritage Site and located out in spacious, leafy West London, where things are much less busy than in the center of the Big Smoke.
The Royal Botanic Gardens Kew is home to the largest, most diverse botanical collection on the planet. There are over 50,000 living plants from all over the world.
It dates back to the 18th century, from when some of its most beautiful buildings date. It became the UK's national botanic garden in 1840 and developed into what we see today.
Among the many highlights of Kew Gardens, are two stunning 19th-century glasshouses: the Palm Court and Temperate House.
The gardens on either side of the Palm Court are particularly beautiful. Especially in spring and summer when the flowers are at their most abundant.
It's also worth the walk to the far corner of the Gardens to see the Chinese Pagoda, which dates back to 1761.
Kew Palace, the smallest British royal palace, is at the opposite end of the Gardens. Built in 1631 in the Dutch style, it was home to Princess Charlotte, wife of King George III.
You can tour Kew Gardens for a very reasonable 16.50 GBP ($21.36).
Pro-tip: Book online and save $2. Plus you get to skip the line.
Royal Botanical Gardens Kew is beautiful in all seasons. Faye from Delve Into Europe has visited in spring, summer and in winter snow and recommends it at any time.
Pro-tip: The best time to visit for a blaze of color is spring from April to early June.
Kew Garden Richmond TW9 3AB. Cost: Adult tickets $22, Youth aged 16 to 23 tickets $11, Child aged 4 to 15 tickets $7, Seniors, students, and disabled tickets cost $20. Hours: Daily from 10 am to 5 pm, last entry at 4 pm. Hours vary depending on the season.
Book your ticket to Kew Gardens.
Best Things to Do in London Pick by Faye Haines, Delve Into Europe
Victoria and Albert Museum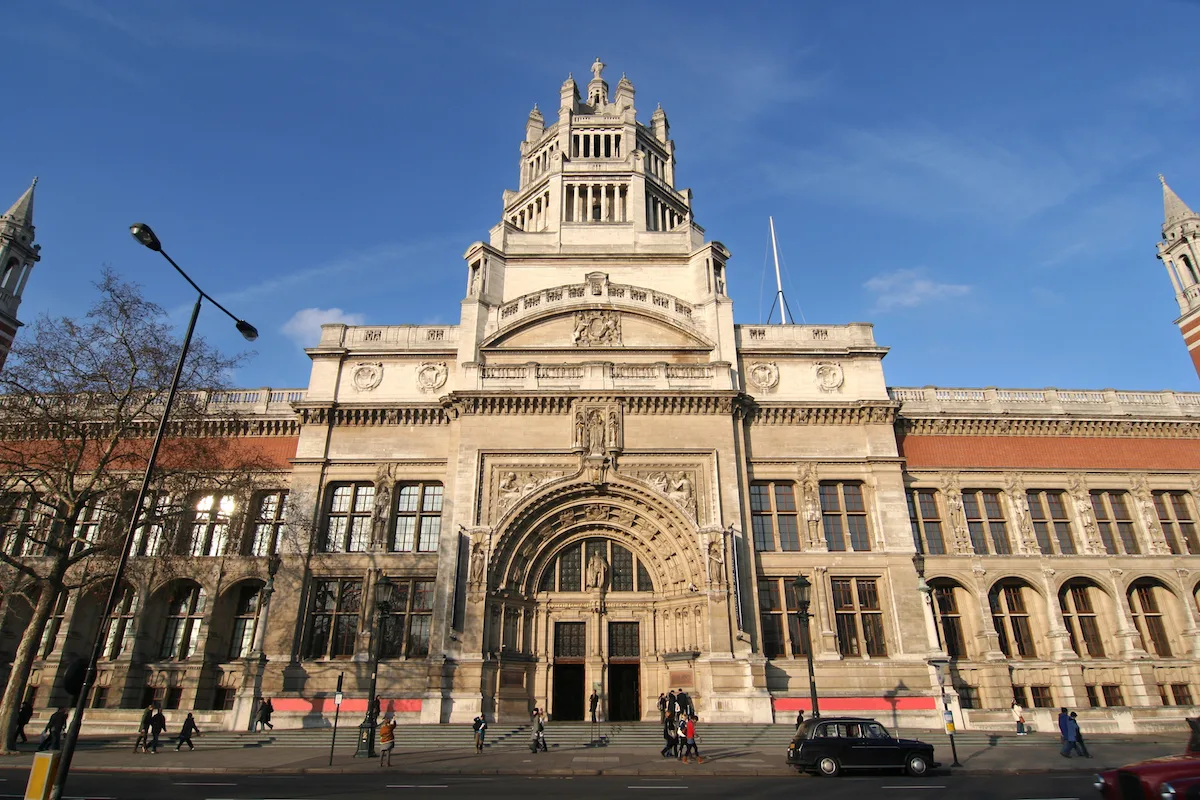 If you love art and design, a trip to the Victoria and Albert Museum is a must when you visit London.
Founded by Queen Victoria and Prince Albert as the Museum of Manufactures, the Victoria and Albert Museum has developed into so much more.
With over 2.3 million pieces from photography to jewelry such as Queen Victoria's sapphire and diamond coronet, from 3D printed items to sculptures, at least one object will capture your attention.
Pro-tip: The museum offers classes and workshops for adults.
Victoria and Albert Museum Cromwell Road, Knightsbridge, London SW7 2RL. Cost: Free. Hours: Sunday through Thursday and Saturday from 10 am to 5:45 pm. Friday from 10 am to 10 pm. Closed December 24 through December 26.
Regent's Park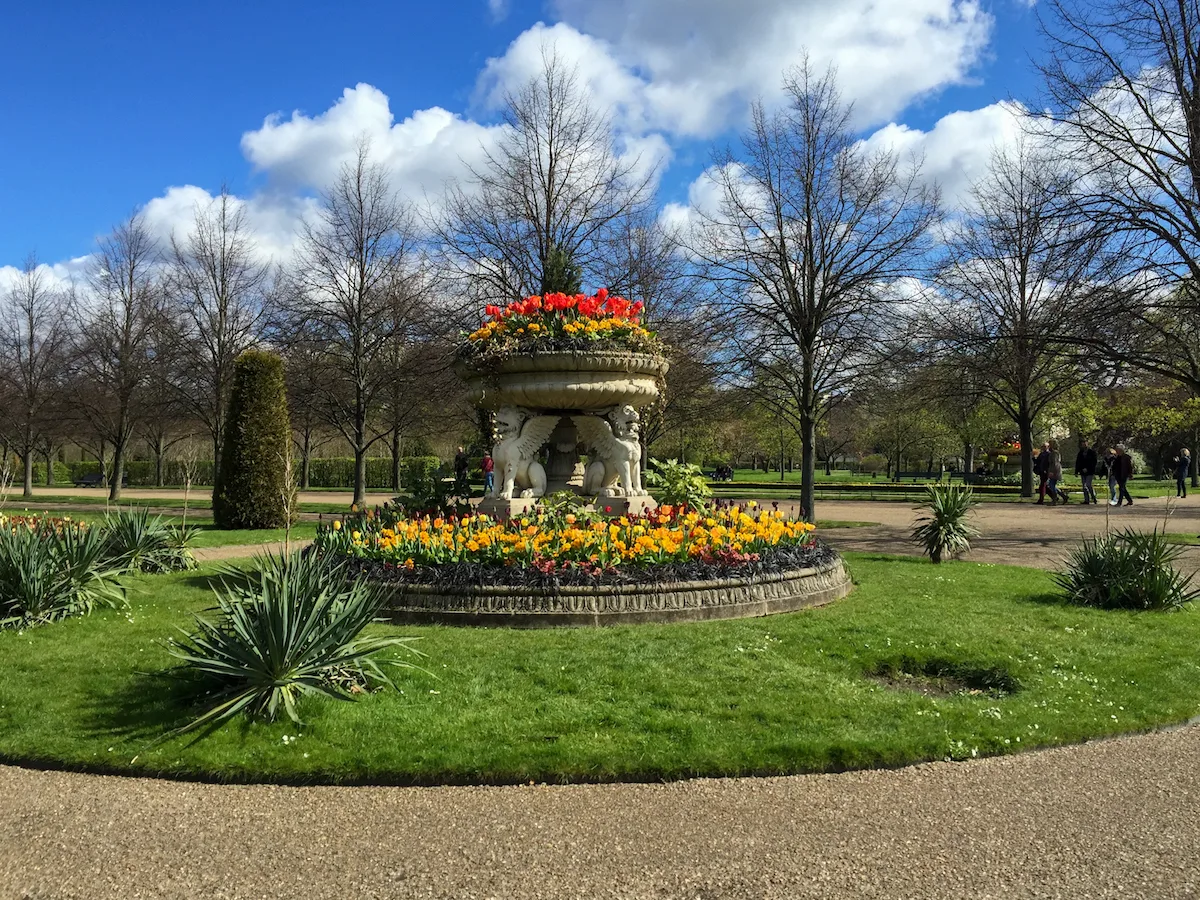 One of the best things to do in London on a Sunday afternoon, well any afternoon actually, is taking a stroll through Regent's Park.
Regent's Park is just one out of eight royal parks in London, but arguably the most beautiful.
Go, and you'll find it to be a tranquil oasis in the middle of an otherwise bustling metropolis. You won't need to go far in before the noises of the busy streets completely disappear.
In other words, a perfect place to go, when you need a break from it all. It's located just north of Oxford Street and is sure to offer you much-needed relief from an exhausting shopping spree.
Regent's Park is also a diverse park. In the early morning, you can watch the sunrise from Primrose Hill. Later, you could go for a run. At lunchtime, the soft green grass is the perfect place for a picnic.
There's plenty of space because Regent's Park occupies 166 hectares of prime real estate in London. Luckily, it's a protected area that, by law, can never be built over.
In the afternoon, you could join a casual football match. Or if you are looking for a more leisurely activity, head over to the nearby London Zoo.
One of the most impressive areas of Regent's Park is Queen Mary's Garden. Here, in the very center of the park, stands more than 10.000 roses, in all the colors of the rainbow.
The price of watching that glorious sight? Nothing at all!
Regents Park Chester Road, London NW1 4NR. Cost: Free. Hours: Daily 5 am to 11 pm. Closing times vary depending on the season.
Best Things to Do in London Pick by Nicklas Simonsen, The Danish Nomads
Thames River Walk to Hampton Court Palace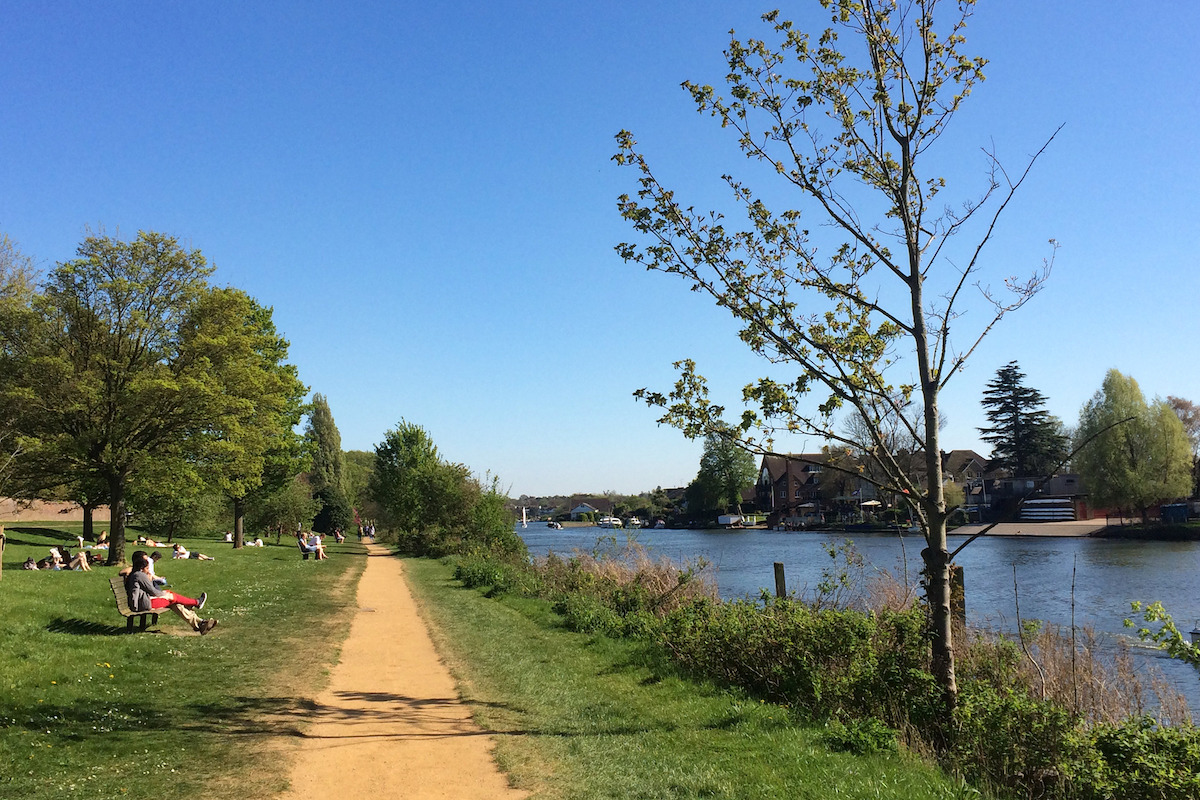 An often overlooked thing to do in London is to take a river walk along the Thames from Kingston to Hampton Court Palace.
The River Thames is the lifeblood of London, meandering through the heart of the city and providing many, many miles of scenic riverside walking.
The tranquil three-mile stretch that runs between Kingston and Hampton Court is a wonderful way to escape the pace of central London, culminating with an important piece of the city's history.
Alex from Career Gappers first tried this route on a glorious summer Sunday afternoon, as a gentle training walk ahead of longer hikes for his travel career break. He loved it so much he returned to do it again just for fun.
To reach the beginning of the walk you can take a train from London Waterloo to Kingston, a service that runs frequently throughout the day and takes about half an hour. It's about a ten-minute walk from the station to Kingston Bridge, where the path begins after crossing over to the west bank.
From there, the river curves in a long arc round to Hampton Court, passing quaint houses, moorings, and eateries on the far side of the bank. The path is very well kept, tracing closely between the river's edge and the cultivated greeneries that run alongside it.
Hampton Court Palace looms impressively on the right-hand side as you approach the end of the route. This 16th-century building was a favorite residence of King Henry VIII and is open to the public.
Pro-tip: Book your Hampton Court Palace tickets online and save money.
Next to the palace is Hampton Court Park, a 750-acre expanse of oak groves and fountains that's free to enter and is perfect for a picnic to finish off the walk.
Afterward, you can either walk the return route to Kingston or jump on a train back to Waterloo from Hampton Court.
Hampton Court Palace Hampton Ct Way, Molesey East Molesey KT8 9AU. Cost: Adults aged 16 to 59 $30, Children aged 5 to 15 $15, Seniors $24. Hours: Monday to Sunday from 10 am to 6 pm March 29 to November 3. Monday to Sunday from 10 am to 4:30 pm November 4 to March 28. Closed December 24 to December 26.
Book your Hampton Court Palace tour.
Best Things to Do in London Pick by Alex Trembath, Career Gappers
Camden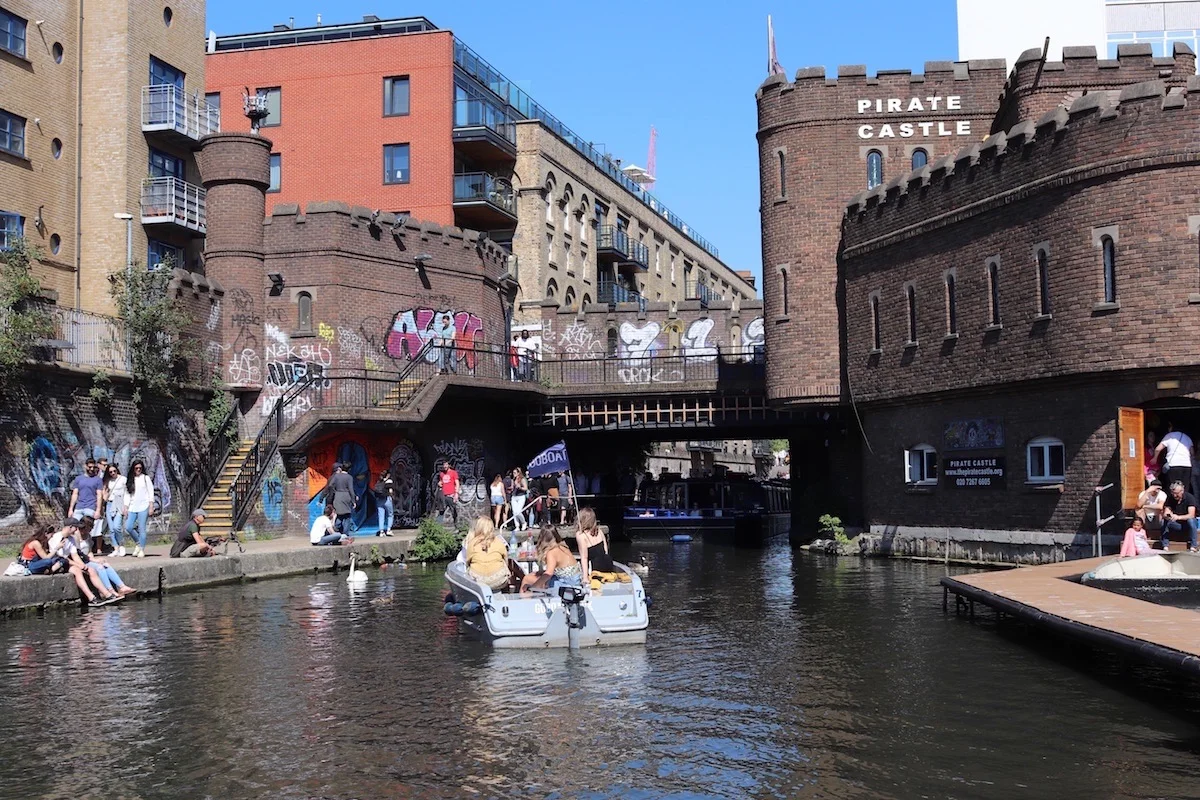 Located in Northwestern London, Camden is a major tourist destination offering many interesting things to do.
The greatest attraction is Camden Market, one of the world's most famous markets, with over 1,000 places to shop, eat, drink and dance.
From the antiques market at the Stables, where you can find neo-Victorian corsetry, vinyl, vintage suitcases, etc, to the stalls near the station selling clothes and souvenirs. Not to mention the food stalls featuring international cuisine, Camden Market is truly a market lover's delight.
Camden was once rock and punk's favorite borough, but nowadays it is home to all types.
There are many venues for live music, where artists like David Bowie, Prince, Oasis, Coldplay and Amy Winehouse have performed. In fact, Amy was a local and there's a life-sized statue of her at the Stables Market, a short walk from her last home.
Browsing, discovering new treasures and souvenir shopping in the markets in Camden are a great way to spend the day. Pericles' from 7 Continents 1 Passport favorite thing to do is exploring its beautiful canals.
The lively Regent's Canal runs through the heart of Camden. You can go kayaking, boating, jogging, listen to a local artist, or sit, relax and grab a drink.
Other things that you can do in Camden are: admire the amazing views of London from Primrose Hill, visit Regent's Park (one of the best parks in the city), join a walking tour, see the animals at London Zoo, etc.
You can visit Camden all year round, but the best time is during the summer when the weather is nicer. If you want to beat the crowds, go during the week, as it can get very busy on the weekends.
Camden, a bit on the too touristy side is definitely of the best places to visit in London and you should not miss it.
Best Things to Do in London Pick by Pericles Rosa da Nova, Seven Continents, 1 Passport
See a Show in the West End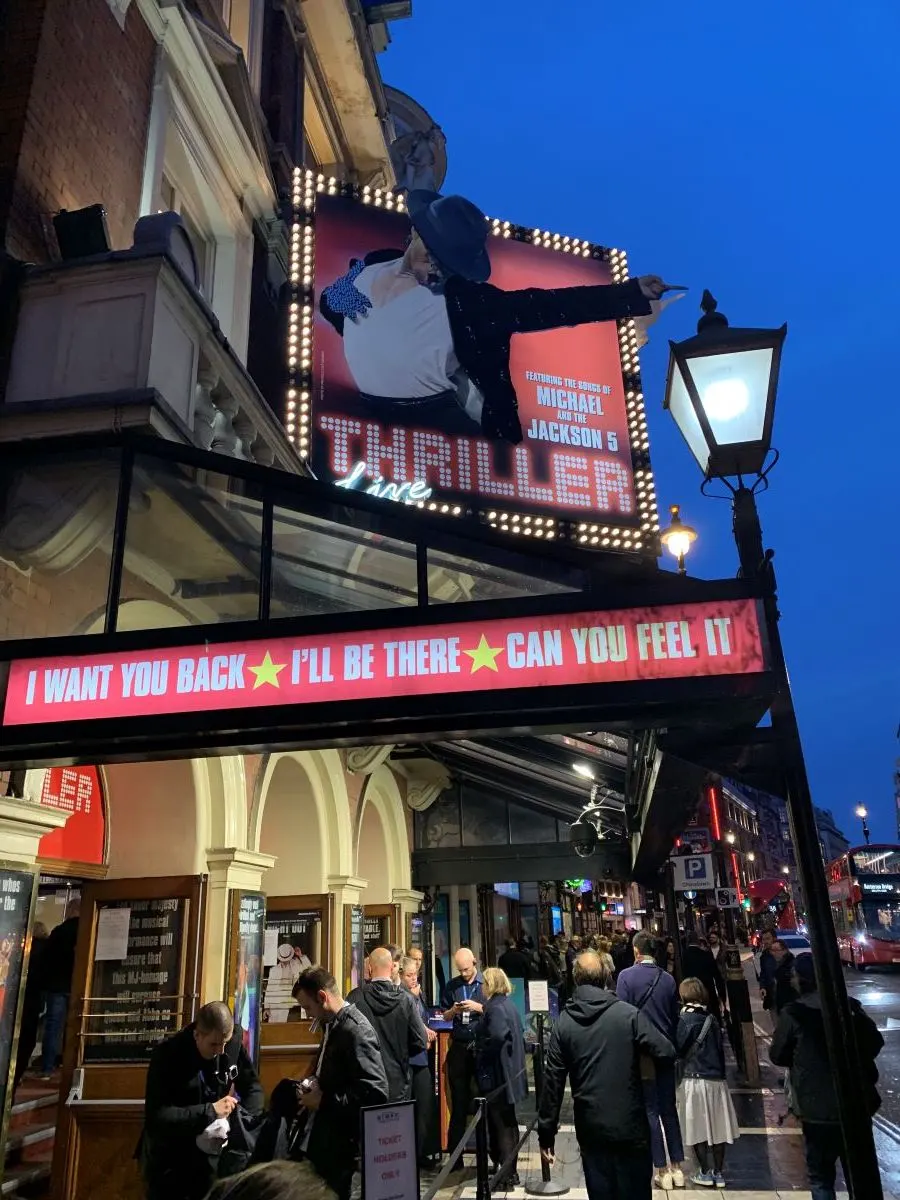 One of Lesley's from Freedom56travel favorite things to do in London is to see a show in the West End.
The West End of London, west of the City of London and north of the Thames, is home to many of London's theatres. There are a total of 38 theatres in the West End!
The professional theatre in London is world-class, on par with New York's Broadway theatres.
Going to the theatre in London doesn't require fancy dress or special knowledge. Come as you are or dress in your finest. London theatre-goers come in all shapes and sizes and no one will mind what you're wearing.
There are great pubs and restaurants all over the West End to have a meal before or after a show. Reservations recommended if it's a popular spot or if you're pressed for time.
West End theatres sell snacks and drinks so don't worry if you arrive hungry!
Pro-tip: Hands down, the best way to get affordable tickets to see shows in London is to make your way to Leicester Square and queue up at the TKTS booth.
There is always a great selection of seats with excellent discounts (as much as 50% or more!) for same day or next day shows.
Sold-out show tickets won't be available. There isn't a bad show in London and there is always a great selection to choose from.
Book your tickets to see a show in the West End.
Best Things to Do in London Pick by Lesley Christensen, Freedom56travel
Friday Rush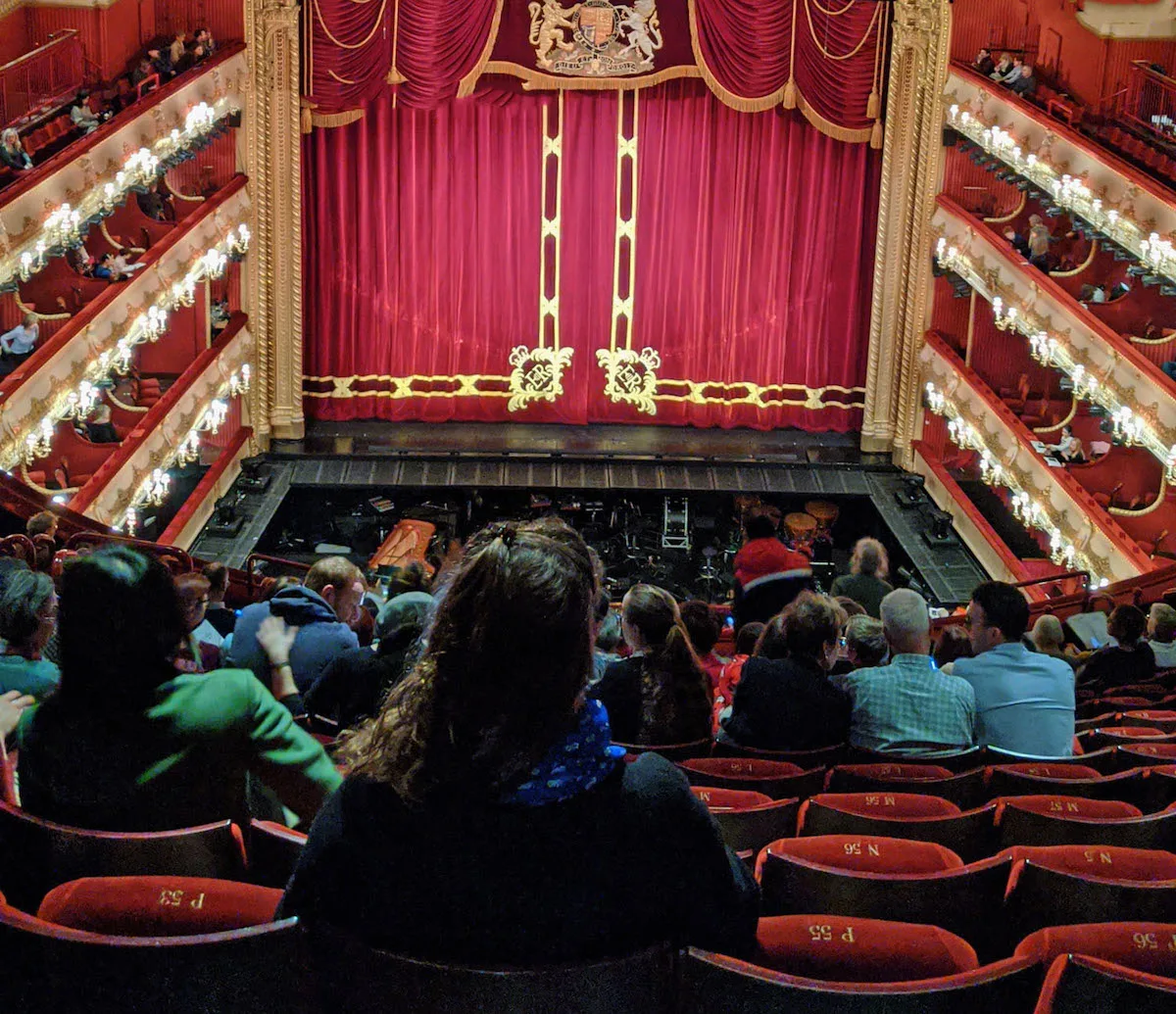 Sometimes the best things to do in London aren't the normal touristy things take for instance Friday Rush Tickets.
If you thought going to the opera, ballet or the theatre in London was going to be impossible for a reasonable price at the last minute, check out Friday Rush.
London's leading opera house, the Royal Opera House and the National Theatre on the Southbank are London's top venues for serious theatre productions. So you might think tickets were like gold dust.
But both the Royal Opera House and the National Theatre keep tickets back. They release them on their websites every Friday at 1 pm for every show the following week.
You can pick up good tickets for around $22 per person opera tickets, $14 per person for the ballet, and only $12 per person for most shows at the National Theatre.
At the Royal Opera House, you will find Friday Rush tickets for the Upper Amphitheatre and Stalls Circle.
Standing spaces on the balcony level are also available. These tickets are not discounted.
But they offer the best vantage points in the house at a reasonable price. Ideal tickets for regular opera-goers on a budget.
The National Theatre has three theatres, the Olivier, the Lyttelton or the Dorfman. Seats vary depending on the theatre. But all have a good view.
Friday Rush Tickets, National Theatre Upper Ground, Bishop's, London SE1 9PX. Royal Opera House Bow Street, London
WC2E 9DD
Pro-tip: Friday Rush Tickets go on sale at 1 pm every Friday.
Best Things to Do in London Pick by Fiona Maclean, London-Unattached
Covent Garden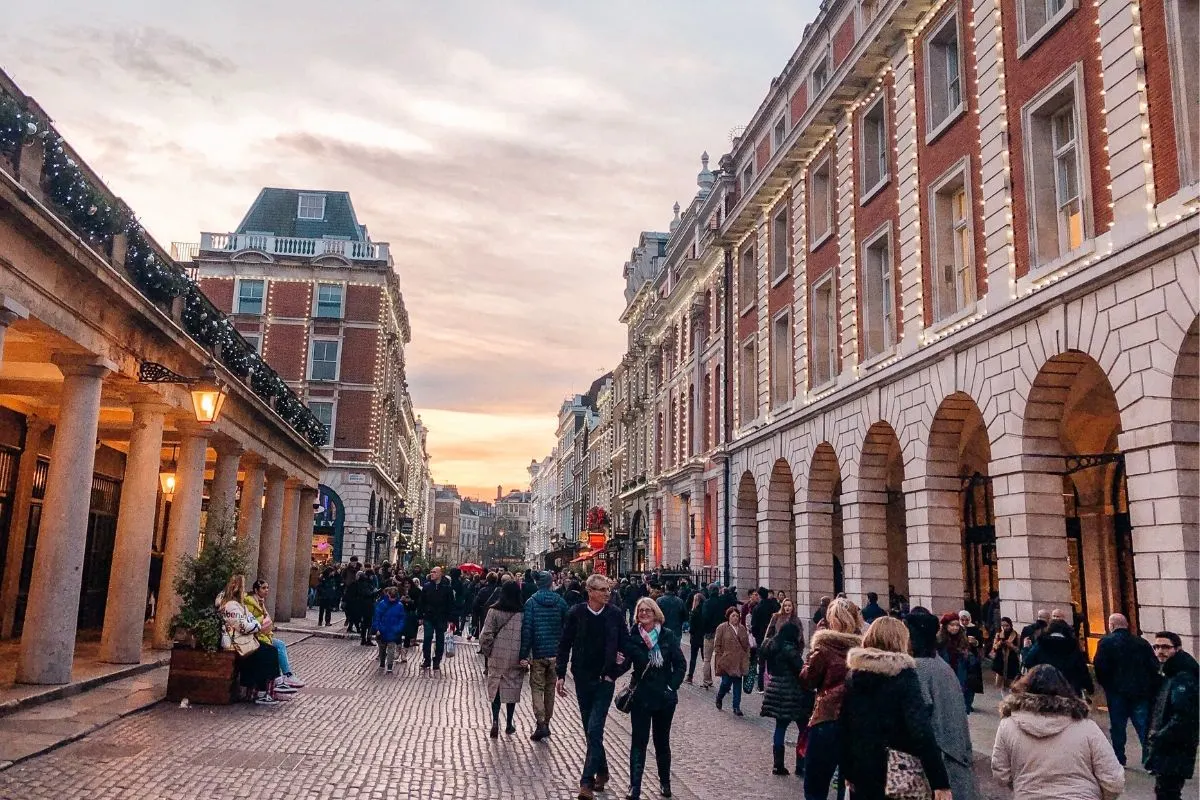 Covent Garden is a fun family-friendly activity that is free for visitors and locals.
There are restaurants, open-air cafes, markets, shops, pubs and more. It is a fun place to visit at any time of year with lots to do and see.
While Covent Garden may be a magnet for tourists it deserves to be on any London itinerary.
Enjoy a coffee or hot chocolate in one of the many ground floor cafés in the Market Building. Wander the markets that sell items like antiques, jewelry, handbags and arts and crafts.
Listen to musicians busking and showcasing their talent. You'll often hear the sounds of violins, cellos, and flutes over the chatter of the throng of shoppers.
Street entertainers perform daily, a tradition since 1662. Watch magicians, comedians and jugglers entertain the crowds on the cobblestoned streets.
When visiting Covent Garden, allow for time to visit the London Transport Museum. The museum shop includes a collection of vintage posters, a favorite of Tracy's from Tracy's Travels in Time. Plan to spend two hours to enjoy both the museum and shop.
Pro-tip: Kids get free entry into the London Transport Museum. There are plenty of things to keep them occupied including the All Aboard Play Zone.
Covent Garden is home to some of London's best theatres such as the Savoy. The Royal Opera House and Royal Ballet are also located in Covent Garden. So the choice of a musical, comedy, opera or ballet is yours!
Covent Garden London WC2E 7BB. Cost: Free to visit. Hours: Daily 24 hours. Shop hours vary.
Best Things to Do in London Pick by Tracy Collins, Tracys Travels in Time
The National Gallery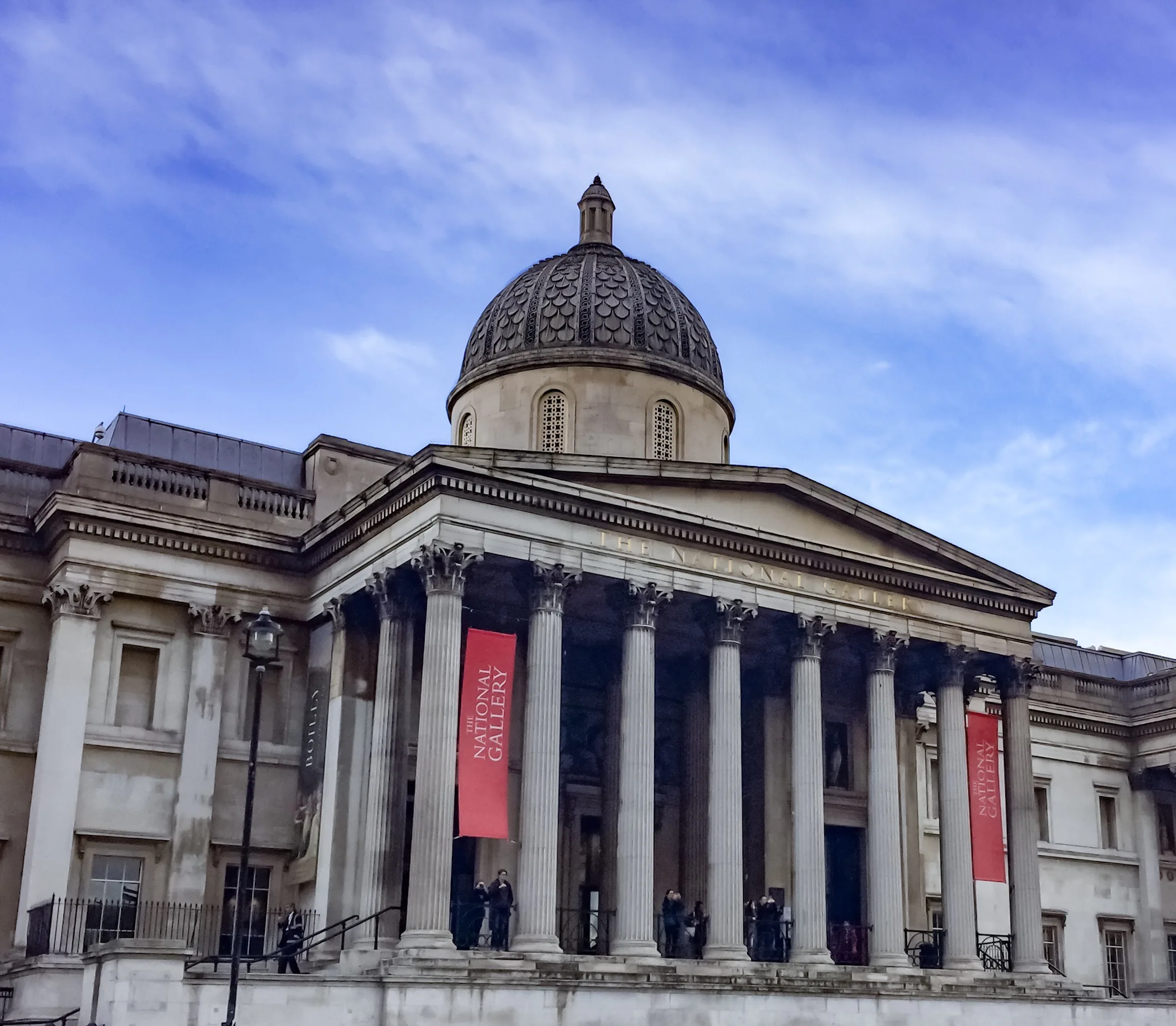 If you enjoy art, the National Gallery is a must-visit when you're looking for what to do in London. It is one of the most visited museums in the world and a popular London attraction.
Located in Trafalgar Square, the National Gallery is easily accessed by the tube. It is also a stop on the Hop-On, Hop-Off bus.
Founded in the early part of the 19th century, London's National Gallery is home to a collection of 2,000+ paintings that span six centuries.
The gallery houses mainly European masterpieces. The collection, although small in size, is significant. Because it includes major works from most phases in European painting.
You can see works from most European masters including Titian, Botticelli, Raphael, Rembrandt, Van Gogh, and Monet.
Some of the most famous paintings in the collection include Van Gogh's "Sunflowers," Titian's "Bacchus and Ariadne," Gainsborough's "Mr. and Mrs. Andrews," Turner's "The Fighting Temeraire," and Raphael's "The Madonna of the Pinks."
Despite the small collection, Dhara from Not About the Miles recommends planning to spend a couple of hours touring the National Gallery.
Entrance to the museum is free but there is a small charge for audio guides. Special exhibits and events may charge a fee.
Pro-tip: Weekday mornings, or weekdays in the offseason, are your best shot at seeing the collection without crowds.
You can bring in bags that are 22 x 9 x 17 inches and smaller. Suitcases and large luggage aren't allowed.
The National Gallery Trafalgar Square, London WC2N 5DN. Cost: Free. Tickets required for some exhibitions and special events. Hours: Daily from 10 am to 6 pm. Closed January 1 and December 24 to 26.
Best Things to Do in London Pick by Dhara from It's Not About the Miles
Trafalgar Square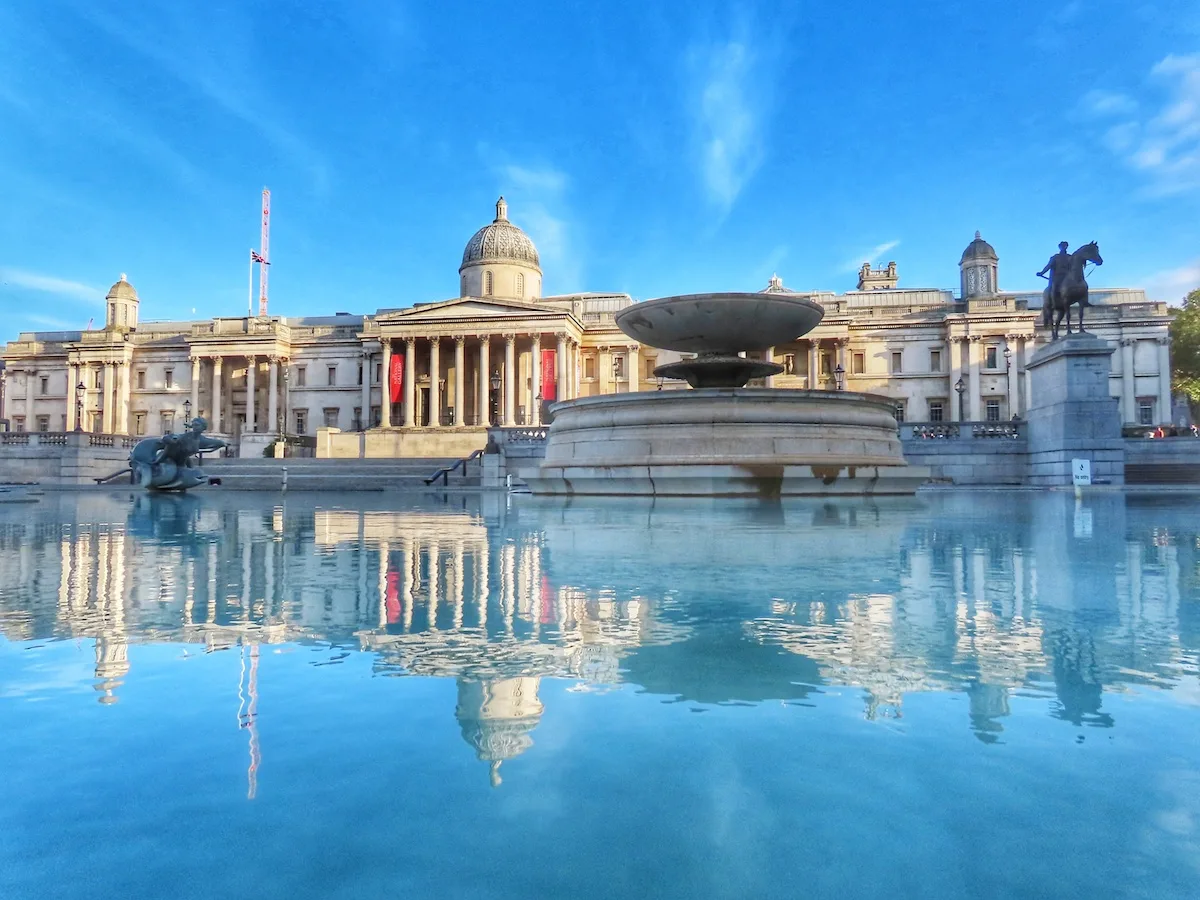 Trafalgar Square is a must-see for all first-time visits to London. It literally is the official center of London.
Besides being a great place to people-watch, it has several memorial statues and two beautiful fountains. The square is named after the Battle of Trafalgar, led by Admiral Horatio Nelson, where Britain won a clear victory over Spain and France in 1805. Four massive bronze lions guard his memorialized likeness on the Nelson Column.
Standing as a dramatic backdrop to the square is the National Gallery and the National Portrait Gallery. The Mall connects Trafalgar Square to Buckingham Palace, and many other popular London sites are within easy walking distance.
It is just a jaunt from here to Covent Garden or Big Ben and the Westminster Bridge, for example. Also nearby is the London Coliseum and the English National Opera.
If you visit Trafalgar Square in the early morning hours, it will be practically empty and strangely peaceful. Come back during the afternoon, and it will be a different place entirely.
You'll find a variety of artists, buskers, and even a few skateboarders if they are lucky enough not to get chastised. It will be constantly crisscrossed by employees on lunch break, tourists taking Instagram photos, and children playing on the steps of the Gallery.
You might even find a protest of some kind, whether it is political or anti-climate change.
The main reason Tami from Postcards and Passports loves Trafalgar Square is because it's a gathering place for people of all sorts — young and old, foreign and British. The vibe is simply wonderful!
Trafalgar Square Charing Cross, London WC2N 5DN. Cost: Free. Hours: 24 hours.
Best Things to Do in London Pick by Tami Zehrung Wilcox from Postcards and Passports
Buckingham Palace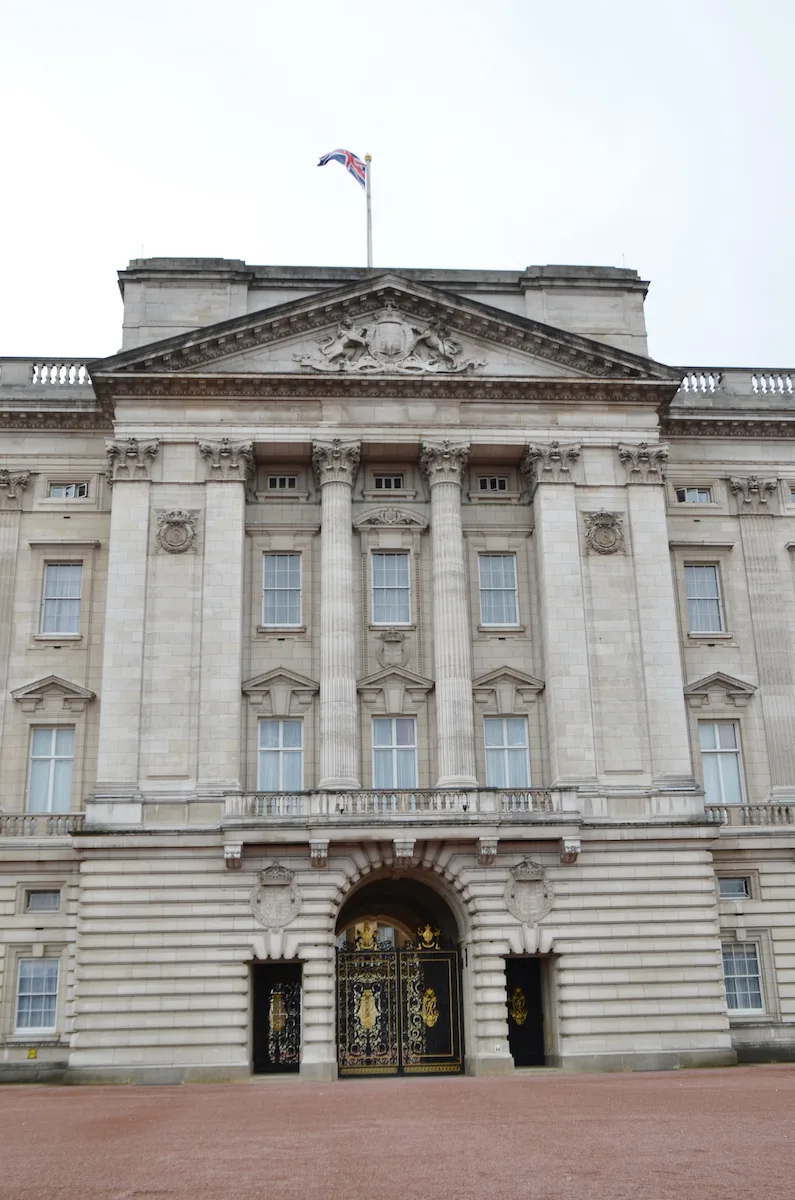 Whether you're an anglophile, love Will and Kate, or are a history buff, a visit to Buckingham Palace should be on your list of things to do in London.
Buckingham Palace, built in 1704, is home to the English monarchy. Prince Charles and Prince Andrew were born in Buckingham Palace. The palace is where the Queen entertains heads of state from other countries.
If the Queen is home, the Royal Standard flag is flown on the flagpole. If she's away, they fly the Union Flag.
Tours of the State rooms, some used for the Duke and Duchess of Cambridge's (Will and Kate's) wedding reception, the art gallery, the Grand Staircase, and the garden are open to the public.
Pro-tip: Tours are only given during the summer when the queen is on vacation in Scotland. But taking photos inside the palace isn't allowed.
Be sure to time your visit so you can see the Changing of the Guard. This occurs daily at 11 am from April to July and every other day the rest of the year.
Pro-tip: Be sure to check the schedule on the British Army website.
Buckingham Palace Westminister, London SW1A 1AA. Cost: $32 adults, $18 children 5 to 16, Seniors $29 Hours: Select dates during the winter and spring and 10 weeks each summer: July 25 to August 2020 from 9:30 am to 7:30 pm with last admission at 5:15 pm. September 1 to October 4 from 9:30 am to 6:30 pm with last admission at 4:15 pm.
Book your Buckingham Palace tour.
Churchill War Rooms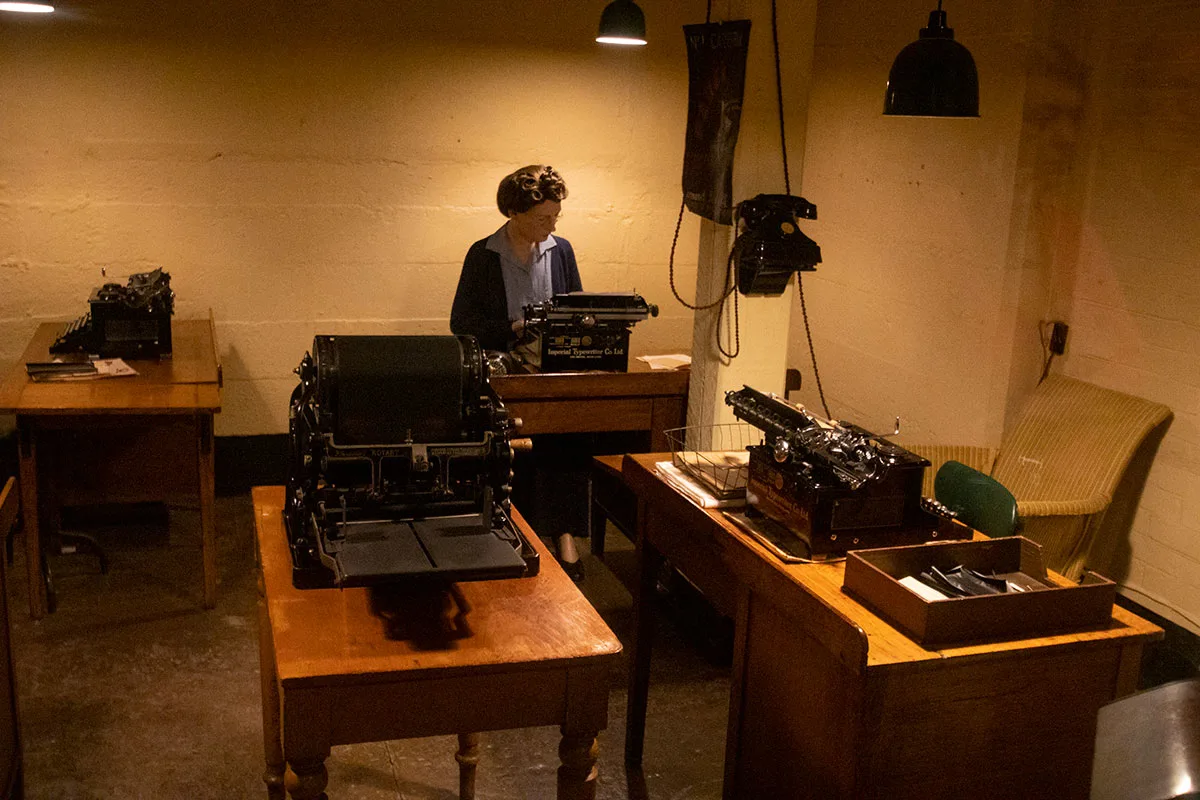 The Churchill War Rooms is one of the most popular and best attractions in Central London according to David of Traveling With Little One.
The Rooms are an underground bunker where British Prime Minister Sir Winston Churchill directed operations during World War II.
It is a large complex, where many military and government personnel worked and often slept.
The Churchill War Rooms is one of the best historic museums in London. It's a great experience to walk around this underground labyrinth.
The war in North Africa, the Allied invasion of Italy and the D-Day invasion of France were all planned and directed in these rooms.
Many of the rooms are set out as they would have been during World War II, complete with waxwork figures.
Another section of the Churchill War Rooms is the Churchill Museum, which focuses on Churchill's life and accomplishments.
Pro-tip: The key to enjoying a visit to the Churchill War Rooms is to book your ticket in advance.
Tickets have a timed entry aka allocated entrance time. There is a 30 minute grace period from your timed entry. If you arrive after you aren't allowed to enter.
Once inside, you can spend as much time as you like exploring the Churchill War Rooms.
As one of the big-ticket London sights, you have to wait to get in up to an hour or longer if you come in peak season without a reservation.
Peak season is May to September. Your best bet is to come early or late. Because the busiest times are during the middle of the day.
During the winter there are fewer crowds and it's easier to get your preferred time slot aka allocated entry tickets.
Pro-tip: Remember to print your tickets. Because the museum only accepts paper tickets.
Churchill War Rooms Clive Steps King Charles Street, London SW1A 2AQ. Cost: Adult tickets (ages 16 to 64) cost $28. Child tickets (ages 5 to 15) cost $14. Seniors $23. Hours: Daily from 9:30 am to 6 pm, last entry at 5 pm. Closed December 24 to December 26.
Book your Churchill War Rooms tickets.
Best Things to Do in London Pick by David Angel, Travel With Little One
Westminister Abbey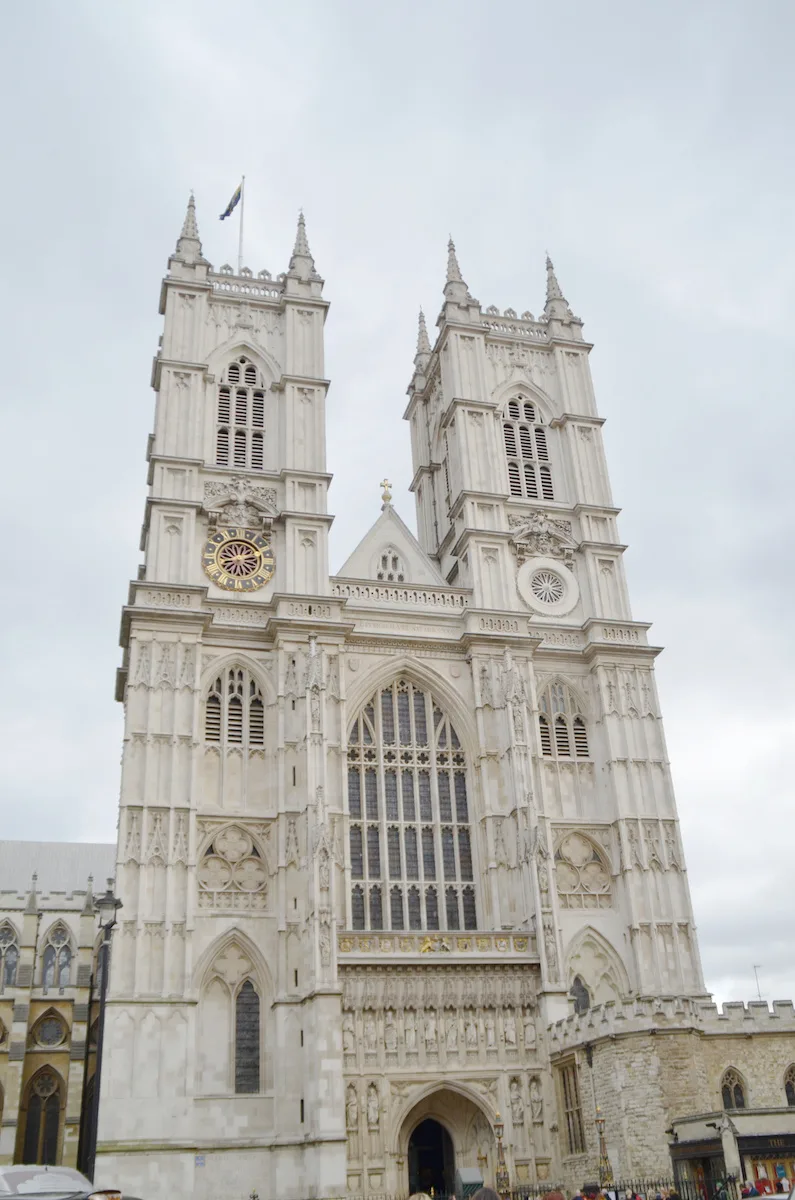 Westminster Abbey is a must on any visit to London.
Founded as a Benedictine monastery in 960 AD, Westminster Abbey is the setting of baptisms, royal weddings, the crowning of kings and queens, and the final resting places of royalty.
Will and Kate, the Duke and Duchess of Cambridge, got married at Westminister Abbey as did the Queen and Prince Philip.
It also houses the tomb of the Uknown Warrior. The Unknown Warrior represents all the soldiers who died during WWI.
The Abbey is open to the public for worship and tours (for a fee). I didn't get a chance to take a tour when I visited London but hope to do so on my next visit.
Pro-tip: You can't take photos inside Westminister Abbey. But you can take photos when you tour the Chapter House, Cloisters, and College Garden.
Westminster Abbey 20 Deans Yd, Westminster London SW1p 3PA. Cost: Adults $27, children $11, and Seniors $23. Hours: Monday to Tuesday 9:30 am to 3:30 pm, Wednesday 9:30 am to 6 pm, Thursday to Saturday 9:30 am to 3:30 pm.
Book your Westminster Abbey tour.
Big Ben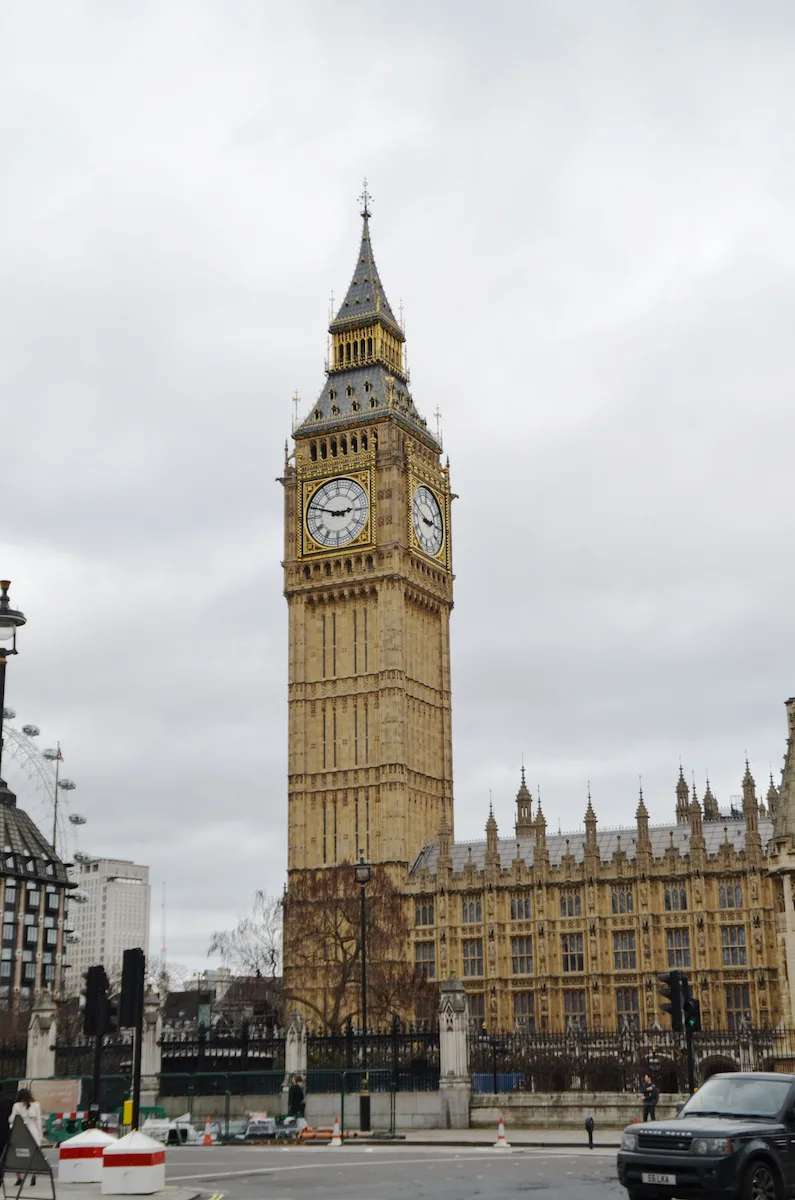 Big Ben is one of the first images to come to mind when you think of London. The tall imposing Clock Tower at the end of the Houses of Parliament next to the Thames River. It makes sense that on a trip to London, you'd make time to stop and see this landmark.
What many don't realize is that Big Ben isn't the Clock Tower. It's the nickname for the Great Bell, the largest of the five bells inside the clock tower.
There are five bells inside the 315-foot neo-Gothic clock: Big Ben and four quarter bells. The quarter bells chime at 15, 30, and 45 minutes past the hour each with a different tune. Big Ben, the Great Bell, bongs on the hour.
Pro-tip: Only UK residents can climb the 334 steps to the tower by pre-arranging a tour through their Member of Parliament.
Big Ben Westminister London SW1A 0AA. Cost: Free. Hours: 24 Hours.
London Eye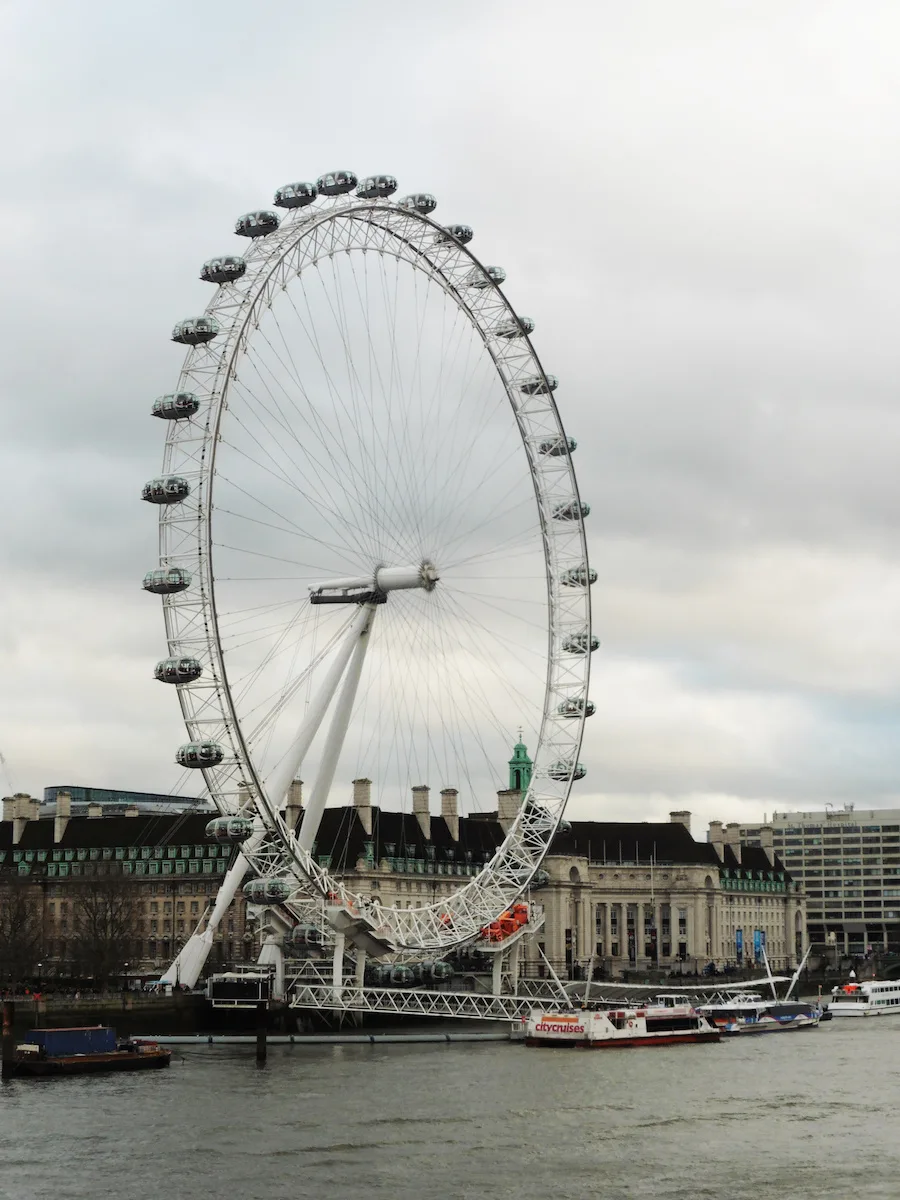 The London Eye, also known as the Millennium Wheel, sits on the Thames River, a short walk from Big Ben, and should not be missed during your trip to London.
At 443 feet it's the tallest ferris wheel in Europe. Although, The Whey Aye at 460 feet will claim that honor once completed.
Take in amazing views of London from one of its 32 capsules while enjoying the 30 minute ride. If you want an open air view be sure to visit The Shard.
Each capsule on the London Eye holds 25 people and includes seating with room to walk around. During summer and good weather with clear skies the lines can get long.
Pro-tip: Buy the Fast Track option so you can skip the line.
The London Eye can accommodate two wheelchair riders per capsule and only eight total each rotation. You have to prebook your ride.
London Eye The Queen's Walk, Bishop's London SE1 7PB. Cost: Adults $34, Child $28. Hours: 10 am to 6 pm, some days until 10:30 pm.
Book your London Eye tickets.
Leake Street Arches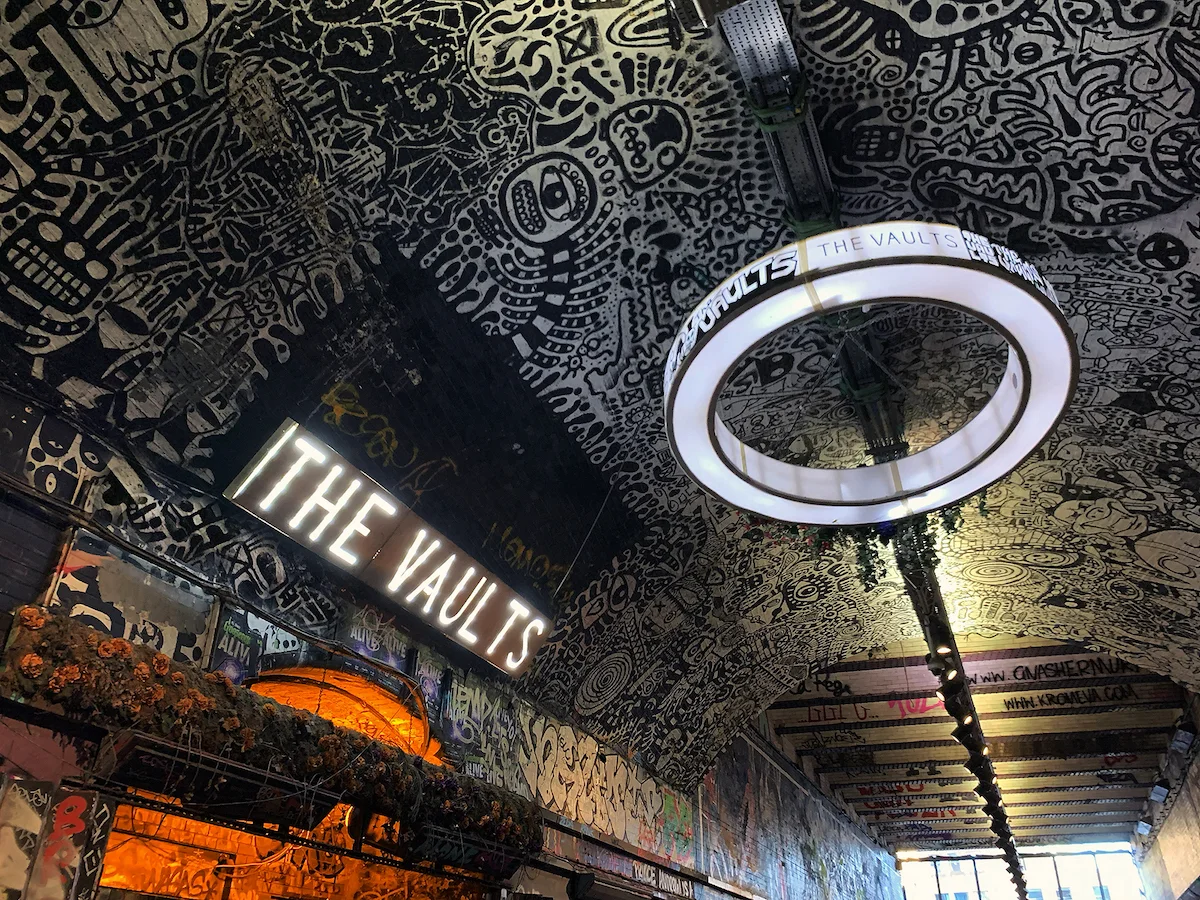 If you're at all a fan of local street art, you'll love London's Leake Street Arches, it's one of the best things to do in London according to Jordan of Global Debauchery.
The tunnels' everchanging graffiti originated with Banksy during the Cans Festival in 2008. It has been thriving ever since.
Located under the Waterloo Station off York Street and Leake Street in Lambeth, the space is free and open 24 hours a day.
Walk into this Instagram dream and start marveling at the longest legal graffiti wall in London. If you're lucky, you might even witness a one-of-a-kind work of art created right before your eyes!
Leake Street Arches has been actively building the space over recent years to include music venues and restaurants.
It's now home to the annual VAULT Festival featuring a variety of art forms, comedy shows, and theatre. Tickets required for individual shows.
Anyone can add graffiti and street art to the Leake Street Arches provided they follow the rules.
Pro-tip: Join #LeakeStreetLIVE for free graffiti workshops led Sophy Robson (aka SoFly) Thursdays from 6:30 pm to 7:30 pm.
If you want to immerse yourself in something authentically "London," visit Leake Street Arches and let the fun begin.
Leake Street Arches York Street and Leake Street at Waterloo Station. Cost: Free. Hours: Daily 24 hours.
Best Things to Do in London Pick by Jordan Campbell, Global Debauchery
Tate Modern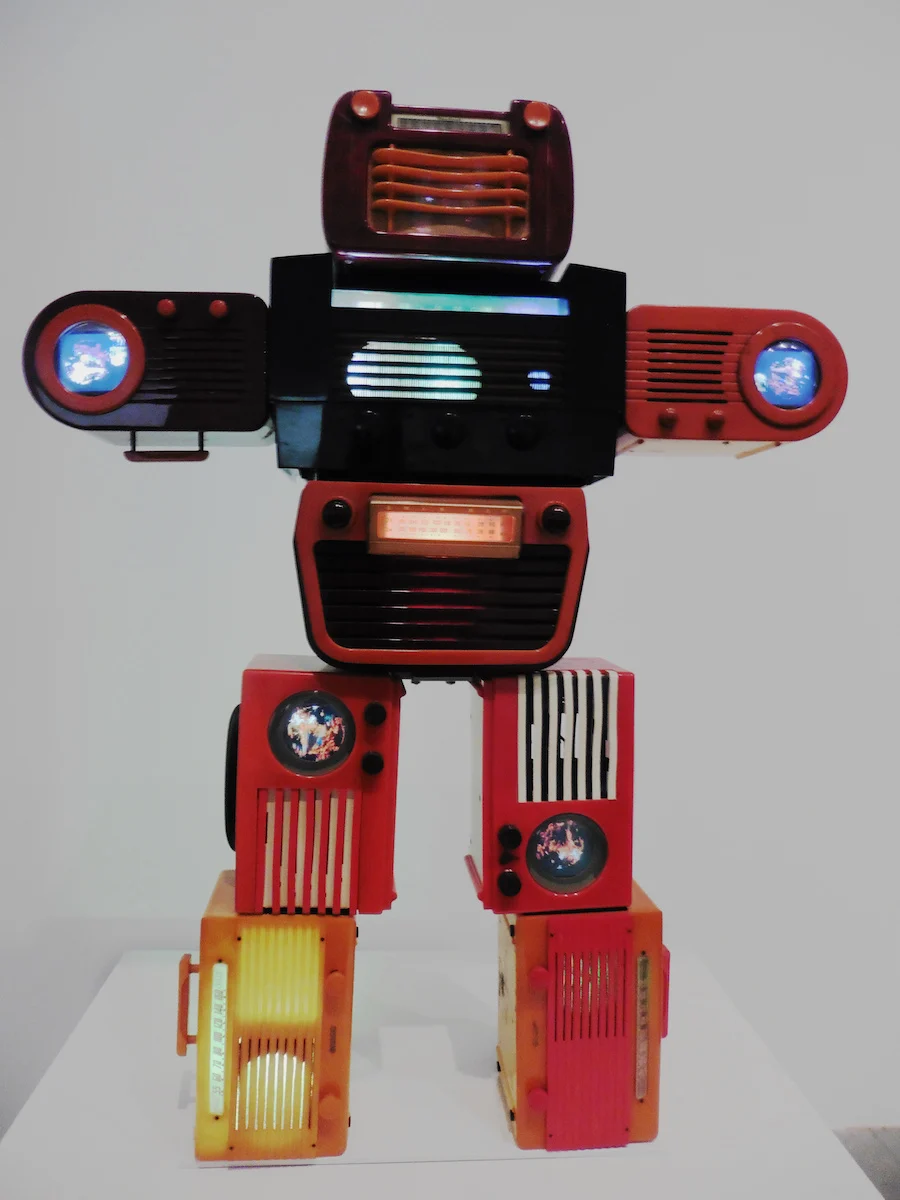 Culture loves swear by a visit to London's Tate Modern.
The Tate Modern showcases international modern and contemporary art from the 1500s to present day. The permanent collection includes pieces from Matisse. Temporary collections have included art from Gauguin, Picasso, and O'Keefe.
A visit to the Tate Modern is a great way to spend a rainy day. There are a lot of those in London. 🙂 Be sure to download the free app for the audio tour.
Pro-tip: Enjoy great views of London including St Paul's Cathedral and the Shard from the Tate Modern Viewing Platform. The Viewing level is open Sunday through Thursday from 10 am to 5:30 pm, Friday and Saturday from 10 am to 7 pm.
Tate Modern Bankside London SE1 9TG. Cost: Free. Some exhibits require a ticket. Hours: Sunday through Thursday from 10 am to 6 pm. Friday and Saturday from 10 am to 10 pm.
Shakespeare's Globe Theatre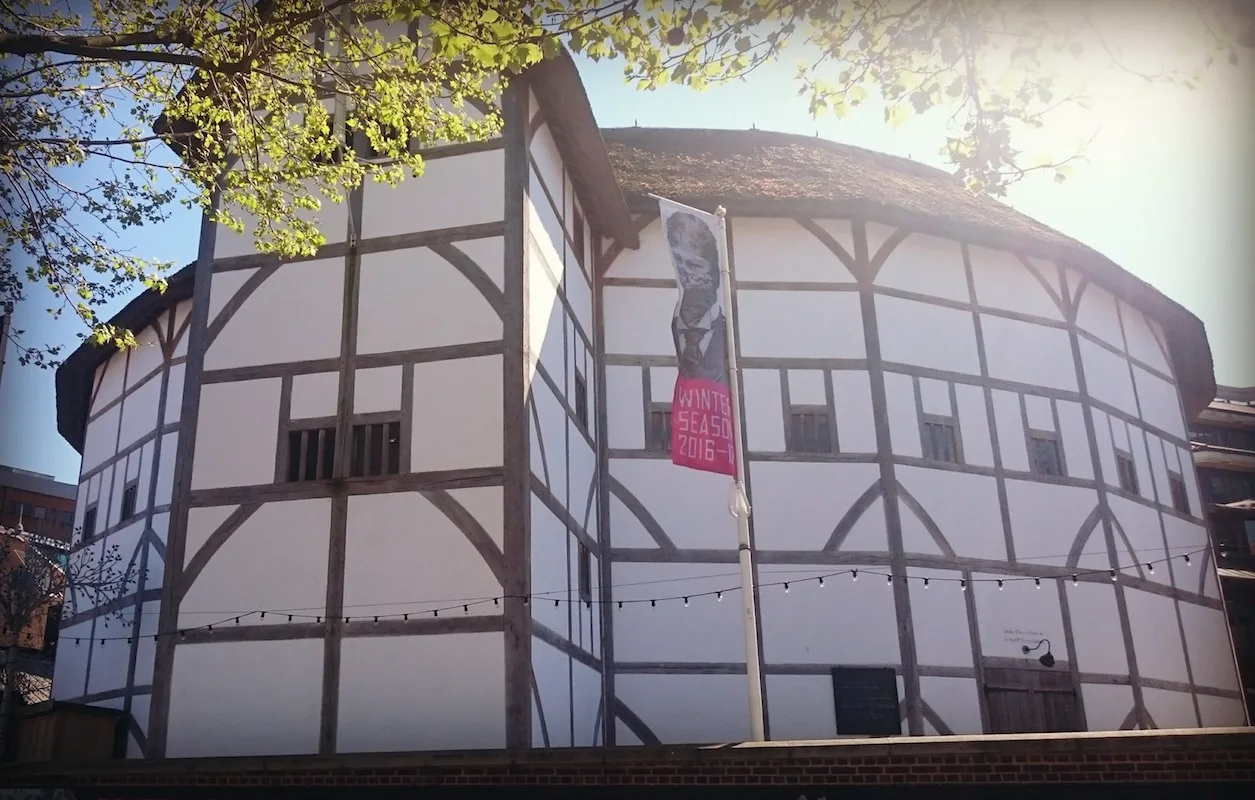 Whether or not you love Shakespeare it's you'll be hard-pressed to pass up a visit to the Globe Theatre while you're in London.
If you want to find out about the London of old then make sure Shakespeare's Globe Theatre, on the South Bank of the Thames, is on your itinerary.
You can watch a performance, listen to a talk, or attend a poetry reading. With standing room tickets starting at only £5 ($6.50) it's one of the best values in London.
Pro-tip: Per security restrictions the largest bag size allowed into the theatre is 15 x 13 x 7 inches.
For those wanting to get behind the scenes, you can tour the Globe Theatre.
Tours last about 40 minutes and include entrance to the Globe exhibition. You'll get answers to burning questions like Why did the Globe have to compete with bawdy houses, beers, and bear-baiting for visitors? Why was the floor covered in straw? Where did the rich folks sit? Who were the actors?
Costumes, scenery, models, and recordings make this a fascinating trip back to Shakespearean London.
As Shakespeare said, "All the world's a stage" so take your place on one of London's finest with this unique and evocative tour.
Shakespeare's Globe Theatre 21 New Globe Walk Bankside, London SE1 9DT. Cost: Adult $21, Child 5to15 $12, Seniors $19. Hours: Tours daily except December 24 and December 25, hours vary. Box Office Daily from 10 am to 6 pm.
Book your Shakespeare's Globe tour.
Best Things to Do in London Pick by Josie Peden, Where Jo Goes
Borough Market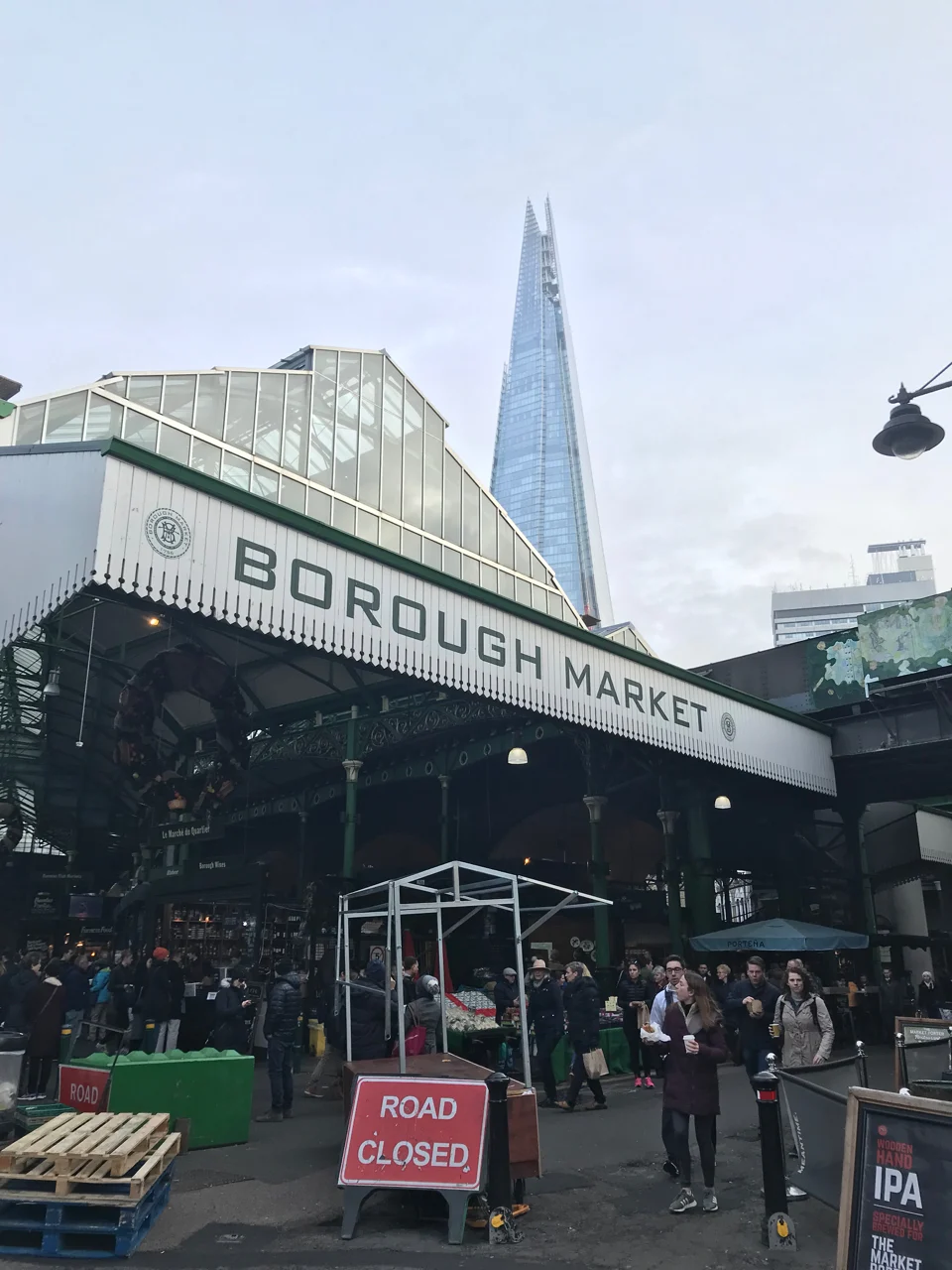 One of the best things to do in London has to be the Borough Market.
The Borough Market, London's oldest food market, in Southwark near the London Bridge is one of the most popular places to visit.
A market has stood here for nearly 1,000 years. Although the look and feel of the place has changed considerably. There's no livestock wandering around for starters! Borough Market remains very much a local market at its core.
With 4.5 million visitors each year, Borough Market is a foodie paradise. There's a mix of produce stands and street food stands.
You can find nearly everything you want here – including often hard-to-come-by ingredients some recipe books ask for.
There are butchers and fishmongers, fruit and vegetable traders, and pretty much everything else from spices to coffee. The street food is equally varied with dishes from all over the world.
Wondering what to eat and drink at the Borough Market? Try the oysters from Richard Hawards, empanadas from La Portena, and paella from Furness Food Hut.
Borough Market 8 Southwark Street London SE1 1TL. Cost: Free. Hours: Monday to Thursday from 10 am to 5 pm. Friday 10 am to 6 pm. Saturday 8 am to 5 pm. Note: Limited produce market on Monday and Tuesday.
Best Things to Do in London Pick by Katja Gaskell, Globetotting
Tower Bridge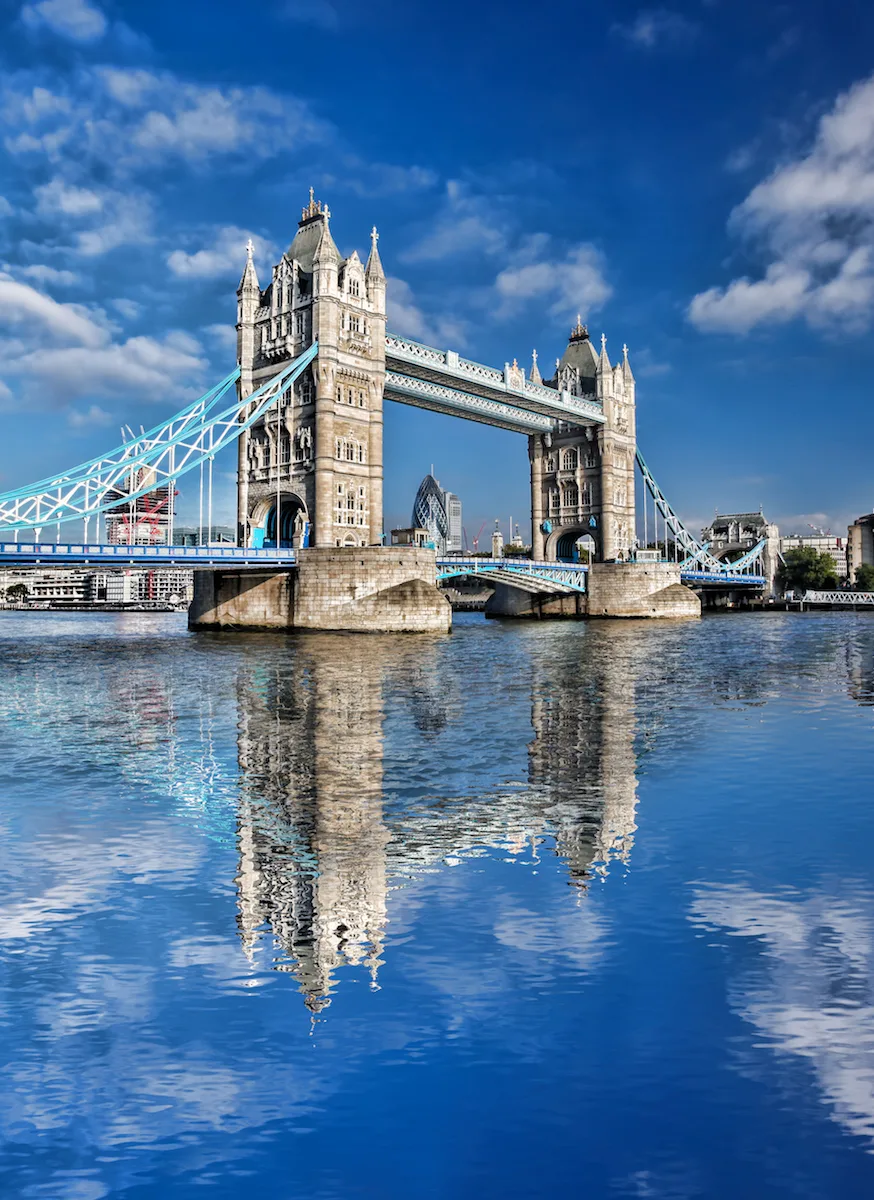 Tower Bridge, one of the most famous London landmarks, often mistakenly thought of as London Bridge, is a must on your first visit to London.
Along with Big Ben, the Victorian Gothic Tower Bridge is one of the most iconic symbols of London. The bridge connects
Tower Bridge tours include access to the steam engines which originally powered the bridge, glass floors, and an exhibit in the high-level walkway between the two towers. Download the app before your tour.
Pro-tip: Be sure to check the schedule for bridge lifts before you book your tour. Because they close the walkways during those times.
Tower Bridge Tower Bridge Road London SE1 2UP. Cost: Adults $12, children $5, seniors $8. Hours: Daily from 9:30 am to 6 pm with last admission at 5 pm. Closed December 24 to December 26.
Book your Tower Bridge tour.
The Shard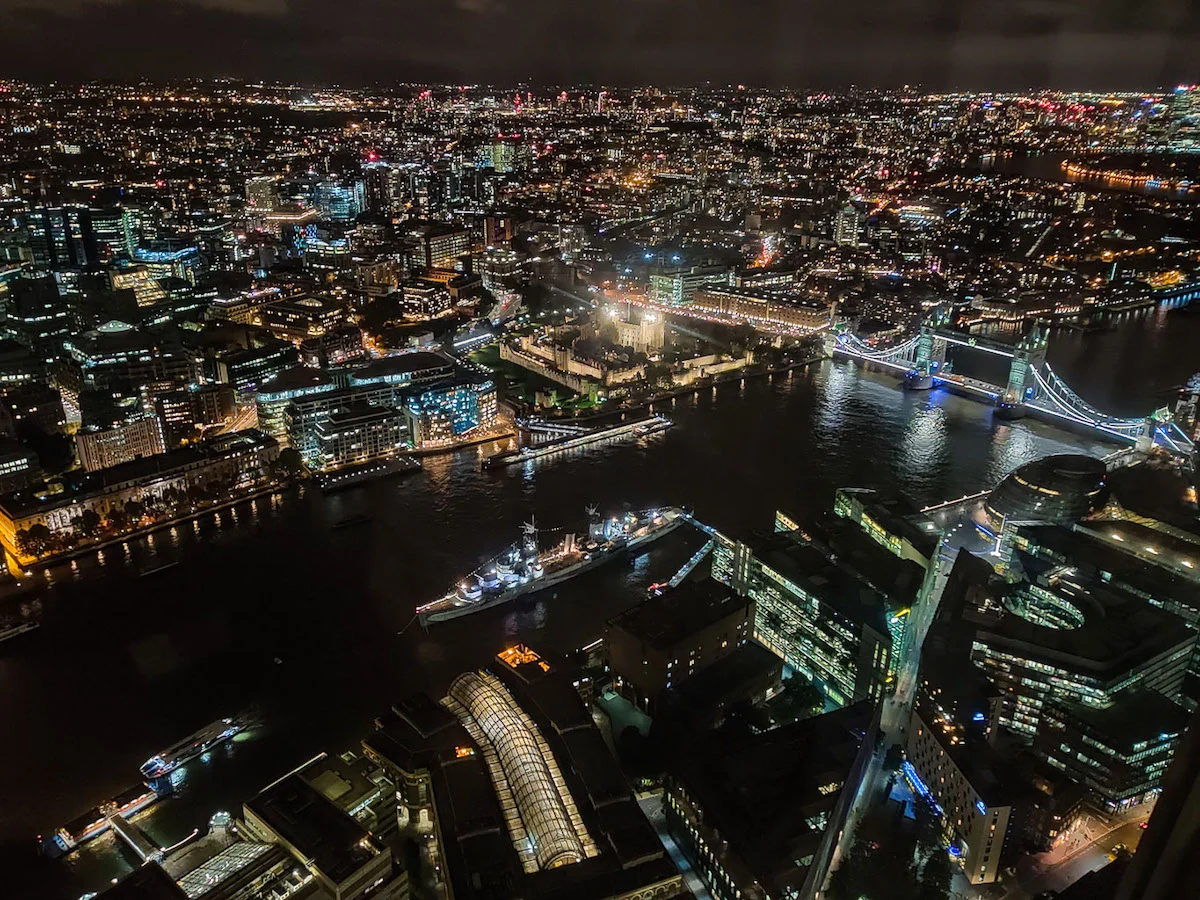 London is a city with hundreds of different things to do regardless of your interests. One of the must-dos no matter what kind of traveler you have to be visiting the Shard.
The Shard is one of many viewpoints in London but if you're only going to see one then make it this one.
The tower stands at 1,105 feet (309.6 meters) and is one of the tallest buildings in Europe.
The viewing platform spreads across three floors: the 68th, 69th, and 72nd floors. So you get an opportunity to view it from all three floors.
The tower and its views are one of the most instagrammable places in London. Even if photography isn't your thing, the views themselves are amazing.
It's a popular attraction so it'll be fairly busy in general. The glass windows go around the entire building so you should be able to find an empty spot without any problems. And most people move on from one spot fairly quickly.
You don't have to prebook your ticket but should because you get a slight discount for ordering online in advance.
Pro-tip: You can't book tickets online for a same day visit. You have to book at least the day before.
The Shard 32 London Bridge Street London SE1 9SG. Cost: $35 adults, chid $28. Hours:
Book your tickets for The Shard.
Best Things to Do in London Pick by Liliane Fawzy, My Toronto My World
Maltby Street Market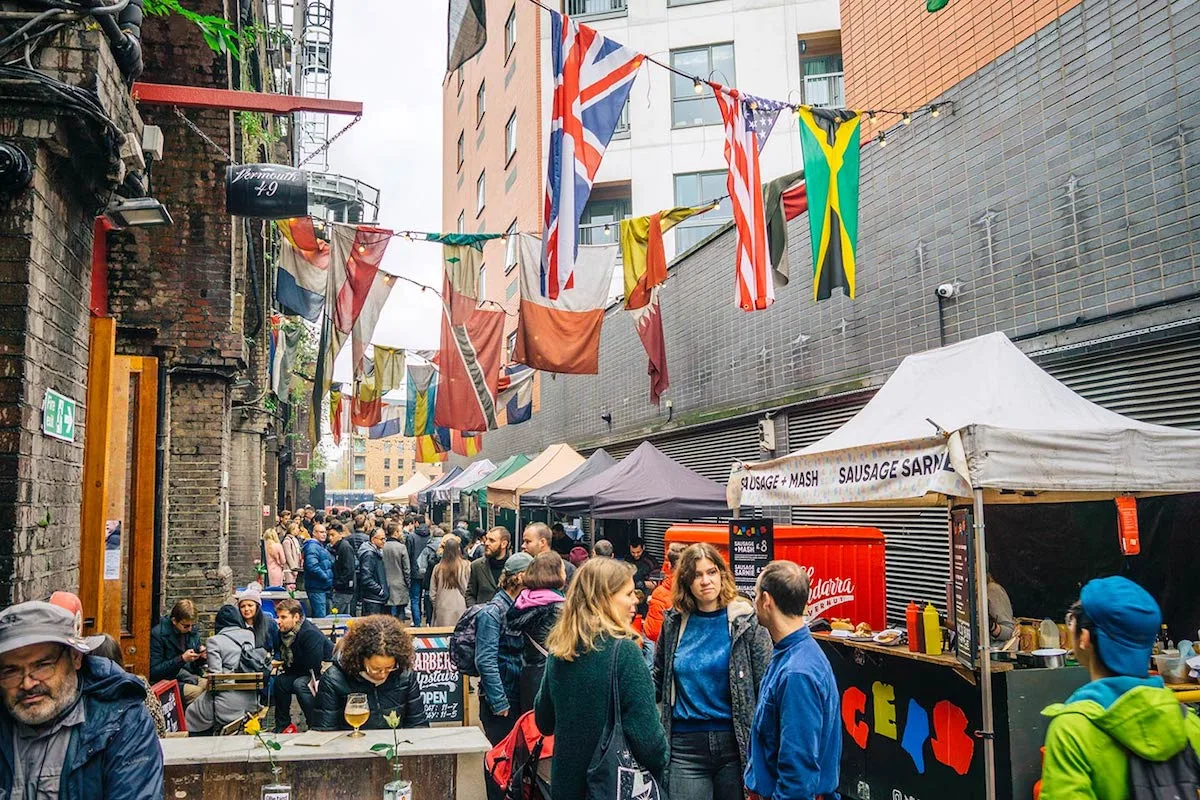 Maltby Street Market is one of London's most popular food markets and makes our list of one of the best things to do in London.
Located in the neighborhood of Bermondsey, it's an easy walk from Tower Bridge and the Shard.
Held in an alleyway near railway arches, the free to visit market has 30 food stalls, bars, and restaurants. The uniqueness of the location is something to behold.
The market can get quite busy especially when lines form. If crowds aren't your thing the best time to visit is after the weekend brunch/lunch rush.
You can enjoy a wide variety of delicious cuisine from around the world. The most popular items to eat at Maltby Street Market include Vietnamese Baos, French Canales, oysters, Lebanese falafel, grilled cheese toasties, and steak frites.
Pro-tip: With limited seating in the alleyway, you may need to stand to eat during peak times.
Combine a trip to Maltby Street Market with a visit to the nearby Bermondsey Beer Mile. The Bermondsey Beer Mile is seventeen brewery taprooms spread out over two miles serving delicious local craft beer.
Maltby Street Market is a 10-minute walk from Bermondsey Tube Station. It's a 15-minute walk from London Bridge station.
Maltby Street Market 37 Maltby Street London SE1 3PA. Cost: Free to tour the market. Hours: Friday 12 pm to 2:30 pm. Saturday 10 am to 5 pm. Sunday 11 am to 4 pm.
Best Things to Do in London Pick by Caroline Keyzor, CK Travels
Tower of London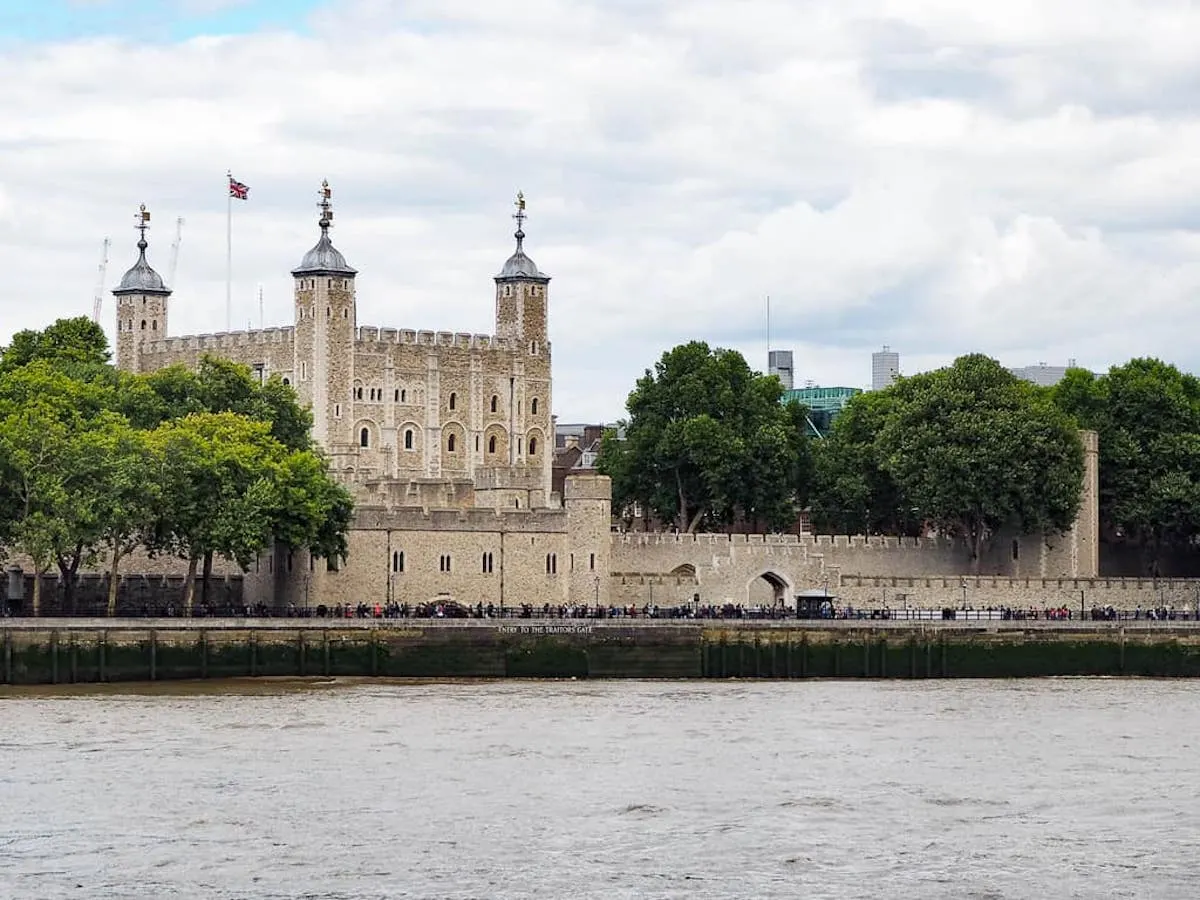 One of the city's most iconic sites, the Tower of London is a must-see on any trip to London.
Built almost 1,000 years ago by William the Conqueror, the Tower was originally a formidable fortress and later one of the country's most luxurious palaces.
It has been a prison and the site of some of the country's most famous executions including Henry VIII's second wife, Queen Anne Boleyn.
These days the Tower houses the Crown Jewels and various exhibits exploring the history of London and England.
Visit the Tower of London when it opens to avoid the big crowds of the day.
Pro-tip: You can save a few pounds and skip the long ticket lines by booking your ticket in advance.
Adult tickets are £24.70 and include entrance to the Tower, viewing the Crown Jewels and tours given by the famous Yeoman Wardens. These tours uncover the secrets and stories of the historic site.
Make sure to join one as soon as you arrive, then continue exploring the battlements, armory and ancient prison cells on your own.
Watch out for the Tower's resident ravens who keep an eye on proceedings and, if you believe superstitions, can predict the future.
Legend has it that if the ravens leave the Tower, the kingdom will fall.
Tower of London St Katharine's & Wapping London EC3N 4AB. Cost: $35, child $18, senior $28. Hours:
Sunday and Monday 10 am to 4:30 pm. Tuesday through Saturday 9 am to 4:30 pm.
Book your ticket for the Tower of London.
Best Things to Do in London Pick by Katy Clarke, Untold Morsels
Sky Garden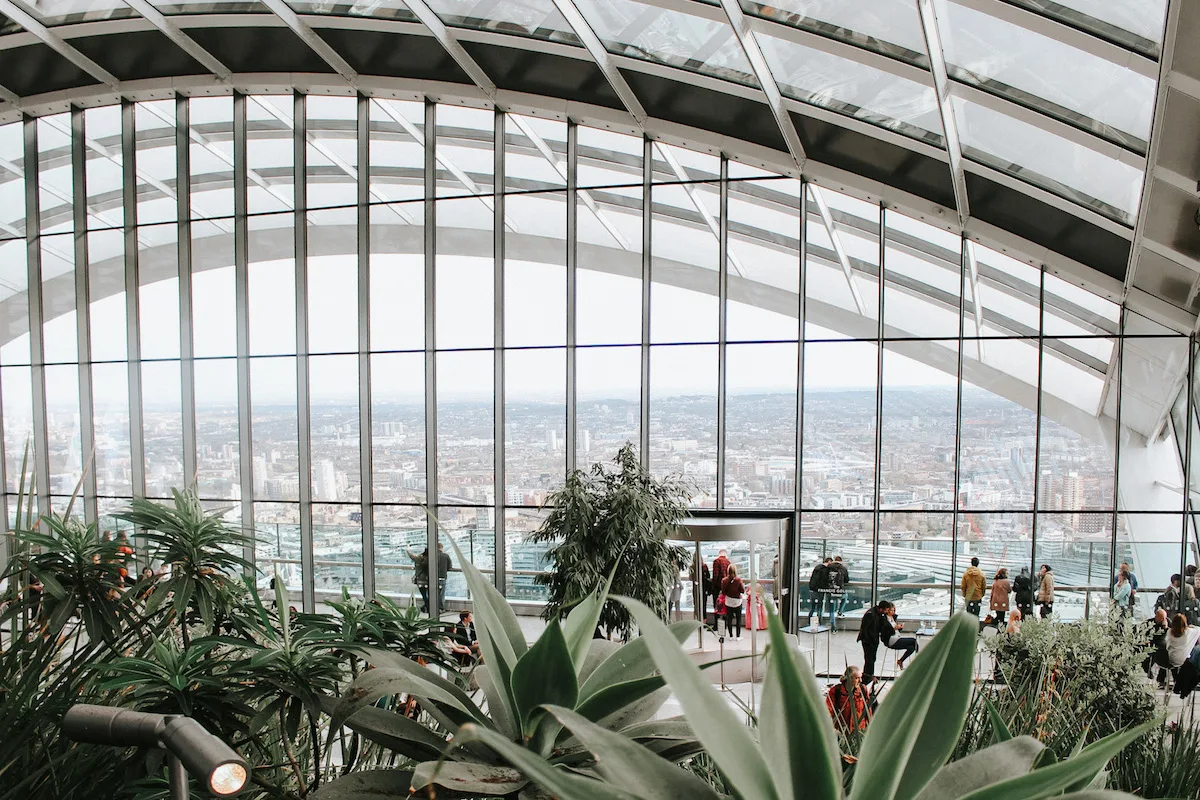 The Sky Garden is a favorite London attraction, not least because it's completely free.
Located in London's "Walkie Talkie" building, the Sky Garden offers stunning 360 views across London from its high vantage point.
You'll get panoramic views of St Paul's Cathedral, Tower Bridge, Canary Wharf and more. Weather permitting, you can go out onto the deck so you have unobstructed views.
The Sky Garden is a little tropical oasis in the heart of the City of London and a welcome relief from one of the busiest parts of the city.
Blossoming trees and evergreens fill the space so it's also a great place to escape, rain or shine.
It is free to enter the Sky Garden but food or drinks will set you back quite a bit. There are many bars and restaurants in the Sky Garden that vary in price. But what they all have in common, they are definitely not cheap.
Pro-tip: The best time to visit the Sky Garden is sunset so you can see London basked in an orange glow.
Because most people book tickets in advance, be sure to check what time the sun sets on the day of your planned visit.
Don't make the mistake of looking up the time of sunset on the date of booking!
If you're visiting around this time any time from Wednesday to Saturday, you'll also be treated to some live music.
Sky Garden 1 Sky Garden Walk London EC3M 8AF. Cost: Free but book your tickets in advance. Hours:
Monday to Friday from 10 am to 6 pm. Saturday, Sunday, and Bank Holidays 11 am to 9 pm.
Best Things to Do in London Pick by Laura Hartley, What's Hot Blog
Free Harry Potter Locations in London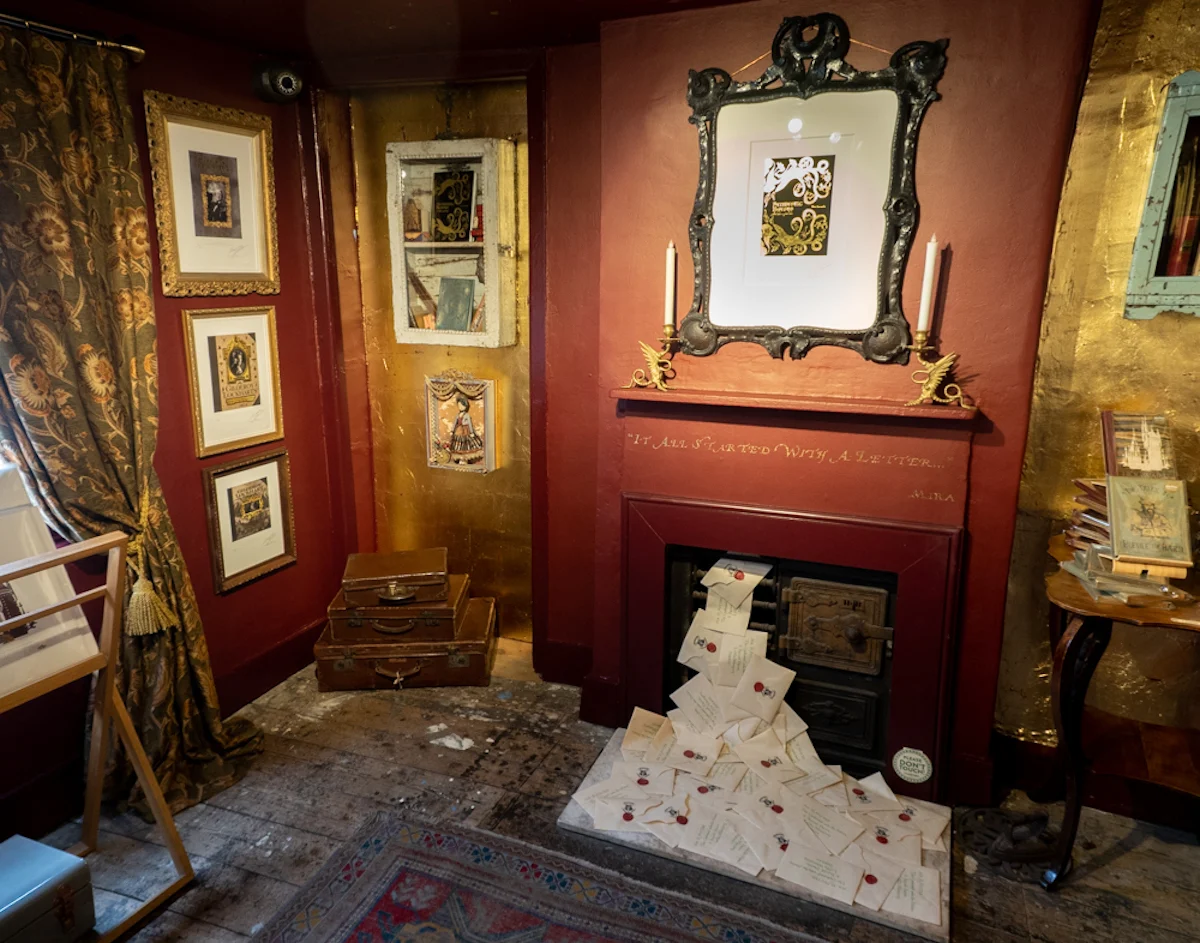 Harry Potter fans will love is visiting some of the London film locations. Harry Potter fans can both spend a lot of money or none when hunting magical experiences in London.
The Warner Brothers Studios The Making of Harry Potter is an incredible world of magic and behind the scenes. But it's not quite budget-friendly (especially if you plan on getting some souvenirs to take back home).
But don't worry, there are plenty of other Harry Potter themed activities and places to visit that won't cost you anything.
One of Viktoria's from Chronic Wanderlust favorite ones is the secret passage from King's Cross Station to Platform 9 3/4! She was lucky to visit a couple of years ago. Because it was a rainy November day, they were the only ones there trying to get to the other side.
Pro-tip: Either come early or plan to wait for a bit to get your magical photo taken.
There are also professional photographers to help take that perfect memory. You can get your hand on some merchandise in an Ollivander themed shop there too.
Another great option is the House of MinaLima. It's centrally located in Soho and quite an eye-catcher.
Miraphora and Eduardo are the two creative masterminds behind the iconic Harry Potter graphic designs. A couple of years ago they opened a small gallery to display their art and provide a space for magic folks.
Before you start looking for a new notebook like Harry's potions book, head upstairs to visit the narrow rooms. You'll journey back into the magical world we love so much.
Millennium Bridge is another favorite of free Harry Potter things in the city. Walk across the bridge, but watch out for vicious attacks by the Death Eaters.
Book your Harry Potter Walking Tour for Muggles.
Book your Harry Potter tour of Warner Bros Studio.
Best Things to Do in London Pick by Viktoria Urbanek, Chronic Wanderlust
Ride Mail Rail at the London Postal Museum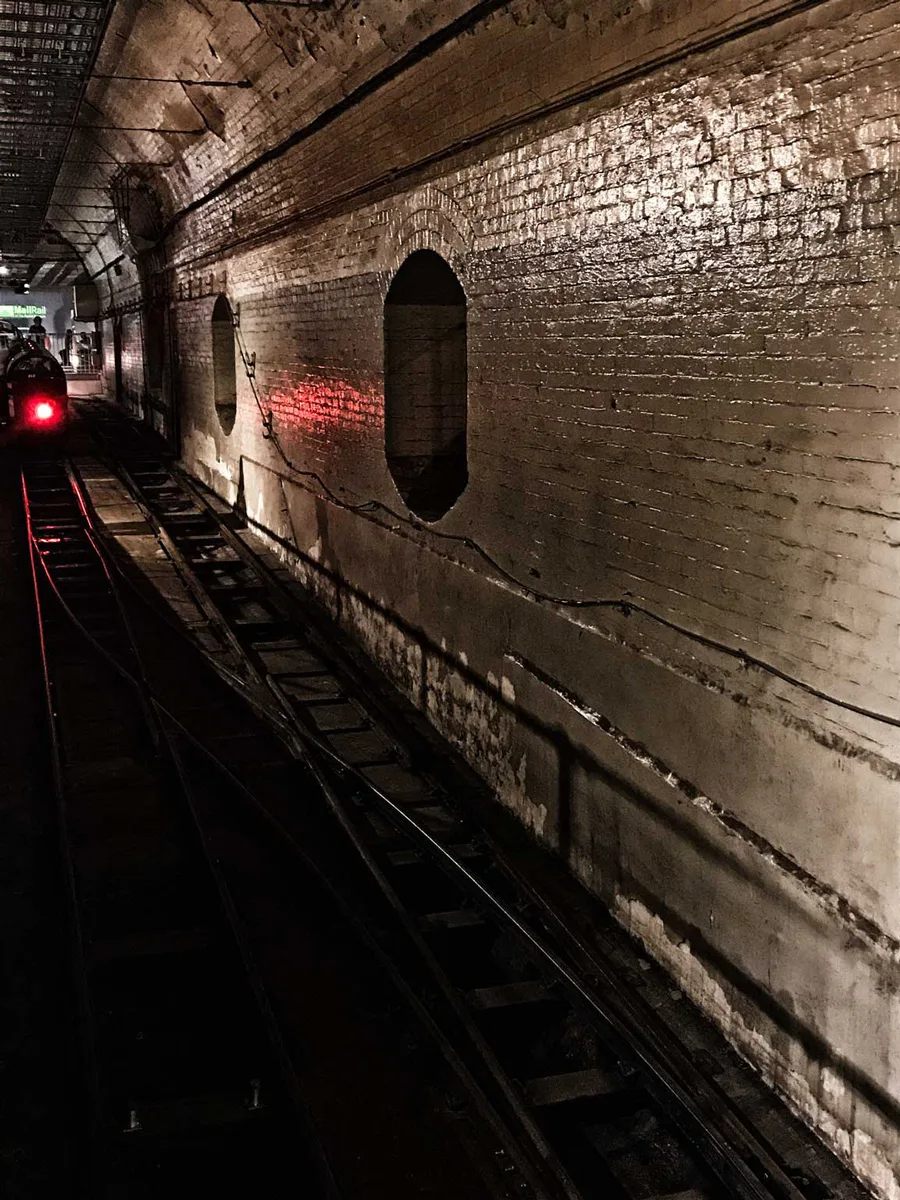 Young or old, you'll want to ride Mail Rail, London's secret underground railway at the London Postal Museum.
For 76 years, from 1927 to 2003, the Mail Rail carried mail under London streets. The introduction of the Mail Rail improved postal delivery rates affected by street congestion and fog.
Not only did the Mail Rail speed up mail delivery, but it also played a part in safeguarding London's art. During World War I, the Mail Rail tunnels stored works from the National Portrait Gallery and the Tate Gallery.
Renovated in 2017, the Mail Rail is now a family-friendly attraction.
You can board a miniature train and ride through the 100-year-old tunnels below Royal Mail's Mount Pleasant sorting office.
The 15-minute ride reaches speeds up to 7.5 miles per hour. But it's not just a joy ride.
During your journey, you learn about the history of the London Postal Museum from virtual guide, Ray Middlesworth.
Pro-tip: Purses and handbags aren't allowed on the ride. Lockers are available to rent for a refundable deposit of £1.
London Postal Museum tickets include a ride on the Mail Rail.
But the Mail Rail and the museum have separate entrances.
Buying your ticket on the day of your visit? You have to pick up your Mail Rail ticket from the Postal Museum and cross the road to the Rail Mail.
It's a short walk to the Mail Rail from Kings Cross, Farringdon, Chancery Lane, and Russell Square Stations.
Bridget of The Flashpacker recommends downloading walking directions from the London Postal Museum website.
Pro-tip: This is a popular London attraction. Especially when the kids are out of school. So buy your tickets in advance.
Postal Museum 15-20 Phoenix Place London WC1X ODA. Cost: Cost: Adult £17; children £10 (slightly cheaper if purchased on-line). $23, $17, $15. adult 25-99, yourth 16-24, child 3-15. Hours: Daily from 10 am to 5 pm. Closed December 24 to 26.
Book your ticket for the London Postal Museum which includes a ticket to ride Mail Rail.
Best Things to Do in London Pick by Bridget Coleman, The Flashpacker
St Paul's Cathedral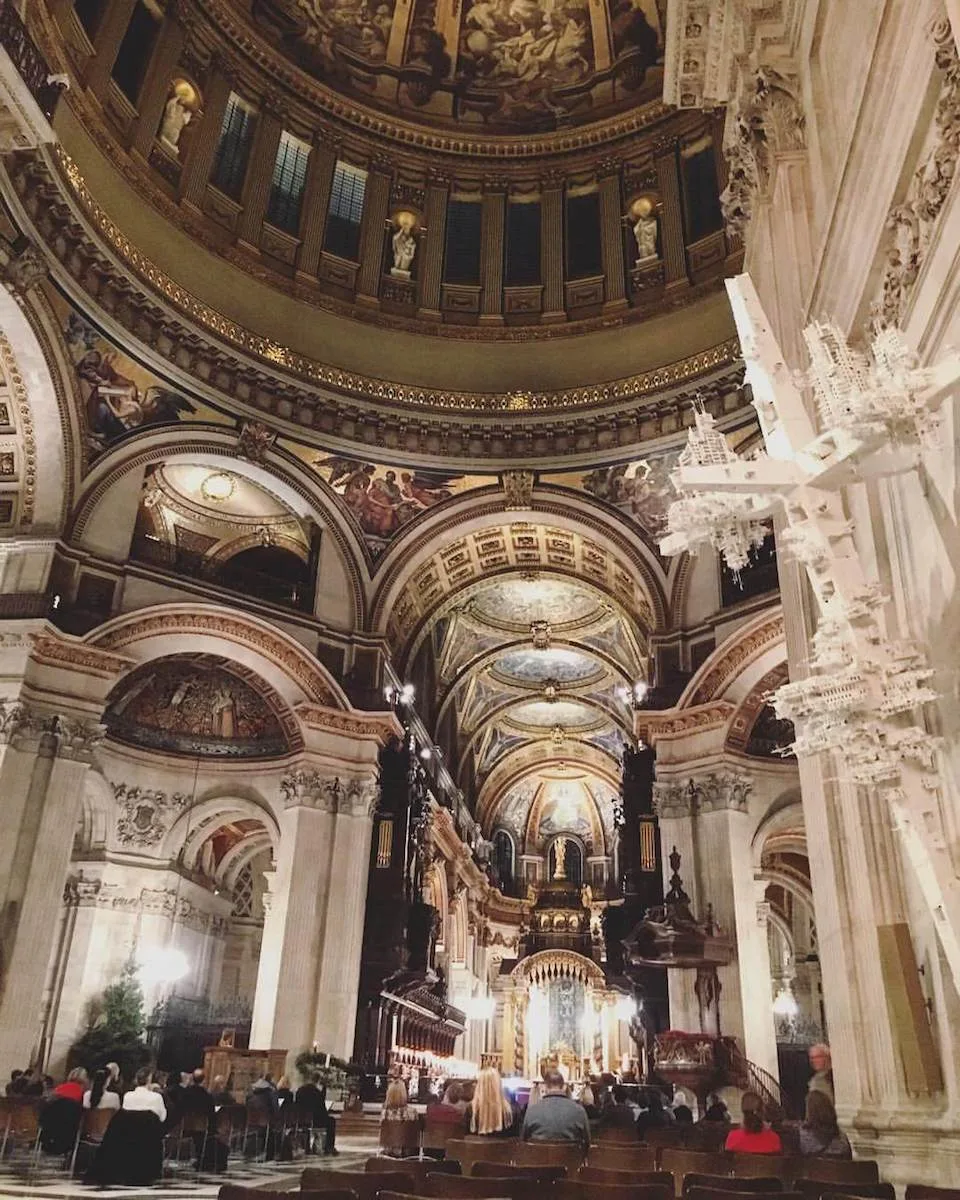 St Paul's Cathedral, one of the most popular tourist attractions in the city, it's a must-do on any London itinerary. Ivan from Mind the Travel believes it is as beautiful and huge on the inside as it is on the outside.
This incredible blend of resilience, pride, beauty, and opulence dates back to 1697. The previous cathedral was badly destroyed by the Great Fire of London in 1666.
Saint Paul's Cathedral is the second biggest cathedral in Europe and a bit of an underrated landmark in London.
There is no fee to enter if you are visiting St Paul's Cathedral for worship purposes. Of course, visitors must arrive on time for the service.
Pro-tip: You aren't allowed to explore the church, crypt, memorials, or the dome. The church closes these areas of the cathedral during hours of worship.
Nor are you allowed to take photographs during service. Photos are only allowed during tours Monday through Saturday.
You have to buy a ticket to see the other areas of St. Paul's Cathedral. Tickets at the door cost £18 for adults, £16 for students and seniors, and £8 for children and include an audio guide for a self-guided visit. Church staff lead guided tours throughout the day.
Pro-tip: Get special discounts on single-day tickets purchased in advance online. Remember to print them out in advance. Because only they only accept paper tickets.
If you buy the tickets in person they're printed on a nice paper that makes a great souvenir.
Once inside St Paul's Cathedral, you're to wander around and explore the main parts of the building. Be sure to set aside at least two or three hours if you want to explore all the areas.
Start on the ground floor first, work your way through the tower levels and finish with the crypt. You have to show your ticket to access the tower and crypt levels.
If you are able to climb the 250 steps up, explore the Whispering Gallery and/or the Stone and Golden Galleries. This is the only enclosed part of the dome that overlooks the whole interior of the ground floor.
You can stand at one place on the dome, quietly whisper something and clearly hear what is said in other parts of the gallery. The perfect acoustic experience!
Pro-tip: Suitcases and bags larger than 22 x 17 x 9 aren't allowed in the cathedral. The church doesn't offer a storage facility. So drop your bags off at your hotel before visiting.
St Paul's Cathedral St Paul's Churchyard London EC4M 8AD. Cost: Free to attend worship. Adults $21, Children $9 (6-17), Seniors $18 (60-99). Hours: Monday through Saturday 8:30 am to 4 pm. Closed on Sunday.
Book your St. Paul's Cathedral tour.
Best Things to Do in London Pick by Ivan Tannenberg, Mind the Travel
Shoreditch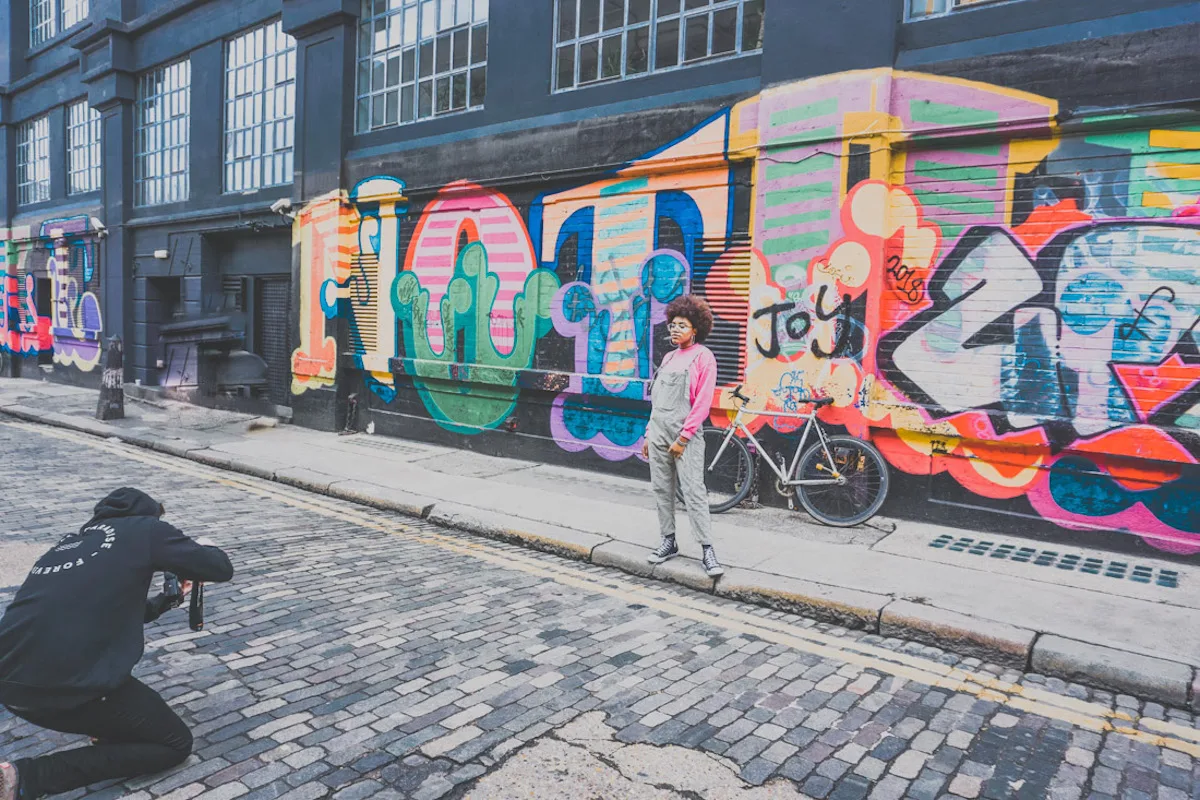 Instagrammers, bloggers, artists, and everyone else love to visit the offbeat area of Shoreditch.
Problem! You are visiting London with a friend who you are not food compatible with.
Solution? Head to the restaurants at Boxpark at Shoreditch in the east end.
This hip complex of eateries is actually stowed away in shipping containers serving everything from pies to poke bowls.
The dining experience is communal so you can purchase meals at different places but still eat together at benches.
Boxpark also hosts events like weekly pub quizzes, live DJ sets, and Six Nations Rugby.
The busiest times are during lunch and dinner with weekends seeing the most crowds.
On Sundays, a market selling fresh fruit, baked goods and hot takeaway lunches pops up next to Boxpark. So bring a shopping bag for snacks and support local.
Speaking of supporting local, tucked underneath the upper level of Boxpark serving food and drink, you'll find cute little shops occupying the containers.
Expect new London jewelers, clothes brands and craft makers to fill these short-term spaces which means you can pick up pretty unique souvenirs.
While you wander around Shoreditch, you won't miss the ever-changing landscape of the street art sprayed on walls, stuck on poles and plastered to windows.
Shoreditch exhibits a wide range of work from internationally known, and accepted, artists such as Banksy to lesser-known, and less accepted, tagging.
If you're really into street art there are tours and if you like to photograph it, you can book a street art photography tour.
Shoreditch's bars offer cocktails, craft beer, and competitive games.
Be sure to visit Cocktail Trading Company for creative concoctions. Down a Punk IPA at Scotland's Brewdog for Punk IPA. Or visit London Shuffle for a game of shuffle and pizza.
Pro-top: Shoreditch bars change so don't get too committed to one. Or take that as a reason to visit again.
Crowds are common on Friday and Saturday nights. Make a reservation if something or somewhere is on your bucket list.
Shoreditch is hip so expect gentrified prices. Check out this guide for budget London tips.
If you plan to stay overnight, avoid Brick Lane if you like more than three hours of sleep.
Pro-tip: Getting to Shoreditch couldn't be easier with overground access stopping next to Boxpark.
Best Things to Do in London Pick by Gemma Armit, Two Scots Abroad
Climb Up at the O2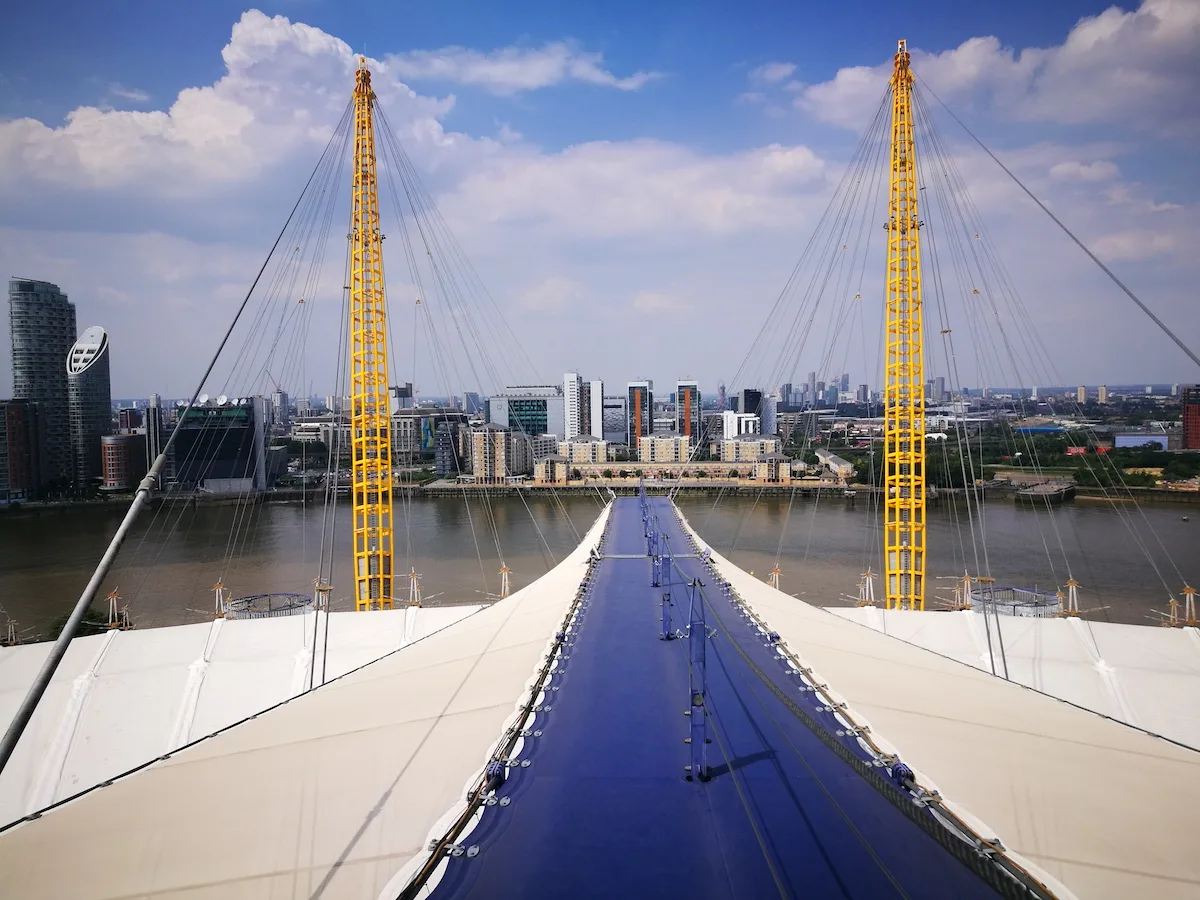 Feeling a little adventurous? Consider a climb Up at the O2.
Up at the O2 is a unique experience giving you the chance to climb to the top of one of London's most iconic landmarks.
Climbing Up at the O2 isn't recommended if you're afraid of heights. You are securely strapped in a harness that clips onto the walkway, so it is completely safe. But, you have to be physically fit and able to make the steep walk up to the roof.
Before the climb, you'll have a safety briefing from your guide who will lead you up the walkway to the top. They give you shoes, a jacket, an all-in-one boiler suit for cooler days and a harness that clips onto the safety line.
Pro-tip: Wear comfortable clothing including socks. Bring hats and gloves during cold weather.
You can't take anything with you on the climb, except a small camera or phone that fits into the jacket pocket.
The start of the climb up to the roof is a steep ascent, followed by a gentler climb as the dome flattens out. As you climb the pace is slow and steady giving you lots of opportunities to see more of London's beautiful skyline.
There is a viewing platform at the top of the O2. You can unclip the harness, walk around to take photos and admire the view.
Don't get complacent though. Remember what goes up must come down, and the descent is just as steep as the climb.
The best time to visit Up at the O2 is when there is good weather. So check the forecast before booking.
Pro-tip: Remember to book your Up at the O2 climb tickets in advance. Especially if you plan a sunset and twilight climb.
Up at the 02 Peninsula Square Greenwich Peninsula London SE10 ODX. Cost: $38. Hours: Vary depending on the time of year so be sure to check before you visit.
Book your Climb Up at the O2 tickets.
Best Things to Do in London Pick by Claire Sturzaker, Tales of a Backpacker
Greenwich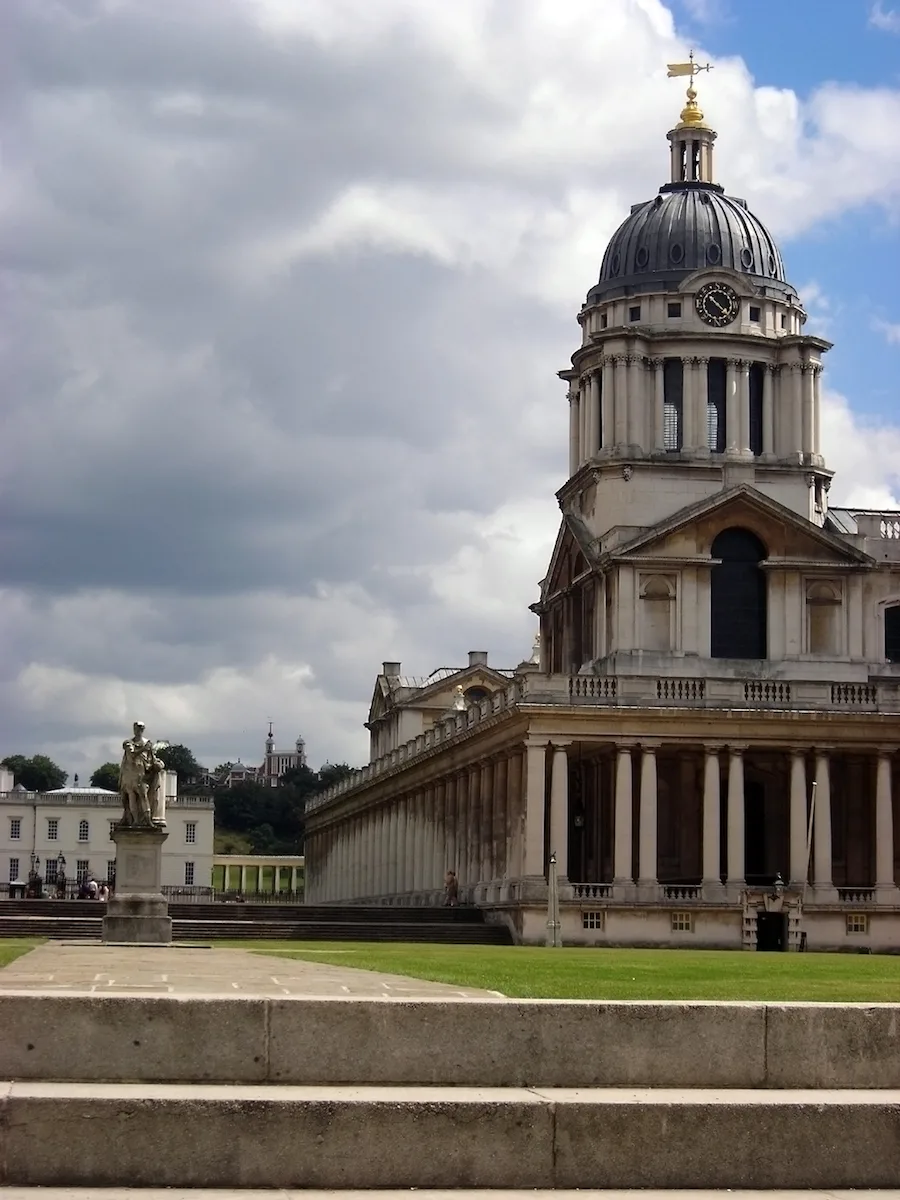 If you're looking for a cool and historic place to visit in London that combines old and new check out the Greenwich Borough.
Greenwich, once the maritime district of the city, has several interesting attractions. From the historic Cutty Sark now a living museum at the National Maritime Museum to Queen's House. From the Old Royal Naval College to the Greenwich Hospital.
The old town of Greenwich is also a cool area to explore. Stop in and enjoy one of the many shops, bakeries, and cafes when you want to take a nice and easy break.
If you're tired of museums and shopping, stop by one of the weekly outdoor markets in Greenwich London.
The Arts & Crafts Market is held on Monday, Wednesday, Friday, Saturday, and Sunday.
On Tuesday, Thursday and Friday you can get your antiquing on at the Antiques and Collectibles Market.
Greenwich seamlessly combines the old and new. You'll find contemporary architecture such as the O2 Hall and Complex, the NOW Gallery, ExCel and Emirates cable car.
For those looking for something more natural, there's Greenwich Peninsula Ecology Park, an eco freshwater habitat. Greenwich Park overlooks the Thames River and offers fantastic views of the London skyline.
Getting to Greenwich is easy. You can get there by boat. Or if in a rush to spend time exploring the entire borough, take the train. It's only 20 minutes from Central London.
Pro-tip: The Greenwich Visitor Centre exchanges Euros and Dollars to Sterling. They're open Monday to Sunday from 10 am to 5 pm. Closed from December 24 to 26.
Greenwich Cost: Free. Tickets required for museums
Book
Best Things to Do in London Pick by Noel Morata, Travel Photo Discovery
Emirates Air Line Cable Car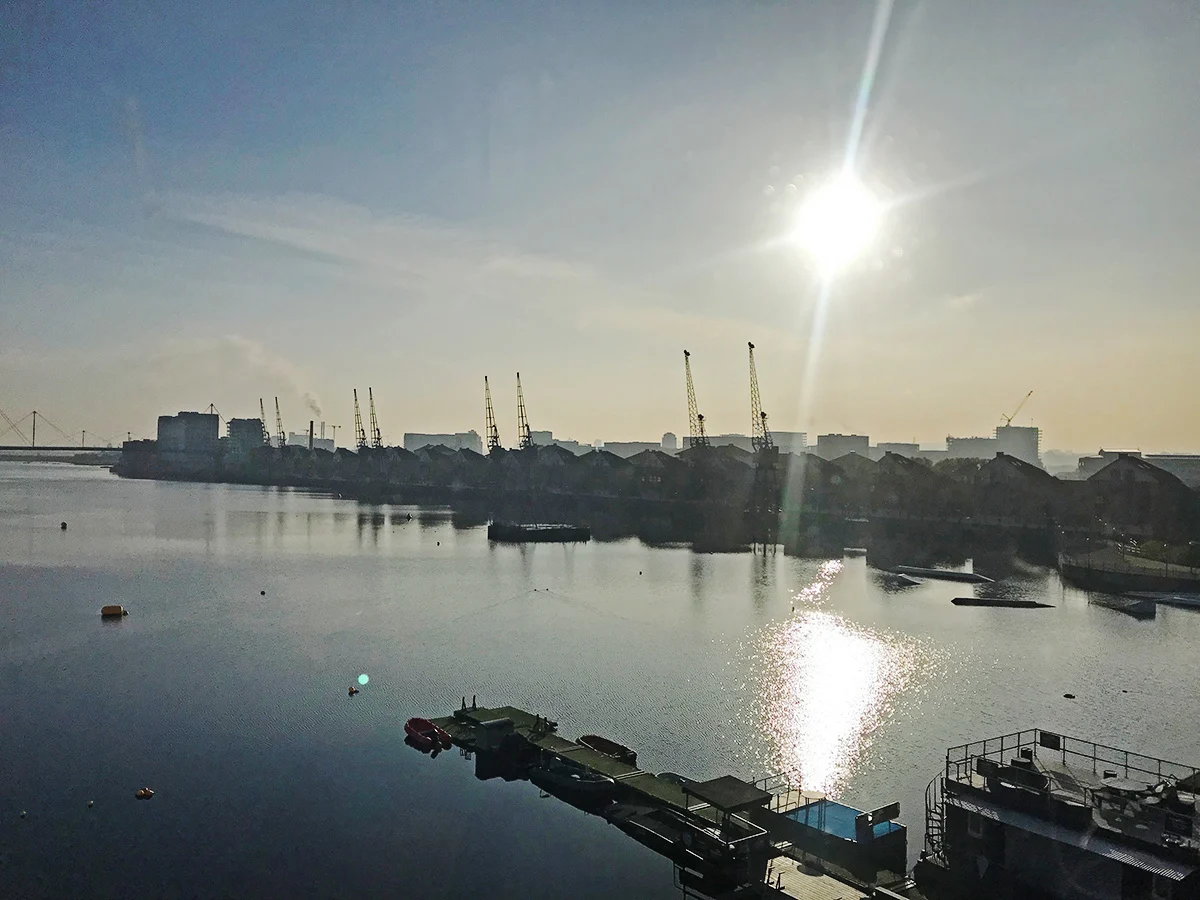 Cable car rides are often associated with mountains or ski runs, not cities. But London has its very own cable car ride, the Emirates Air Line Cable Car.
Crossing from Greenwich Peninsula to Royal Docks, the Emirates Cable Car takes 10 minutes as you soar up and over the River Thames.
With views over the O2 Dome, the Docklands and beyond, it is an exhilarating way to cross the river. Whether for pleasure, to get to the Excel Centre or visiting Greenwich.
According to Larch from The Silver Nomad, for a special treat see London by night after 7 pm. Music and video fill your pod and the lights twinkle below. At night the journey is slightly longer, about 12 to 13 minutes each way.
Pro-tip: The price is the same for day and night flights.
The nearest tube stations are either North Greenwich on the Jubilee line or Royal Victoria on the Docklands Light Railway.
Pay with your Oyster card, your contactless payment card or at the terminals. The cost for an adult is £3.50 and a child is £1.70.
Each pod carries up to 10 people and is accessible to wheelchair users and cyclists, and come round every 30 seconds.
Emirates Air Line Cable Car 27 Western Gateway London E16 4FA. Cost: Adults $20 and children $11. Hours: Monday to Thursday from 7 am to 10 pm from April 1 to September 30. From 7 am to 9 pm from October 1 to March 31. Friday from 7 am to 11 pm. Saturday from 8 am to 11 pm. Sunday 9 am to 10 pm from April 1 to September 30. From 9 am to 9 pm from October 1 to March 31.
Book your Emirates Air Line Cable Car ride.
Best Things to Do in London Pick by Larch Gauld, The Silver Nomad
ArcelorMittal Orbit Slide at Olympic Park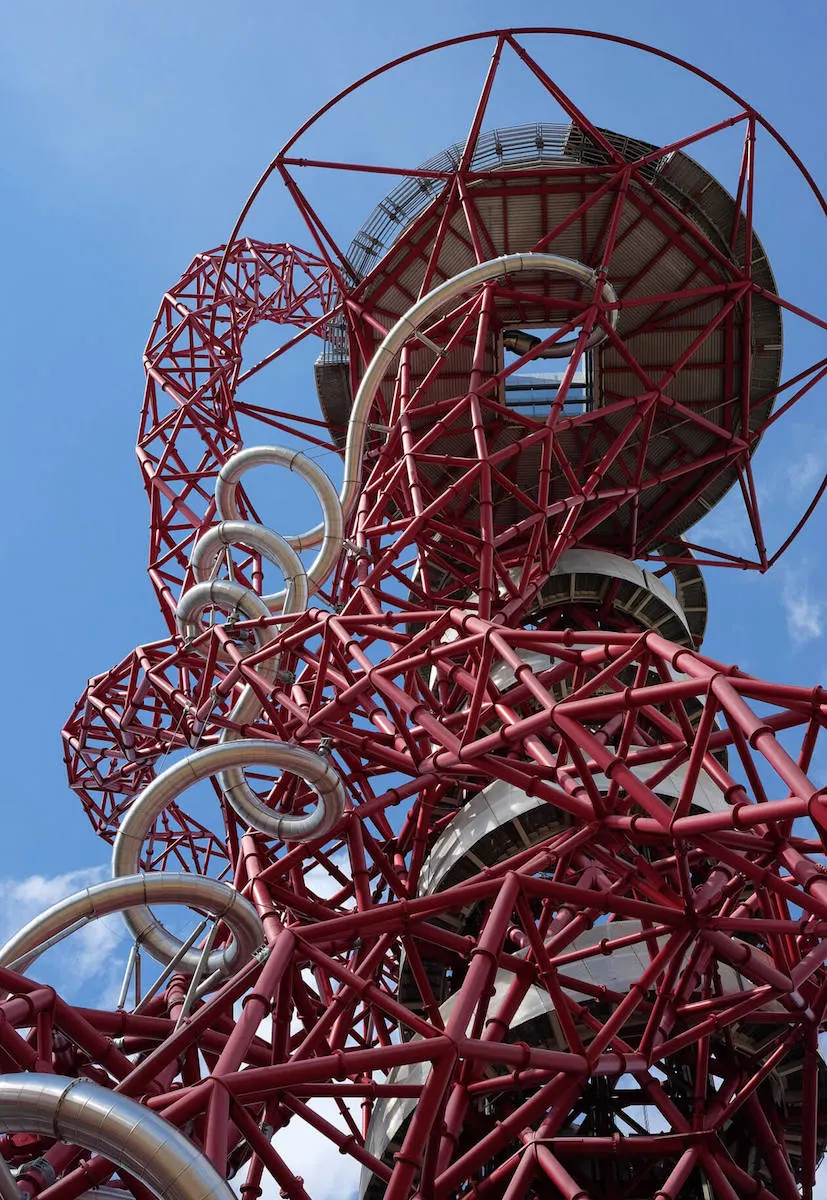 Get your thrill on by riding the ArcelorMittal Orbit Slide at Olympic Park.
Built in 2012, the ArcelorMittal Orbit is the UK's largest sculpture. The tall, swirling metal structure, part of the London Olympic park, offers 20-mile views of the East London skyline.
Enjoy the amazing views from the viewing platform at the top. Or take the winding path with Londonsoundscapes back down to the bottom.
But why take the sedate route when you can hurtle 178m to the ground in 40 seconds on the ArcelorMittal Orbit Slide?
The Orbit Slide is the world's longest, tallest tunnel slide. Sliding down the Orbit is one of London's most exhilarating attractions.
You need to book a separate ticket to slide.
Pro-tip: Tickets only cost $7more than the normal viewing platform tickets.
Ready to slide? Take the elevator up to the viewing platform. Friendly Orbit staff will give you a protective hat, knee and elbow pads.
They'll help you onto a special mat with a pocket for your feet perched at the top of a long silver tube. When the red light at the top of the tube turns green, it's your turn to launch yourself down the slide.
Winding in and around the Orbit, the slide switches directions so often you won't know which way is up.
The clear roof of the slide gives you brief glimpses of the sky, adding to your disorientation.
After a terrifying 40 seconds (which feels much longer) you emerge, probably screaming, at the bottom of the slide.
Pro-tip: You can get to Stratford in 11 minutes from the City using the Underground. The ArcelorMittal Orbit is a 10 minute walk from Stratford Station.
ArcelorMittal Orbit Slide at Olympic Park 3 Thornton Street Queen Elizabeth Olympic Park Stratford, London E20 2AD. Cost: Adults $14 for view or $21 includes slide, Children $7 or $13 with slide, and Seniors $11 or $18 with slide. Hours: Monday to Friday from 11 am to 3 pm. Saturday 10 am to 7 pm. Sunday 10 am to 6 pm.
Book your ArcelorMittal Orbit tickets and ArcelorMittal Orbit Slide tickets.
Best Things to Do in London Pick by Helen Rapp, Helen on Her Holidays
Map of the Best Things to Do in London
Conclusion
London offers so much to see and do for every type of traveler. Whether it's your first time visiting or if you've been to London many times here are the best things to do in London.
From Hyde Park to the ArcelorMittal Orbit Slide at Olympic Park, from free attractions to paid tours, London offers a variety of attractions for everyone.
Be sure to use the map to plan out your London adventure.
Is there anything you'd list as one of the best things to do in London?
Comment, tweet, or share this post.
Get the best credit card bonuses.
Follow us on Twitter | Facebook | Pinterest | Instagram | YouTube
Got a question? Or want help, suggestions, travel tips, learn how to travel for free, find out about travel deals, and maximize your miles and points? Use the subscription box below to sign-up and get post updates by email.
Traveling Well For Less has partnered with CardRatings for our coverage of credit card products. Traveling Well For Less and CardRatings may receive a commission from card issuers.
---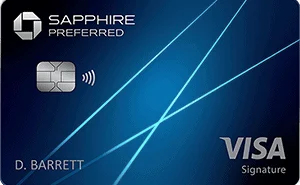 card_name
is the
best card to get started in the world of miles and points.
It is the first card you should get to start traveling for free because the
welcome offer is 60,000 points
after spending $4,000 in the first three months.
My favorite perks about this card are earning 5X points on travel when booked through the Chase portal (2X if direct purchase), 3X points on dining, $50 yearly credit on hotels booked through the Chase portal, no foreign transaction fees, and transferring points to 13 airline and hotel partners like Hyatt, United, and Southwest.
Learn more about the card_name and how to apply
---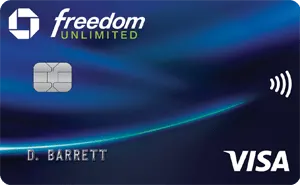 The
card_name
is one of my favorite cards for earning cash back card and travel rewards. It offers a
welcome offer of 3% cash back = an extra 1.5% cash back
on up to $20,000 in purchases your first year.
My favorite perks about this card are earning
6.5% cash back on travel booked through the Chase Travel Portal
,
4.5% cash back at drugstores and restaurants (including delivery and takeout)
your first year up to $20,000,
unlimited 1.5% cash back on all purchases
and
no annual fee
. When paired with cards like the
card_name
, you can use your points to travel for free.
Learn more about the card_name and how to apply