Vacationing on the California coast doesn't have to be expensive. With this luxury budget guide to Newport Beach, you can enjoy the best things to do in Newport Beach, California without going broke.
I've lived in California most of my life but I've only been to Newport Beach a couple of times. This part of Orange County is only an hour drive from my home in San Diego so you'd think I would visit more often.
This year I'm taking more staycations so I planned a quick overnight getaway to Newport Beach that coincided with the Newport Boat Parade.
A one night trip is perfect if you live close like I do.
If you're visiting from another state or are road tripping, spend a weekend if not a week in Newport Beach. Because there are so many fun things to do in Newport Beach, you don't want to miss out.
The best part about Newport Beach, you can have a value luxury travel experience. All the finer things but without the hefty price tag.
Newport Beach is a great city to experience luxury for less. Here's how to visit Newport Beach on a budget.
Disclosure: As is common in the travel industry, my trip was provided for review purposes. All opinions are 100% mine.
Luxury Budget Guide to Newport Beach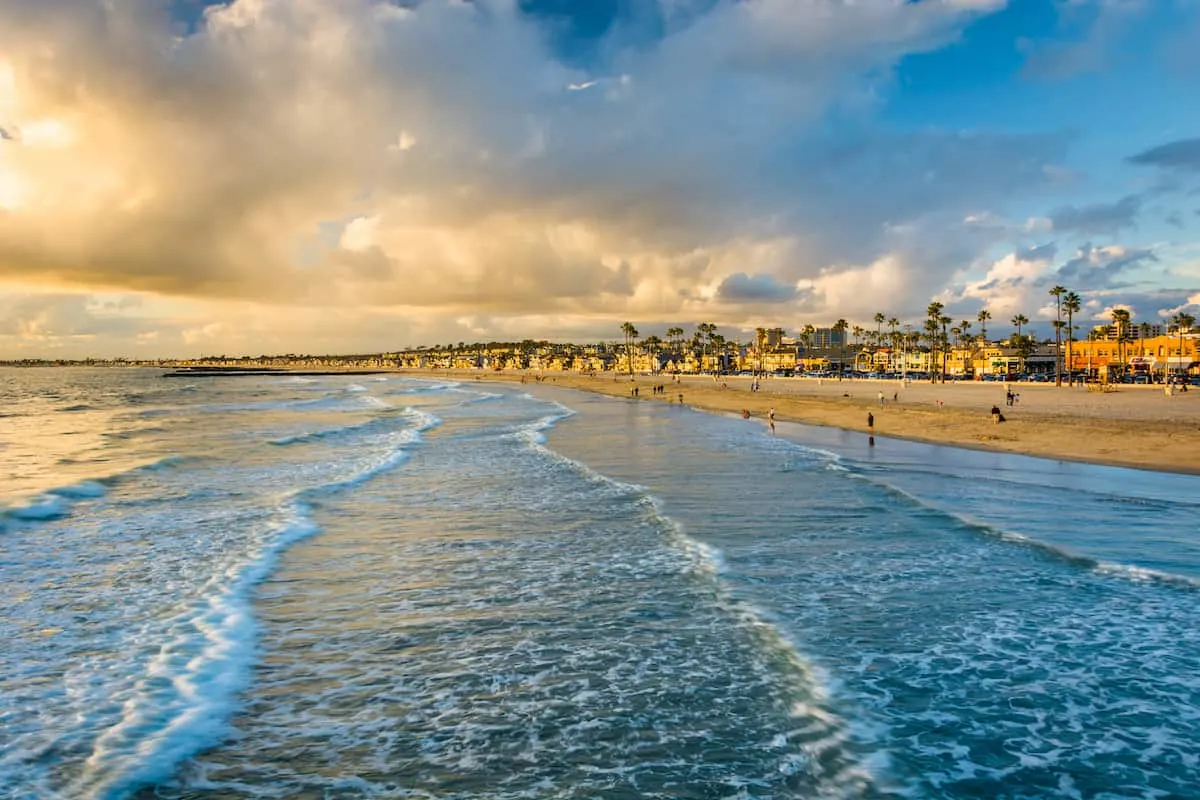 Newport Beach is not your typical coastal community. It's a delightful mix of California beach town and quaint casual luxury.
You'll see everything from oceanfront mansions, beach cottages, to a private car-free island.
Considered the Hamptons of Hollywood, you may even see a celebrity or two in Newport Beach. They may be escaping Los Angeles for relaxation, filming, or heading home like Kobe Bryant.
Newport Beach is the perfect beachside retreat for every type of traveler. The solo traveler will find luxury and adventure. Couples looking for romantic things to do in Newport Beach have their pick of locations. Newport Beach is a fun spot for families searching for things to do with kids in Orange County.
When to Visit
Like many Southern California cities, Newport Beach is a year-round destination. Some months are better than others to visit if you want to visit Newport Beach on a budget.
Except for the holidays, late September to May is the shoulder season. You'll save on accommodations and activities and avoid long wait times at restaurants.
Pro-tip: If you're willing to chance the possibility of rain, January is a great time to visit Newport Beach. You'll save on your hotel and activities and pay less to eat out.
You can enjoy discounted dining during Newport Beach Restaurant Week. This two-week event runs from January 13 to 24, 2020.
Participating restaurants offer fixed price menus for lunch and dinner. Lunches start at $10 and dinners for $20. This is a great way to save money while enjoying a great meal.
Summers at Newport Beach mean crowds, high hotel prices, and fewer parking spots. But long summer days on the beach, surfing, or standup paddleboarding (SUP) make up for the throngs of visitors.
Pro-tip: Don't let cloudy, overcast skies and cool temperatures ruin your vacation. Plan your summer visit to Newport Beach for July, August, and early September to avoid "June gloom."
What to Do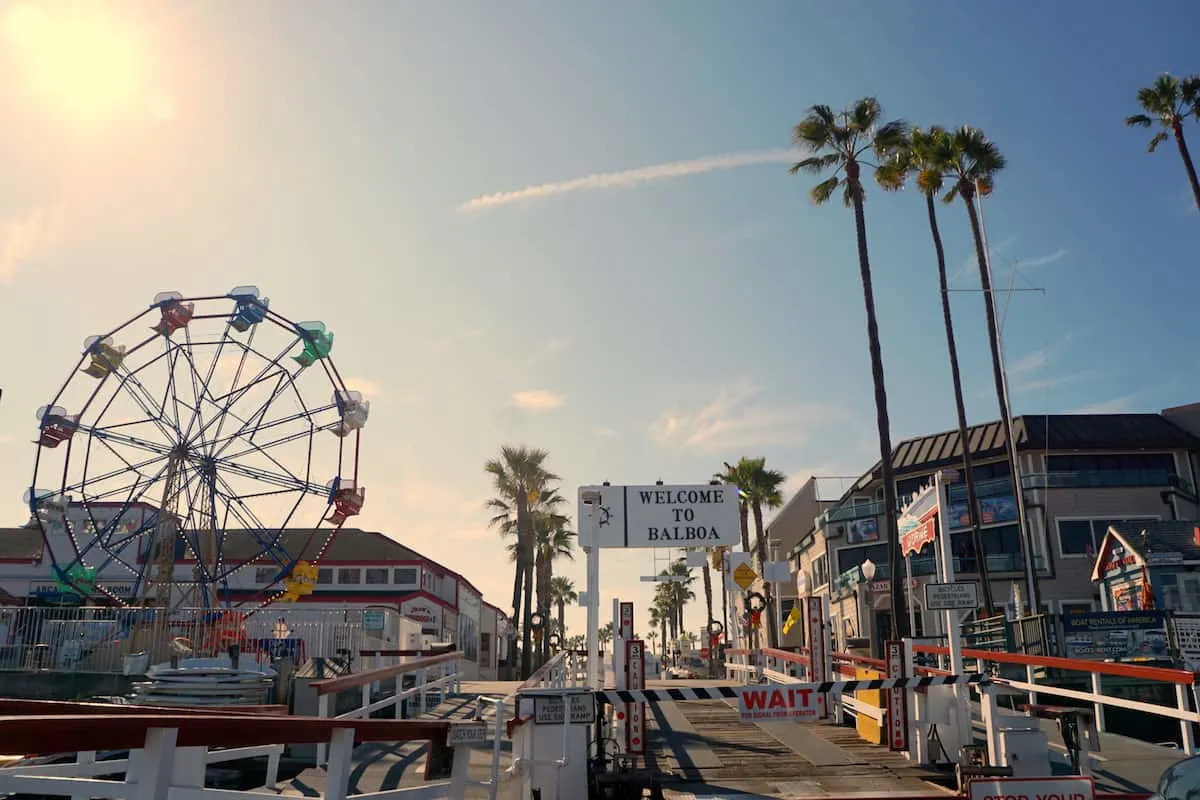 Balboa Village & Balboa Fun Zone
A day isn't complete without a visit to Balboa Village in Newport Beach.
You can drive to Balboa Island but where's the fun in that? Live it up and take the Balboa Island ferry! It costs $1 for adults, $0.50 for kids aged 5 to 11, and children 4 and under are free.
Pro-tip: You can take your car on the ferry for $2 (car and driver), plus the cost of passengers.
The Balboa Island ferry runs daily from 6:30 am to midnight Sundays to Thursday and 6:30 am to 2 am on Friday and Saturdays.
Stop by the Balboa Fun Zone to play arcade games or ride the giant Ferris wheel. The Ferris Wheel is the most recognized of all Newport Beach attractions.
At only $4 a ride, it's one of the cheaper romantic things to do in Newport Beach if you're looking for date ideas. Plus it's a long slow ride so you get your money's worth along with views of the Harbor and the Pacific Ocean.
Looking for things to do with kids in Orange County? The Ferris Wheel is open every day except Christmas. It's a great spot to watch the Newport Beach Christmas Boat Parade.
Pro-tip: There's a free Balboa Car Show in the Fun Zone parking lot every Sunday morning from 7 am to 9 am. If you get there early, you can score free donuts!
Balboa Island Museum
Learn about Balboa Island's history at the Balboa Island Museum.
Exhibits include a model of the Balboa Pavilion, a 1900's kitchen, Newport Beach celebrities like John Wayne, and the Beek family. The Beeks have owned and operated the ferry for 100 years.
The museum is open Wednesday to Sunday from 10 am to 4 pm. Admission is free but they accept donations.
Pro-tip: The museum offers private two-hour walking tours of Balboa Island for $35 a person.
Newport Harbor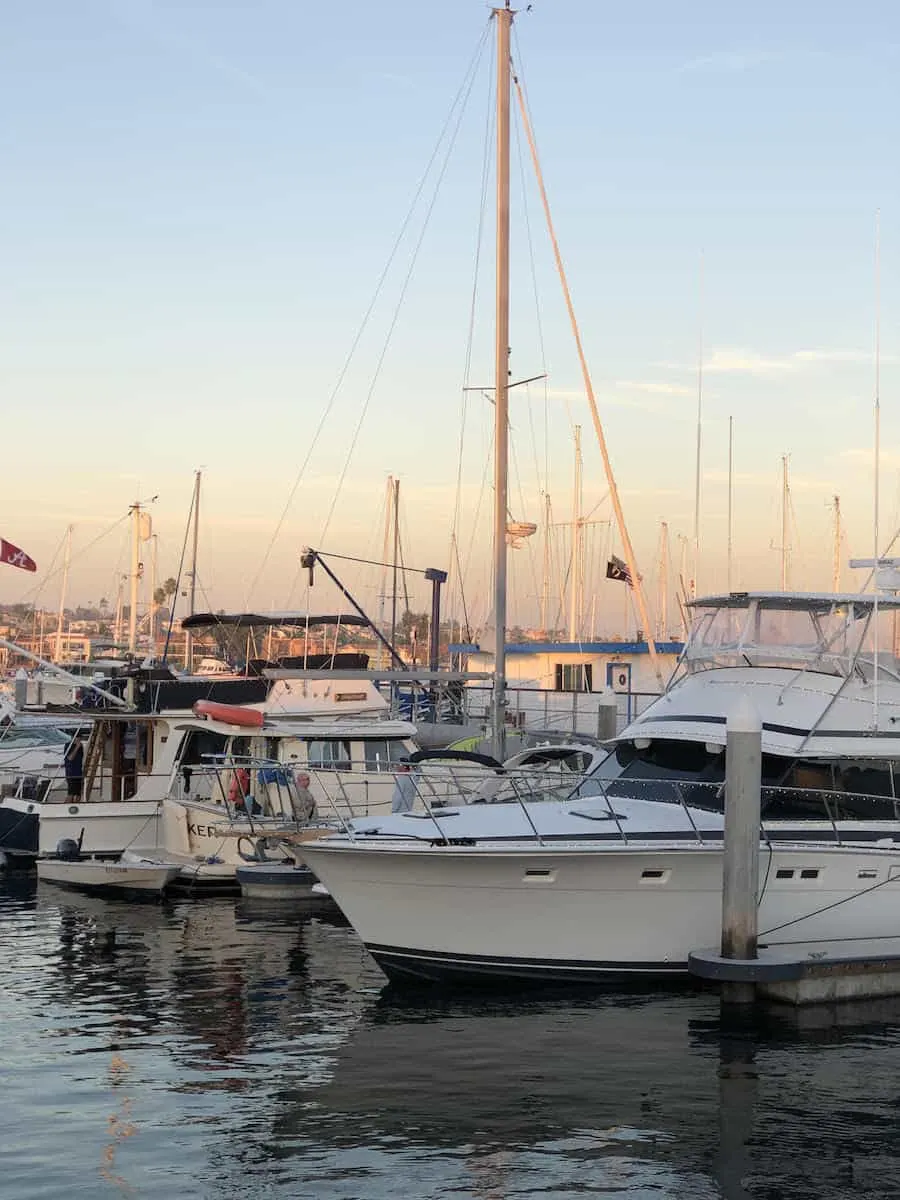 Newport Harbor offers almost every water recreation imaginable. You can kayak, sail, standup paddleboard, or swim.
If you're looking for date night ideas in Newport Beach, consider a cruise in a Venetian gondola.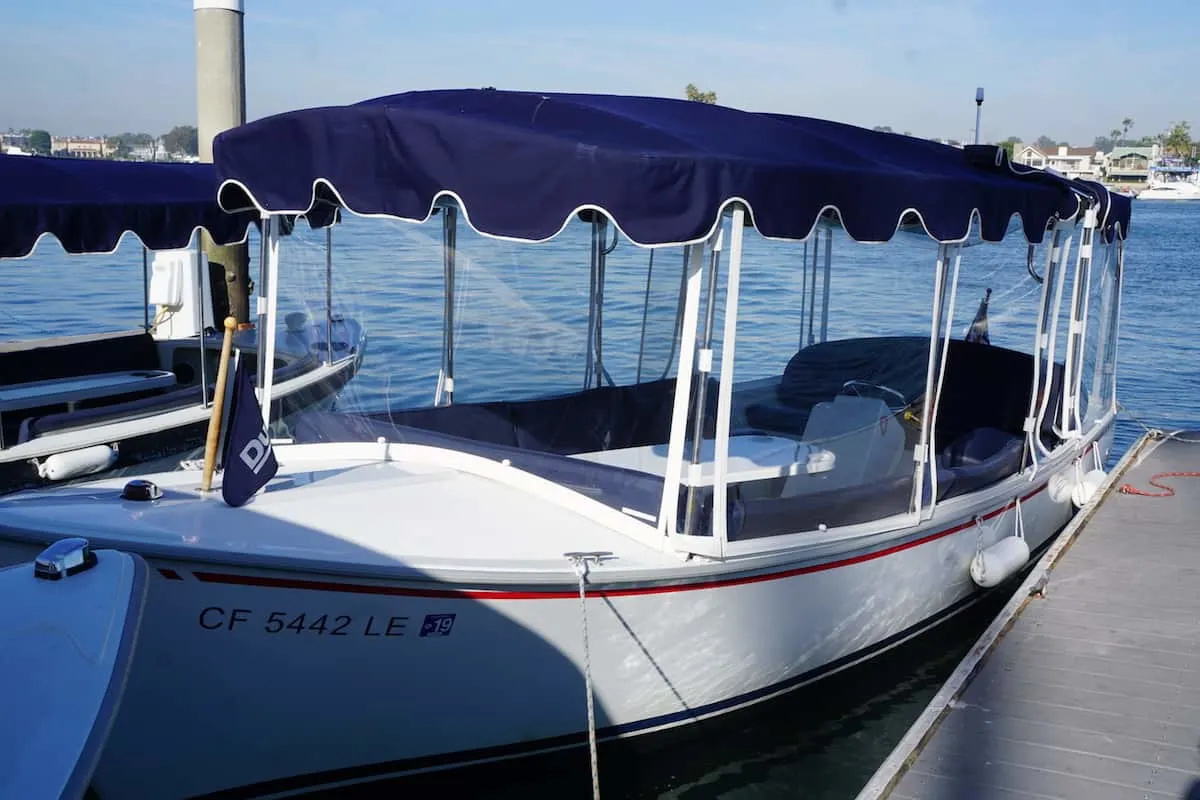 For an experience you won't forget take an electric Duffy boat tour around the Newport Harbor.
Duffy boats are among the more unique Newport Beach attractions. Invented by Newport Beach resident Marshall "Duffy" Duffield the eco-friendly boats are family friendly. You can see them at Disney's California Adventure Park and Florida's Nature Conservancy.
You'll enjoy a smooth ride as your boat glides through the serene waters at 5 mph. Feel your body relax as you leave your stress and worries on the dock.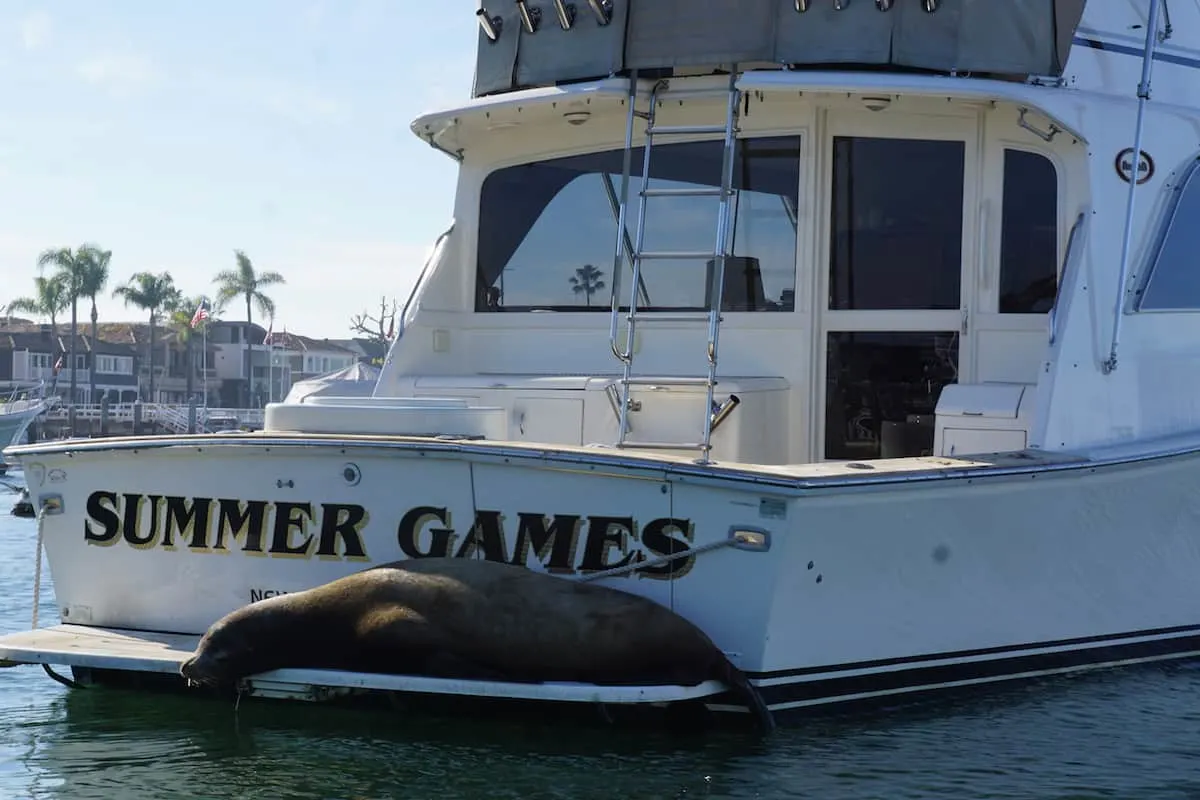 If you get lucky you might encounter a sea lion sunning himself on a boat deck.
Pro-tip: For Newport Beach insider secrets, book a private tour with Carolyn Clark from Newport at Your Feet.
Newport Beach Pier
Built in 1888 for shipping lumber McFadden Wharf is more commonly known as Newport Beach Pier. The Newport Beach Pier is the perfect spot for people watching. Take a romantic stroll with your date or let your kids run free and release that energy.
Be sure to stop by the Ben Carlson Memorial Statue. The city's tribute to Ben Carlson, Newport Beach's first and only lifeguard to die in the line of duty since 1923.
Pro-tip: No fishing license needed to fish from the pier.
The Wedge
West Jetty View Park, know to Newport Beach locals as the Wedge, is the spot to see big California swells.
The rock jetty creates a natural barrier resulting in wedge shaped waves. During southern swells caused by storms in the South Pacific and Baja, you can see waves up to 30 feet.
Because of the large waves, you won't see any longboarders. Experienced shortboarders, bodyboarders, and bodysurfers rule these waves. The strong backwash creates new waves that break on incoming waves. The lucky get pitted (tubed).
Get a heads up on big waves with the Wedge cam.
Pro-tip: You'll see the biggest waves in summer and fall.
Looking for romantic things to do in Newport Beach or date ideas? Stop by the Wedge during sunset.
Crystal Cove State Park
Crystal Cove State Park offers something for every Newport Beach visitor in its 3,936 acres. Everything from beaches, tide pools, bluffs, canyons, trails, to an underwater park.
Hikers, bicyclists, and horseback riders share the park's 17 trails. On the coast, Crystal Cove is a haven for scuba divers, swimmers, surfers, and beachgoers.
In this wide open area in Newport Beach, your kids can frolic and run wild. Crystal Cove State Park is home to 180 different species of birds and 26 registered reptiles.
It's no wonder it's among the best things to do in Newport Beach, California.
The park is open daily from 6 am to sunset. The historic district hours are daily from 6 am to 10 pm
Parking is $15 a day and $5 for sunsets. Talk about a cheap date!
Pro-tip: If you're planning several trips, consider buying a California State Park pass.
Upper Newport Bay Nature Preserve
The Upper Newport Bay Nature Preserve is one of Southern California's largest wetlands.
The Nature Preserve provides a home to 200 endangered species of birds and plants. Plan a visit during the winter to see 35,000 migratory birds. Hiking, cycling, and horseback riding available on marked trails.
Enjoy panoramic views of Newport Bay from the Peter & Mary Muth Interpretive Center. The center offers exhibits, live reptile and amphibian displays, and free guided nature walks.
Admission and parking are free. The park is open daily from 7 am to sunset. The center is open Tuesday through Sunday from 10 am to 4 pm.
Environmental Nature Center Butterfly House
The Environmental Nature Center Butterfly House hosts 10 species of butterflies native to Orange County. It's free to visit but only open from May to September.
Pro-tip: Call before you visit because the Butterfly House is a popular school tour.
Sherman Library & Gardens
The Sherman Library and Gardens is not your run of the mill library and botanical garden.
Nothing about this botanical garden is ordinary. I'm not sure what's more surprising: the nine gardens, orchid collection, koi pond, fern grotto, or tropical conservatory. The tile mural depicting coastal Brazilian life? Or the cafe that serves French food?
The Sherman Library & Gardens also offer gardening classes and events. The research library specializes in Pacific Southwest history.
Admission is $5 for adults, $3 for children 12 through 17, and free for kids under 12. The gardens are open daily from 10:30 am to 4 pm. The library is open Monday through Friday from 10:30 am to 4 pm.
Pro-tip: Free admission on the first Monday of each month.
Shop
Shoppers will love the cute one of a kind shops in Balboa Village. You'll find everything from clothing to homemade goods.
If you're looking for a more contemporary setting, take a trip to Fashion Island. Newport Beach's open-air shopping mall featuring shops and restaurants. Free personal shopping and styling services available.
Pro-tip: Budget-conscious fashionistas can save big on high-end threads at Corona del Mar consignment shops.
Farmer's Markets in Newport Beach, California offer fresh produce all year. Shopping at local farmer's markets helps you save on groceries.
Lido Marina Village Farmers Market operates every Wednesday from 1 pm to 6 pm. Free parking for one hour in the parking structure. Get an extra 2 hours of parking for free when you shop or dine.
On Saturdays from 9 am to 1 pm, stop by the Corona del Mar Farmers Market. The market is at the intersection of Pacific Coast Highway and Marguerite.
Spend a lazy Sunday strolling the Newport Beach Farmer's Market at the Newport Beach Pier from 9 am to 1 pm.
Where to Eat
You'll find everything from fine dining to casual eateries in Newport Beach.
What better way to spend the morning than by having breakfast at the beach. The Beachcomber Cafe at Crystal Cove offers oceanfront dining.
The Beachcomber serves breakfast, lunch and dinner daily except Thanksgiving and Christmas. Hours are from 7 am to 9:30 pm.
The Crystal Cove historic district hours are daily from 6 am to 10 pm
Pro-tip: Make reservations or get there early to avoid a long wait.
Parking is $15. Purchases of $15 or more get 3 hours of free validated parking.
Pro-tip: Ride the Beachcomber Shuttle to avoid the long hike down to the restaurant. Pick up the shuttle at the park office building near the picnic bench and umbrella area. Cost is $1.50 per person each way. Children 11 and younger ride for free.
If you're on Balboa Island take a short walk from the ferry landing to Free Range. They perfected their Original Fried Chicken Sandwich during their food truck days.
Followup with a Balboa Bar or frozen banana from Dad's or Sugar N' Spice. You may recognize the smiling banana from the TV show "Arrested Development."
Pro-tip: Dad's serves the best Balboa Bars. If frozen bananas are your thing, stop by Sugar N' Spice.
Visiting in January? Take part in Newport Beach Restaurant Week from January 14 to 27, 2019. Fixed price lunches start at $10, dinners for $20.
Where to Stay in Newport Beach
Picking where to stay in Newport Beach, California won't cost you an arm and a leg. There are a variety of Newport Beach hotels and accommodations from resorts, beachfront cottages, to camping.
Resorts and Hotels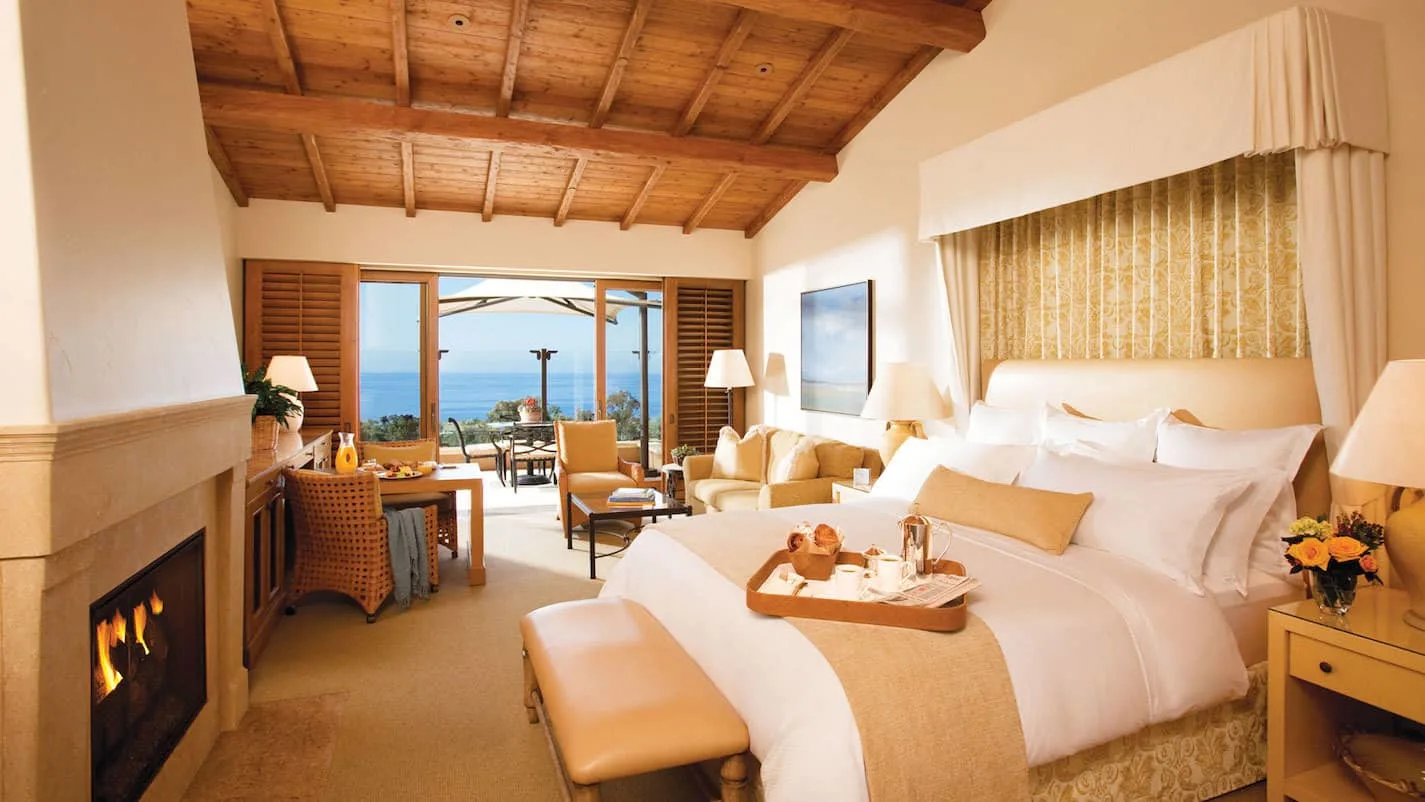 Choose from luxury hotels like the Resort at Pelican Hill where the smallest room is 847 square feet. Valued priced hotels include Hyatt Regency Newport Beach and the Newport Beach Marriott Hotel & Spa.
Read my review of the Newport Beach Marriott Hotel & Spa and why it is the best Newport Beach hotel without the luxury price tag.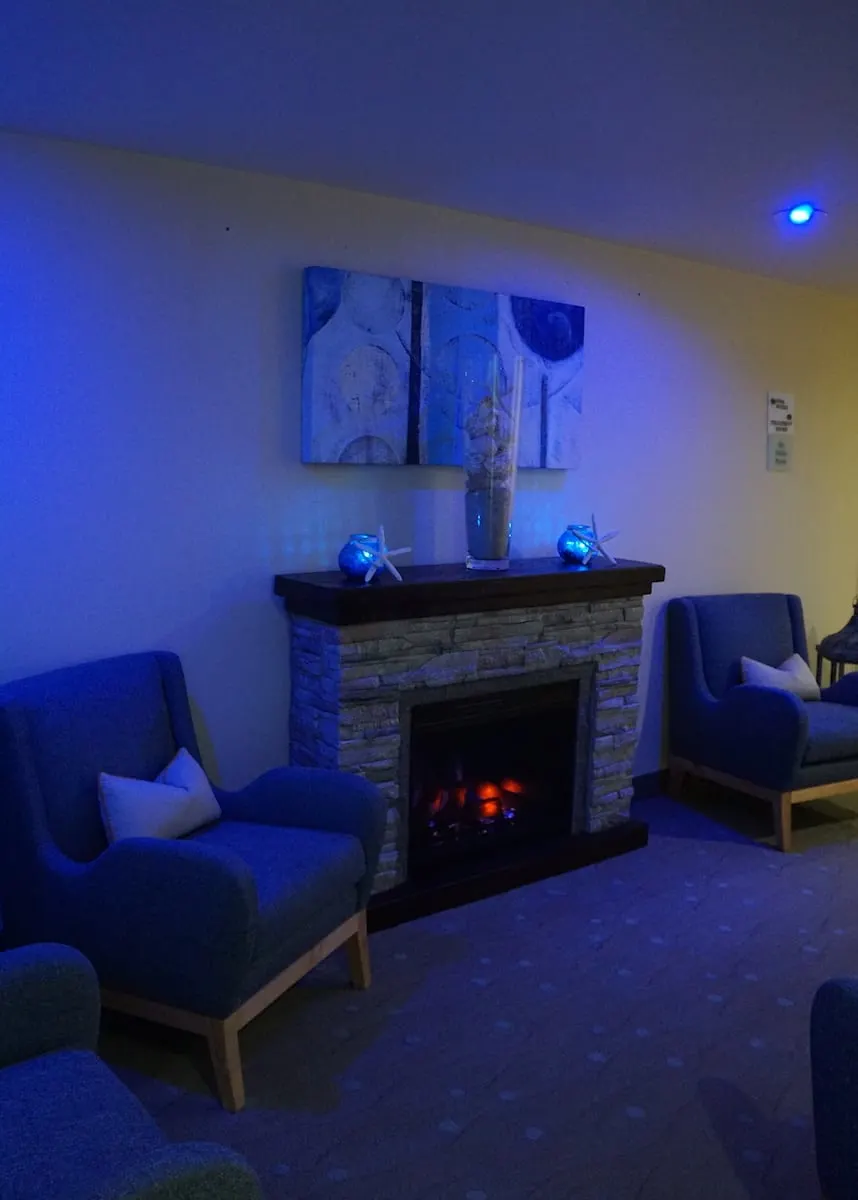 What I love about the Newport Beach Marriott Hotel & Spa is their Pure Blu day spa. The spa has a steam room, dry sauna, and saltwater pools. If I had known the resort fee includes free spa access I would have planned a long day of rest and relaxation.
Pro-tip: The Hyatt Regency Newport Beach is a Category 3 hotel. Use your free anniversary night from your World of Hyatt credit card for a free stay.
You can use your free night from your Marriott Bonvoy Boundless® Credit Card to stay at the Marriott Newport Beach Hotel & Spa.
Beachfront Cottages
You can stay in one of 21 cute beachfront cottages in Crystal Cove.
There's a cottage for every lodging need and budget. From studios, one and two bedrooms, to private dorm rooms.
Cottages start at $181 a night and depending on configuration, can accommodate 4 to 9 people.
Private dorm rooms with shared cottage facilities start at $37 a night. Depending on the number of beds, 2 to 6 people can share a private room.
Without TVs, phones, or Wi-Fi this is Orange County's version of roughing it.
Pro-tip: Book your reservation six months in advance.
You're limited to a 7-night stay each rolling calendar year. But you can break up your 7 nights into multiple stays.
Camping and RV Park
Newport Dunes Waterfront Resort & Marina is "one of the Top 10 Best Luxury RV Resorts in the US."
The resort offers beachfront camping and RV spots. Rates start at $67 a night. Beach cottages are also available from $95 a night.
Add the resort's concerts at the Back Bay Bistro to your list of romantic things to do in Newport Beach.
Pro-tip: RV Park guests enjoy discounted rates at the Newport Dunes Waterpark.
Conclusion
Enjoy Newport Beach on any budget with this luxury budget guide to Newport Beach.
Newport Beach offers a coastal quaint casual luxury experience for every type of traveler. From the solo traveler looking for adventure, couples looking for a little romance, to families looking to spend quality time outdoors.
You can visit Newport Beach all year but the best savings are during the shoulder season from late September to May.
There are so many fun things to do in Newport Beach from Balboa Village and riding the Ferris Wheel in the Fun Zone, watching 30-foot waves at the Wedge, to exploring Crystal Cove State Park.
Newport Beach hotels vary in price and offer unique experiences you won't find anywhere else. You can indulge at the 5-star Pelican Hill Resort, book a value priced hotel, stay in beachfront cottages, or camp. Remember to use free nights from your Hyatt card to stay at the Hyatt Regency Newport Beach. Or use your free night from the Marriott card to stay at the Newport Beach Marriott Hotel & Spa.
Comment, tweet, or share this post.
Get the best credit card signup bonuses.
Follow us on Twitter | Facebook | Pinterest | Instagram | YouTube
Got a question? Or want help, suggestions, travel tips, learn how to travel for free, find out about travel deals, and maximize your miles and points? Use the subscription box below to sign-up and get post updates by email.
Traveling Well For Less has partnered with CardRatings for our coverage of credit card products. Traveling Well For Less and CardRatings may receive a commission from card issuers.
---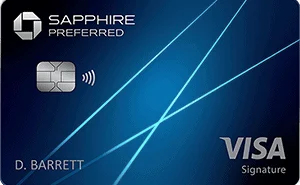 The Chase Sapphire Preferred
is the best card to get started in the world of miles and points.
It is the first card you should get to start traveling for free because the
welcome offer is 60,000 points
after spending $4,000 in the first three months.
My favorite perks about this card are earning 5X points on travel when booked through the Chase portal (2X if direct purchase), 3X points on dining, $50 yearly credit on hotels booked through the Chase portal, no foreign transaction fees, and transferring points to 13 airline and hotel partners like Hyatt, United, and Southwest.
---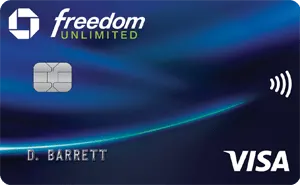 The
Chase Freedom Unlimited
is one of my favorite cards for earning cash back card and travel rewards.
It offers a
welcome offer of 3% cash back = an extra 1.5% cash back
on up to $20,000 in purchases your first year.
My favorite perks about this card are earning
6.5% cash back on travel booked through the Chase Travel Portal
,
4.5% cash back at drugstores and restaurants
,
unlimited 1.5% cash back on all purchases
and
no annual fee
. When paired with cards like the
Chase Sapphire Reserve® Card
, you can use your points to travel for free.