Southwest is my go-to airline for flights to Vegas. But on my most recent trip to Sin City, I took a chance and flew Frontier Airlines to Las Vegas. Was it worth the gamble? Would I do it again? Keep reading to find out.
Only Frontier, Southwest, and Spirit Airlines offer nonstop flights from San Diego to Las Vegas. Nonstop flights from San Diego to Las Vegas take 1 hour and 17 minutes. Well worth flying instead of driving the 5+ hours, not including traffic.
More time to enjoy everything Vegas offers from gambling, seeing a show, taking in the sights, visiting the spa, or shopping. A little over an hour may not seem like much. But when there isn't any inflight entertainment or Wi-Fi, an hour can seem like an eternity.
Review: Gambling on Frontier Airlines to Las Vegas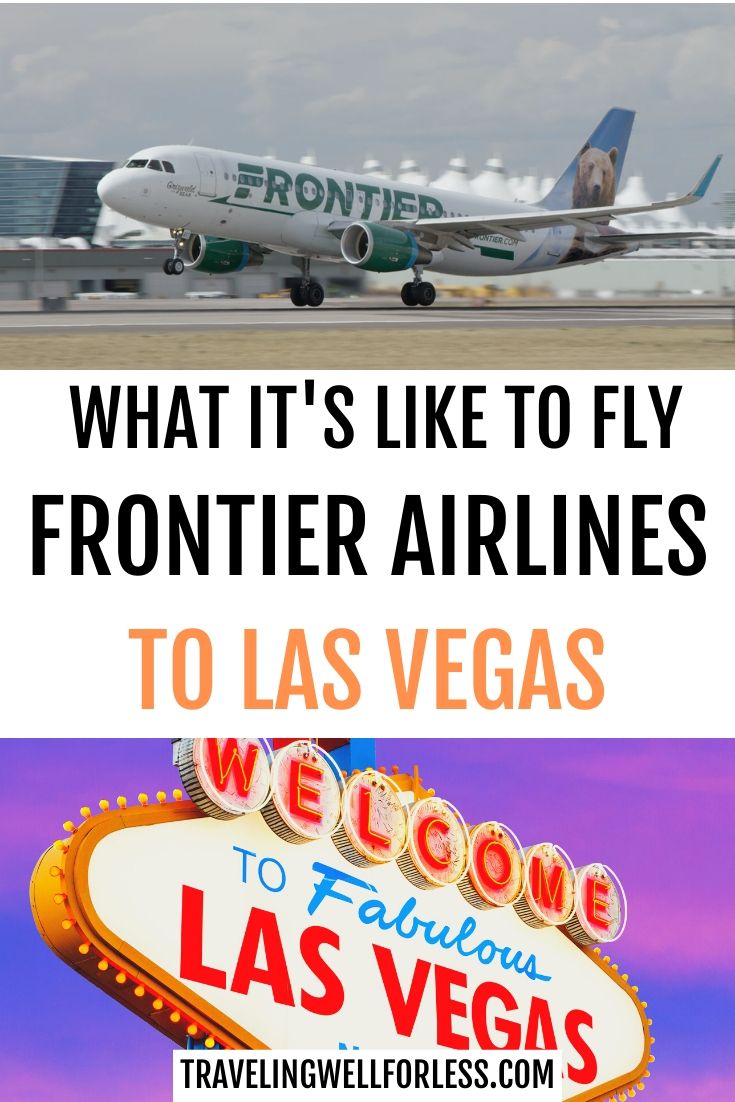 Earlier this year I flew from San Diego to Las Vegas on Frontier and I lived to tell about it. It wasn't that bad when you know what to expect when flying Frontier.
On my recent travel hack to Las Vegas, the goal was an inexpensive girls trip to Vegas including spending the day at the Canyon Ranch Spa Las Vegas at The Palazzo Las Vegas.
Price was the main reason I flew on Frontier. The flight was $38 roundtrip compared to $80 on Southwest.
Yes, we could have used the Southwest Companion pass and only paid $11 roundtrip for taxes. But the value of spending Southwest points would have been more than the cost of the Frontier flight.
In other words, it was cheaper to buy a ticket on Frontier.
Buying a Ticket
Buying a ticket on Frontier Airlines is pretty easy. But you are constantly bombarded with upsells.
While other airlines try to upsell you on insurance, car rental, and maybe a hotel after you've bought your ticket.
Frontier doesn't mess around.
At every single point of the purchase, Frontier gives you the opportunity to spend more money.
Pro-tip: You'll save $8 to $42 roundtrip on each ticket if you buy it at the airport in advance. Because these fees are the Carrier Interface Charge, a fancy way of saying online booking fee. If you live near the airport, this could be worth the extra savings.
Discount Den
When choosing your flight, you've given a choice of the regular fare of a Discount Den fare. Discount Den is Frontier Airlines' membership club.
Discount Den is Frontier Airlines' membership club. Membership is $59.99 a year and the lowest ticket prices. Savings vary depending on the flight and how far in advance you buy.
With a Discount Den membership, I could save $20 off my flight. But membership costs $60. I wasn't sure if I would fly on Frontier enough to make it worth it. Or even again. So I declined.
Pick a Bundle
The second upsell comes after you've selected your flight. The Perks, The Works, and Customize It bundle offer of a carry on bag, checked bag, seat selection, and refund option with The Works option.
Pro-tip: The bundle is in addition to the price of your ticket. The price is each way so it could cost more than your ticket.
I chose the Customize it Bundle, aka no extras. This short two day trip to Vegas a personal item would be fine.
Seat Selection
Time for the third upsell, seat selection.
I prefer an aisle seat in the exit row but not for that price! I decided to gamble and not choose a seat.
Dodged that bullet. But in case you have second thoughts, Frontier gives you another chance to pick your seat, for a fee. Upsell number four.
The upsell train continues with one more chance to buy The Works bundle.

No thanks.
Rental Car
Just when you think Frontier has finished trying to upsell you. Upsell six rolls along, the rental car offer.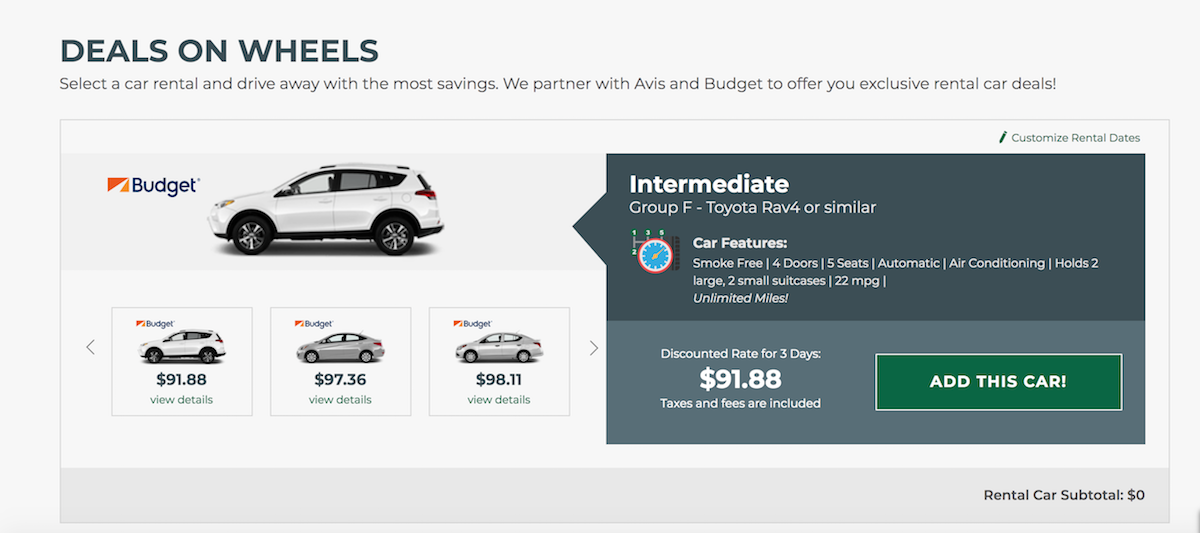 I passed on the rental. The Palazzo Las Vegas charges $24 a day for parking but parking is free at the Hyatt Place Las Vegas.
Finally, I made it to the payment screen without getting sucked into an upsell and paid $38 for my roundtrip ticket to Vegas.
Online Check-in
Two months and 65 emails later it's time to use online check-in.
Yep, Frontier sent 65 emails starting the day I bought my ticket through the day before check-in. Of those 65 emails, 17 were about my flight (confirmation and schedule change) while the other 48 were ads.
Normally, I check in exactly 24 hours before a flight but I was on a trip so I couldn't check in until 5 pm. Six hours after online check-in started or 18 hours before my flight.
As with buying a ticket, the upsells continued with offers to buy a bag, carryon and checked, and a seat. I let them pick a seat for me and got row 14B, a middle seat behind the exit row.
My friend Jill checked into at exactly 24 hours, didn't pay for a seat and got 25F, a window seat in the back.
Pro-tip: If you want to sit closer to the front without paying for a seat, check-in late.
Airspace Lounge
Frontier Airlines flights to Las Vegas leave from Terminal 1 in San Diego. Frontier doesn't have a lounge nor access to one and there aren't any lounges in Terminal 1.
So Jill and I went to the Airspace Lounge in Terminal 2, a 5 minute walk from Terminal 1. We used our American Express Platinum and Business Platinum Card from American Express to get into the Airspace Lounge for free.
Pro-tip: Our Amex cards got us a $10 per person credit for food and drinks.
After a quick bite, it was time to walk to Terminal 1 and go to our gate.
At the Airport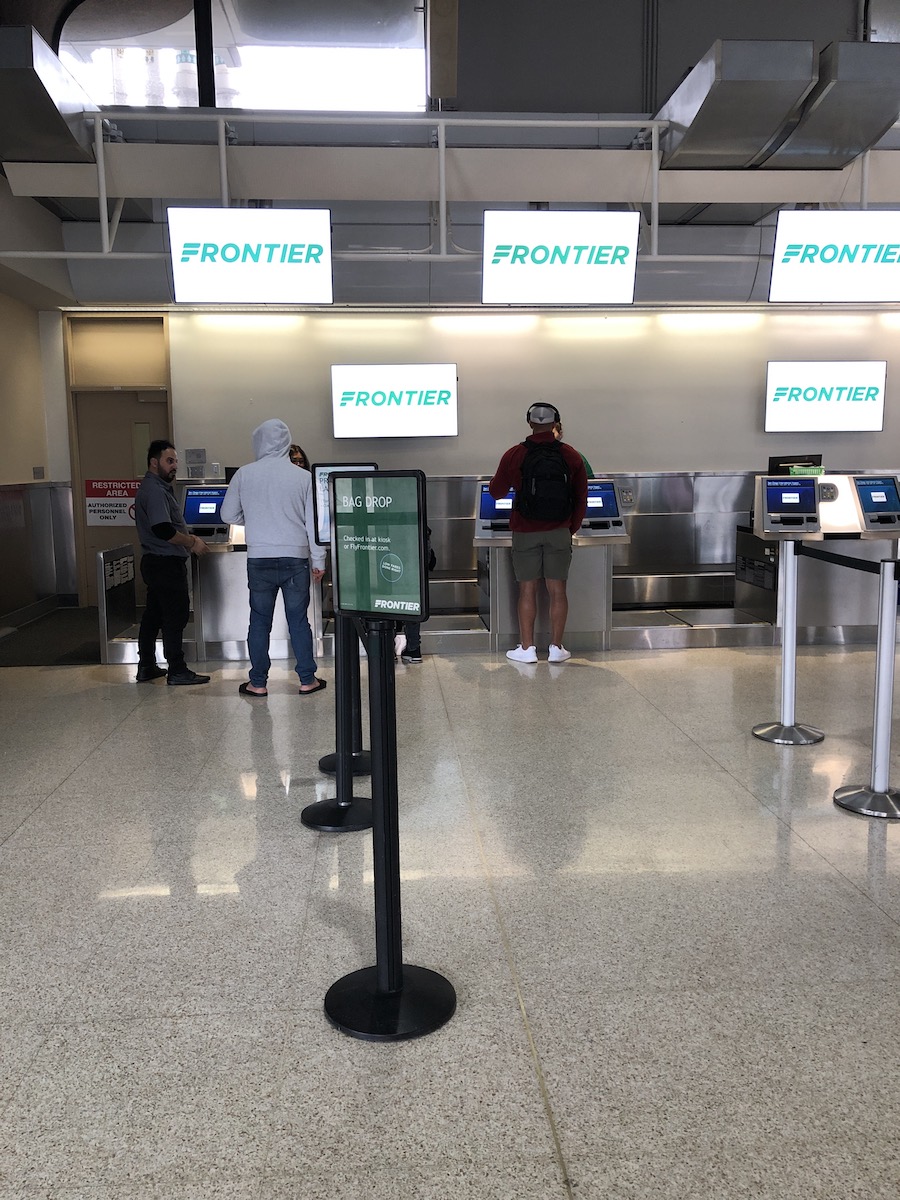 At the airport, there are bag sizers next to the Frontier counter, the kiosks, and at the gate. At every point in the journey, there are reminders about bag costs and personal item size.
Frontier does an excellent job of reminding everyone that they charge for carryon bags.
There should be no reason you aren't aware that anything larger than a personal item costs money.
Unless you don't speak English.
All the signs are in English. In some airports, it would be a good idea to have signs in Spanish.
Boarding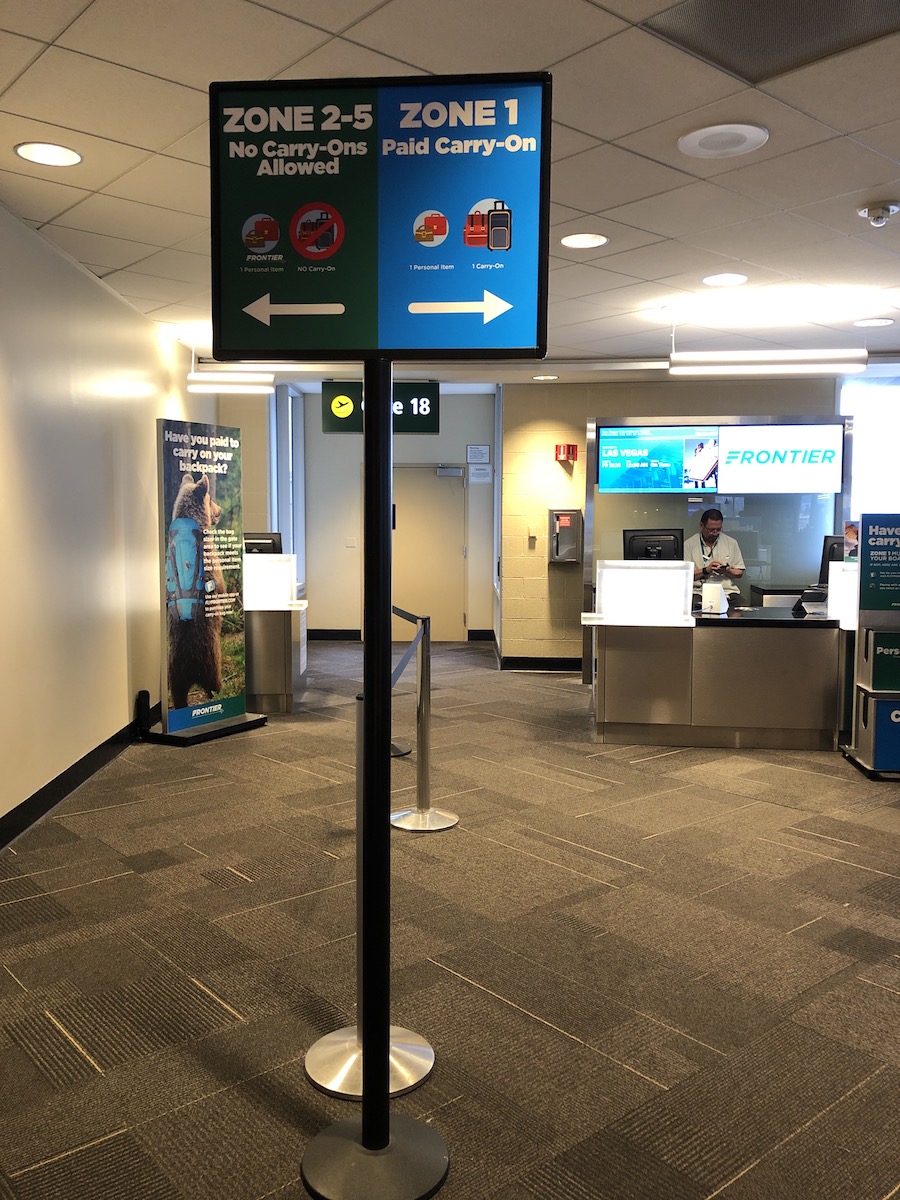 The Gate boarding signs are another reminder that you have to pay for carryon bags when flying Frontier.
Frontier boards by zones: Zone 1 for those who paid for a carryon and Zones 2 through 5 for everyone else.
My boarding pass was Zone 2 while Jill's was Zone 3.
Pro-tip: If you join the Frontier Miles loyalty program, you get board sooner.
Boarding was a cluster. Everyone lining up out of order and blocking those who need to get by.
While boarding there was a second gate agent who was the enforcer and watched bags sizes.
Those with larger bags he checked their boarding passes. If they weren't group 1 they had to pay the carryon bag fee.
The fee costs more when you have to pay at the gate than if you pay for it when buying your flight.
Pro-tip: If trying to sneak on with a large bag without paying the fee, get in line a few people behind someone with a big bag. This way if they get stopped and you get to sneak through.
This is what the guy in front of me did. He cut in front of me and maneuvered his way a couple of people behind a lady who had a large carryon bag and a Zone 2 boarding pass.
While she was arguing with the bag rule gate agent, he quickly swept pass so no one could see his giant tote bag.
Seats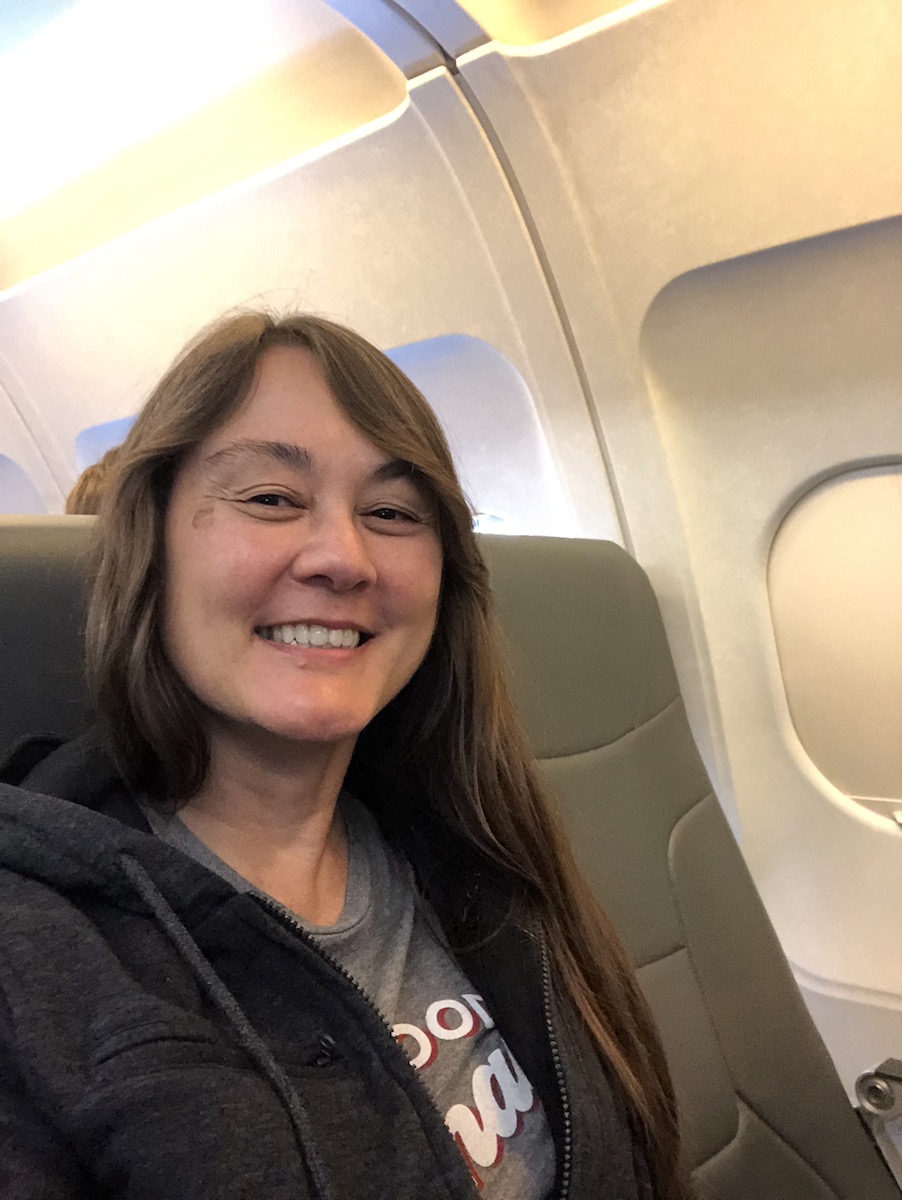 My seat, row 14B was the first row behind the exit row. Except for the first three rows of the plane and the exit row, this is the best row on the plane, even if the windows are misaligned.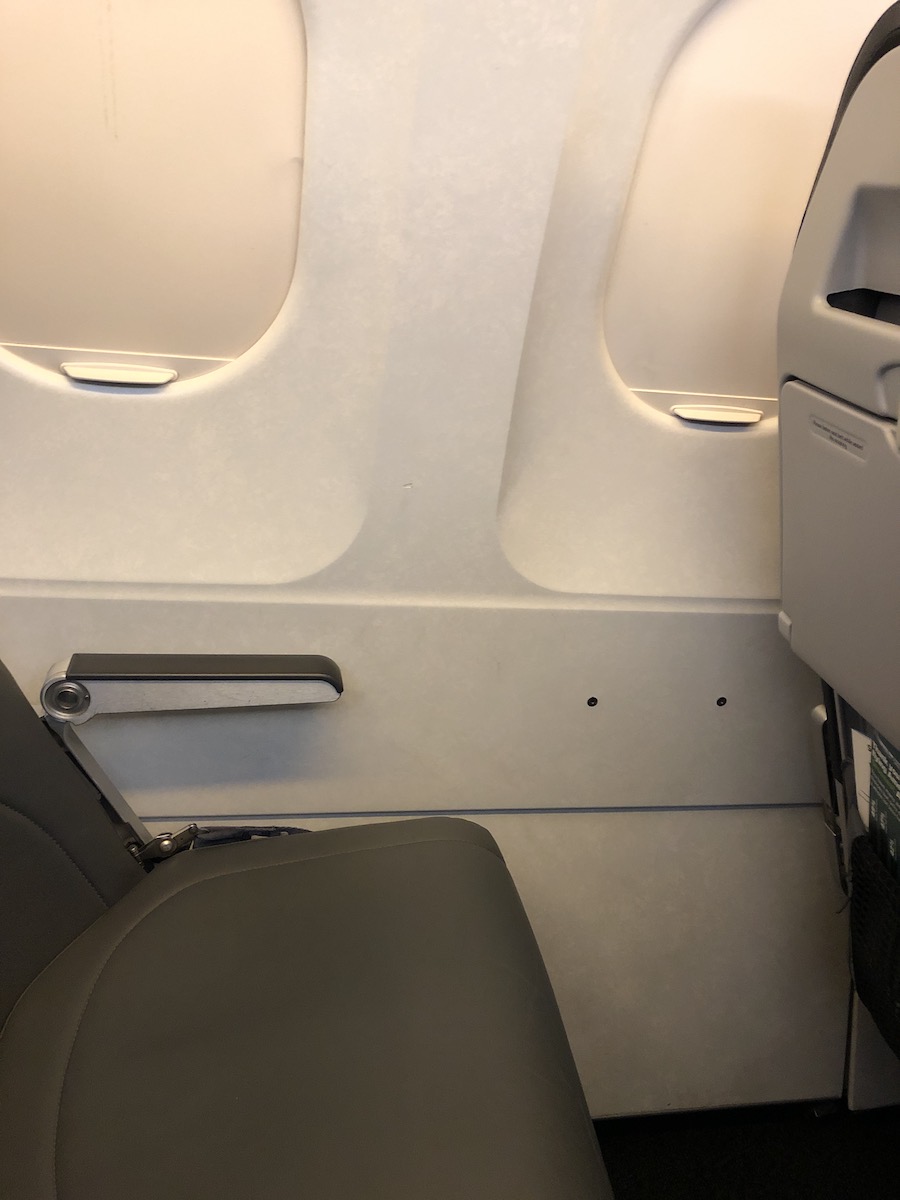 There was decent legroom in row 14 about the same as on Southwest or in economy on American Airlines.
Row 14 has a magazine slot and a full-size tray table in the seatback.
All other rows, except rows 1 to 3 and row 14, including the exit row only have a half tray table and don't have a magazine slot.
The armrests fold up but not out of the way so they poke you in the arm.
Frontier Airlines has padded seats but there's more cushion on the seat bottom than on the seatback.
They're a firm bus seat with a leather cover.
Pro-tip: On my Frontier Airlines flight to Las Vegas there was no seat power. Because they're a lowcost airline none of their flights have power, inflight entertainment, or Wi-Fi.
Flight Crew
On my Frontier Airlines flight to Las Vegas, the flight crew was friendly.
They ensured passengers followed the rules and take advantage of the airline, their employer.
While boarding the guy in 11F tried to sit in 12D exit row aisle for free.
The flight attendant noticed his move and asked for his boarding pass. He was not happy and had a bit of an attitude.
After examining she told him those seats cost extra. He didn't want to pay and kept asking, "But is anybody sitting there?"
Immediately after takeoff the man sitting in 11C moved to 12D. The flight attendant let him stay but told him those seats cost extra and next time he'd have to pay the fee.
Why the different treatment? The dude in 11F was rude and kept challenging the flight attendant while the dude in 11C was nice.
Pro-tip: Frontier charges for everything, including soft drinks and water. Remember to bring your own snacks and drinks.
Bathrooms
The bathrooms on this flight were the same size as bathrooms on other airlines, maybe a bit bigger.
Conclusion
Would I fly them again?
Yes. All in all flying Frontier Airlines to Las Vegas was a pleasant experience. The price was right. The crew was nice and the flight was uneventful.
But I'm not sure I would fly Frontier for a longer flight. The seats were okay, not uncomfortable but not comfortable to sit in for several hours.
The lack of power and Wi-Fi coupled with the fact that there are only a few seats with a full size tray table is a problem if you want to work while flying.
But if you're only flying for vacation and don't have to get any work done, are bringing a book or tablet loaded with entertainment, depending on the cost of the ticket, it could be worth flying on Frontier.
What was your experience flying Frontier Airlines to Las Vegas?
Comment, tweet, or share this post.
Get the best credit card signup bonuses.
Follow us on Twitter | Facebook | Pinterest | Instagram | YouTube
Got a question? Or want help, suggestions, travel tips, learn how to travel for free, find out about travel deals, and maximize your miles and points? Use the subscription box below to sign-up and get post updates by email.
Traveling Well For Less has partnered with CardRatings for our coverage of credit card products. Traveling Well For Less and CardRatings may receive a commission from card issuers.
---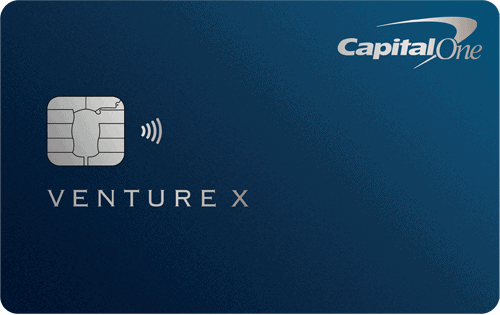 The Capital One Venture X
has one of the largest welcome offers among travel rewards cards.
The
welcome offer is 100,000 points
after spending $10,000 in the first six months.
My favorite perks about this card are $300 yearly travel credit , $200 credit on vacation rentals , 10X miles per dollar on hotels & rental cars and 5X miles when you book through Capital One , and 10,000 miles every year you renew your card .
---
---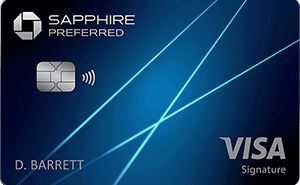 The Chase Sapphire Preferred
is the best card for beginning travel hackers.
It is the first card you should get to start traveling for free because the
welcome offer is 60,000 points
after spending $4,000 in the first three months.
My favorite perks about this card are earning 5X points on travel when booked through the Chase portal (2X if direct purchase), 3X points on dining , $50 yearly credit on hotels booked through the Chase portal, no foreign transaction fees, and transferring points to 13 airline and hotel partners like Hyatt, United, and Southwest.
---
---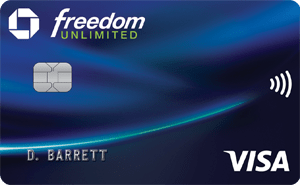 The
Chase Freedom Unlimited
is one of my favorite cards for earning cash back card and travel rewards.
 It offers a
welcome offer of 3% cash back = an extra 1.5% cash back
on up to $20,000 in purchases your first year.
My favorite perks about this card are earning
6.5% cash back on travel booked through the Chase Travel Portal
,
4.5% cash back at drugstores and restaurants
,
unlimited 1.5% cash back on all purchases
and
no annual fee
. When paired with cards like the
Chase Sapphire Reserve
, you can use your points to travel for free.
Monday 28th of September 2020
What an extensive review! I love that you showed how it looks like in every area. The leg room doesn't look so bad at all! I am a rewards newbie so if you don't mind me asking, how do I know if my current credit card is eligible for Chase Sapphire? Is it also way better than my credit card rewards) I am a frequent flyer and have no knowledge of rewards. I do want to start doing it as I can see there are lots of benefits! Thanks, Debra!
Monday 4th of January 2021
Hi Cristina,
Thanks for the kind words. Yeah, the legroom was on par with other airlines. The Chase Sapphire is a credit card - https://www.travelingwellforless.com/go/SapphirePreferred.
I don't know what cards you have but I recommend it for someone just starting out with travel rewards - https://www.travelingwellforless.com/what-is-the-best-card-for-travel-hacking/. You can use the points for airline tickets and hotel rooms plus tours and rental cars.
Let me know if you have any other questions.
Monday 28th of September 2020
For internal travel in US, I have never used airlines, as I did only road trips to nearby destinations. But now planning to go for far places for which I need to book some internal airlines. Good to know about Frontier airlines and it offers and plans. Discount Den looks good option for me as it looks very flexible. Also I have American Express platinum card and so can get lounge access for free. Online checkin is also a good option for easy checkin. Thanks for your honest review on Frontier airlines.
Monday 4th of January 2021
Glad you enjoyed the review, Yukit.
Sunday 27th of September 2020
I had never heard of the Discount Den before. That is definitely one useful tip. I have heard of Frontier Airlines but I have never traveled with them. I will need to look them up next time and having direct flights help so much. You have given such a detailed review and covered everything possible.
Monday 4th of January 2021
Hi Raksha,
The Discount Den is a good deal if you're going to fly a lot on Frontier Airlines, you're flying long distance, or expensive routes. If you're only flying once or twice it may not be worth the cost.
Saturday 26th of September 2020
$38 roundtrip!??!??!?!?!! That is SUCH a steal!!! Seems like there are definitely a lot of add-on fees though. 65 e-mails is also excessive. That alone is a huge turnoff for me, but it's surprising how much leg room there is. (When I took budget airlines in the past, my knees were either touching or close to touching, and I'm not even tall.) Glad to hear you had a pleasant experience and would fly with them again!
Monday 4th of January 2021
Hey Jas,
Right! At $38 roundtrip, it was a killer deal! Hope you get a chance to fly Frontier.
Saturday 26th of September 2020
Sounds like you have managed to get a good ride with Frontier airlines. From buying the ticket to actually flying it, they seem to be no nonsense kind of people. The bundle deals on the Discount Den seems like a good suggestion. Depending on your style of traveling, you can pick the bundle that works for you the best. Will be sure to suggest to people in that part of the world.
Monday 4th of January 2021
Hi Ami,
Yep, Frontier is pretty straightforward, probably similar to other low-cost carriers in other countries.