No one really wants to spend any minute of their vacation doing laundry. But sometimes you have to. That's when a portable travel washing machine like the Scrubba wash bag comes in handy.
Whether you're traveling solo, taking a trip with your partner, or vacationing with the family, sometimes you have to wash something.
During one of our trips when Wyatt was a baby he spewed his bottle all over me shortly after takeoff. Think projectile vomiting, formula everywhere.
It was nasty and gross! I was so glad we were only flying home from San Francisco to San Diego.
But there have been other times when I've been on vacation and needed to wash something.
I've been on several flights where the person next to me spilled wine on me. Or we've hit turbulence and I've dropped my food on my shirt.
When it was 103 degrees in Vietnam and I've walked over 55,000 steps to visit Train Street and the Ho Chi Minh Mausoleum. With a 15 hour flight the next day, I didn't want to bring back stinky clothes.
That's why the Scrubba wash bag is a must. Being able to clean clothes anywhere is a lifesaver.
I'd heard about the Scrubba wash bag a few years ago. But didn't want to spend the money when I already own a dry bag.
So when the folks at Scrubba emailed to ask if I'd review it, I was game. I really wanted one and had included it in the ultimate holiday gift guide for travelers.
I wash my clothes while traveling and with another 10-day trip to Vietnam knew I'd have a lot of laundry to do on the road. So it would be the perfect opportunity to try out the Scrubba and see if it works.
Disclosure: This is a sponsored conversation written on behalf of Scrubba. All opinions are 100% mine.
Scrubba Wash Bag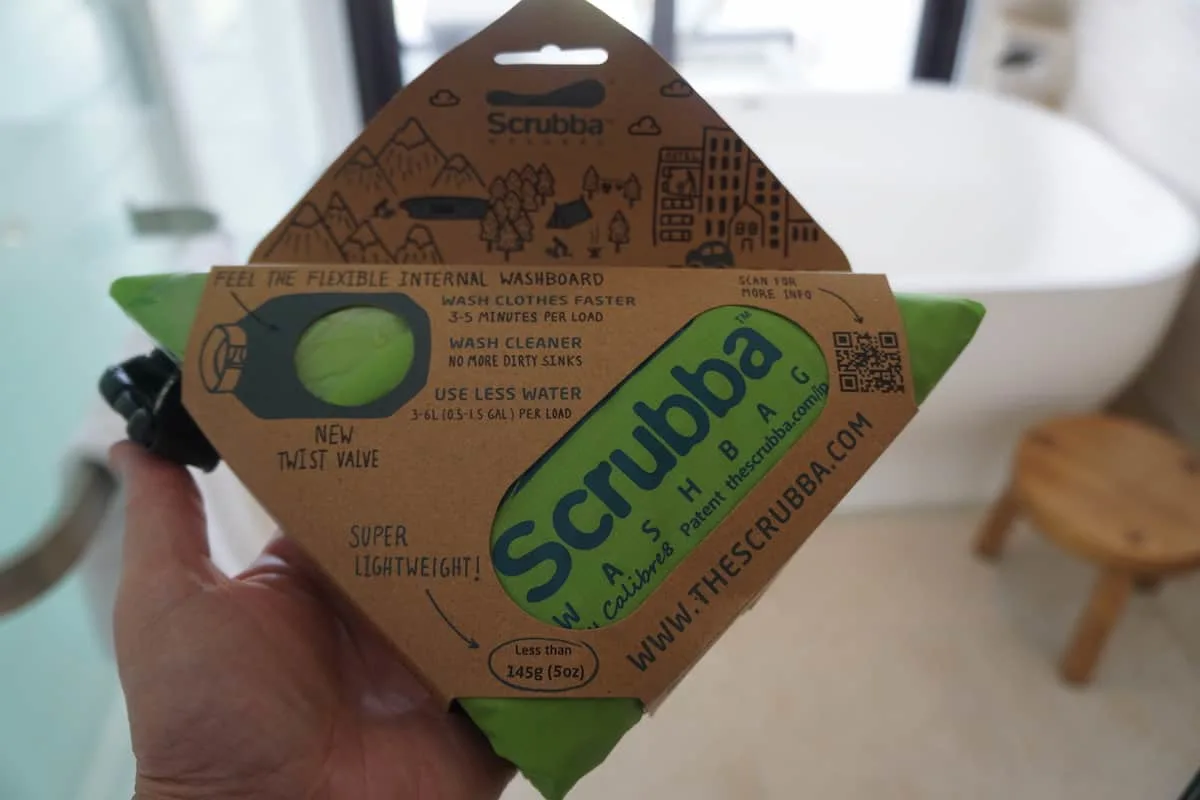 Ever gotten something on your shirt and didn't have time to get it washed while traveling? The baby has a diaper blow out? Slipped in the mud while hiking. A number of things can mean that at some point during your trip you'll end up doing laundry.
If you're staying in a hotel your options are limited to expensive hotel laundry service or finding a local cleaner. Either of which could cost you more time and money that you'd rather spend.
Good thing there's Scrubba.
The Scrubba wash bag "the world's smallest machine" is a dry bag on steroids.
A dry bag is what you use to keep your camera, phone, and other things dry when you're kayaking, canoeing, or participating in other water sports.
Unlike a traditional dry bag, the Scrubba is lighter, includes a flexible washboard, and has a clear side panel.
These 'nobules' are the secret to how you can get clean clothes while traveling. They work like a washboard's ridges by forcing the water and detergent through the clothing fibers to remove dirt.
You can buy a Scrubba wash bag on Amazon.
Washing clothes in the hotel sink means standing in the bathroom bent over a sink. Not the best for your posture.
With a Scrubba, you can stand or sit and wash clothes anywhere. Perfect for long road trips where it can be hours between sinks or your next accommodation. You can wash on the go and hang in the car to dry.
How to Use a Scrubba Travel Washing Machine
I created this video to show you how to use a Scrubba travel washing machine.
Pro-tip: Avoid very hot water. Using water above 122 degrees will start to destroy the plastic.
Scrubba works best in cold or warm water.
6 Easy Steps to Clean Clothes
Add your clothes, detergent (liquid works best), and water
Fold over the opening, roll down to the valve, and clip the ends together
Open the valve to let excess air out
Knead or rub clothes against the washboard
Pour out dirty water and add fresh water. Repeat steps 2, 3, and 4.
Empty water, wring out clothes, hang to dry
What's Great About the Scrubba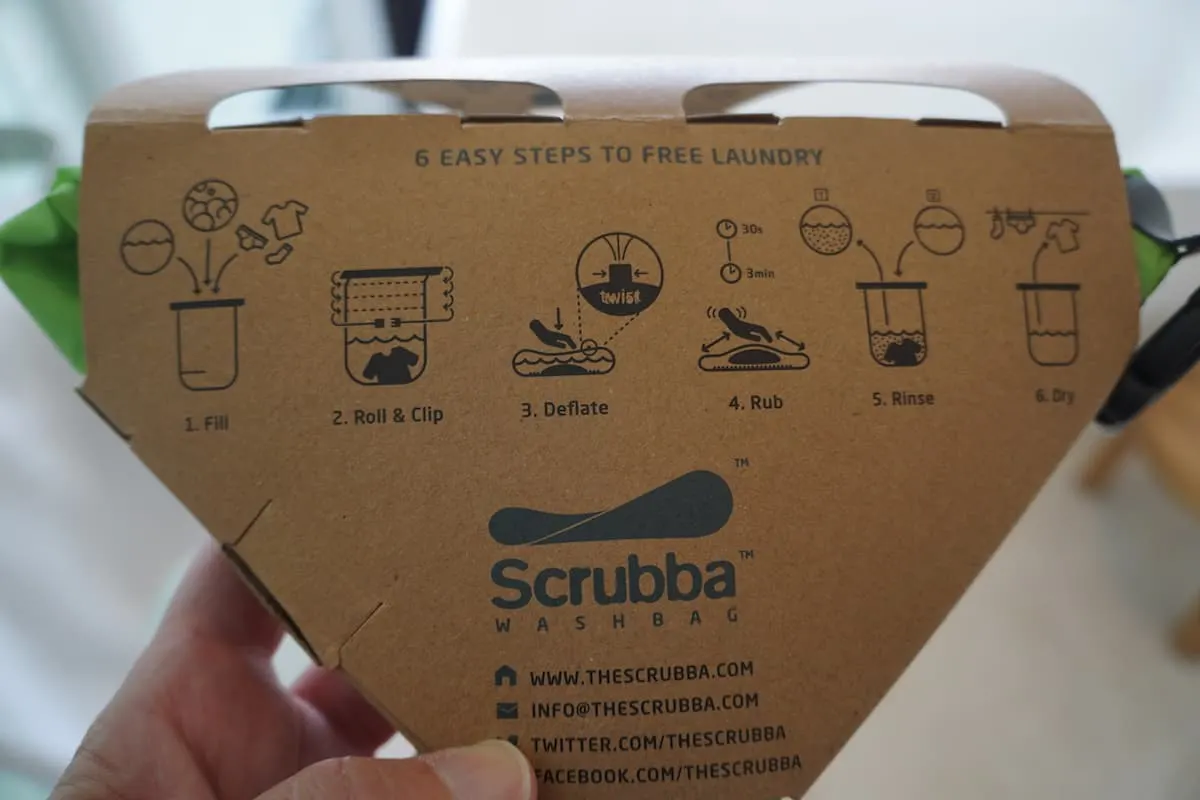 Easy to Use
The Scrubba wash bag is easy to use and comes with printed instructions on the bag. So you don't need internet access to figure out how a Scrubba.
Pack Light
With a Scrubba wash bag, you can pack lighter.
Because you can wash your clothes while traveling so you can pack fewer outfits.
Pro-tip: Packing lighter means you can avoid excess baggage fees.
Compact, Portable
A Scrubba is light, weighs 5 ounces, the same as a T-shirt. So it won't add extra weight to your checked or carryon luggage.
Wash Clothes Anywhere
You can wash clothes anywhere with Scrubba.
Because a Scrubba portable travel washing machine is compact you can wash clothes in your hotel room, on the beach, in the desert, even on an airplane.
Clean Clothes in Minutes
The Scrubba washboard nobules lets you get clean clothes in minutes. It takes 3 to 5 minutes to wash clothes.
A lot faster than going to a laundromat or sending the clothes out to a cleaner. Plus you'll save money!
Pro-tip: A Scrubba wash bag is great for families, traveling or not. In those few precious moments of sanity between naps and feeding, you can wash diapers or burp clothes.
Use Less Water
With a Scrubba travel wash bag, you'll use less water to wash clothes.
Each load uses 1/2 to 1.5 gallons. But you can control exactly how much water you want to use to wash and rinse your clothes.
I found that for most of my washes I only used about 1/2 a gallon.
All Types of Detergent
You can use all types of detergent in a Scrubba wash bag.
Liquid laundry detergent is best because it breaks down faster. You can bring Woolite packets in your carryon. If you're camping or want a more eco-friendly option, Campsuds works great.
Pro-tip: Body wash and shower gel also works. 🙂
Cheap to Repair
A Scrubba is cheap to repair in the rare event it tears.
If you have a garment with sharp edges or metal objects, you could damage your Scrubba. But it's easily fixed with a bike tire puncture kit.
Conclusion
Because every minute of your vacation should be spent on relaxing and enjoyment instead of chores. A Scrubba wash bag means less time doing laundry and more time having fun.
This compact portable travel washing machine lets you travel light, avoid excess baggage fees, and keeps your clothes clean.
I loved how easy the Scrubba was to use, it didn't add extra weight to my carryon bag, and my clothes came out cleaner than washing in the hotel sink.
There's no greater feeling than coming home with clean clothes. Because you know how it is when you get home from vacation, one of the first things you have to do is laundry. With the Scrubba, you avoid that by spending a few minutes during your trip to wash your clothes.
You can buy Scrubba on Amazon and get free shipping with Amazon Prime.
Have you used a Scrubba wash bag?
Comment, tweet, or share this post.
Get the best credit card signup bonuses.
Follow us on Twitter | Facebook | Pinterest | Instagram | YouTube
Got a question? Or want help, suggestions, travel tips, learn how to travel for free, find out about travel deals, and maximize your miles and points? Use the subscription box below to sign-up and get post updates by email.
Traveling Well For Less has partnered with CardRatings for our coverage of credit card products. Traveling Well For Less and CardRatings may receive a commission from card issuers.
---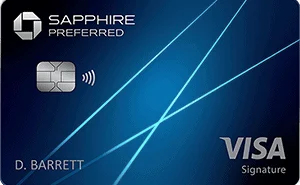 card_name
is the
best card to get started in the world of miles and points.
It is the first card you should get to start traveling for free because the
welcome offer is 60,000 points
after spending $4,000 in the first three months.
My favorite perks about this card are earning 5X points on travel when booked through the Chase portal (2X if direct purchase), 3X points on dining, $50 yearly credit on hotels booked through the Chase portal, no foreign transaction fees, and transferring points to 13 airline and hotel partners like Hyatt, United, and Southwest.
Learn more about the card_name and how to apply
---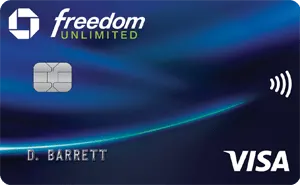 The
card_name
is one of my favorite cards for earning cash back card and travel rewards. It offers a
welcome offer of 3% cash back = an extra 1.5% cash back
on up to $20,000 in purchases your first year.
My favorite perks about this card are earning
6.5% cash back on travel booked through the Chase Travel Portal
,
4.5% cash back at drugstores and restaurants (including delivery and takeout)
your first year up to $20,000,
unlimited 1.5% cash back on all purchases
and
no annual fee
. When paired with cards like the
card_name
, you can use your points to travel for free.
Learn more about the card_name and how to apply