Planning a visit to Breckenridge? Whether you're venturing out for a day trip from Denver or staying several days, getting around Breckenridge is easy. If you want to save money on your trip or practice sustainable travel, skip the rental car. Like Seattle, it's simple to get around the city without a car. But if you prefer, rental cars are available. Here is the ultimate guide to getting around Breckenridge.
There are nine ways to explore Breckenridge and only one requires renting a car. Having lots of options to get around a city makes traveling easier whether you're a solo traveler, travel as a couple, or vacation with family and/or friends.
In college during the winter, we would drive up from Denver to ski in Breckenridge. I took a shuttle and spent the night in Breckenridge after a travel conference in Keystone in 2012. On a recent visit, I used six of the nine ways to get around the Town of Breckenridge.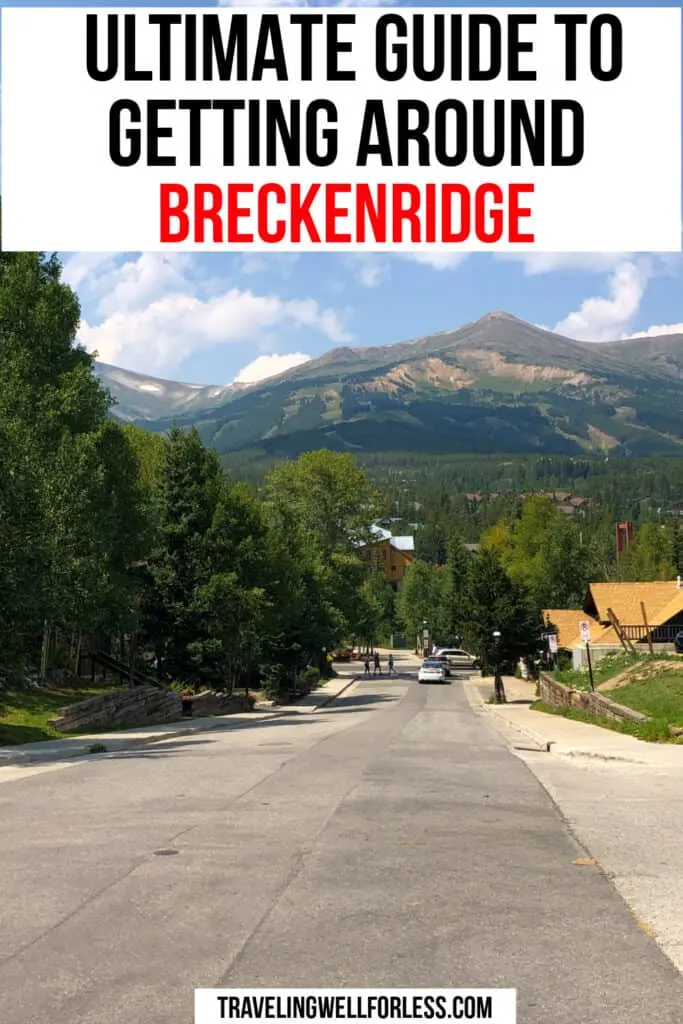 How to Get to Breckenridge
Getting to Breckenridge is easy. Whether you're coming from the Denver Airport, from downtown Denver, or one of the other mountain towns, you have several options. You can book a ride with one of the shuttle services, take Bustang, ride Summit Stage, use a Ride Share service, or drive.
If you decide to rent a car, once you arrive in Breckenridge you may realize you won't need it. Because despite being a mountain town, Breckenridge has great public transportation all year. Not only is it efficient, but it's also free. And who doesn't love free?
So you can relax and enjoy your vacation without having to worry about finding a place to park, paying for parking, or driving in the snow if visiting during the winter.
This means more time vacationing and less time figuring out logistics and planning. You can also spend time at the Breckenridge Distillery or one of several breweries and wineries without having to limit your intake. You can avoid driving impaired or finding a designated driver.
Learn more: 5 Tips to Avoid Altitude Sickness
Breckenridge Free Ride Bus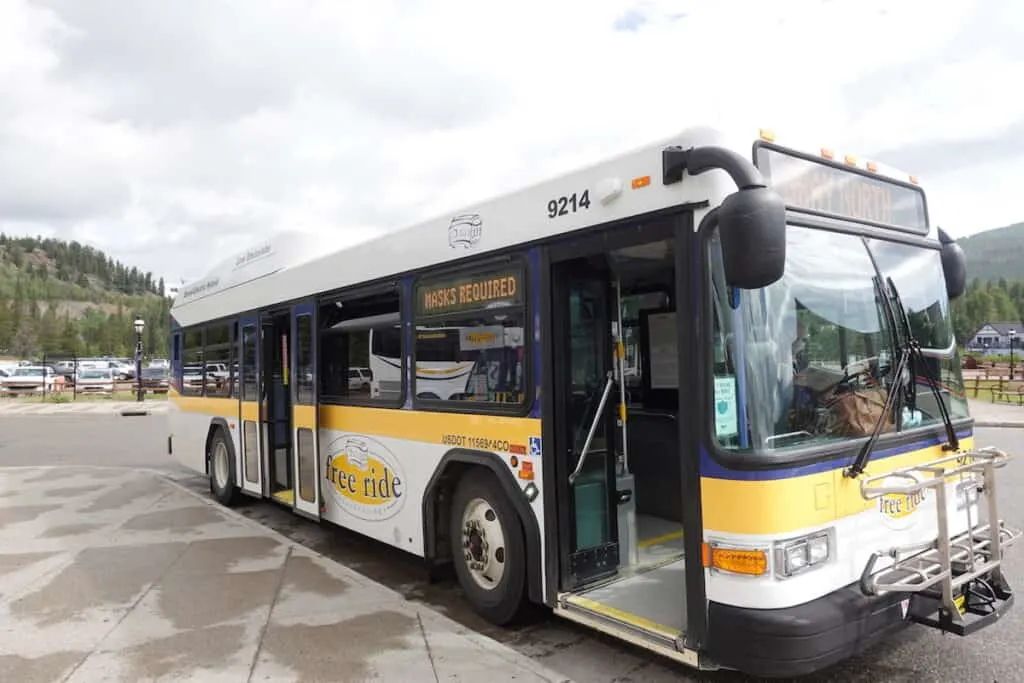 The Breckenridge Free Ride Bus is one of the best and easiest ways to get around Breckenridge. And as the name says, it's free.
Yep, no cost at all.
In some US cities, the bus isn't the most desirable way to travel. It takes forever to get where you want to go, the schedule might not work for you, and the clientele, well, let's just say, sometimes it's scary to ride the bus.
But not in Breckenridge.
You can use the five color-coded bus routes to get around Breckenridge and get up to the Breckenridge Ski Resort:
Buses run daily from 6:15 am to 11:45 pm. Times may vary slightly due to traffic and weather. Buses come in intervals of 15, 20, or 30 minutes, depending on the time of day and stop. Each bus has 2 bike racks so you can use the bus system to get to the bike trails, saving your energy and time.
The bus will only stop if someone is at a bus stop. Be sure you get there on time or you'll have to wait for the next bus. You can check bus schedules, plan your trip, and get the location of the buses in real time by downloading the "My Free Ride" app (Apple or Android) to your smartphone.
You can use the Breckenridge Free Ride Bus system to connect with the Summit Stage.
Pro-tip: The Free Ride Bus schedule changes in November and April. So be sure to download the app or check the website for current times.
Trolley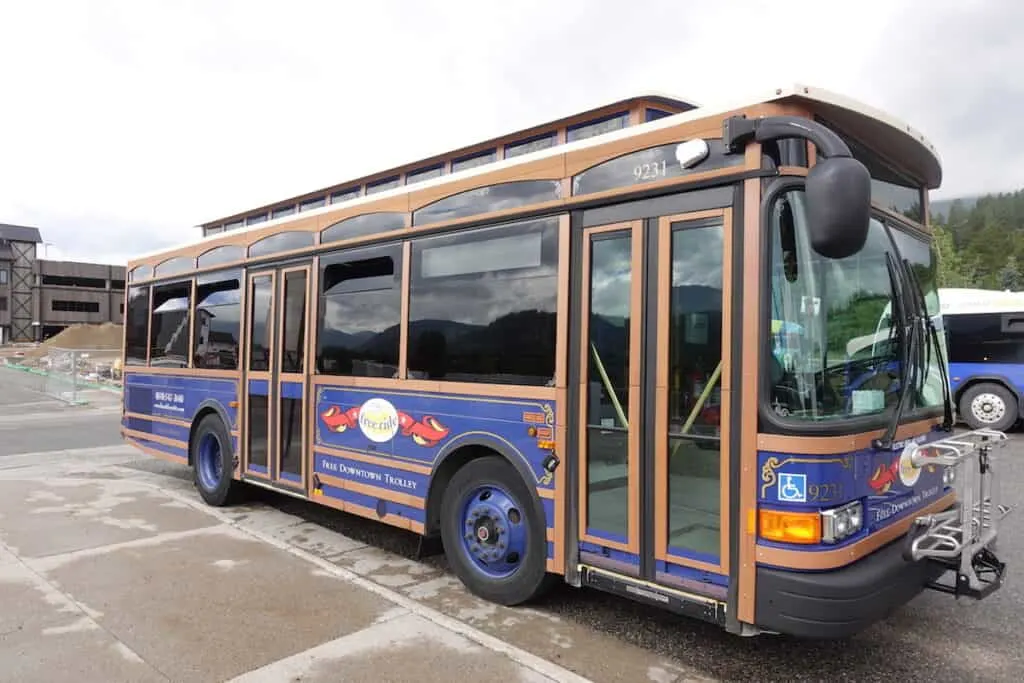 The Main Street Trolley is another easy way to get around Breckenridge. While not a clanging bell, track running street car trolley that you might see in San Francisco or Atlanta, the Breckenridge Trolley is a bus designed to resemble a trolley.
But it's free and will get where you need to go. Assuming that's downtown Breckenridge. Unlike the Free Bus, that depending on the route gets you all around the town, the free downtown trolley exclusively serves Main Street.
Like the Free Bus, the trolley is ADA compliant.
The Main Street Trolley runs daily from 9 am to 11 pm April through October and from 11 am to 7:30 pm November through March. Trolleys come every 30 minutes.
Pro-tip: The front of the trolley has two bike racks.
Free Shuttles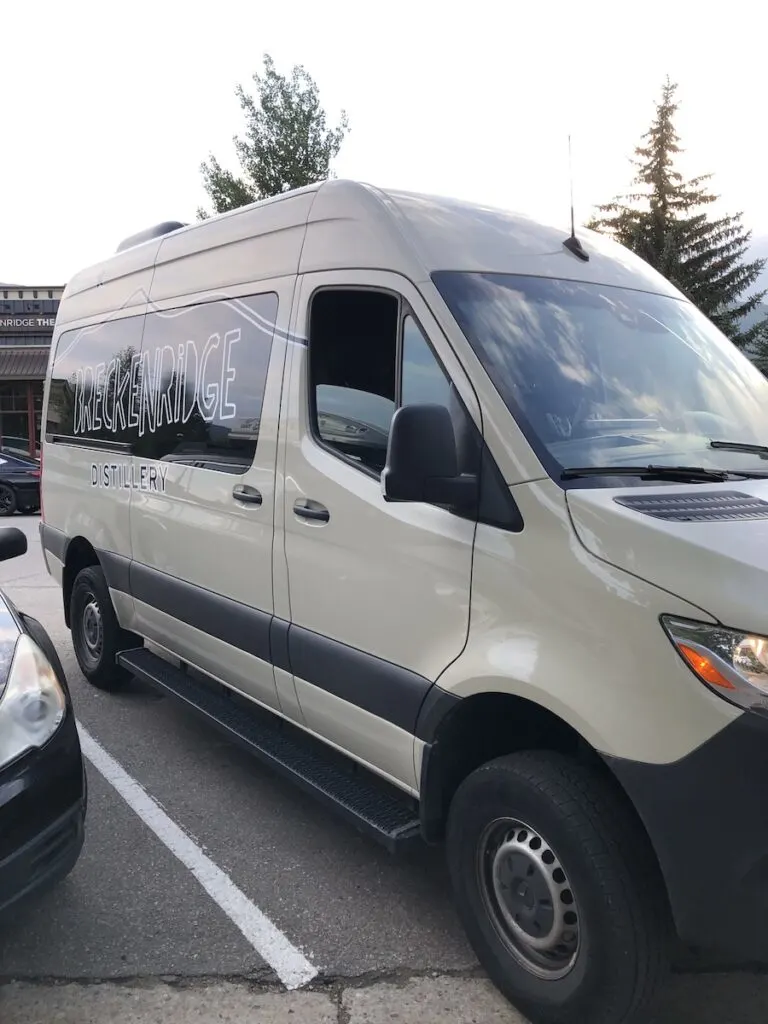 Many of the hotels like the DoubleTree by Hilton Hotel Breckenridge and local businesses such as the Breckenridge Distillery offer free shuttles to guests and visitors.
You can use the free hotel shuttle to go to restaurants, shops, any other places within the city of Breckenridge. During my visit, the Breckenridge Distllery sent their shuttle to give us a ride from the Tin Plate restaurant to the distillery.
Pro-tip: Not all hotels and condos offer lodging shuttle service. Be sure to ask and confirm before booking. Even if the individual hotel, condominium complex, or shop doesn't offers their own shuttle, chances are they are within walking distance to one of the free bus stops.
Ride Share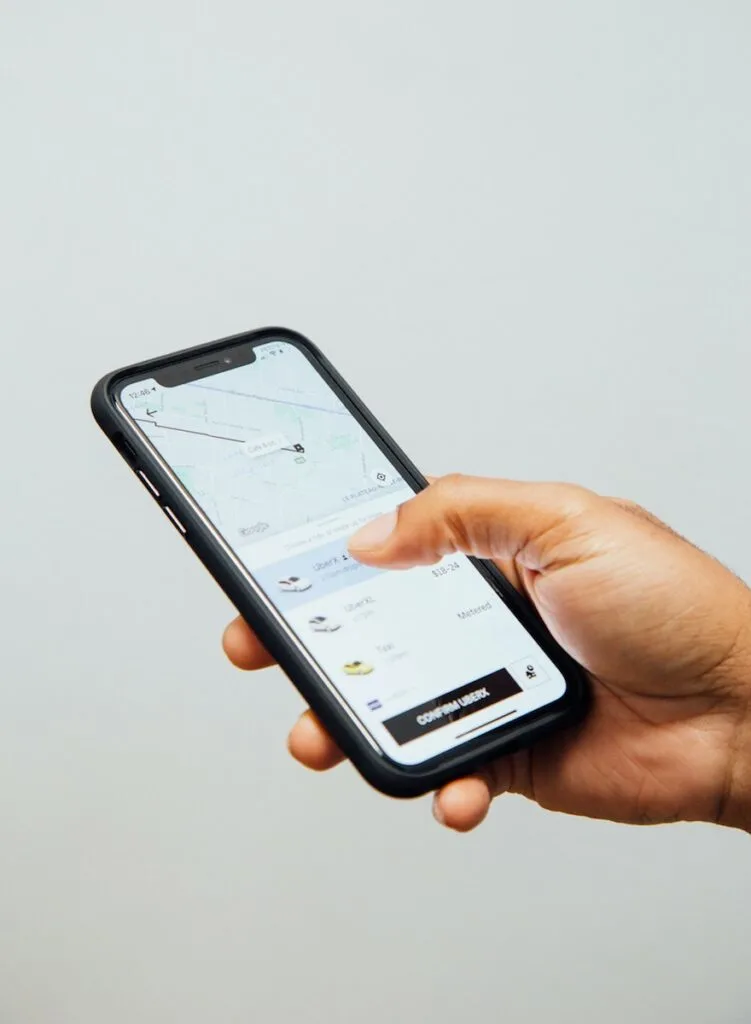 Ride Share is alive and well in Breckenridge. You can use Uber and Lyft to get around town. This is a great option if you don't want to wait or you've indulged in apres-ski or a late night and the bus and trolley are no longer running.
Ride share services also come in handy if it's too cold to walk, bike, or the weather changes suddenly and you're overcome in a hailstorm. Been there, done that.
Pro-tip: Like any city with ride share, surge pricing can happen during peak hours and special events.
Walk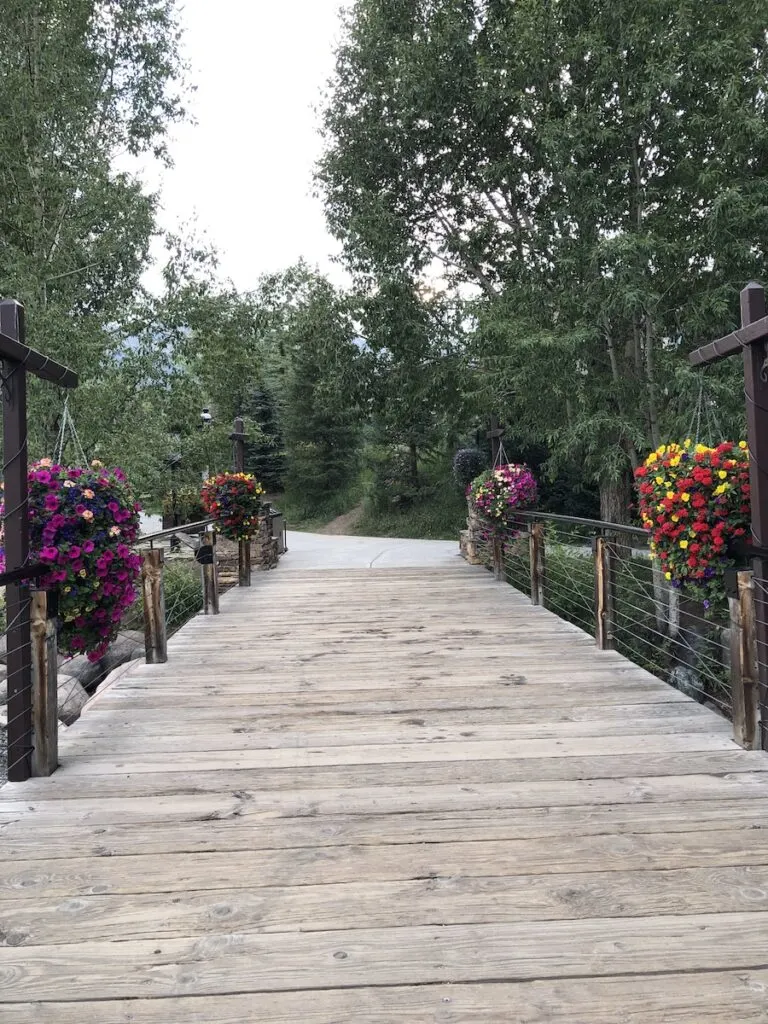 You can easily walk around and explore Breckenridge. The entire town is only about 7 miles long and almost all the streets have sidewalks. You could walk the entire length of town and get all your steps for the day.
Main Street is very walkable and pedestrian friendly. It's a painless and enjoyable stroll that's suitable for all ages and fitness levels. The only difficulty, staying focused on the task of getting where you're going without getting sidetracked by one of the cute shops and restaurants.
If you want to explore more than downtown there are several walking trails ranging from various levels of difficulty.
Pro-tip: You can walk all year long even during the winter because the sidewalks in Breckenridge are heated.
Bike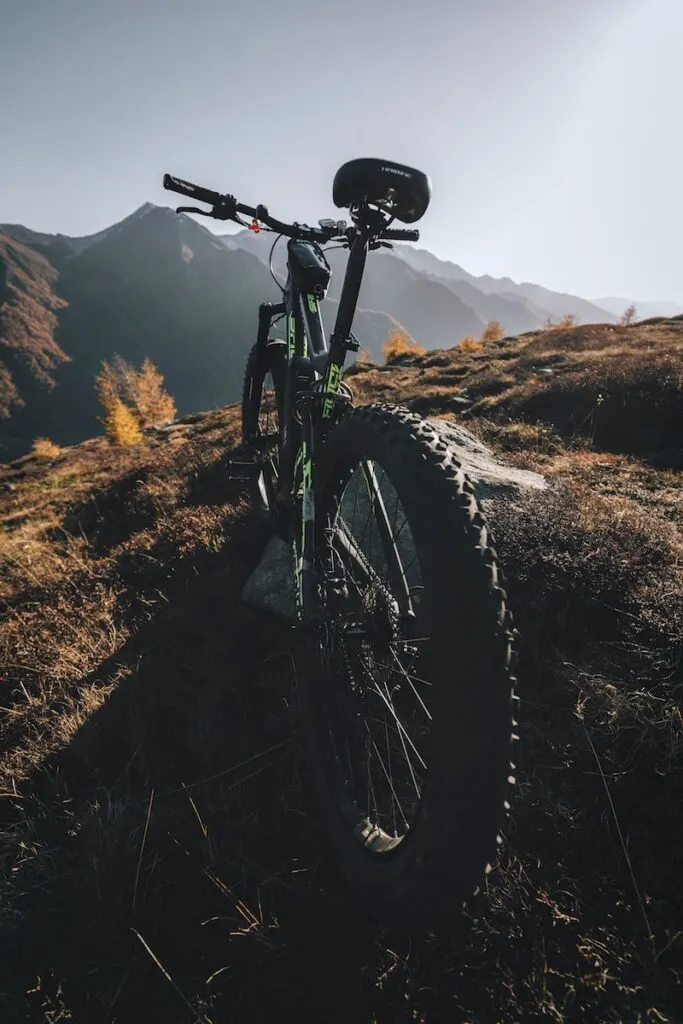 Whether you road bike or mountain bike, riding a bike in Breckenridge is another way to see the town. Breckenridge is one of only 487 certified Bicycle Friendly Communities. There are dedicated bike lanes throughout town. The city offer various biking trails from easy to difficult.
You can bring your own bike or rent a bike in town. Rentals are available year round.
Pro-tip: You can't ride an eBike on unpaved non-motorized trails.
Gondola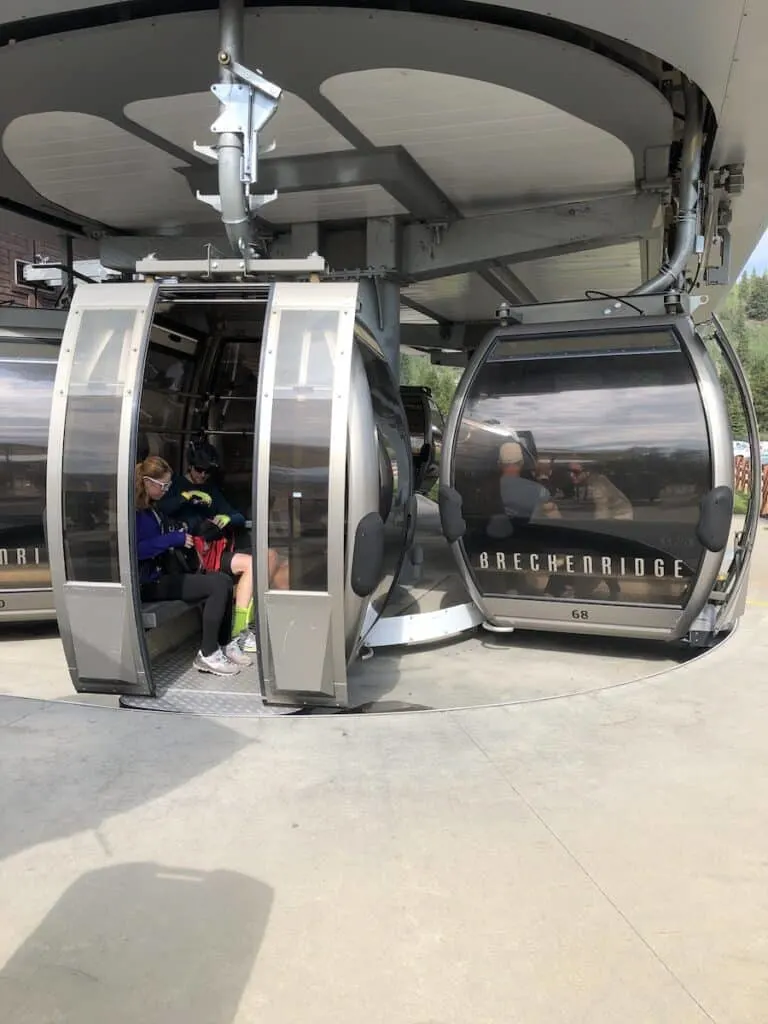 While the Gondola doesn't take you around Breckenridge, it lets you explore the Breckenridge Ski Resort, in particular Peak 7 and Peak 8. It takes 13 minutes to ride from the bottom to the top and 26 minutes roundtrip. The route passes over Cucumber Gulch Wildlife Preserve.
There are three gondola stops: Shock Hill (exclusively for residents and guests), Peak 7, and Peak 8. You can get off at Peak 7 or Peak 8 or ride up and back. If you miss the the last departure, you can take the Breck Free Ride Black Route to get to downtown Breckenridge.
The Gondola is located at 170 Watson Avenue, Breckenridge, CO 80424.
Pro-tip: The Gondola is open Mid June to Mid September and closed until the ski season begins and ends. Winter hours are 7:45 am to 5:30 pm. Summer hours are 9:30 am to 6 pm with the last upload at 4:45 pm.
Taxi
You can use a taxi to take you where you need to go in Breckenridge. Breckenridge isn't a large municipal city so taxi companies are few and far between.
Pro-tip: Jake's Mountain Shuttle offers taxi services.
Car
You can rent a car in Denver and drive to Breckenridge. Or you can rent a car at the Breckenridge Airport. Renting a car gives you the most flexibility and allows you to go where you want, when you want, on your own schedule.
If you aren't familiar with or comfortable driving in snow, on icy roads, or extreme weather, you may want to reconsider whether it's practical to get a car rental. Parking downtown as with most cities, is limited and can be expensive.
Lots are free in May and from October 7 to November 7. Overnight parking is limited 14 days at the Airport Parking Lot. Sleeping in your vehicle isn't allowed.
Free parking is available at the Ice Rink Lot and Airport Road Lot. You can use this parking map to find parking spots and rates.
Pro-tip: Rental cars will cost less renting from the Denver International Airport and in Denver than in Breckenridge.
Traveling Well For Less has partnered with CardRatings for our coverage of credit card products. Traveling Well For Less and CardRatings may receive a commission from card issuers.
---
You can earn 75,000 points from all three personal Southwest cards: Southwest Rapid Rewards(R) Priority Credit Card, card_name, and card_name when you spend $3,000 on purchases in the first 3 months.
---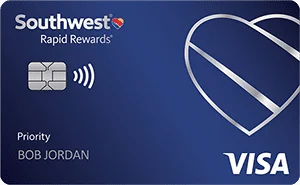 My favorite perks about this card are earning 4 upgraded boarding each year, 3X points on Southwest purchases, 2X points on internet, cable, phone, select streaming, ride share, hotel and car rental partners , $75 yearly Southwest credit, and no foreign transaction fees.
---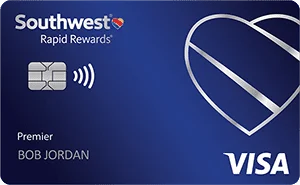 The is an easy way to fly free. You can earn 75,000 points after spending $3,000 in the first three months.
My favorite perks about this card are earning 2 EarlyBird Check-Ins each year, 3X points on Southwest purchases, 2X points on internet, cable, phone, select streaming, ride share, hotel and car rental partners, and no foreign transaction fees.
---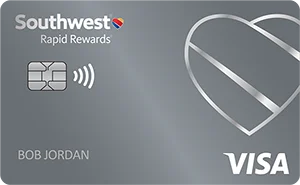 The
card_name
is the least expensive way to earn a Companion Pass from a credit card.
You can earn 75,000 points
after spending $3,000 in the first three months.
My favorite perks about this card are earning the 2 EarlyBird Check-ins every year, 2X points on Southwest purchases, internet, cable, phone, select streaming, ride share, hotel and car rental partners, and the lowest annual fee among all the Southwest credit cards .
---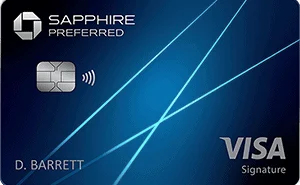 card_name
is the
best card to get started in the world of miles and points.
It is the first card you should get to start traveling for free because the
welcome offer is 60,000 points
after spending $4,000 in the first three months.
My favorite perks about this card are earning 5X points on travel when booked through the Chase portal (2X if direct purchase), 3X points on dining, $50 yearly credit on hotels booked through the Chase portal, no foreign transaction fees, and transferring points to 13 airline and hotel partners like Hyatt, United, and Southwest.
---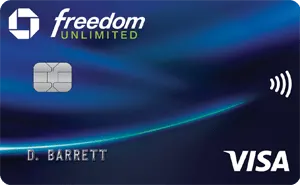 The
card_name
is one of my favorite cards for earning cash back card and travel rewards. It offers a
welcome offer of unlimited matched cash back
on all your purchases your first year.
My favorite perks about this card are earning
5% cash back on travel booked through the Chase Travel Portal
,
3% cash back at drugstores and restaurants (including delivery and takeout)
,
1.5% cash back on all other purchases
and
no annual fee
. When paired with cards like the
card_name
, you can use your points to travel for free.