Who doesn't want to get VIP treatment at hotels? If you could get a giant suite or free breakfast for the same price as a standard room, would you turn that down? Nope, didn't think so. I wouldn't either.
VIP perks aren't just for the rich and famous. Here's our ultimate guide on how to get VIP treatment at hotels for free.
Ultimate Guide on How to Get VIP Treatment at Hotels
These twenty tips can help you avoid a room facing a brick wall, paying for breakfast, or missing out on a welcome gift.
1. Join the Hotel Loyalty Program
Joining the hotel's loyalty program increases your chance of getting special treatment and a room upgrade.
A hotel is more likely to give a member of their loyalty program a room upgrade over a nonmember.
Pro-tip: Sign up for the hotel loyalty program before you reserve your room.
2. Mention a Special Occasion
When making your hotel reservation online mention your special occasion, in the special requests or comments section.
Whether it's a birthday, honeymoon, or 10th anniversary like Jonathan, let the hotel what you're celebrating. Remember to be honest. Hotels track and keep notes on members of their loyalty program.
Pro-tip: If you're staying on your anniversary, tell them the date.
3. Add a Note to Reservation
Booked your hotel online and there wasn't a section to add special requests or comments? Call and have them add a note to your reservation. Be sure to mention that you're celebrating a special event.
Pro-tip: Call during business hours. You're more likely to get an experienced agent who knows where and how to enter the information.
4. Email the General Manager of the Hotel
Reach out to the hotel by sending an email to the general manager of the hotel.
You can find the name of a hotel's general manager on the hotel's website. If it's not listed, Google "general manager of Park Hyatt St. Kitts" (or the name of the hotel).
In Jonathan's question a few days ago – the general manager of the Park Hyatt St. Kitt's is Flor Van Der Vaart. Jonathan should email Mr. Van Der Vaart in advance about his upcoming stay, anniversary, and inquire about an upgrade.
Pro-tip: If you have status at another hotel, include that in the email.
5. Have Status With Other Hotels
If you have status at other hotels, give them an opportunity to earn your loyalty.
Loyalty pays and hotels are in the business to earn money. When making your reservation, in your email to the hotel GM, or at check-in, casually say that you normally stay at other hotels when you travel. This is your first experience at their hotel and are looking forward to seeing how it compares to the hotels.
Pro-tip: Be cool and don't come across as a DYKWIA (Do You Know Who I Am).
6. Get a Hotel Credit Card
Some credit cards like the Hilton Honors American Express Aspire card offer free hotel elite status. Enrollment is required for select benefits.
You can avoid having to meet the hotel's stay requirement and jump straight to getting the perks. These cards usually have high annual fees which could be worth it if you use the benefits.
Pro-tip: Ask a friend with hotel status to book you a room. Globalist can reserve hotel rooms for friends and family (even blog readers) through Hyatt Guest of Honor.
7. Contact the Concierge
Contact the concierge at the hotel and ask about options to make your stay special or what activities you can book in advance.
Some hotels have a link to the concierge on their website. You can also call the hotel and ask for the email address.
Pro-tip: Email the concierge instead of calling. This way they can forward the email to the general manager and director of rooms.
8. Book an Activity or In Room Amenity
You can increase your chances of VIP treatment and/or a free upgrade if you book an activity or an in room amenity. That $12 box of chocolates could land you a suite.
Pre-booking a hotel service signals the hotel that you're going to spend money. You're going to be a good customer vs a freeloader only using the room to sleep. Some hotels have an e-concierge page on their website.
Pro-tip: Save money. Book a reservation at one of the hotel's restaurants.
9. Use Social Media
Use social media to your advantage to score free room upgrades and perks.
Most hotels list their social media accounts on their website. If not, Google their information.
Check the hotel's social media accounts to see which one they actively use. Don't waste time sending a tweet if their last tweet was last year. If a hotel doesn't have its own social media accounts, tweet at their corporate accounts.
Pro-tip: Include the brand's customer service or concierge team in your tweet.
10. Book a Short Stay
Your chances of VIP treatment and a free room upgrade are better if you book a short stay.
Upgrading someone into a suite for free doesn't cost the hotel much if you're only staying for one or two nights. But if you're staying for a week, it might be harder to get that free suite upgrade.
Pro-tip: Staying for a week or longer? Book short stays at different hotels.
11. Travel During the Off-Peak Season
Increase your chances of a free room upgrade when you travel during the off-peak season.
The hotel will have lots of rooms, empty restaurants, and available spa appointments. As a side benefit, you'll avoid the crowds and pay less when you travel during shoulder season or during the school year.
Pro-tip: Check the hotel website to see what rooms are available. Some conferences schedule their event during shoulder season at popular destinations.
12. Book the Right Day
Like traveling during the off-peak season, you're more likely to get VIP treatment when you book the right day.
Weekends (Friday, Saturday, sometimes Sunday) are cheaper in business cities like Washington, DC.
Pro-tip: Hotel rooms are cheap on holidays in non-traditional tourist destinations like Albuquerque.
13. Book With a Travel Agent
Increase your chances of VIP treatment at hotels if you book with a travel agent.
Yes, a travel agent. And no, they didn't go the way of the dinosaur. If you're looking for travel perks, a travel agent with connections is more valuable than gold.
Some travel agents belong to special programs like Virtuoso that offer amenities such as free upgrades, breakfast, and resort credit.
Pro-tip: Use a travel agent that cares about you and provides value and service. Someone who asks if you're celebrating any special occasion or event. Not an order taker like someone at McDonald's.
14. Use Your Credit Card Perks
Most of the major credit card companies offer a hotel program as one of the credit card perks.
Cardholders get benefits like free room upgrades, breakfast, and resort credit. Exact perks vary depending on the program and hotel.
American Express cardholders get access to the Fine Hotels and Resorts program (limited to Platinum and Centurion cards) and the Hotel Collection. Mastercard offers perks through Travel Benefits and the Leading Hotels of the World. Visa cardholders can book through Visa Signature Hotels. If you have a Chase Visa card you can use the Luxury Hotel and Resort Collection.
You get your elite benefits when booking through these programs.
Pro-tip: Double up on resort credits when you combine this with booking short stays (tip #10). Resort credits are per stay versus per night. So staying at two different hotels for a one week vacation gets you $200 in resort credit vs $100.
15. Stay at a New Hotel
You have a great chance of VIP treatment if you stay at a new hotel.
New hotels want to wow customers. Because almost everyone on social media (see tip #8), room upgrades are common. This generates a lot of buzz and gets more people booking.
Pro-tip: Make a reservation for opening day. If the hotel doesn't open on time, they'll offer you an upgrade when you rebook.
16. Book Through the Hotel
Book through the hotel for special treatment and room upgrades.
When you book through the hotel, the hotel makes more money. If you use an online travel agency (OTA) like Expedia, the hotel pays them a commission. By booking direct (online or phone), they can pass on that savings to you in the form of free room upgrades.
Pro-tip: Book a cancellable rate. You might pay a little more for your room but you won't lose money if you cancel or change your plans.
17. Dress Up
Dress up and look the part.
Unless you're a celebrity or public figure, don't expect VIP treatment if you come in dressed in sweats. First impressions count so be presentable.
Pro-tip: A blazer can transform a casual look into a business casual.
18. Arrive Late
Arrive late if you want to score a free upgraded room.
Late checkout at most hotels is from 2 pm to 4 pm. Suite guests usually check out late so if you want a suite upgrade arrive late. Hotels generally won't assign you to an uncleaned room because most people don't want to wait.
Pro-tip: Check the hotel's website before you arrive. If the hotel is sold out or there are no upgraded rooms available, don't arrive late. You don't want to be stuck with a bad room.
19. Ask for an Upgrade
It never hurts to ask for an upgrade.
You know that saying, "if you don't ask, you don't get." The worst thing that could happen is they say no.
Being polite and nice is key. Don't ask from a place of entitlement. Ask from a "Can you help me?" attitude.
Pro-tip: Be discreet and ask quietly if there are other people waiting to check in.
20. The $20 Trick
Use the $20 trick.
The $20 trick is where you sandwich a folded $20 bill between your id and credit card when checking in. Follow this up by asking if a better room or suite is available.
Pro-tip: Avoid doing this in countries like Japan where tipping is offensive.
Conclusion
You can get VIP treatment at hotels using these 20 easy tips.
From joining the hotel loyalty program, celebrating special events, sharing on social media, booking short stays, to traveling during the slow season, try one of these tricks to elevate your travel experience.
When mentioning a special occasion, be honest. Don't say it's your birthday or anniversary if it's not. If you have status at other hotels, mention it but don't flaunt it. Hotel staff aren't mind readers so ask for the upgrade. But do so nicely.
Have I missed any tips to get VIP treatment at hotels? If so, please list them and your favorite tips in the comments section.
Related Posts on Hotel Tricks
Pin this to your travel, vacation, travel tips, and travel hack boards: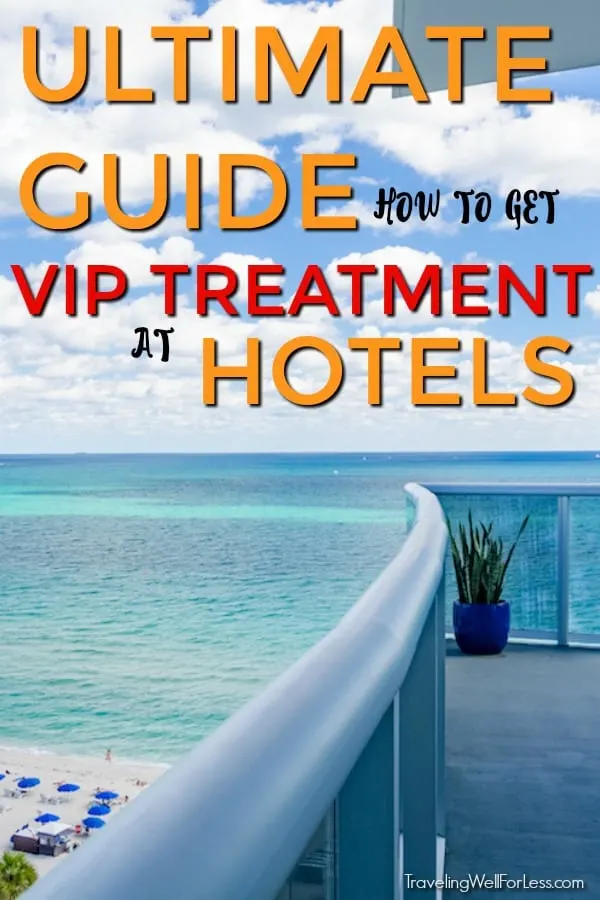 Comment, tweet, or share this post.
Get the best credit card signup bonuses.
Follow us on Twitter | Facebook | Pinterest | Instagram | YouTube
Got a question? Or want help, suggestions, travel tips, learn how to travel for free, find out about travel deals, and maximize your miles and points? Use the subscription box below to sign-up and get post updates by email.
Traveling Well For Less has partnered with CardRatings for our coverage of credit card products. Traveling Well For Less and CardRatings may receive a commission from card issuers.
---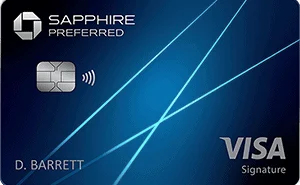 The Chase Sapphire Preferred
is the best card to get started in the world of miles and points.
It is the first card you should get to start traveling for free because the
welcome offer is 60,000 points
after spending $4,000 in the first three months.
My favorite perks about this card are earning 5X points on travel when booked through the Chase portal (2X if direct purchase), 3X points on dining, $50 yearly credit on hotels booked through the Chase portal, no foreign transaction fees, and transferring points to 13 airline and hotel partners like Hyatt, United, and Southwest.
---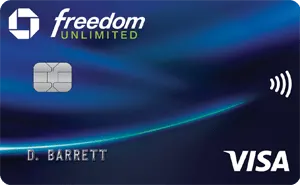 The
Chase Freedom Unlimited
is one of my favorite cards for earning cash back card and travel rewards.
It offers a
welcome offer of 3% cash back = an extra 1.5% cash back
on up to $20,000 in purchases your first year.
My favorite perks about this card are earning
6.5% cash back on travel booked through the Chase Travel Portal
,
4.5% cash back at drugstores and restaurants
,
unlimited 1.5% cash back on all purchases
and
no annual fee
. When paired with cards like the
Chase Sapphire Reserve® Card
, you can use your points to travel for free.