What girl (or guy) doesn't dream of sleeping in a palace? Especially one like the Westin Palace Madrid that's steps from the Prado, one of the best art museums in the world.
The Westin Palace Madrid wasn't my first palace sleepover. My first was at the Fairmont Chateau Laurier. But the Westin Palace Madrid was my first castle stay in Europe. 🙂
Because of a great Business Class flight deal, I got to check Madrid off my bucket list.
The Westin Palace Madrid Review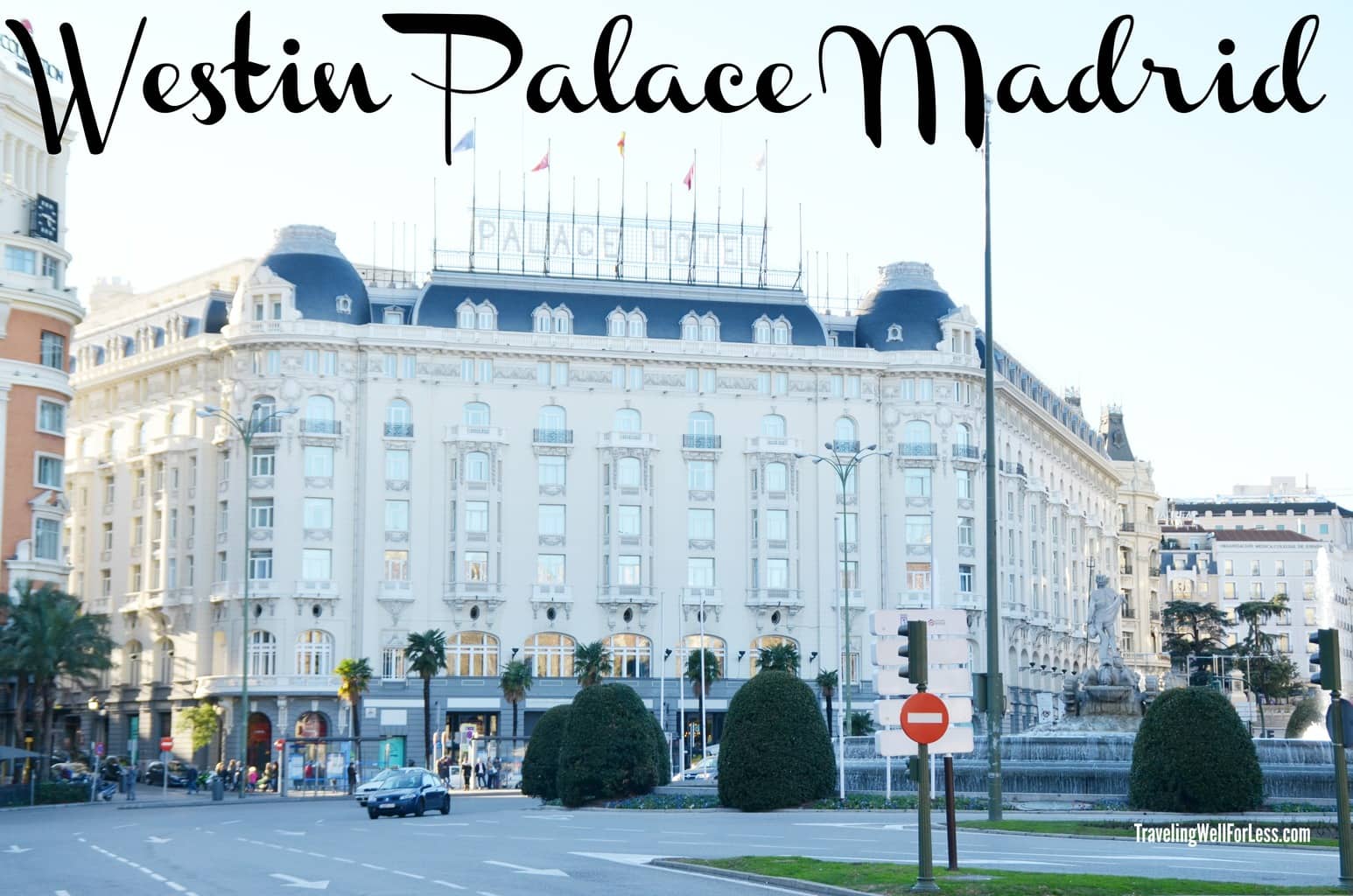 The Westin Madrid has a long history When it was built, the Westin Palace Madrid was the largest hotel in Europe. That honor now goes to the Izamilovo Hotel.
We chose the Westin Palace Madrid because:
It's in a great location – 8 minutes from Plaza Mayor, 6 minutes from the Prado
You earn stay credit on award stays at Starwood hotels
My friend, Sagy, is close to getting Lifetime Platinum status with Starwood. You can get credit for up to 3 rooms with Starwood hotels
The Westin Palace Madrid is the only Starwood hotel in Madrid
There is no Hyatt in Madrid
You might think I only stay at chain hotels but I stay wherever I can get a good deal. And we got a great deal at the Westin Palace Madrid.
I paid $0 for 4 nights at the Westin Palace Madrid. Yep, thanks to Starwood points, my stay was completely free.
The points came from the Starwood Preferred Guest credit cards (personal and business). Recently, they offered their highest sign-up bonus on these cards. That offer has expired and may or may not come back.
But you can get the regular signup bonus of 25,000 points after spending $3,000 in purchases in the first three months of opening the card.
You'll pay between 12,000 to 16,000 points per night to stay at the Westin Palace Madrid cost. During our stay, it was 12,000 points per night.
I chose the all points option while Steve and Sagy used cash & points. With Starwood hotels, award stays count towards elite status. We booked all three rooms in Sagy's name. So he could earn the stay credits towards Starwood Lifetime Platinum status.
Curious about what we saw and did? Read the introductory post of this series, Chocolate, Soccer, and the Prado.
Location – Golden Triangle of Art
Located in the "golden triangle of art", the Westin Palace Madrid is perfectly situated for a short or long visit. The Golden Triangle of Art is the area between the Prado Museum, the Reina Sofia Museum, and the Thyssen-Bornesmisza Museum.
The exterior and interior details of the Westin Palace Madrid are belle epoque. WTH does that mean? Exactly!
Belle epoque style is a hodgepodge, mishmash of styles that combine elements of the Moores, neo-Renaisssance, and art nouveau. In other words, it's super fancy and has a lot of details. Gorgeous to look at. But nightmare if you're the one cleaning and dusting.
It's so fancy, that the three of us felt a little awkward strolling in casual clothes. We felt we should have dressed up. It was quite obvious we were from the US.
Despite feeling underdressed, we never felt out of place.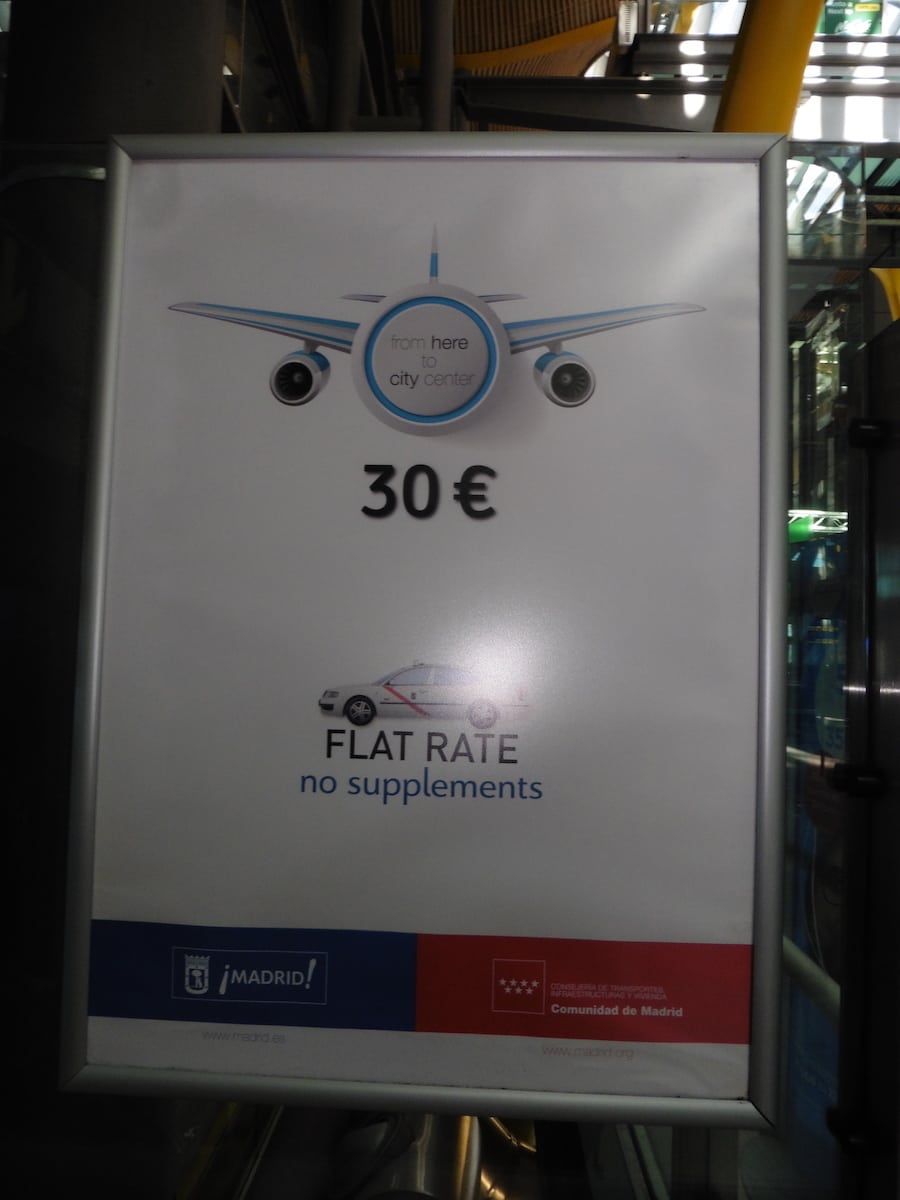 The Westin Palace Madrid doesn't offer an airport shuttle. A taxi from the airport to the hotel costs a flat rate of 30 euros.
If you're driving, the hotel has underground secured parking for 38.77 euros per day valet or self-parking. In and out privileges are included.
Accommodations
Check-in
Upon arrival, the bellman attempted to assist us with our bags. But we only travel with carry-on bags we declined his help.
Check-in seemed to take longer than normal even in the dedicated SPG line. I don't remember exactly why. It could have been a combination of having to take our passports and making sure our rooms were near each other.
Deluxe Room
Both Steve and I got deluxe rooms on the third floor, rooms 367 and 364. But Sagy, Mr. Going to be Lifetime Platinum, got upgraded to a Junior Suite room 360.
If you aren't planning on spending a lot of time in your room, a deluxe room is fine. But if you want or need extra space, consider a junior suite or an executive suite.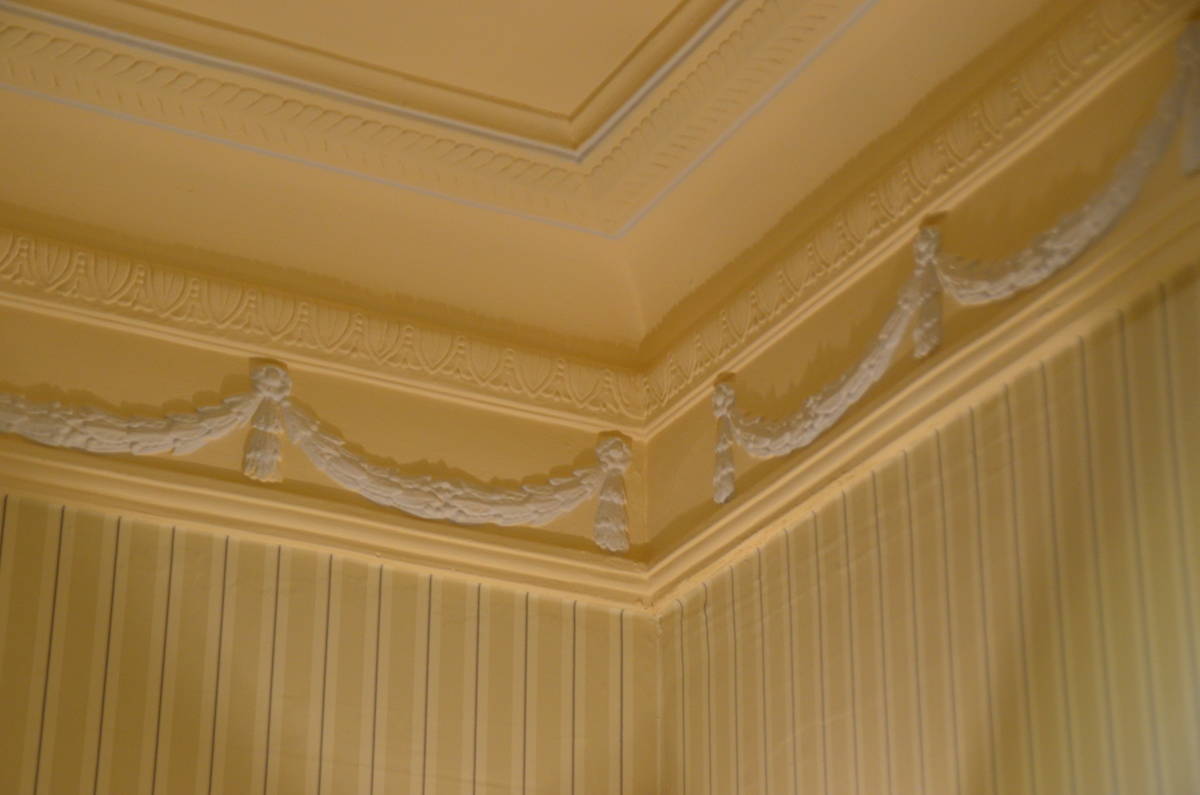 I loved the ceiling moldings and all the detail work. Everything was so ornate and regal looking. The only thing that spoiled the image was the toiletries. The plastic disposable carry-on sized bottles conflict with the elegant feel of the hotel.
One thing Westin does right is their heavenly bed. I love a cushy, soft, sink in and relax bed. And the beds at the Westin Palace Madrid are exactly that. They are so comfy, you won't want to get out of bed.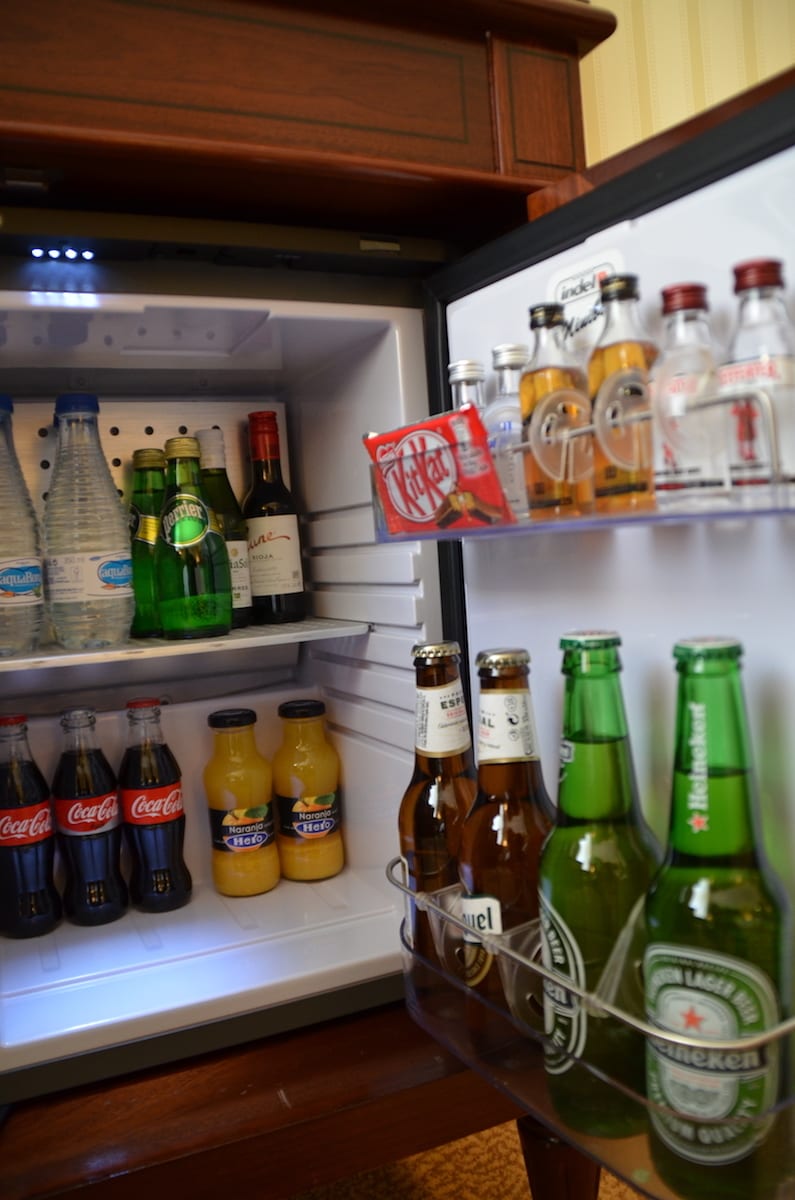 You get two free bottles of water daily. The minibar is well stocked (and expensive).
There's a spacious desk to work on. With the TV positioned in the corner, it's difficult to watch while working.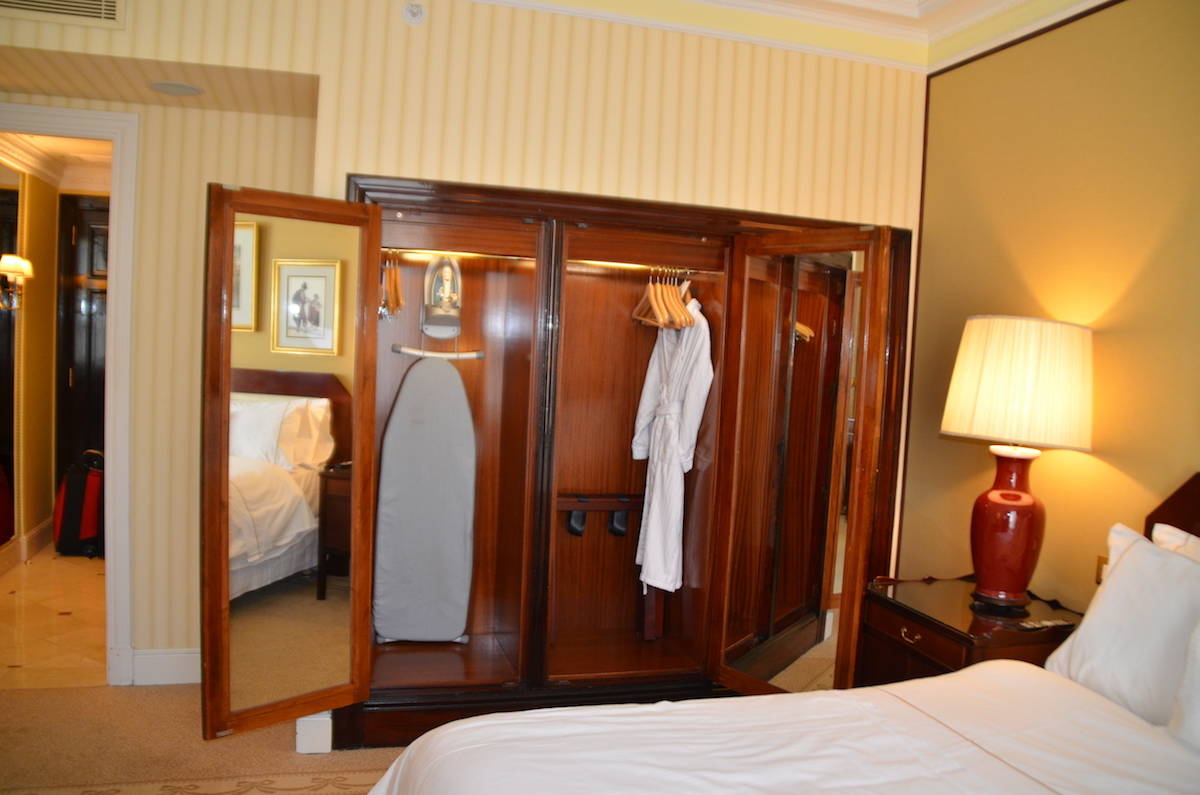 There's plenty of room to store your clothes in the cherry wood closet. You can store your passport and other valuables in the laptop sized safe.
Marble double sink bathroom counters enhance the luxury feel.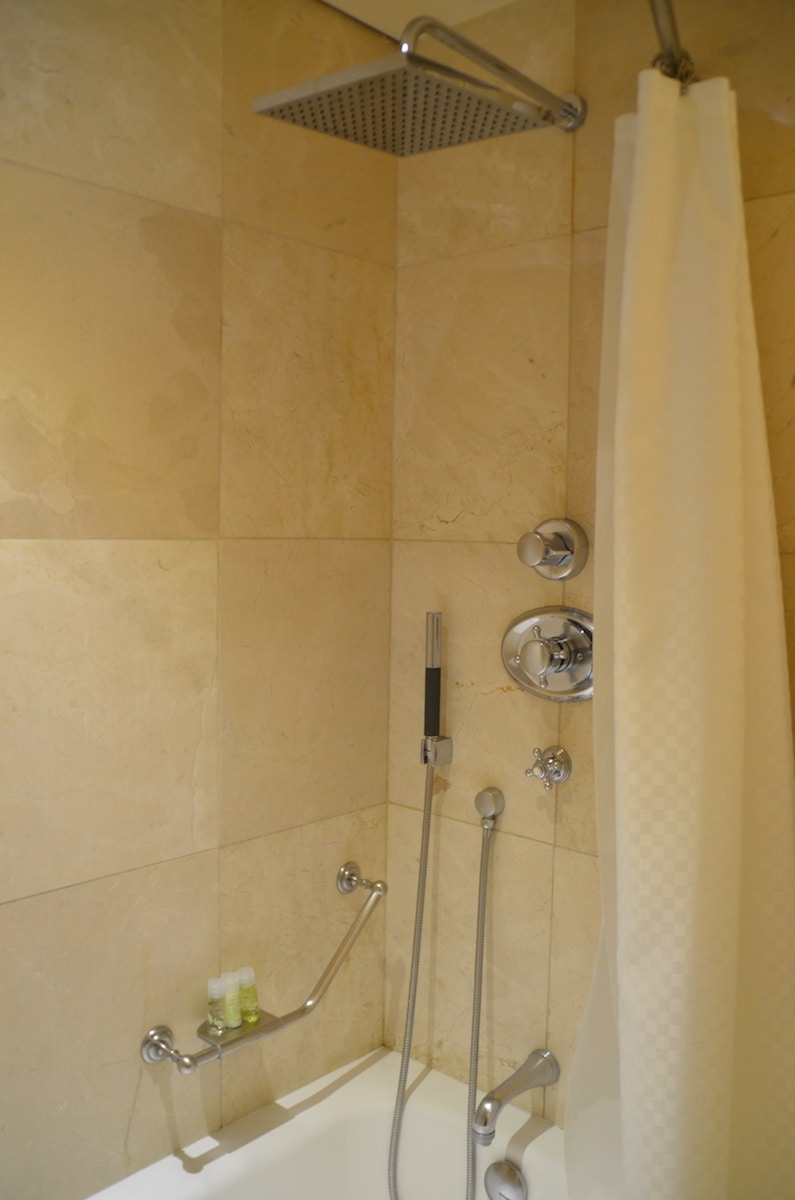 The shower/tub combination is a bit narrow. But the huge rainwater shower head and luxurious robes made up for the tiny tub. There's also a handheld showerhead.
Water pressure and temperature. I don't recall any issues aside from the curtain trying to hug me every time I took a shower. Don't you just hate that?
Junior Suite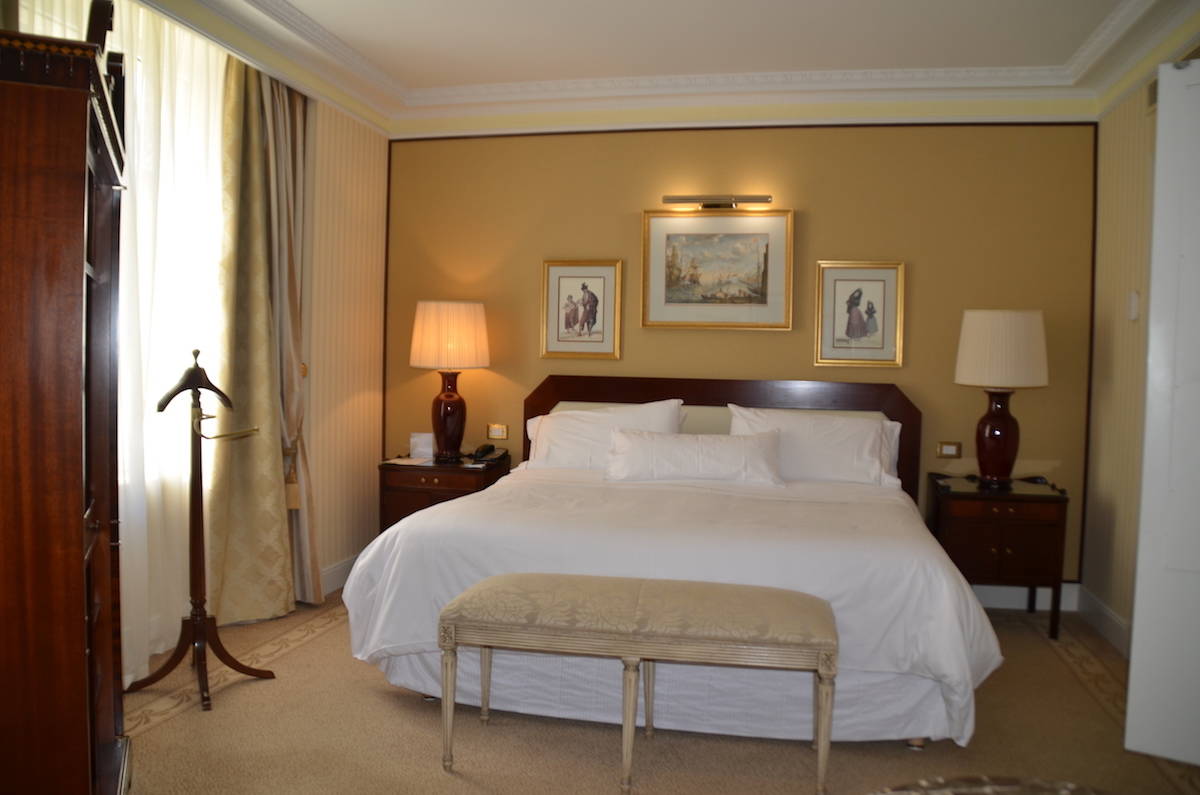 Sagy's Junior Suite included a large living room and separate bedroom. The living room, while spacious, had limited seating.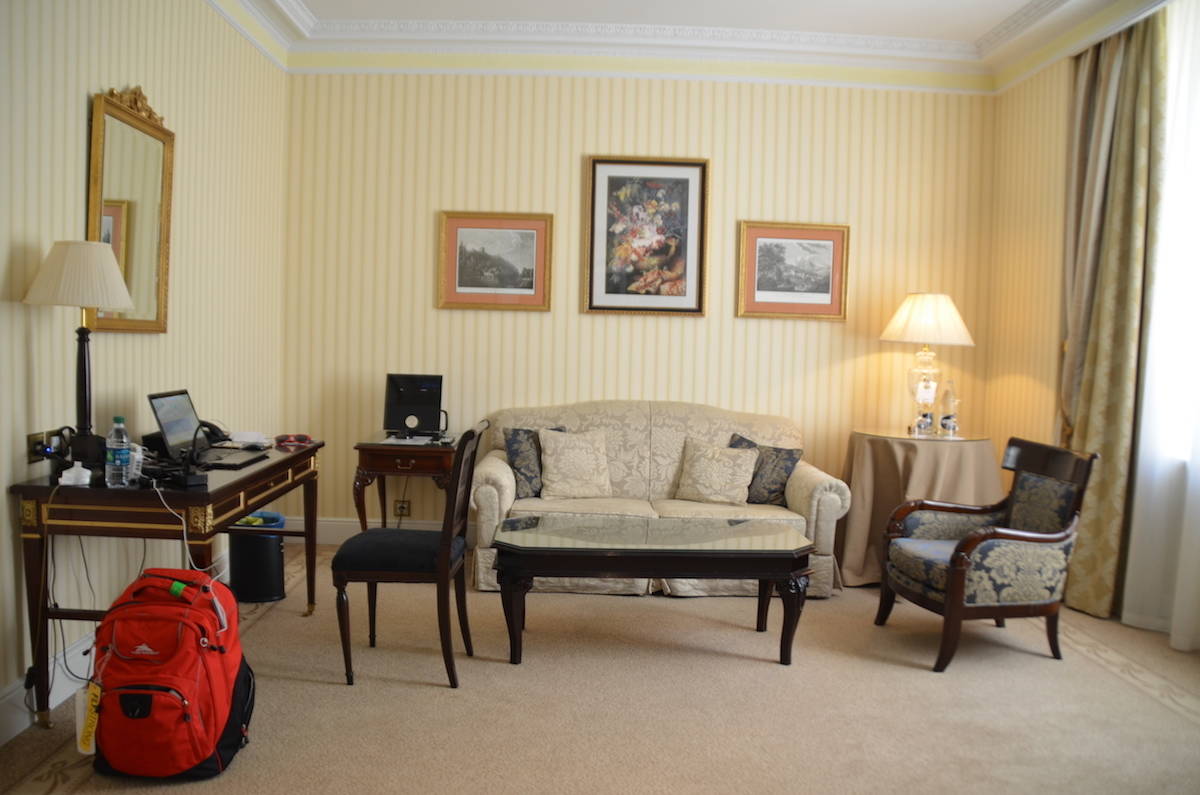 With only a small sofa, chair, and a desk, it was perfect for the three of us to hang out for a few hours drinking wine. But not large enough to entertain more than that. But for a family that needs a little more room and a space for a crib or area for kids to play, it would be adequate.
The TVs in all the rooms are the same size – 32 inches. There are two TVs in the Junior Suite – one in the living room and one in the bedroom.
The junior suite had a glass enclosed shower with the same sized rainwater shower head as a deluxe room. Junior suites also come with a bidet. So if you need/want a bidet, you have to book a junior suite or more expensive room.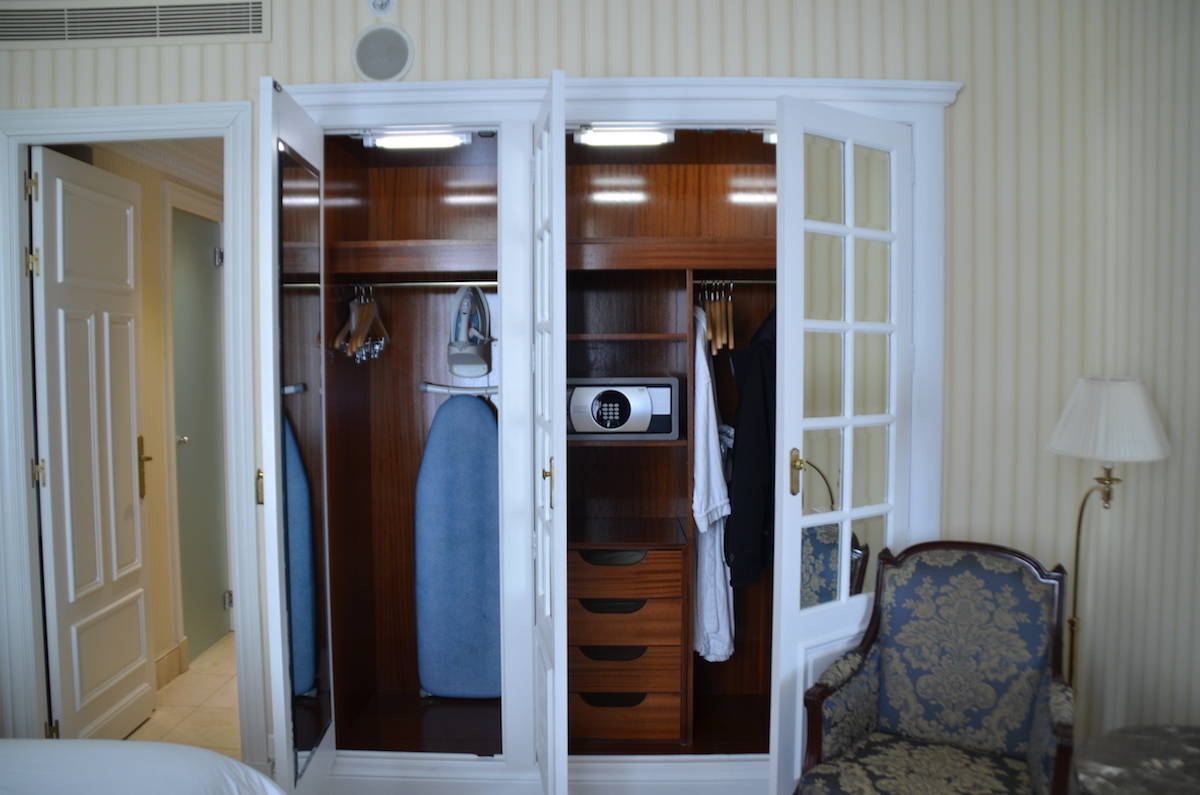 The closet in the junior suite was the same size as the closet in the deluxe room. But where the deluxe room closets are free standing, the junior suite closet is built-in. The closet doors are fancier and framed with mirrors.
Bottled water in the junior suites comes in large glass bottles vs small plastic bottles. There's also a special sound system in the junior suites.
Amenities
Business Center
There's a business center off the lobby on the ground floor. I popped in there on our last day before leaving for the airport. Since I was in a rush, my photos are out of focus and blurry so I'm not posting them.
The business center consists of a few computers, printer, fax, and round table with two chairs. The room is much larger than it needs to be for the limited amount of equipment.
Hotel guests can use the computer for free. Otherwise, there's a charge of 10.66 euros for 20 minutes. You can buy a 24-hour Wi-Fi code for 19 euros.
Photocopies are free (up to 5 pages) after that it's .40 euros each. Color copies are 1 euro each.
Westin Workout Fitness Studio Fitness Center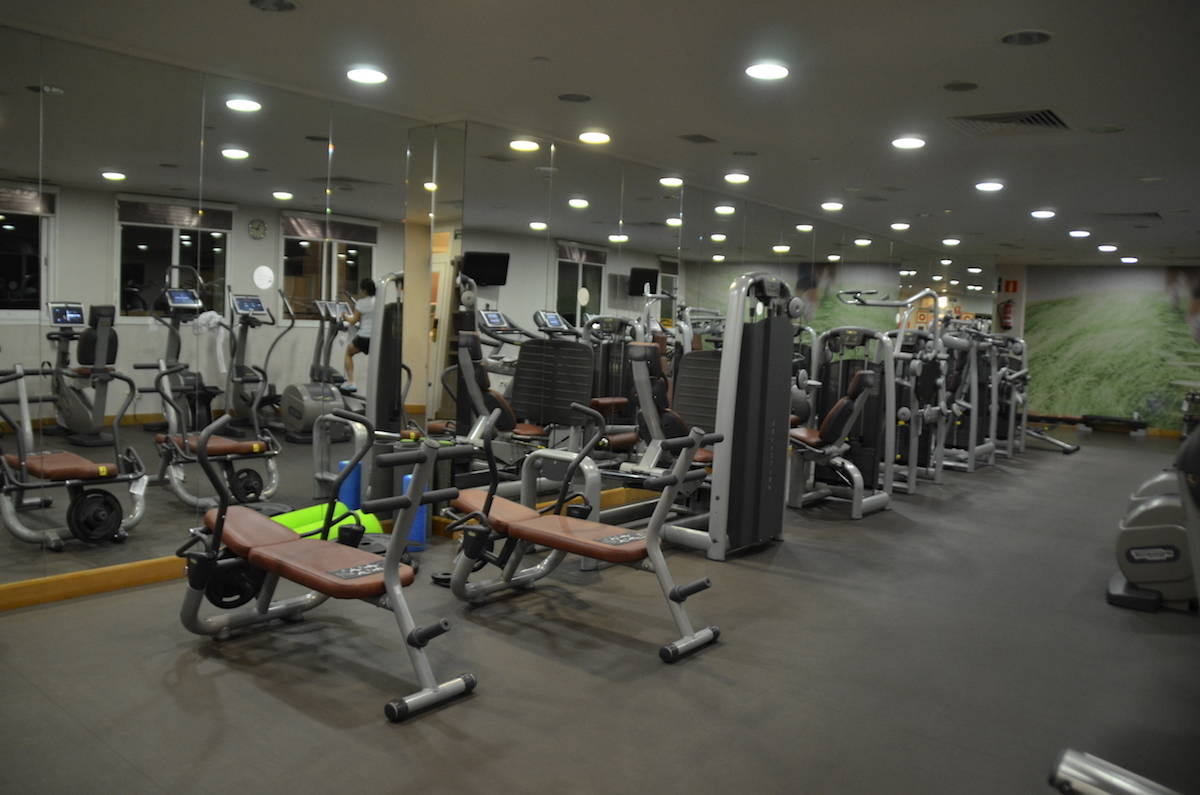 The WestinWorkout Fitness Studio fitness center is open 24 hours. You have to take a special elevator and go up (or it may have been down) some stairs.
It was almost empty when I visited, except for one lady. But then it was after 11 pm or after midnight. Nope, I wasn't going to workout, just came in for photos. 🙂
There are 5 treadmills, 3 stair steppers, a seated bike, free weights and nautilus equipment.
Locker rooms are spacious and include plenty of toiletries and towels. There's even a dry sauna. If you're feeling sore after your workout, massages are available.
El Jardín Secreto Del Chef – The Secret Kitchen Garden
Even if you never workout, you'll want to stop by the Westin Workout Fitness Studio. So you can check out the El Jardín Secreto Del Chef – The Secret Kitchen Garden.
El Jardín Secreto Del Chef is a narrow outdoor patio with seating for 12 people. Fresh herbs grow from hanging pots on the railing. And citrus trees flank both ends of the patio.
Because of the ashtrays on the tables, it seemed more of a smoker's hangout vs a dining area.
Food
La Rotonda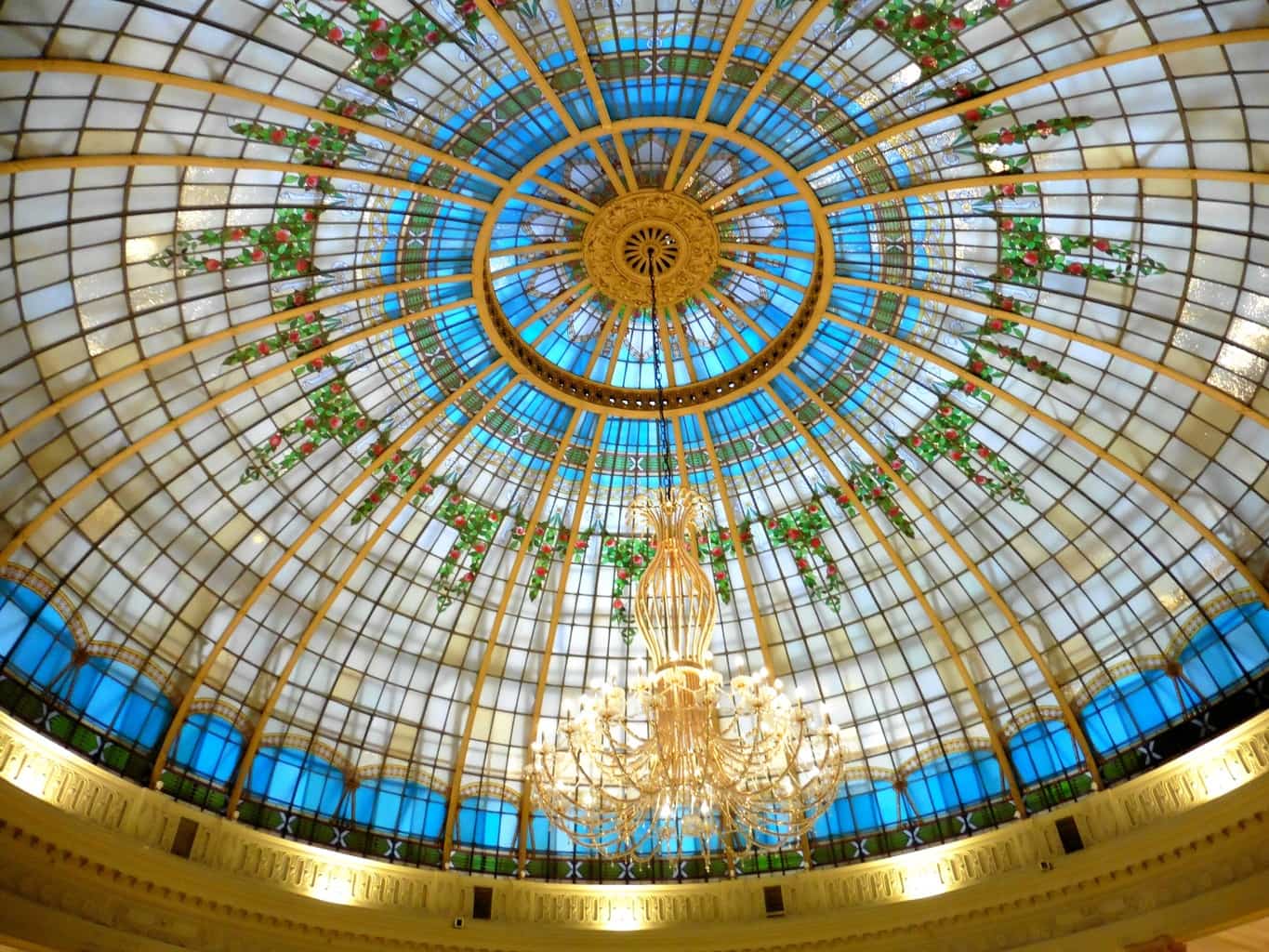 Each morning we enjoyed a delicious buffet breakfast in La Rotonda. You should stop by La Rotonda to see the gorgeous stained glass domed roof.
I couldn't get the entire dome in my photo without laying on the floor. And I didn't think the staff at the Westin Palace Madrid nor the other guests would be too happy if I plopped down on my back to snap a photo.
The decor of La Rotonda is an elegant old world style. Chairs look nice but you don't want to sit in them for hours.
With everything included in the buffet breakfast, you'll want to take your time. They even have chocolate and churros!
1912 Museo Bar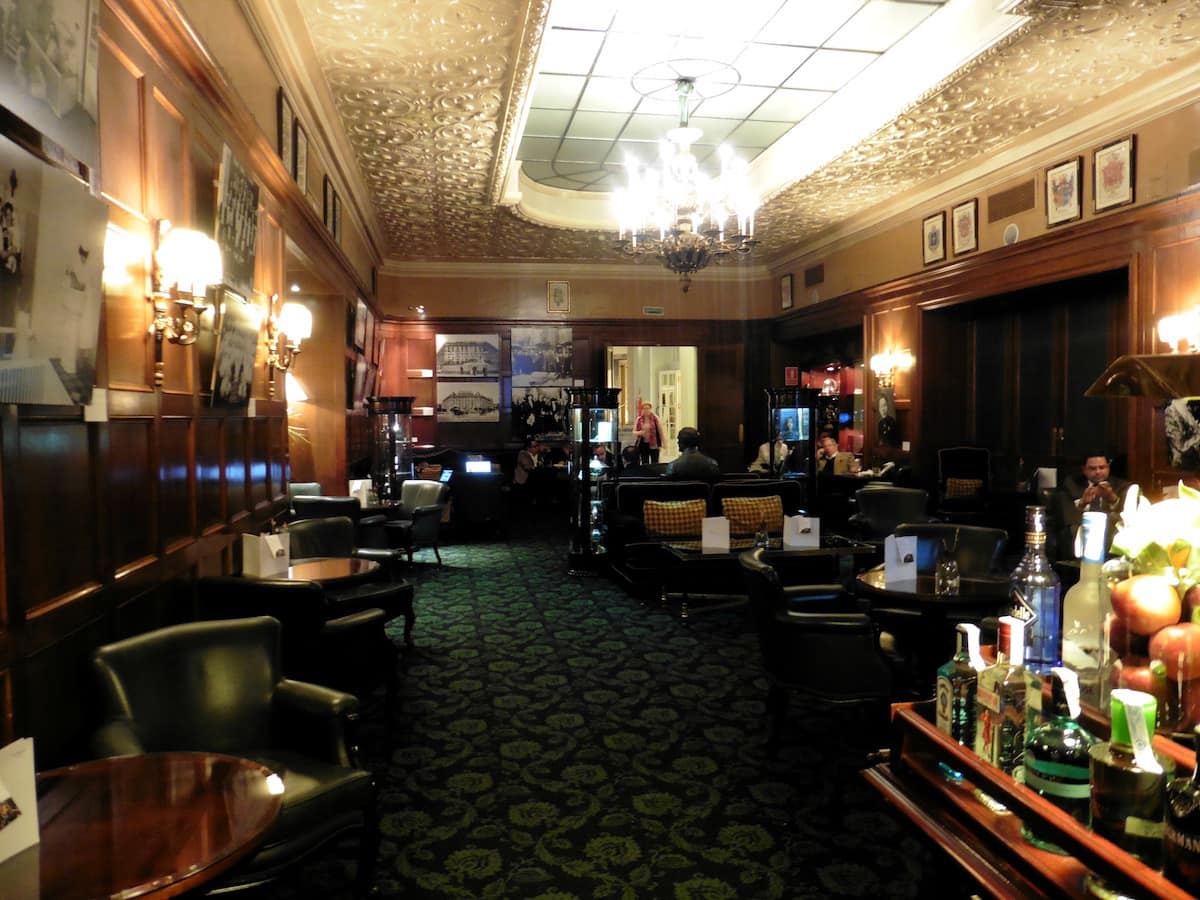 Decorated with an English library feel, the 1912 Museo Bar was a favorite of Ernest Hemingway and Salvador Dali.
As Starwood members, we each received a coupon for two free drinks in the bar. We couldn't let those coupons go to waste. Regardless of the hour, each night we stopped by for our night caps.
Westin Palace Madrid
Plaza de las Cortes, 7
Madrid, Spain
Check rates and reviews: Booking.com | Expedia | Hotels.com | TripAdvisor
Related posts on hotels
Conclusion
Centrally located and within walking distance of the Prado, the Westin Palace Madrid offers luxury accommodations for less.
We chose to stay here because of the location and the price was right. While I used points so my room was free, my friends paid cash & points. Even if we had paid cash the rooms were only $200 a night. Which is a steal for a luxury hotel in the Golden Triangle of Art.
You'll love the heavenly beds and the buffet breakfast is worth the splurge.
I'd stay at the Westin Palace Madrid again.
Pin this to your travel, vacation, or Spain board: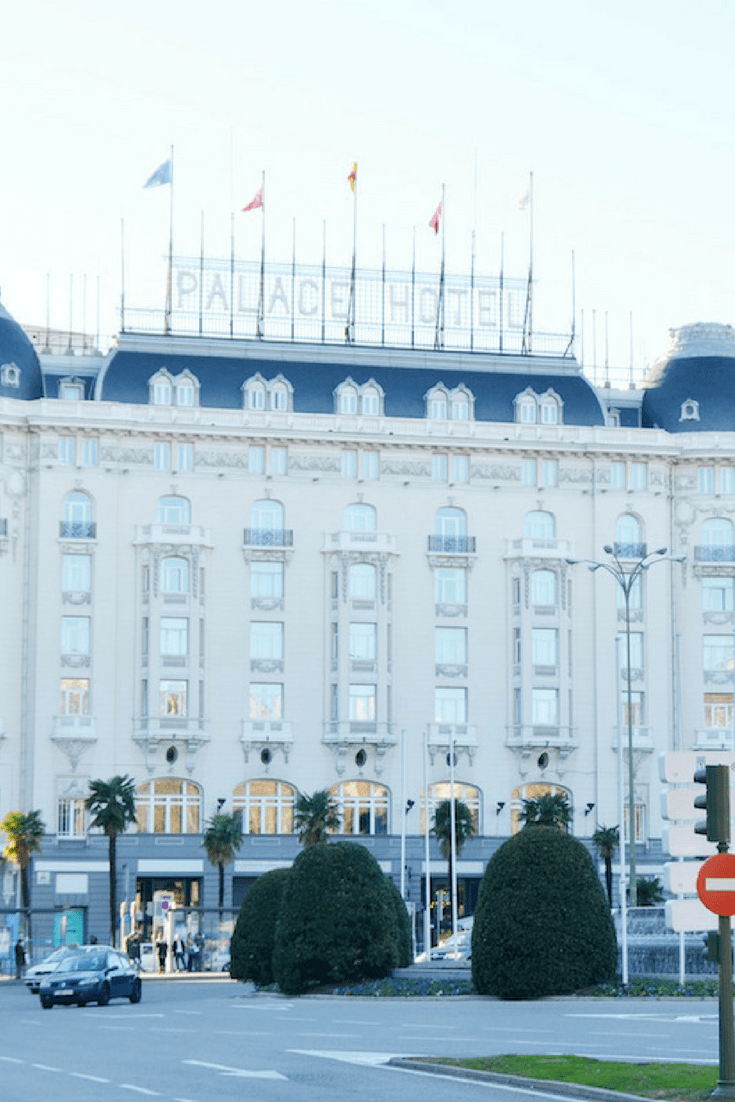 Comment, tweet, or share this post.
Get the best credit card signup bonuses.
Follow us on Twitter | Facebook | Pinterest | Instagram | YouTube
Got a question? Or want help, suggestions, travel tips, learn how to travel for free, find out about travel deals, and maximize your miles and points? Use the subscription box below to sign-up and get post updates by email.
Traveling Well For Less has partnered with CardRatings for our coverage of credit card products. Traveling Well For Less and CardRatings may receive a commission from card issuers.
---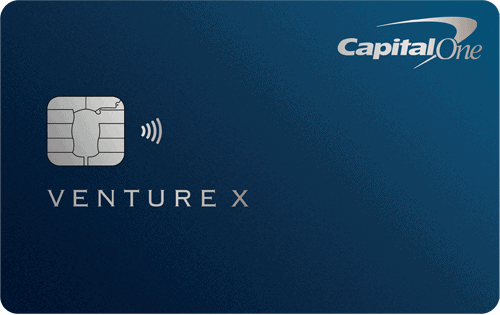 The Capital One Venture X
has one of the largest welcome offers among travel rewards cards.
The
welcome offer is 100,000 points
after spending $10,000 in the first six months.
My favorite perks about this card are $300 yearly travel credit , $200 credit on vacation rentals , 10X miles per dollar on hotels & rental cars and 5X miles when you book through Capital One , and 10,000 miles every year you renew your card .
---
---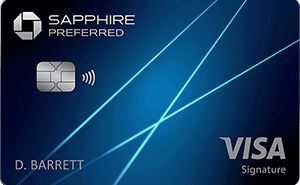 The Chase Sapphire Preferred
is the best card for beginning travel hackers.
It is the first card you should get to start traveling for free because the
welcome offer is 60,000 points
after spending $4,000 in the first three months.
My favorite perks about this card are earning 5X points on travel when booked through the Chase portal (2X if direct purchase), 3X points on dining , $50 yearly credit on hotels booked through the Chase portal, no foreign transaction fees, and transferring points to 13 airline and hotel partners like Hyatt, United, and Southwest.
---
---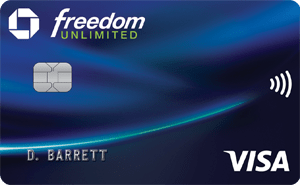 The
Chase Freedom Unlimited
is one of my favorite cards for earning cash back card and travel rewards.
 It offers a
welcome offer of 3% cash back = an extra 1.5% cash back
on up to $20,000 in purchases your first year.
My favorite perks about this card are earning
6.5% cash back on travel booked through the Chase Travel Portal
,
4.5% cash back at drugstores and restaurants
,
unlimited 1.5% cash back on all purchases
and
no annual fee
. When paired with cards like the
Chase Sapphire Reserve
, you can use your points to travel for free.
Wednesday 12th of April 2017
Even if you're not paying with points, $200 per night is a great deal for that level of luxury in the location! Madrid is one of my favorite cities - we've recently started collecting Starwood points, so will definitely book a stay when we return :)
Wednesday 12th of April 2017
This looks like such a luxurious and awesome place to stay! Lots of things to do in the hotel, too. The rooms look so comfy and the design is really nice!
Tuesday 11th of April 2017
Well this place looks fantastic! Te room is gorgeous, love that sitting area, and the crown moulding! I also love the bar and gym for drinks and a place to work it off after! I have seen he hotel from the outside only it is just amazing! Super find!
Monday 10th of April 2017
Looks like a grand hotel in a perfect spot to explore vibrant Madrid. Being close to the Prado Museum is such a bonus as that is one of my favourite museums in the world. The 1912 Museo bar looks cosy.
Monday 10th of April 2017
This was a great use of your points - it looks and sounds like a wonderful place to stay. I'm quite surprised about the shower curtain situation though, I would have thought that a place like the Westin would have switched to glass (or similar) shower screens - it's a pet hate of mine to be attacked by a shower curtain, I always feel like I'm in a horror movie!