Read this Virgin Hotels Las Vegas review before you book your stay at Virgin Hotel Las Vegas. I flew Frontier Airlines to Las Vegas to attend the grand opening.
This post is a review of the hotel and a Virgin Hotels Las Vegas Canyon Deluxe Grand Chamber King Suite. You can watch my first impressions about the hotel and casino resort walkthrough videos.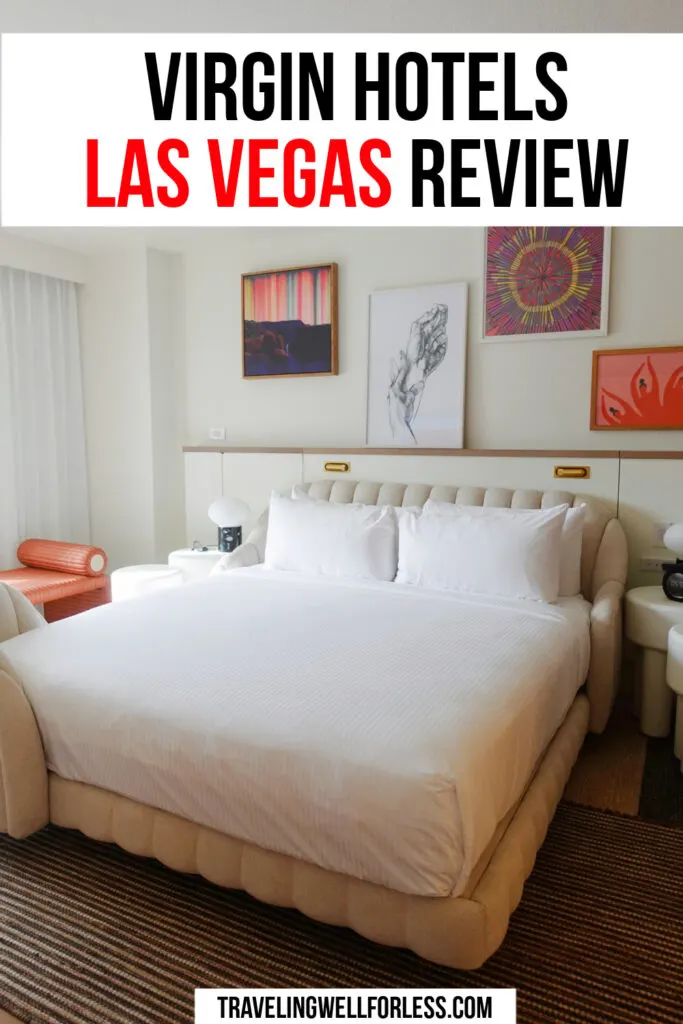 The boutique retro desert oasis-themed Virgin Hotels Las Vegas has 1,504 rooms spread out over three towers.
The desert landscape murals in the elevator lobbies remind me of scenes from postcards you can get at gas stations along Route 66.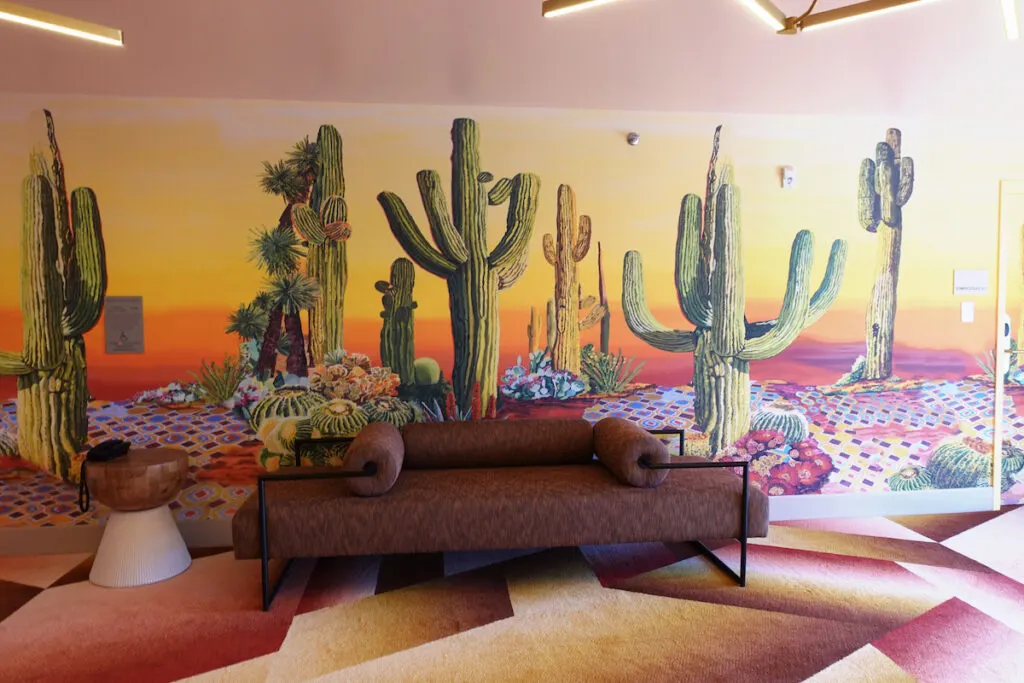 Guests enjoy no resort fees, free Wi-Fi throughout the resort, free parking, and can gamble at Las Vegas' first tribal casino.
Note: Virgin started charging resort fees in January 2022.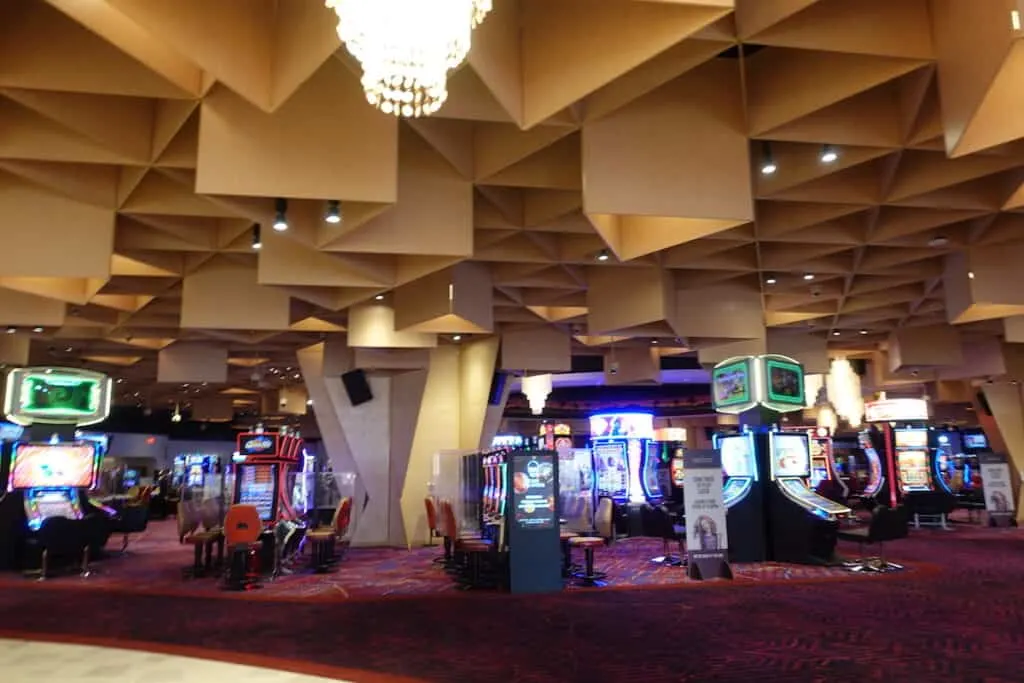 Virgin Hotel Las Vegas was sold out on opening day. But as a Hilton Diamond member, I was able to book a room using the Hilton Diamond Guarantee.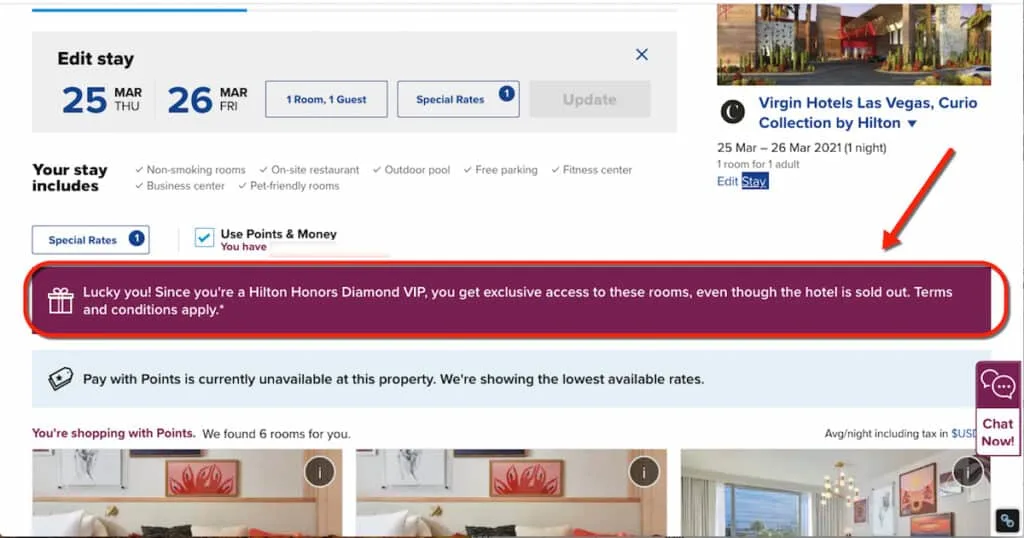 Pro-tip: You get free Hilton Diamond status from the Hilton Aspire card. You can also get Hilton Diamond elite status from spending on the Hilton Surpass card. Enrollment is required for select benefits.
I booked a Canyon Chamber King, the cheapest room, for $190 a night not including taxes.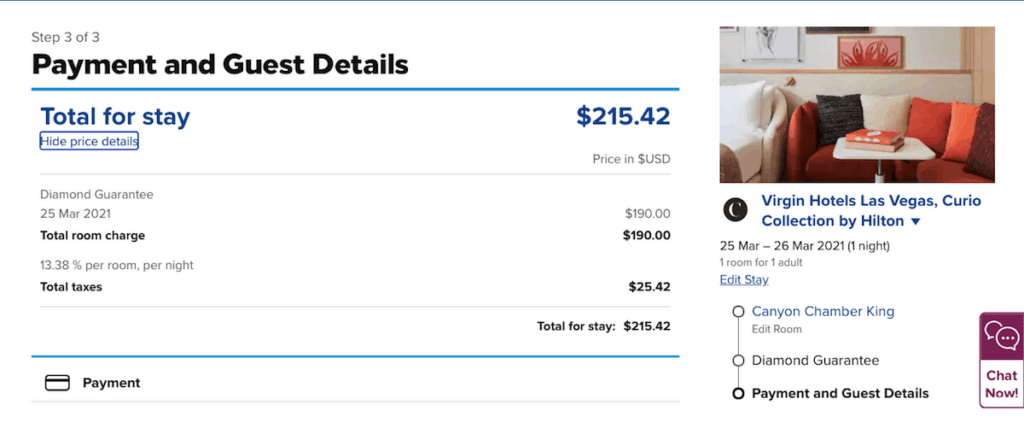 The same room costs $113 a night midweek off-season. That may sound like a lot but there are no resort fees at Virgin Las Vegas.
I received a free upgrade to a Canyon Deluxe Grand Chamber King Suite. without using the $20 trick. These rooms start at $436 a night midweek.
Because the $134 current rate was much less than what I paid, I had called Hilton before checking in to see if they could reduce the rate. There was a $175 a night double points rate I would have been happy with because I knew I was going to be spending money at the hotel. But they said I had to ask at the hotel.
Virgin Hotels Las Vegas passed the buck back to Hilton and said I had to check with them because I booked through Hilton. 😢
How to Stay for Free at Virgin Hotels Las Vegas
You can stay for free at Virgin Hotels Las Vegas by travel hacking Las Vegas.
As a Hilton's Curio Collection hotel, you can use Hilton Honors points for free stays starting at 29,000 points per night.
You can earn Hilton points from these Hilton Honors credit cards:
What You Should Know About the Rooms
All rooms are non-smoking this includes e-cigarettes and vapes. Some rooms will have dog beds.
With the Lucy mobile app you can use it as your room key, control in-room electronics, order room service, and check out of the hotel.
Sharing a room with friends and want your own bed? Plan to get cozy and spoon because there are no rollaway beds at Virgin Hotels Las Vegas.
There was a lot of controversy about their outside food and beverage policy. But Virgin has changed its stance. You can bring your own food and beverage within reason.
In-room refrigerators are available if medically required.
Pro-tip: Plan on buying your coffee because only the suites have coffee makers. But mine was missing. 😢
Large door numbers make rooms easy to find.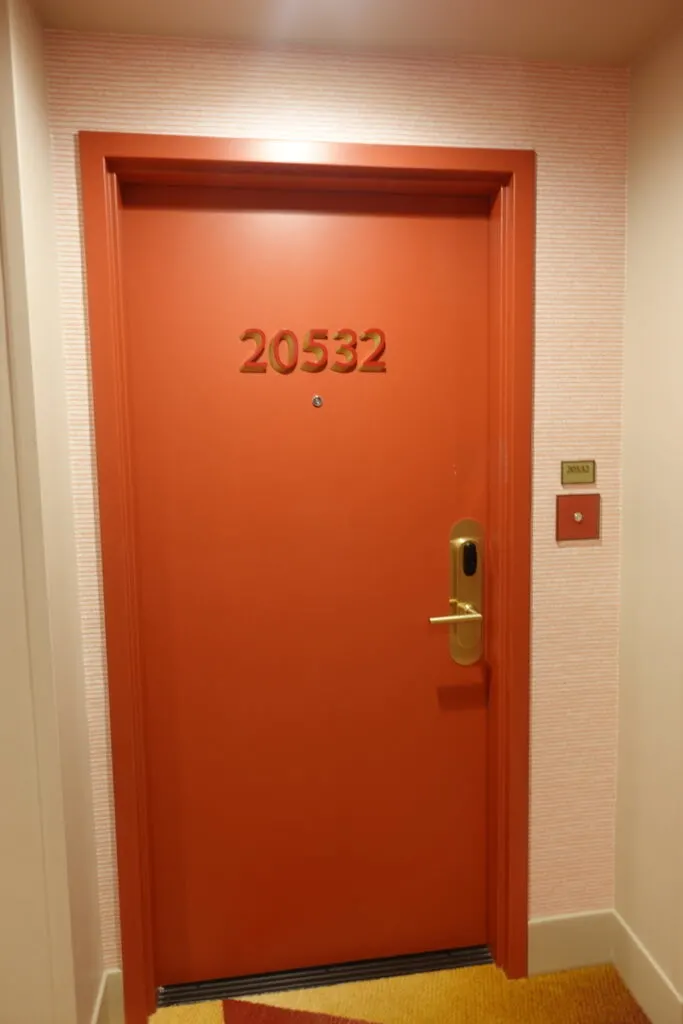 Because the small wall placard with the door number doesn't include Braille, the large numbers help the sight-impaired.
ADA guidelines stipulate that hotel room numbers need to have raised characters and Braille, high contrast between the characters and background, or tactile letters.
All unoccupied, clean rooms have a seal on the door.
Canyon Deluxe Grand Chamber King Suite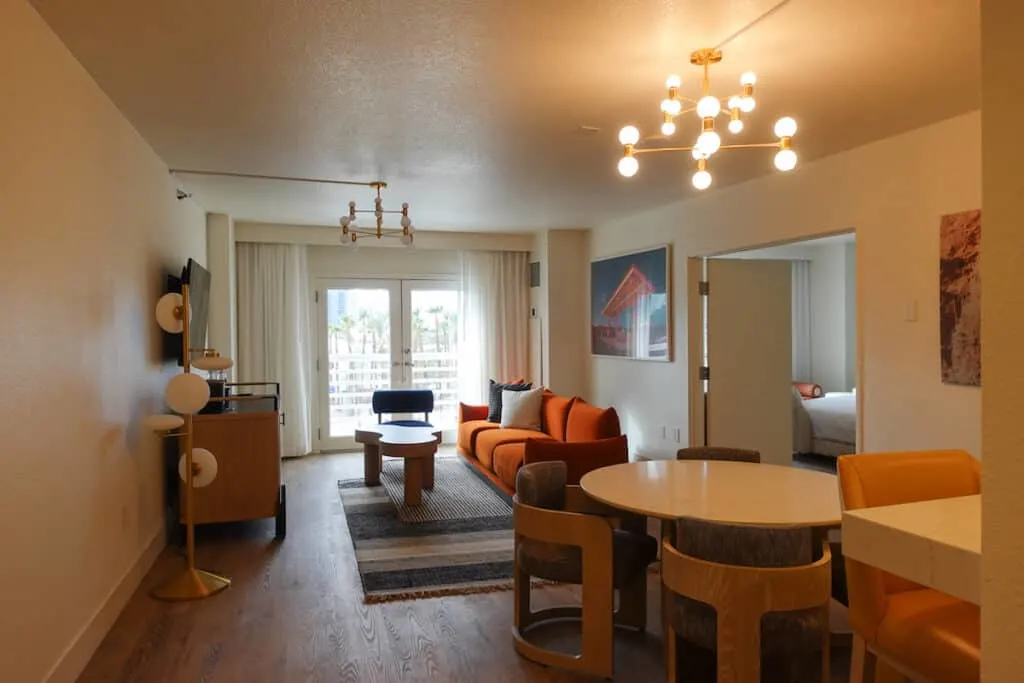 The 900 square foot Virgin Hotels Las Vegas Canyon Deluxe Grand Chamber King Suite offers room to entertain.
My room was on the 5th floor of the 11 floor Canyon Tower. It had a great view of the pool complex.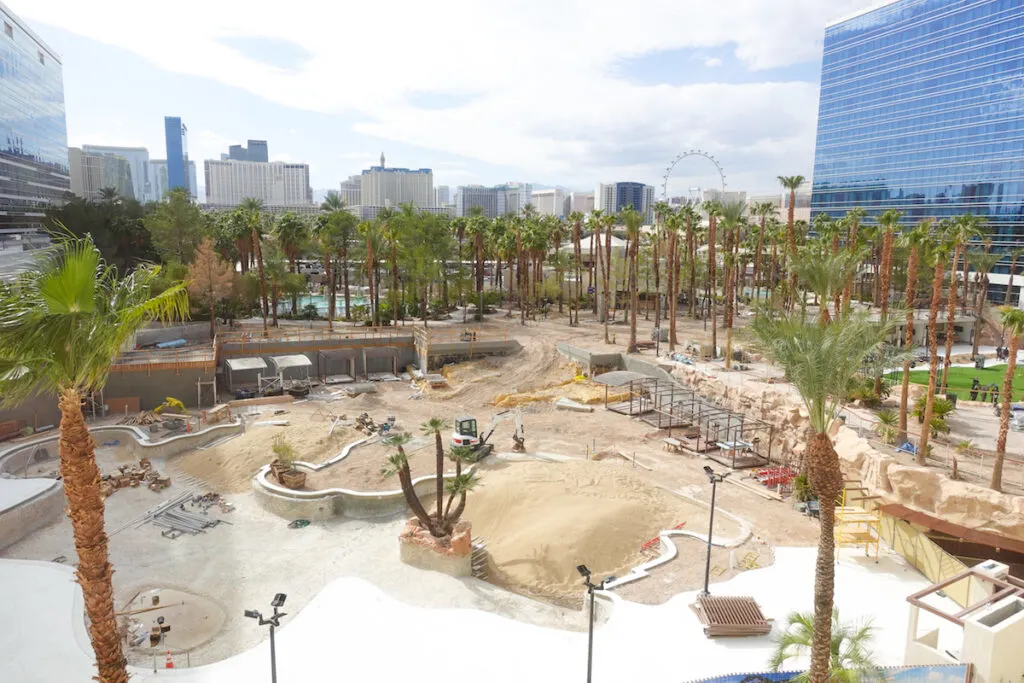 The first thing I noticed when walking into my room was the smell of fresh paint and dried scraped-off pieces of paint on the floor throughout the suite.
The floor lamp and sofa light in the living room wouldn't turn on. The charging pad and the TV also weren't working.
There was a missing wall plate that should have covered an electric box in the dining area.
The handles on the doors separating the bedroom and the living area were missing. The screw holes were visible.
These are door blanks or slab doors and not actual doors. Because there wasn't any hardware. When pushed shut, there is nothing to keep the doors latched together.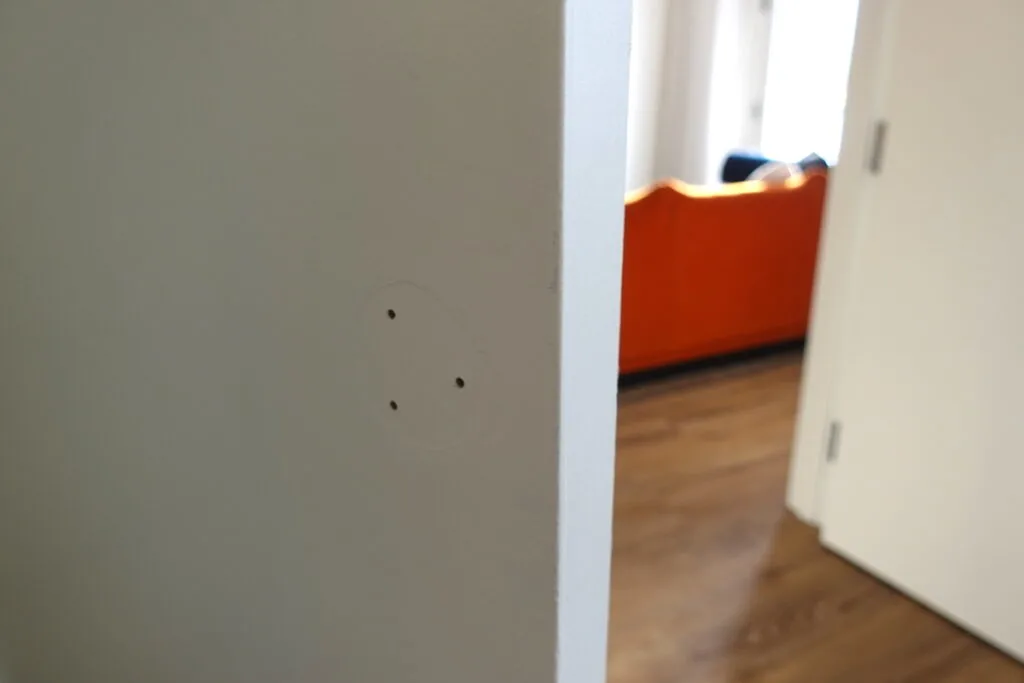 I thought the TV and living room lights weren't working because maybe I didn't know how to work the light switches.
I asked a housekeeper for help. But they wouldn't turn on for her either.
She cleaned up the paint chips and had maintenance fix the living room lights and TV, install the door handles, and the missing wall plate.
I love a minimalist look but I don't think the lack of art on the walls was intentional.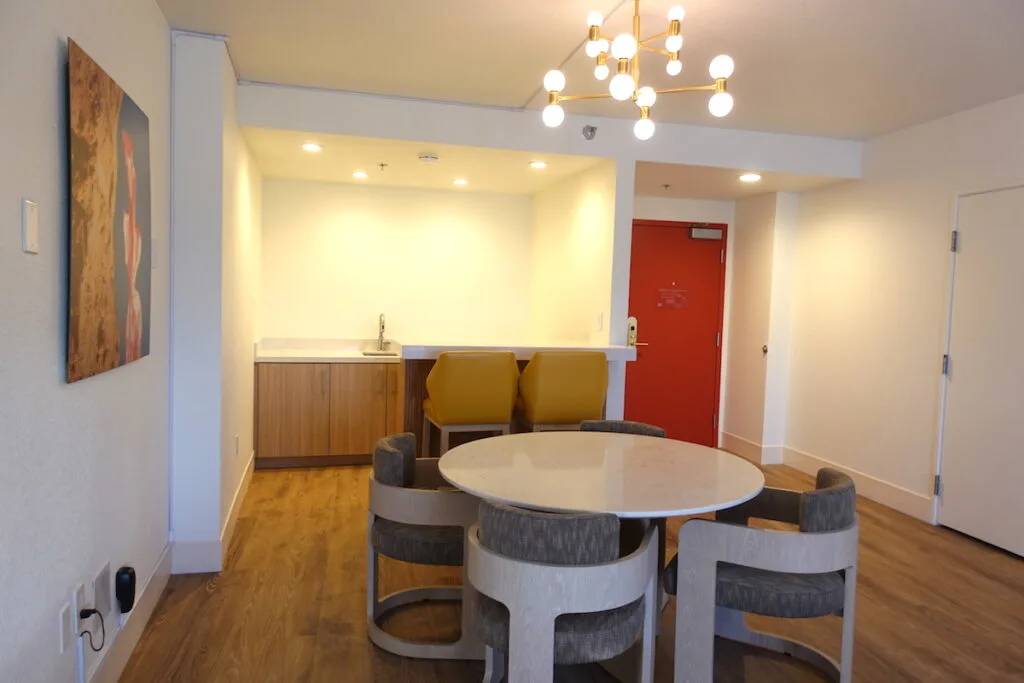 Bar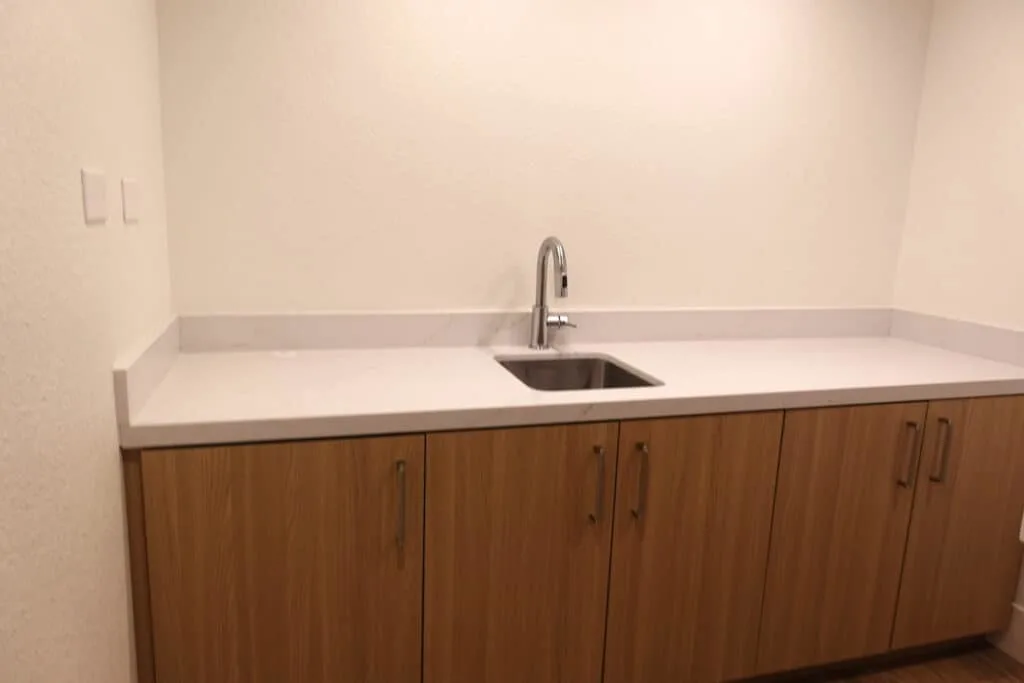 The wet bar had a sink. But there were no outlets. How do you make margaritas if you can't plug in a blender? 😉
Dining Area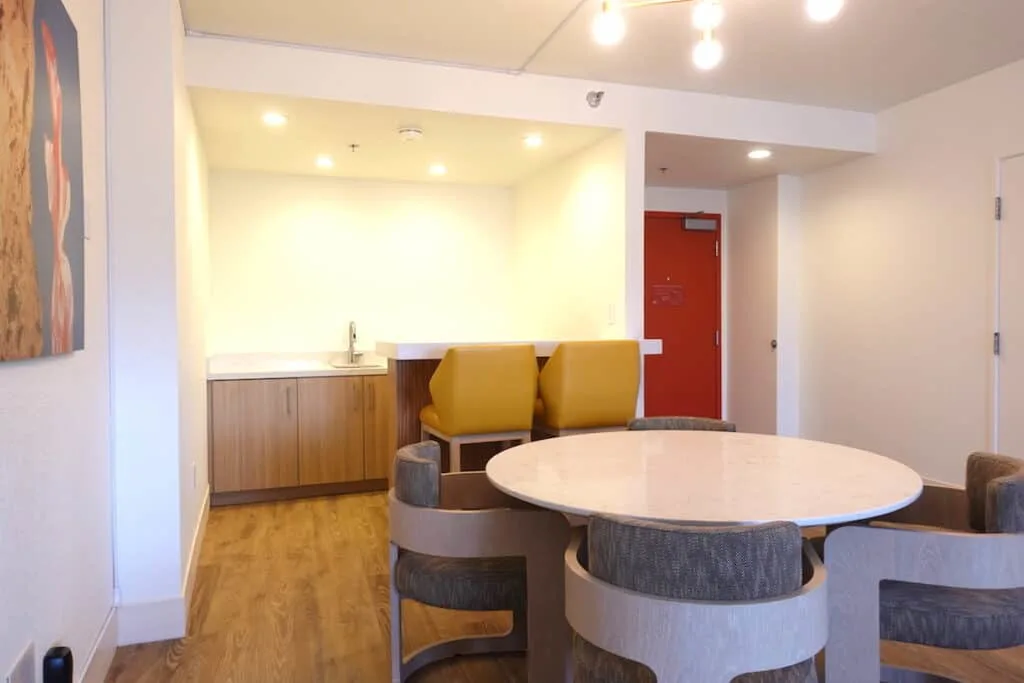 The table in the dining area can accommodate four. But there is only one outlet in the dining area and one of the plugs was occupied by some black box thing.
This was the only outlet in the suite in an area with enough light to work. So if you traveling with someone with electronics, you're going to have to fight for that single outlet.
Living Room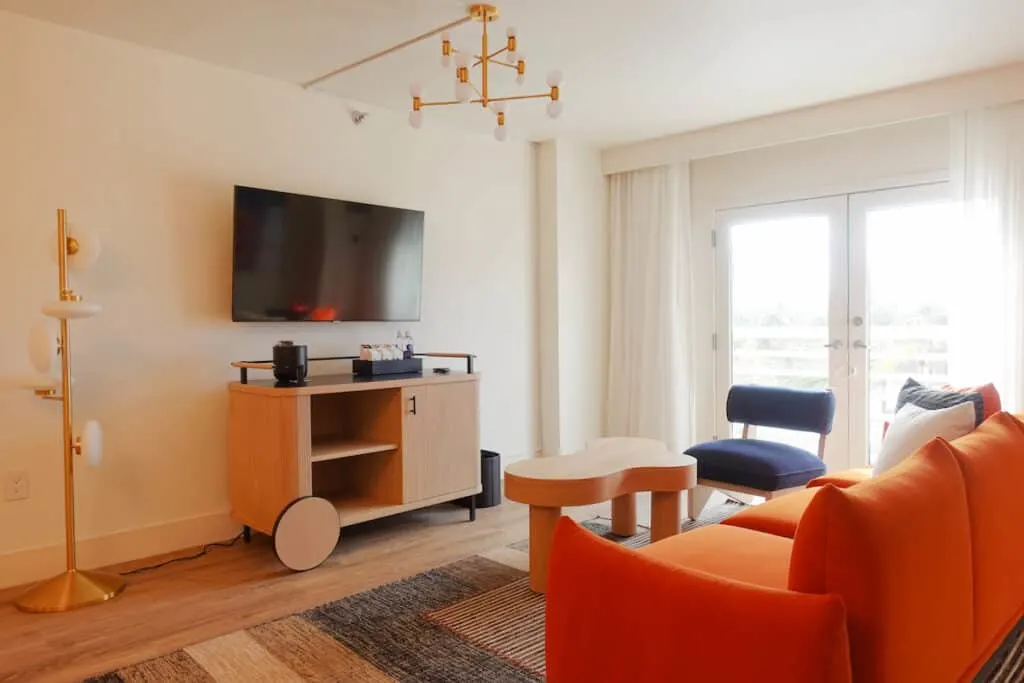 The Canyon Deluxe Chamber King Suite living room has a large three-seater sofa, wood coffee table shaped like a puzzle piece, overstuffed chair, floor lamp, large wall-mounted flat-screen TV, and a rolling bar cabinet.
The bar cabinet contained a well-stocked glass door minibar. The labels on the mini bottles of booze and juices were facing outward.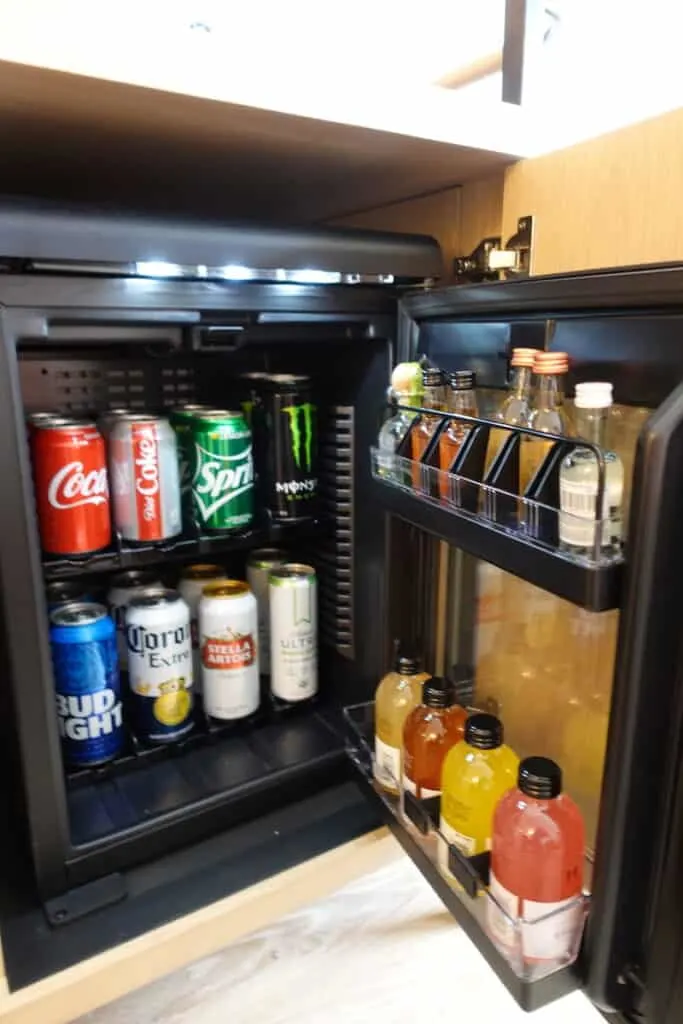 Virgin claims their minibar rates are market prices. But there wasn't a price sheet.
On top of the cabinet were a cordless charger, the minibar, an ice bucket but no glasses, two bottles of water, sweet and savory snacks, and a romance kit: 2 condoms, towelettes, lubricant, mints, massage oil, and a "lovers game."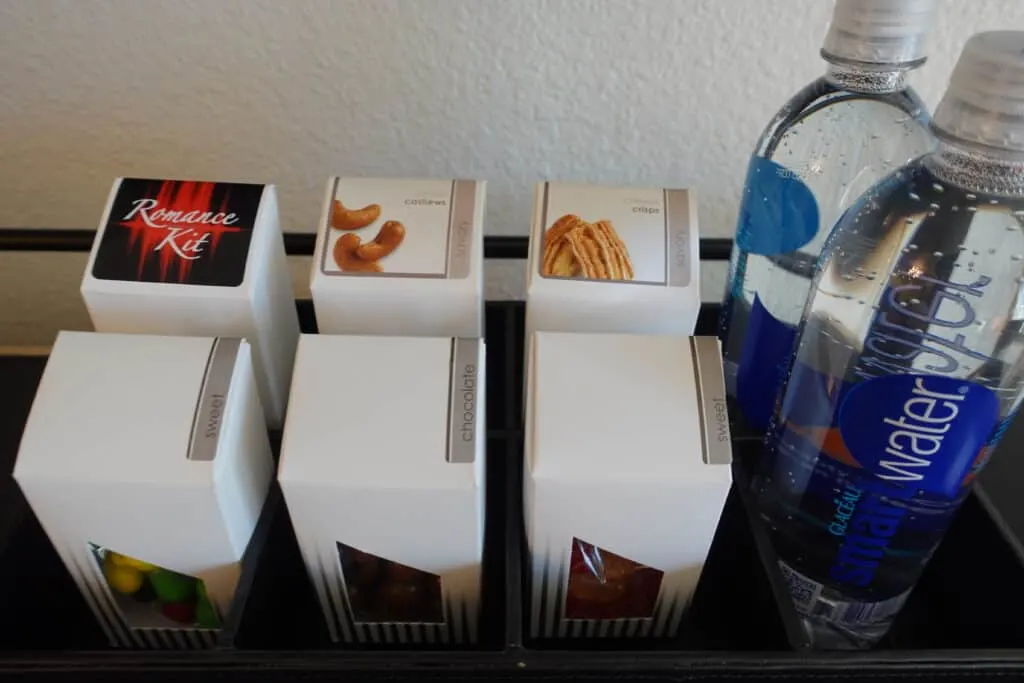 The rolling bar cabinet had a power strip on the side away from the door.
The TV would not turn on. This was related to the electrical issues in the living room.
LVP (luxury vinyl plank) cover the floor along with a few strategically placed areas rugs in the living room and bedroom.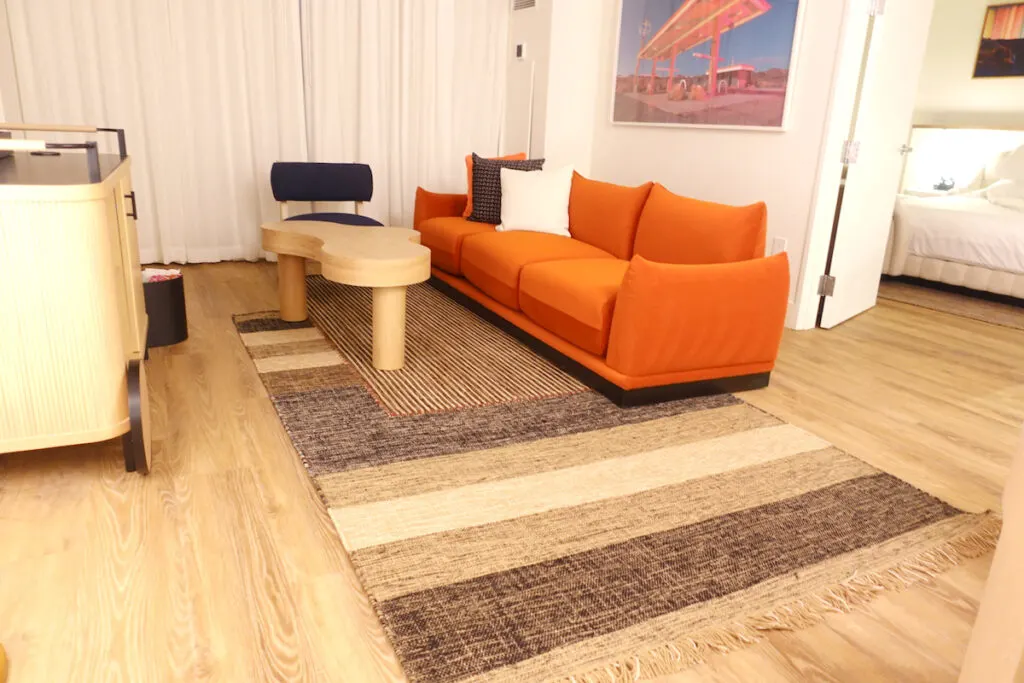 The sofa appears soft and cozy but is deceptively hard and uncomfortable. The suite furniture looks neat but isn't very practical.
It's almost like the furniture they use to stage houses. For looks only, not comfort or actual use.
Both the living room and bedroom have a Juliette balcony also known as a faux balcony, false balcony, or fake balcony.
As with the furniture, it's more decorative than practical. The wired latch only allows the doors to open a few inches.
Suite Bedroom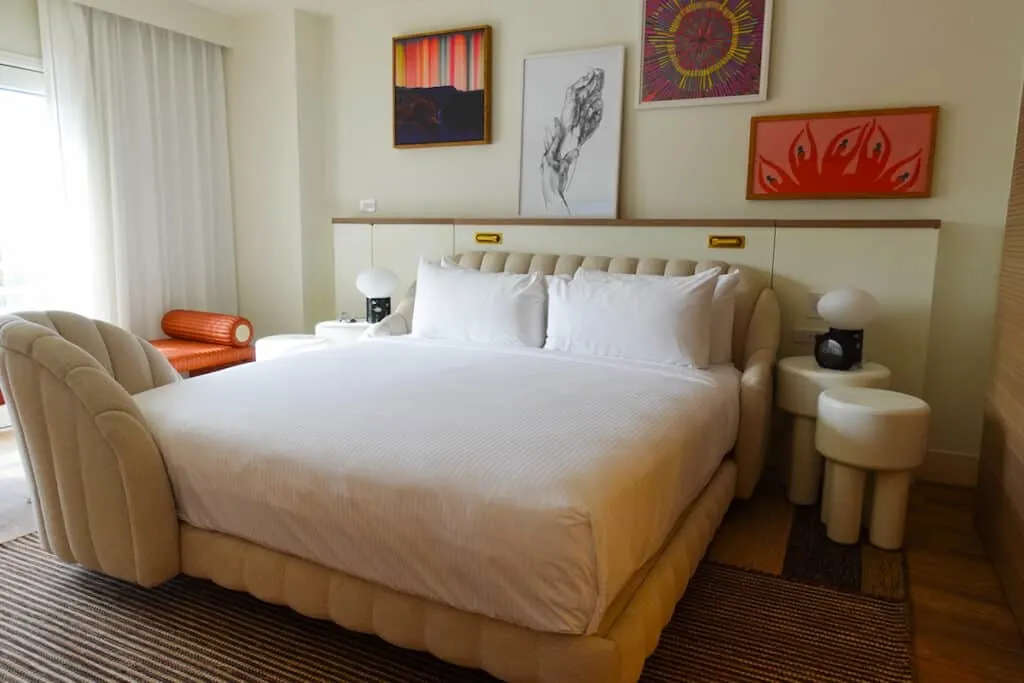 For a suite, the bedroom is small. There is room for the bed, bedside tables, chaise lounge, faux dresser, and a wall-mounted flat-screen TV.
The bedroom lights weren't working. Maintenance gave me the option to have them perform a complicated fix or I could go to the foyer and use the "all on all off" switch by the door.
This meant that everything other light in the suite was either on or off.
The bedroom had a king ergonomic bed, Virgin's patented #BBE, Best Bed Ever. Supposedly the best sleep ever.
I beg to differ. The bed, like the other furniture, looks cozy and comfortable. But it was rock hard. As were the pillows. A bummer because I love a hotel with a soft, comfy bed.
And the scalloped bed edge. WTH?
If you're an adult, you're going to bonk your legs on it getting in and out of bed. Or perhaps that's the side for vertically challenged people?
It's like Virgin is forcing you to be posh and elegant entering and exiting the bed. You have to bend your knees and slide in backside first.
There are four bedside tables that looked like board pegs. I can understand two, one for each side, so I was a bit confused as to why there were four. Maybe because they are tiny and the bedside lamps took up most of the space?
On the table closest to the bathroom, there was a clock with the incorrect time. Given that this was opening day, one would think they would make sure that everything was right, including the time on the clock.
On the table nearest the bedroom's Juliette balcony, there was a cordless charger. This charges the TV remotes and supposedly smartphones. I didn't try it but when checking out, another guest said neither of hers worked.
In the headboard on that same side above the table are two outlets and two USB ports. Each side of the bed had a reading light in the headboard.
The chaise lounge resembles an outside patio piece of furniture. It's not comfortable and it takes up space.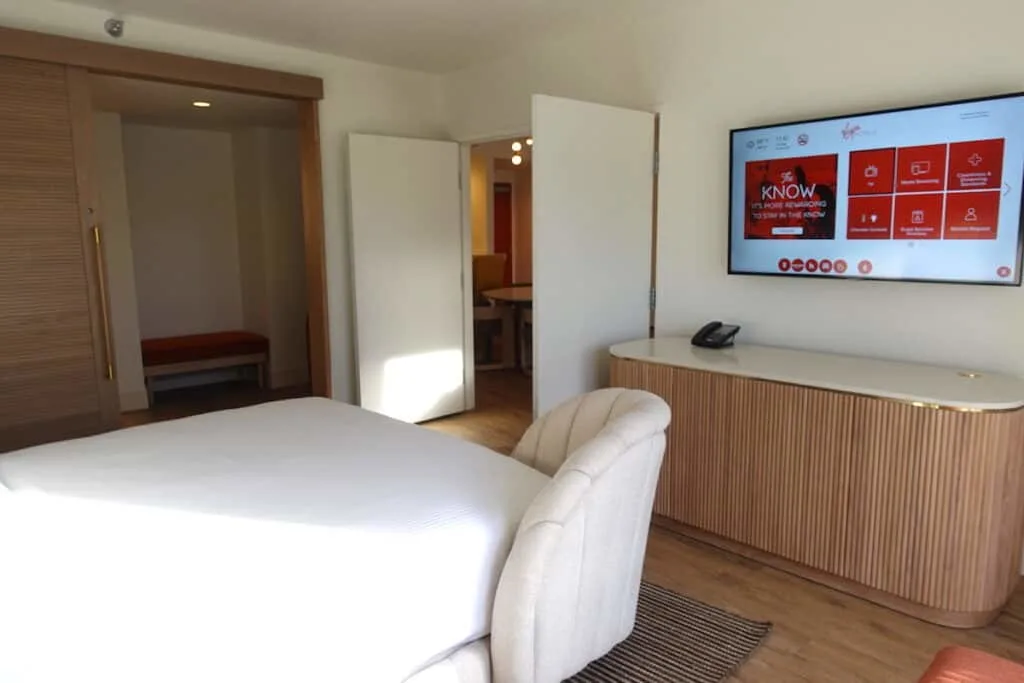 The faux dresser below the TV holds the phone. I couldn't find any doors or anything to indicate that this was usable furniture.
A sliding faux louver door separates the bedroom from the dressing area and bathroom.
Dressing Area
The dressing area is huge. It would have been nicer to have more room in the bedroom than a gigantic dressing area.
An open closet includes a safe, drawer, two open shelves, an ironing board, and an iron.
There are also two open shelves above each closet. But unless you play for the NBA, you can't reach it so it's useless storage space.
A motion-activated LED light frames the top of the open closet. Perfect for when you need to get up in the middle of the night.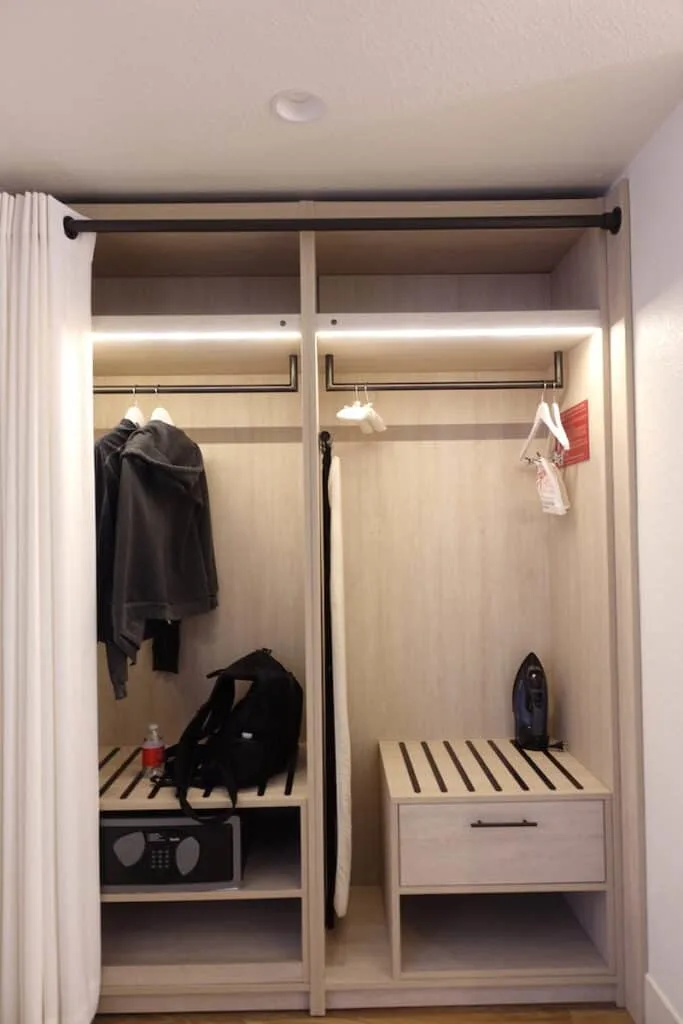 The vanity has a trifold Sleeping Beauty styled mirror. I can not even imagine how someone would try to put on their makeup in this dimly lit area.
There's a padded bench next to the vanity. Because the suite doesn't have a luggage rack, most people will use this bench for their suitcases.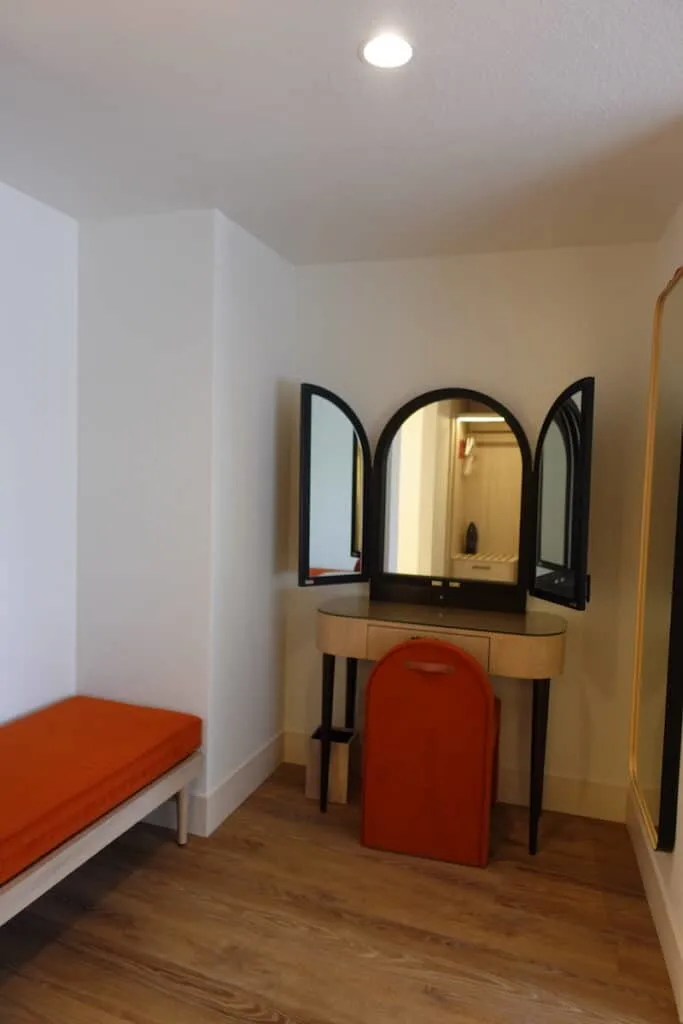 There's a full length mirror on the wall to the right of the vanity.
Bathroom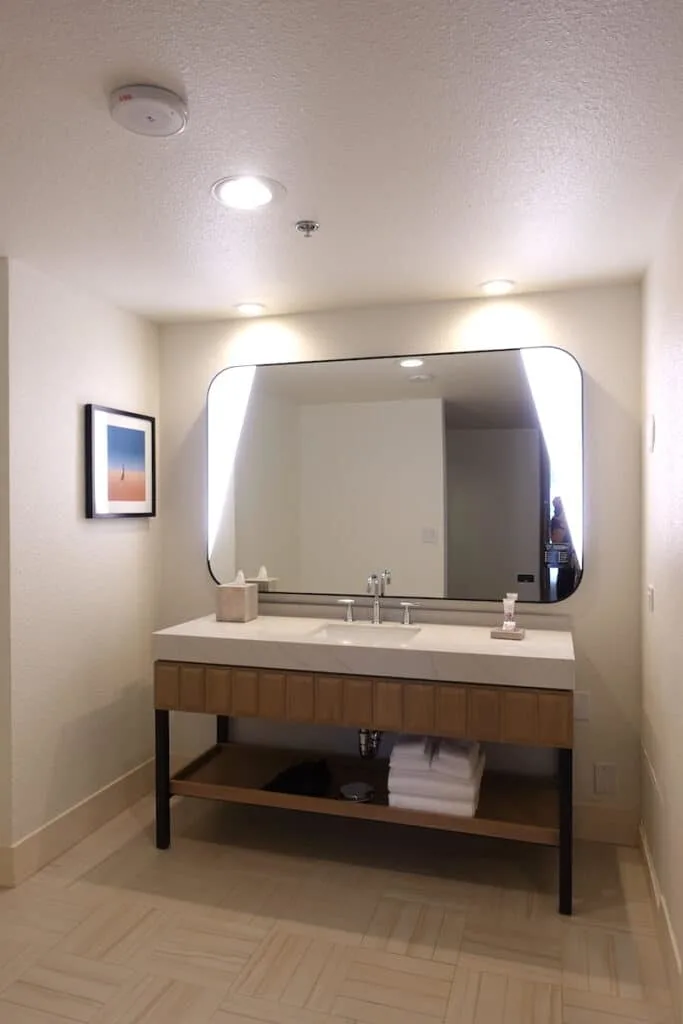 The bathroom in the Canyon Deluxe Chamber King suite has a single sink with lots of counter space, a hair dryer, a makeup mirror, and a large mirror with built-in outlets and a USB port.
But there are no towel racks. So you have to use counter space to put your dirty towel down which limits how much you can put on the counter. Maybe that's why there's a vanity, so you can put your makeup stuff there.
Toiletries are Red Flower's Palo Santo collection.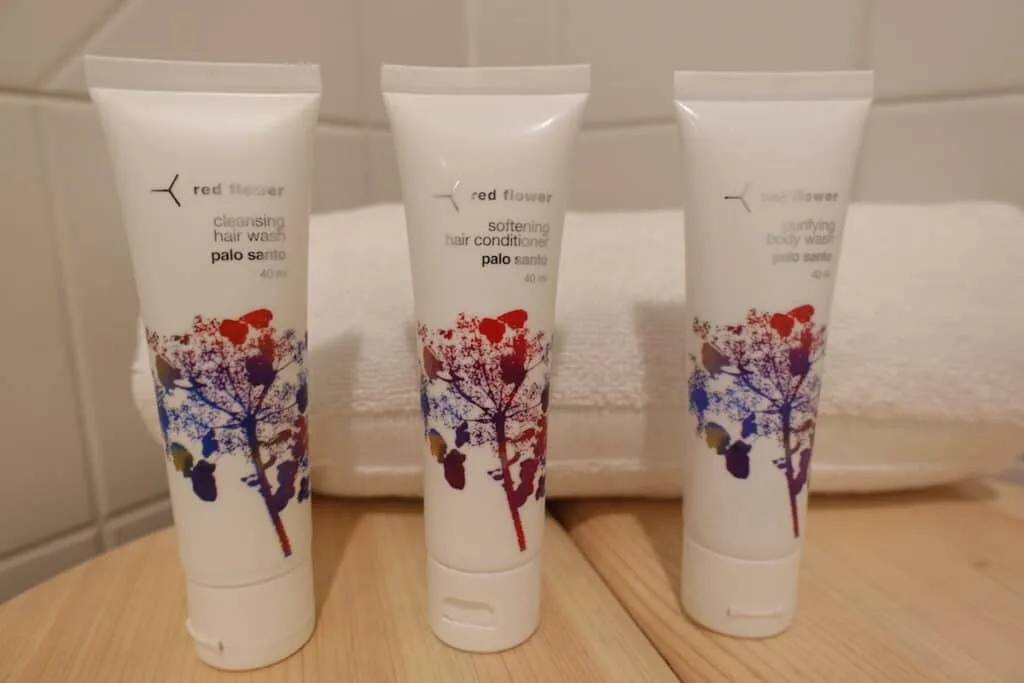 The toilet is in a separate area next to the shower. But there is not a lot of room between the toilet and the door.
So if you're someone who keeps the bathroom door open, you're going to feel cramped. The ledge above the toilet paper doesn't help the confined feeling. But maybe this is to put your phone on so you don't drop it in the loo?
The glass-enclosed shower has a rainforest showerhead and a handheld showerhead. But the cute pine stool takes up too much room.
I wasn't able to shower because I didn't have any hot water.
Yep, no hot water.
I ran the water for a full 10 minutes and it didn't even get warm.
Oh, and lest I not forget what happened in the middle of the night.
Strange sounds were coming from my air conditioner. Then around 1:30 am the four-foot air conditioner vent detached from the wall and landed on the chaise lounge.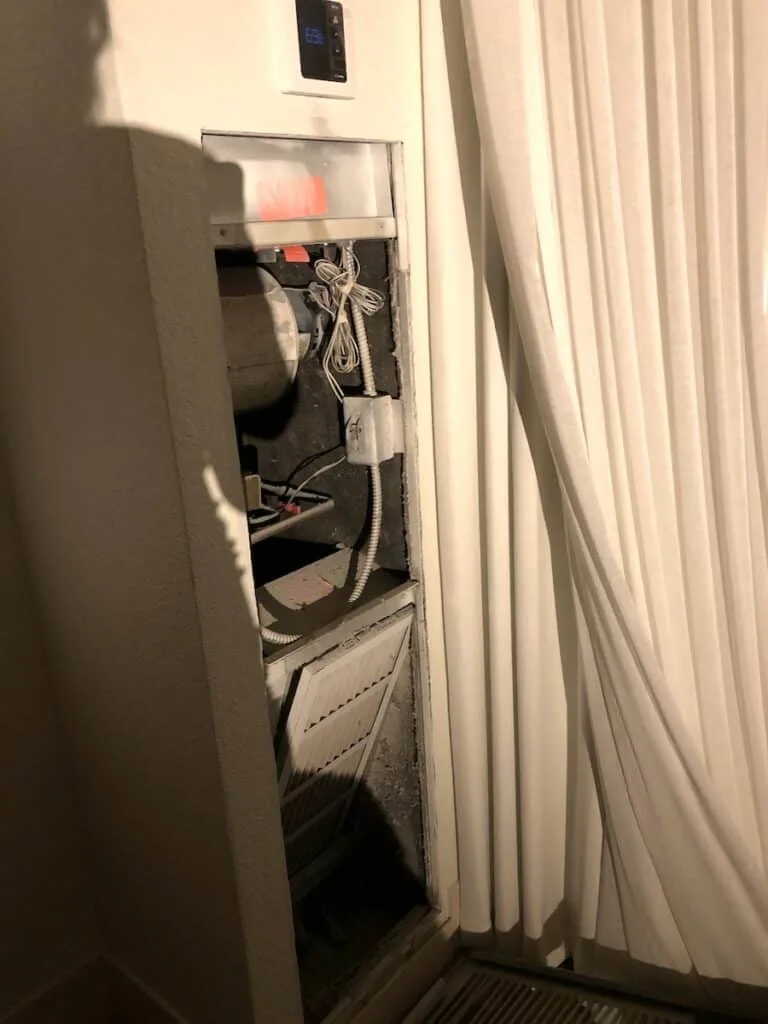 I put the vent back on because I didn't want to leave the area exposed. As you can see there's a ton of dust and who knows if any rodents would come into my room.
But about 45 minutes later at about 2:14 am, it fell off again!
When putting it back on the wall a second time I discovered it had fallen off because the screws had come loose from the wall.
I put it back on the wall and figured out how to adjust the screws to keep it in place. Thankfully, it stayed up for the rest of the night. Or should I say the last two hours before I had to get up.
When checking out I told them about the lack of hot water and how the air conditioning vent detached from the wall. One would think they would refund my $215 night's stay or at least comp me a night to return to hopefully have a better experience next time.
Nope.
Instead, their solution to the problem was to credit me the $68 I spent at dinner.
Fitness Center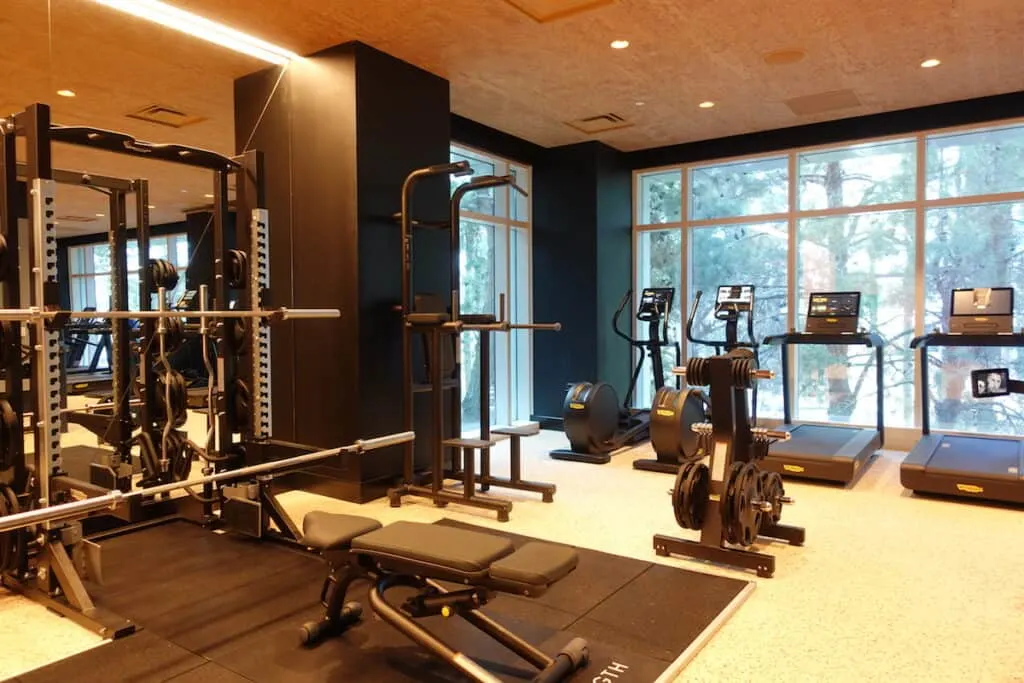 The fitness has lots of equipment, including free weights, machines, treadmills, and stationary bikes.
Spa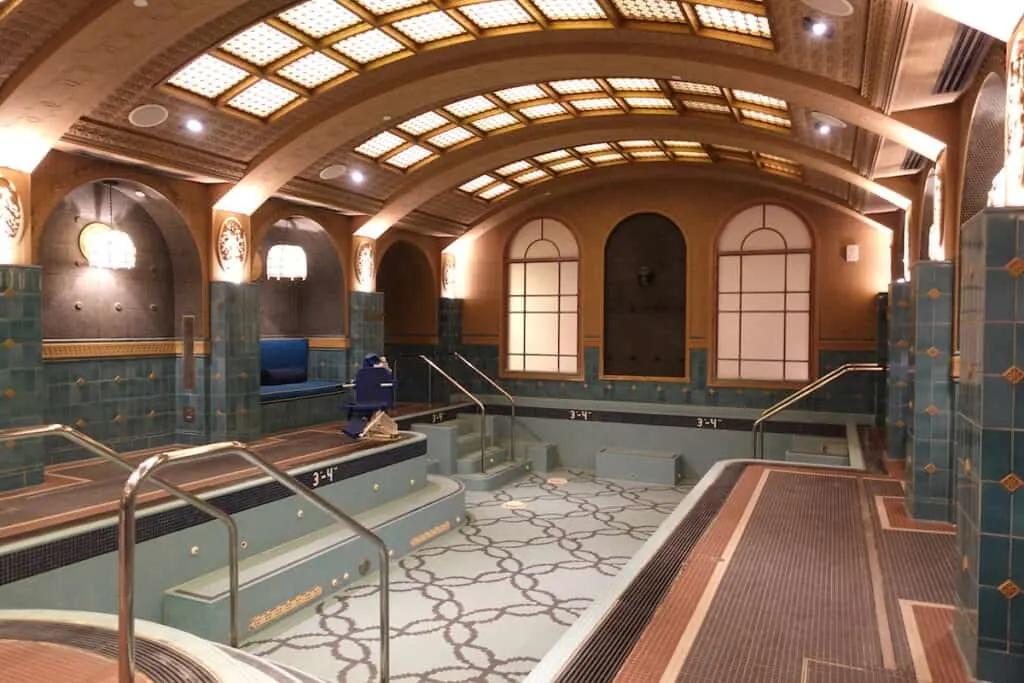 They were still working on the spa. Because of the pandemic, the coed Turkish style spa bath is closed.
Restaurants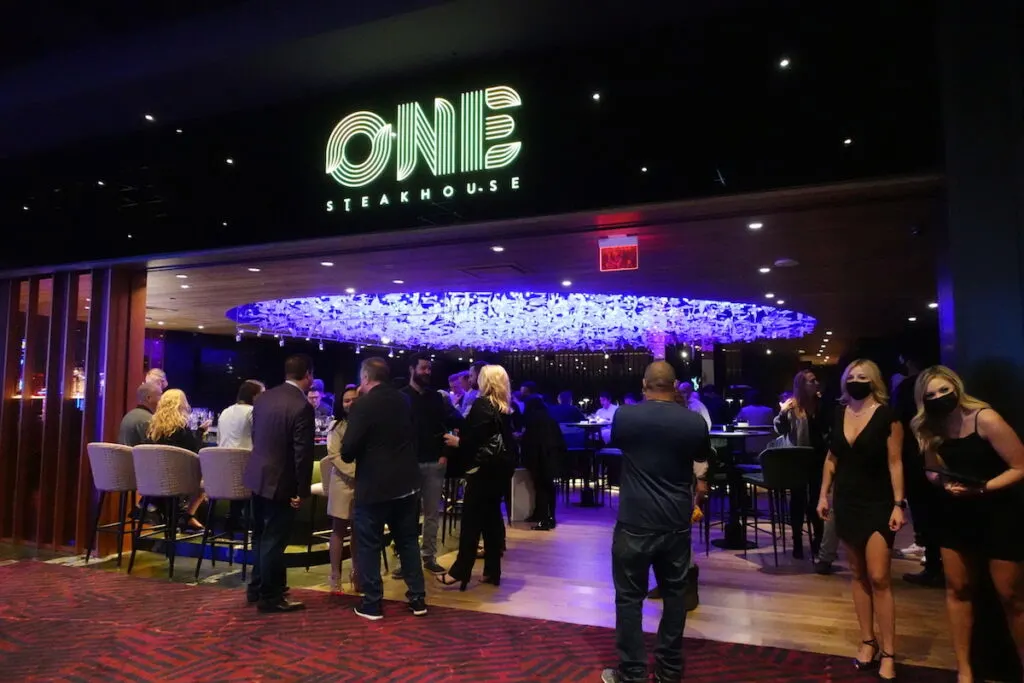 Because I've already eaten at Nobu, the Caesars Palace location, and was traveling super light without fancy clothes to enjoy dinner at One Steakhouse, I made a reservation at Night + Market.
Night + Market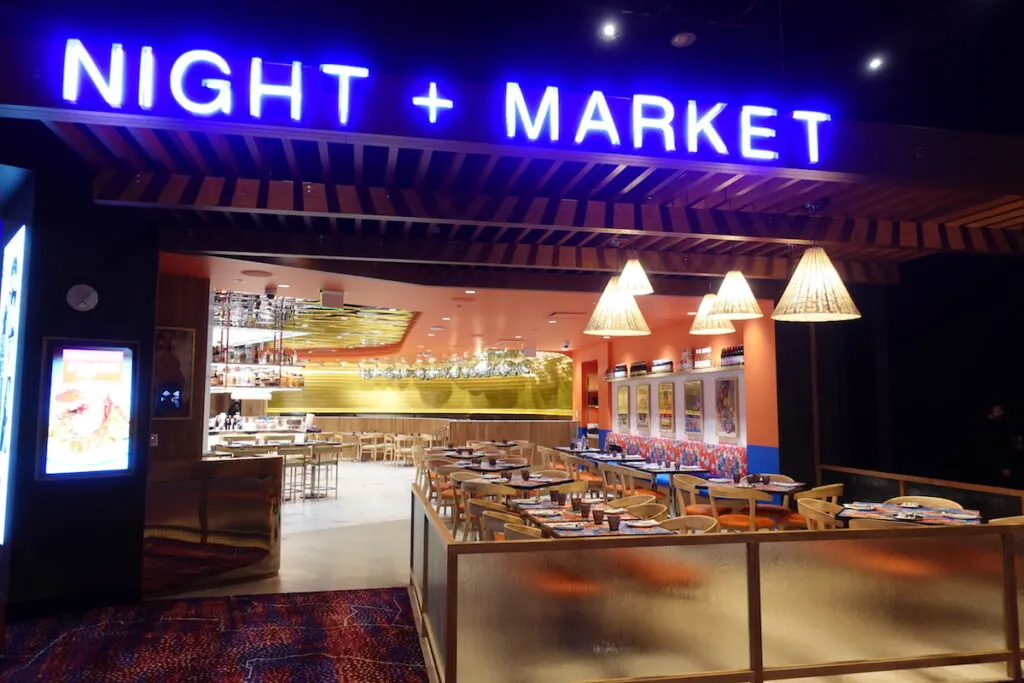 I booked a 5 pm reservation on opening day. That would give me an hour to eat before the grand opening festivities starting at 6 pm.
But when I arrived, I was told, "Yeah, we meant to call you. Because the hotel doesn't officially open until 6 pm, we pushed all the reservations back."
Not only were the rooms not ready, but apparently neither were the restaurants.
I had to choose, watch the grand opening ceremony or eat dinner. I chose dinner. Stay tuned for a review of Night + Market.
Pizza Forte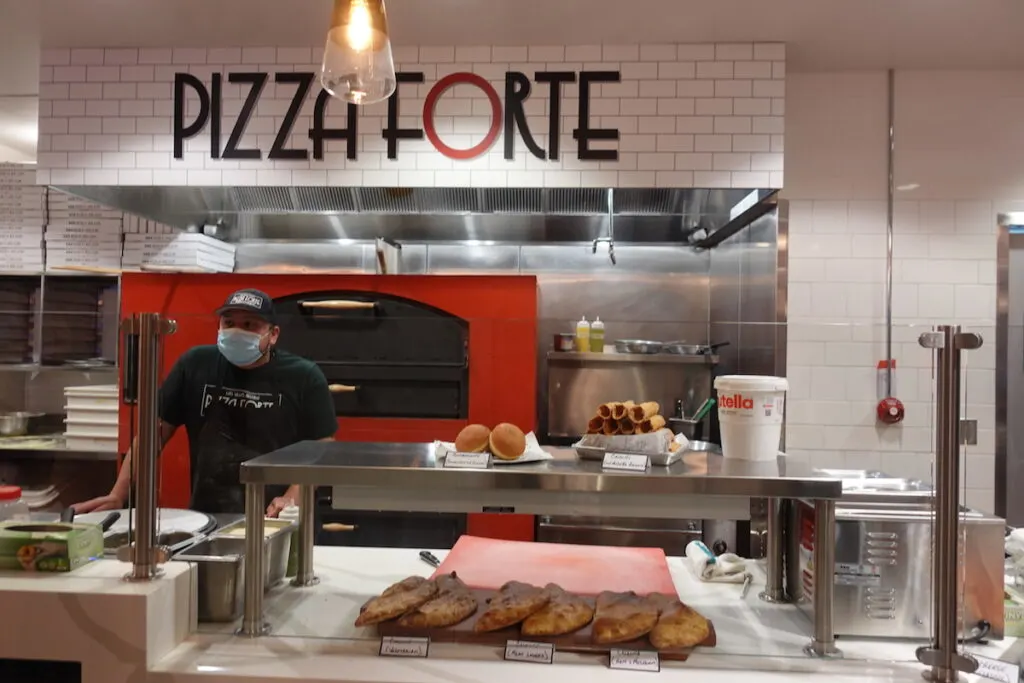 I got a vanilla gelato from Pizza Forte while I waited for my new dinner reservation at Night + Market.
Dunkin' Donuts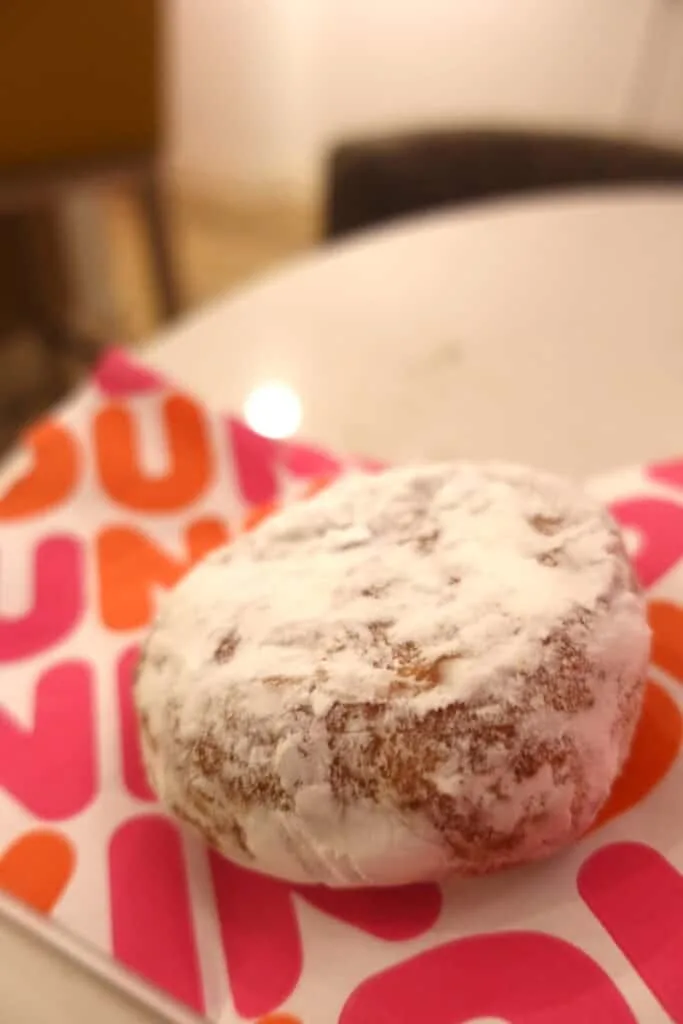 Who doesn't love Dunkin' Donuts? I enjoyed a late night snack of a Bavarian cream filled donut.
Kitchen at Commons Club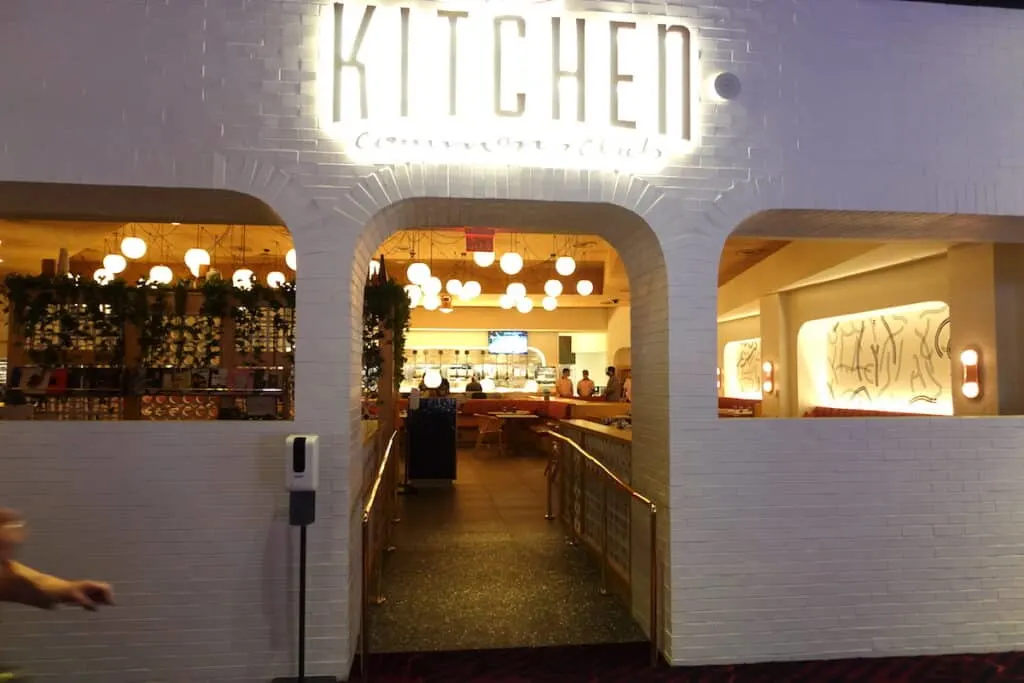 The Kitchen at Commons Club is open 24 hours.
Hilton Diamond and Hilton Gold members get a $12 breakfast credit. Because I wasn't able to shower before my early morning flight, I had time to order food, enjoy a few bites, and take the rest to go.
Bars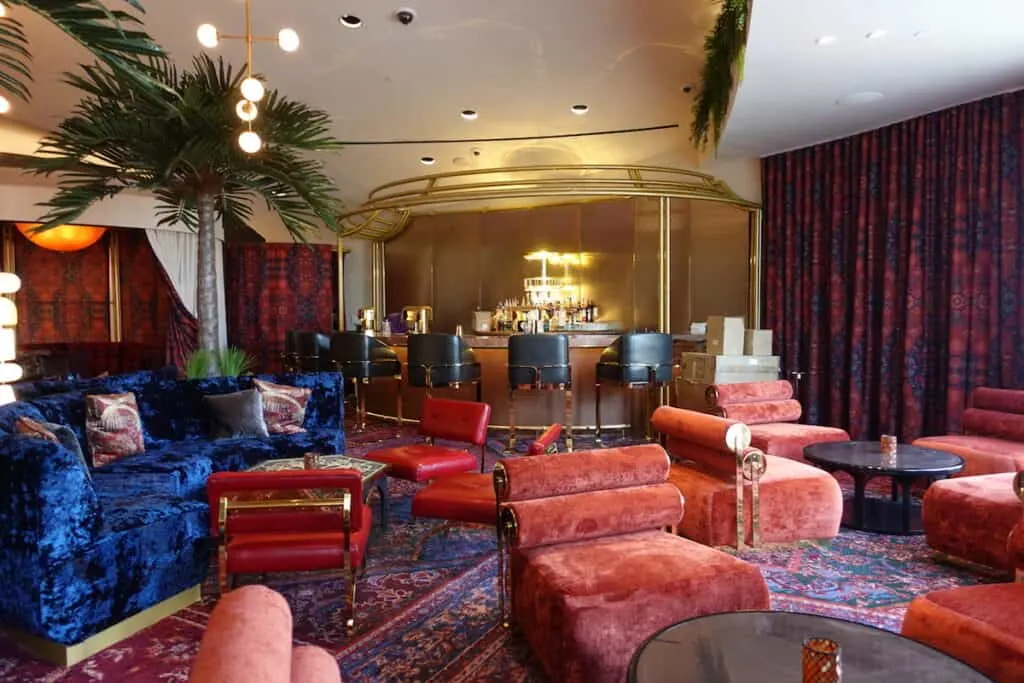 Virgin Hotels has two bars: the Bar at Commons Club and the Shag Room. Both are off the lobby.
The Bar is open and closest to the lobby. While the Shag Room is behind the Bar.
Conclusion
Planning a stay at Virgin Hotels Las Vegas? From no lights to maintenance issues and from no hot water to unfinished rooms, my stay in a Canyon Grand Deluxe Chamber King suite was an adventure.
An adventure I would gladly have skipped.
You may want to wait until the pools are finished. Because, unlike some Las Vegas hotels, like Vdara, that let you use the pool at Aria, Virgin Hotels Las Vegas doesn't have a reciprocal agreement with another hotel to use their pool.
Based on this Virgin Hotels Las Vegas review, would you stay at Virgin Hotel Las Vega?
The information for the Hilton Honors American Express Surpass® Card, Hilton Honors American Express Aspire Card has been collected independently by Traveling Well For Less. The Hilton Honors American Express Surpass® Card and Hilton Honors American Express Aspire Card are no longer available through TravelingWellForLess.
Traveling Well For Less has partnered with CardRatings for our coverage of credit card products. Traveling Well For Less and CardRatings may receive a commission from card issuers.
---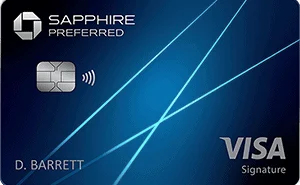 card_name
is the
best card to get started in the world of miles and points.
It is the first card you should get to start traveling for free because the
welcome offer is 60,000 points
after spending $4,000 in the first three months.
My favorite perks about this card are earning 5X points on travel when booked through the Chase portal (2X if direct purchase), 3X points on dining, $50 yearly credit on hotels booked through the Chase portal, no foreign transaction fees, and transferring points to 13 airline and hotel partners like Hyatt, United, and Southwest.
Learn more about the card_name and how to apply
---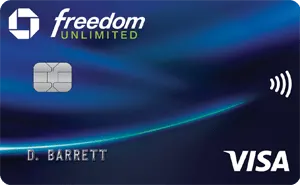 The
card_name
is one of my favorite cards for earning cash back card and travel rewards. It offers a
welcome offer of 3% cash back = an extra 1.5% cash back
on up to $20,000 in purchases your first year.
My favorite perks about this card are earning
6.5% cash back on travel booked through the Chase Travel Portal
,
4.5% cash back at drugstores and restaurants (including delivery and takeout)
your first year up to $20,000,
unlimited 1.5% cash back on all purchases
and
no annual fee
. When paired with cards like the
card_name
, you can use your points to travel for free.
Learn more about the card_name and how to apply