Last week we spent two nights at the Alila Marea Beach Resort in Encinitas, San Diego's newest beachfront hotel.
Perched on the cliff overlooking South Ponto Beach guests can enjoy breathtaking views of the Pacific Ocean and nearby Batiquitos lagoon. Whether you're on a staycation or visiting from out of town, it's one of the best beachfront hotels in North County, San Diego.
The luxury boutique resort is one of only three Alila resorts in the United States. Ventana Big Sur was the first United States Alila resort.
I've stayed at Ventana twice and LOVED both visits. So I knew what to expect from the Alila brand and was excited to have one so close to home.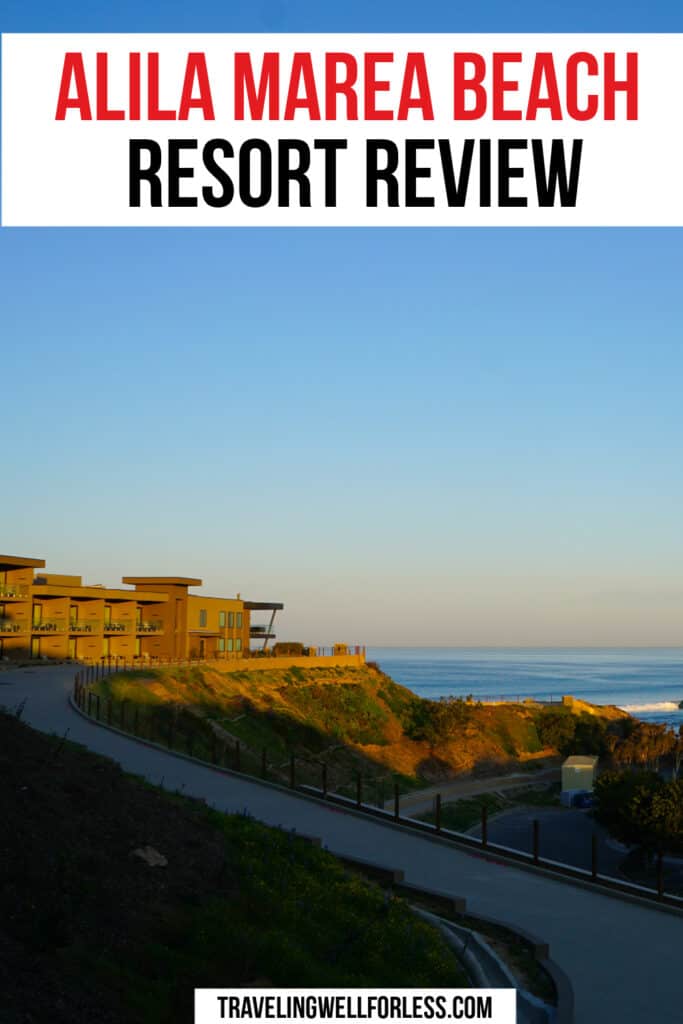 Alila Marea Beach Resort Encinitas's decor is casually elegant beachfront luxury with soft warm woods and muted woven fabrics.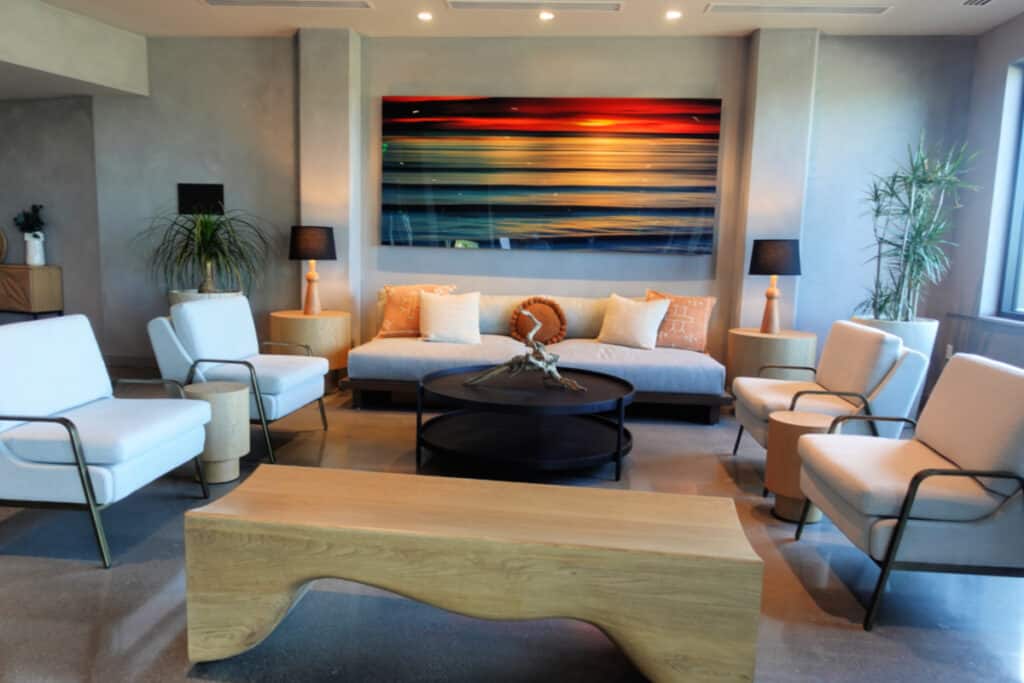 From Aaron Chang's surf photos to blown glass resembling water bubbles the art throughout the hotel bears tribute to the natural surroundings, specifically the beach.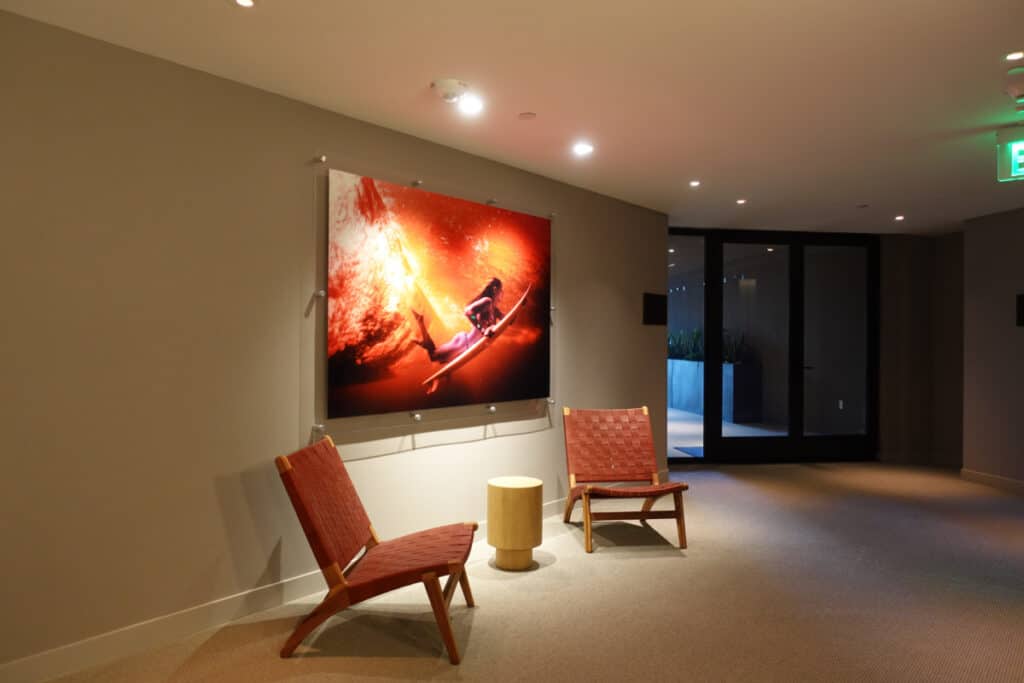 One of the things I loved about Alila Marea Beach Resort is how much thought went into providing places to relax and enjoy the view. Throughout the hotel you'll find areas where you can sit and rest.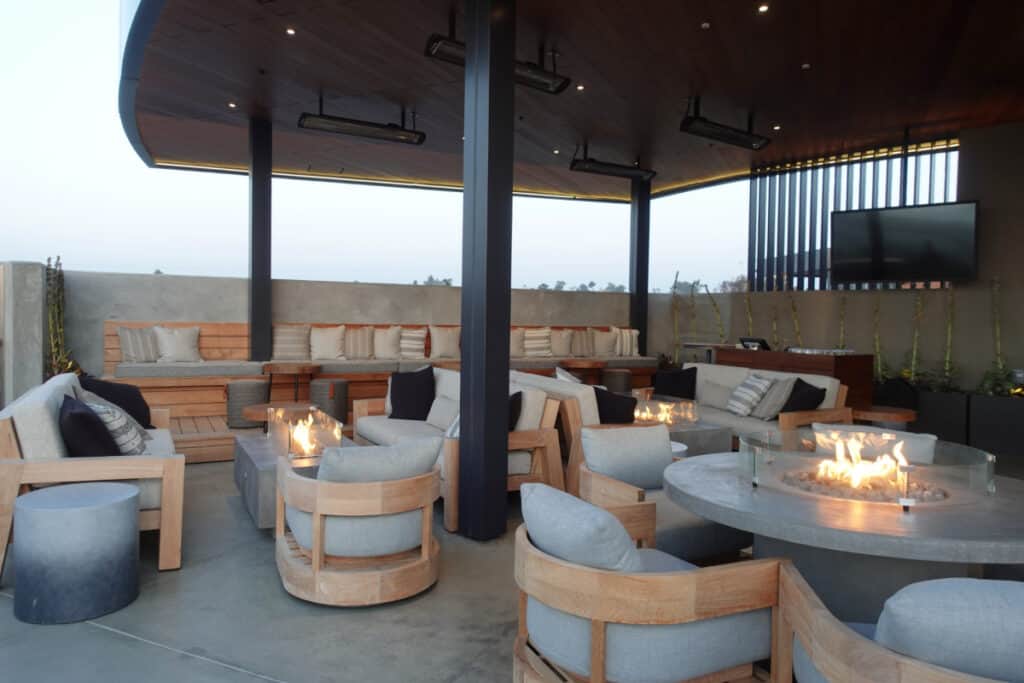 130 Rooms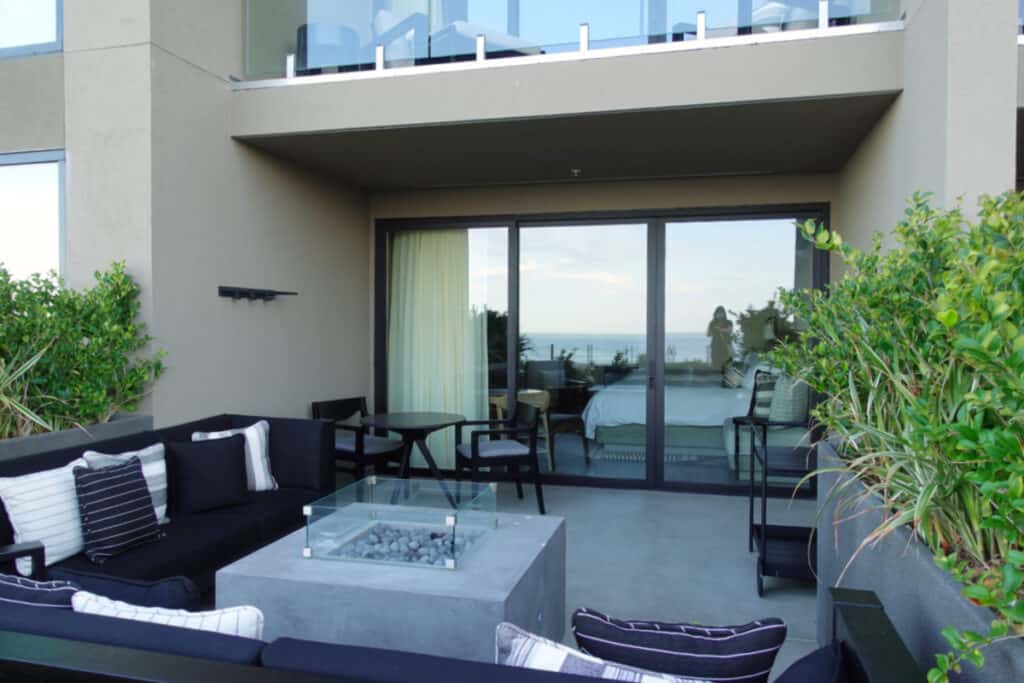 Having lived in North San Diego most of my life, I knew Alila Marea Beach's footprint would be small. All 130 rooms have a view of the garden, coastline, or ocean. Rooms range from 437 square feet to 1,037 square feet.
There are six garden rooms, 68 coastline view rooms, 16 fire pit rooms, 26 ocean view rooms, 9 studios (junior suites), five one-bedroom suites, and two Presidential Suites: the Ponto Suite and the Grandview Suite.
The only difference between the suites is the location: the Ponto Suite is on the corner of the resort facing the ocean on the first floor and the Grandview Suite is on the second floor above the Ponto Suite.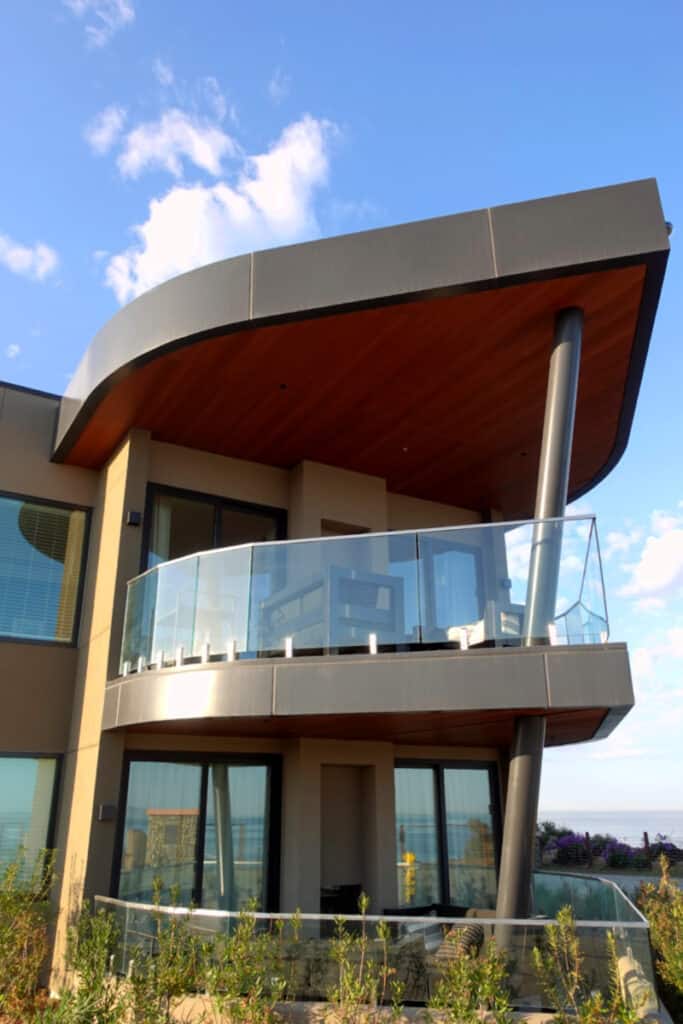 How to Get to Alila Marea Beach Resort
Alila Marea Beach Resort is easily reached from the south or north. The hotel is a 35-minute drive, longer with traffic, from the San Diego Airport. It's 1 hour and 37 minutes from the Ontario Airport and Los Angeles Airport.
Jeff and I live to the north 20 minutes away from the resort. We could have easily taken an Uber ($10 monthly credit from the American Express Gold card) or Lyft (free year of Lyft pink from the Chase Sapphire Reserve.
Coming from the north and taking the N Coast Highway 101 offers the best views of the oceanfront luxury resort.
Pro-tip: If you coming from LAX to San Diego and don't want to rent a car or can't get a cheap car rental, you can take Amtrak to the Carlsbad Poinsettia Station or the Encinitas Station.
Both stations are within three miles of the resort. So you can use the hotel's complimentary shuttle service, included with your resort fee.
Alila Marea Beach Resort Fee
The resort fee is $49 a day and includes:
Free use of Electra Go! electric bikes
Shuttle service within 3 miles of resort
Lofty Coffee Co coffee and tea
Access to 24-hour fitness center
Daily signature wellness activity
Alila Living Bath Amenities (instead my room had Votary amenties)
Beach Concierge Service to set up a lounge chair and umbrella on Ponto Beach (this is postponed until the summer)
Surfboard use (postponed until summer; wetsuits rentals not included)
Surfboard and Bike storage
Pro-tip: When you travel hack and stay on points, you don't pay the daily resort fee. Globalists get waived resort fees on paid, point, and free night stays.
The lounge chair and umbrella set up by the beach concierge and surfboard use are not yet offered. The hotel plans to launch the program in summer when the beach is sandier.
Electric bikes are available from 6 am to 6 pm, sunrise to sundown. Although the bicycles have lights, the hotel prefers that you don't ride in the dark.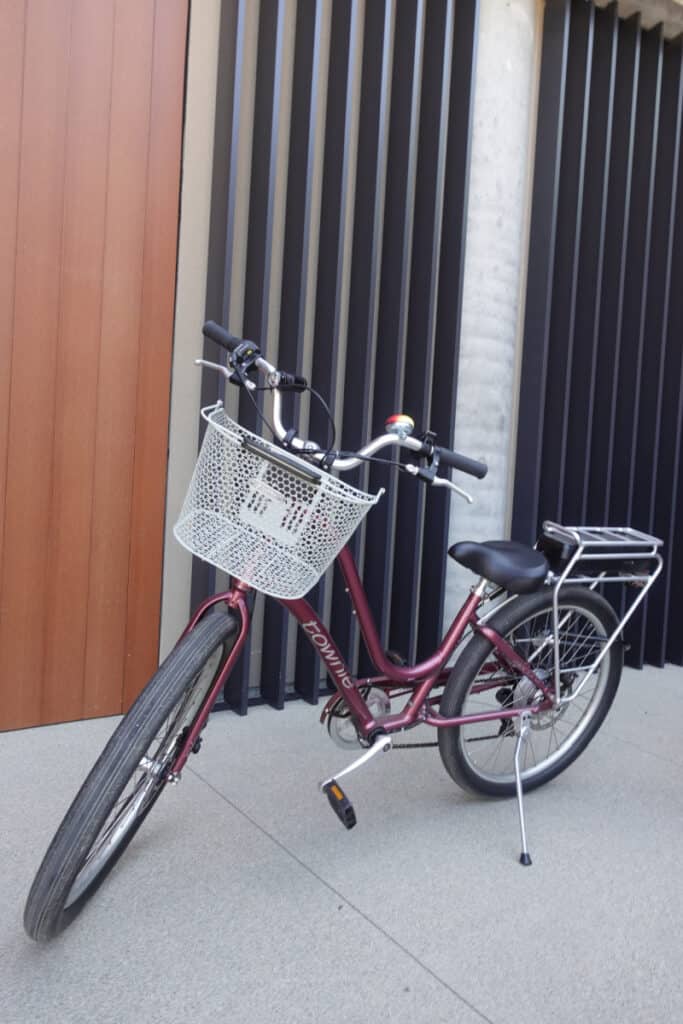 Pro-tip: Encinitas is a bike friendly city but drivers are easily distracted. It can be a little dangerous riding through Encinitas and Leucadia.
You can pick up a bike and helmet from the valet. Helmets come in small , medium, and large. Small helmets will fit children.
The daily wellness classes are sunrise yoga, BodyFlyFitness, a Beach Run, and a Lagoon Hike. During my visit, there wasn't a posted schedule or any information. I'm assuming because the hotel's still new and figuring things out.
Optional activities, Alila Experiences, include surfing lessons from Surfin Fire Surf School, biplane tours from San Diego Skytours.
Parking at Alila Marea Beach
If you're driving to Alila Marea Beach, the hotel only offers valet parking in the underground garage. Parking is $52 a day.
Pro-tip: Hyatt Globalists using points or free night awards get free valet parking.
The parking garage has a maximum height clearance of seven feet. So if you have a large vehicle like a Sprinter van or a large 4×4 truck you should use a different car.
Alila Marea Beach plans to adopt a policy restricting large vehicles. Because when three large cars are parked in front of the hotel, it blocks the driveway.
Pro-tip: You can park for free at the Carlsbad and Encinitas train stations.
My car was in the shop. Because on my way back from Ventana Big Sur someone backed into it at the gas pump. Our Sprinter van was too tall so we drive our old truck.
While not quite the jalopy from the Beverly Hillbillies, I'm sure the other guests driving the Porsche Cayenne, BMW, and Lexus were appalled. The valets, on the other hand, thought it was awesome.
Check-In
We arrived at 12:24 pm and were able to check-in. We were offered a choice of a Low Cobra shot (ginger tumeric lemonade with vodka) or sparkling or still water.
Low Cobra all the way. It was quite tasty and the vodka comes from San Diego's You & Yours Distillery.
Globalist Benefits at Alila Marea Beach Resort
I've had great Globalist benefits at Ventana Big Sur, an Alila Hotel. But Alila Marea Beach hasn't quite figured out how to treat Globalists.
At least, that was my experience. I'm hoping that the Globalists who stay after me will be treated better.
Globalist status was acknowledged and the breakfast and bottled water benefits were explained.
For breakfast, there isn't a set dollar mount. Globalists can order one entree, on side dish, and one non-alcoholic beverage per person.
All guests get two reusable bottles of water in their room. Globalists can have as many reusable bottles of water as they desire.
Upgrade
I had tried to use a Suite Upgrade when I made the reservation months ago and continued to try until two days before check in. According to MHC (My Hyatt Concierge), the hotel was still learning and it might take a few months before a suite upgrade can be used.
Suite upgrade awards book into the one bedroom suite coastline view with firepit or a one bedroom suite ocean view.
However, there are only five suites so finding availability is near impossible.
Because the suites weren't showing on the website, some Hyatt hotels will upgrade Globalists into premium suites. I asked about upgrading to either the Ponto Suite or the Grandview Suite.
I was quoted $3,000 a night to upgrade into the Ponto Suite and $5,000 a night to upgrade to the Grandview Suite.
Given that I had already paid 25,000 points a night and the Ponto Suite was pricing at $4,193 a night and $5,693 for the Grandview, it didn't make sense to pay for an upgrade.
When asked about the high upgrade cost, I was told that points have no monetary value. So they can't figure out what they're worth.
Pro-tip: If you aren't a Globalist, here's how to get VIP treatment at hotels. These tips normally work but not so much at Alila Marea Beach.
After some push back I got upgraded to a studio king coastline view with a balcony. You can read my room review.
Pool and Infinity Hot Tub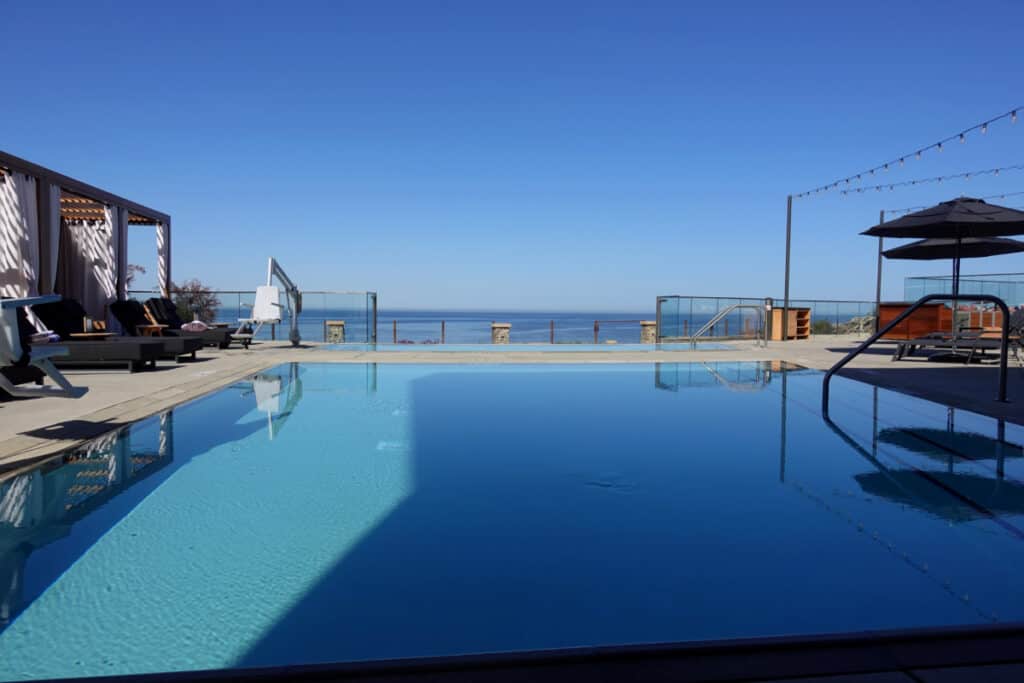 Despite playing games with upgrades and some pretentious staff (that's another post), the only bad thing about Alila Marea Beach Resort is the small shallow pool. At only 3′ 6″ you can easily stand in the pool and only be half submerged.
Because the pool area is compact, when children are playing in the pool, if you're sitting on the chairs viewing the ocean or on the cabana loungers, you will get wet.
No ifs, no ands, no buts. Plan on getting splashed when kids are in the pool.
The pool is heated to 70 degrees. I'm not sure if it's heated all year. Hopefully, not. The infinity hot tub is heated to 100 degrees.
Seating is limited to three, two-seater daybeds, 27 chairs, 4 cabanas, and two large cushioned concrete bench areas with fire pits.
Those of us familiar with Ponto Beach know that during the winter, there isn't much sand. So if you're planning to stay at Alila Marea Beach in the winter, stake your claim on a chair early or you'll have to rent a daybed or cabana.
You can rent daybeds starting at $100 a day Monday through Thursday. The three smaller cabanas start at $250 a day Monday through Thursday and $350 a day Friday through Sunday.
The Cabana Plus, the largest cabana, nearest the ocean, starts at $350 a day Monday through Thursday and $500 a day Friday through Sunday.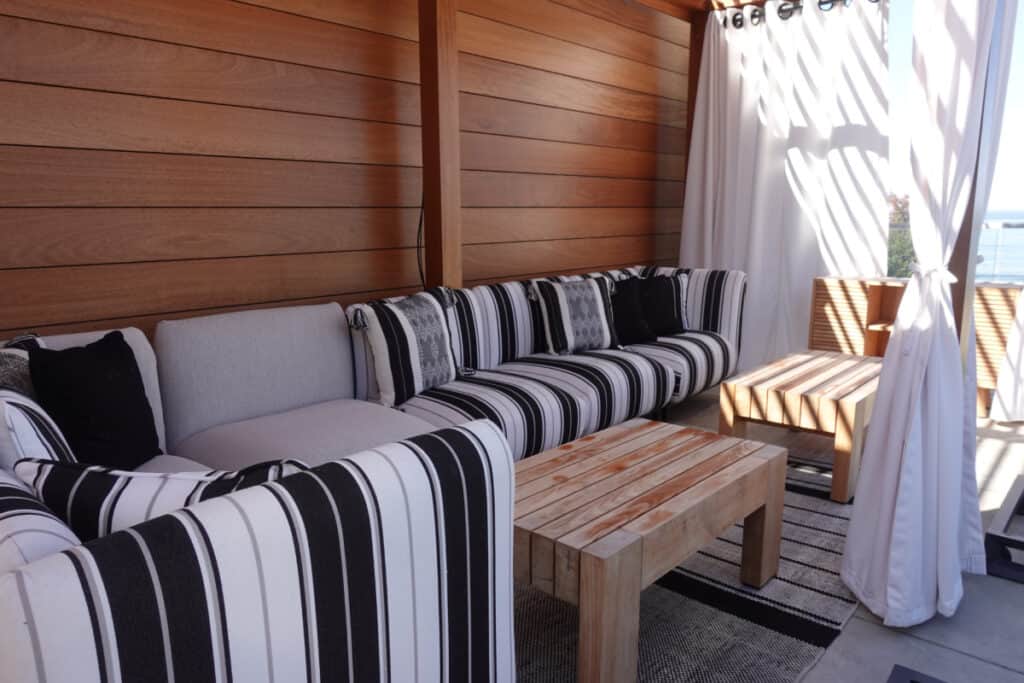 Cabana rentals include:
Use of the two loungers in front of the cabana
Bottled water
A bottle of wine
Fruit plate and snacks
SunBum sunscreen kit
Cabana attendant
You can refill your water bottle at the water bottle refilling station near the restrooms by Pocket.
There's a limited poolside menu. The resort bars are not full bars in the sense of having almost every type of alcohol. They only stock some spirits.
This means drinks are limited to what is on the menu. Or what can be made from the alcohol they have. This will change once they build up their bar.
Pool hours are 9 am to 9 pm.
Restaurants
Alila Marea has three restaurants: Coffee Box, The Pocket, and VAGA Restaurant & Bar.
The Coffee Box and The Pocket hadn't opened yet during my visit. But they should open in the next month or so.
Due to California pandemic dining restrictions, VAGA Restaurant & Bar is currently only open to hotel guests. Unknown date as to when the general public can dine at VAGA. I'm going to assume it will coincide with the opening of The Pocket and Coffee Box.
Coffee Box
You can purchase coffee from the Lofty Coffee Co, drinks, pastries, acai bowls, and other light snacks from The Coffee Box.
Beachgoers will appreciate the walkup pickup windows. You can walk up to the restaurant from the beach and get your coffee to go. Or stop by as you walk down to the beach.
Pro-tip: You do not have to stay at the resort to purchase items from the Coffee Box.
The Pocket
The Pocket offers a relaxing atmosphere for resort guests to enjoy drinks and snacks.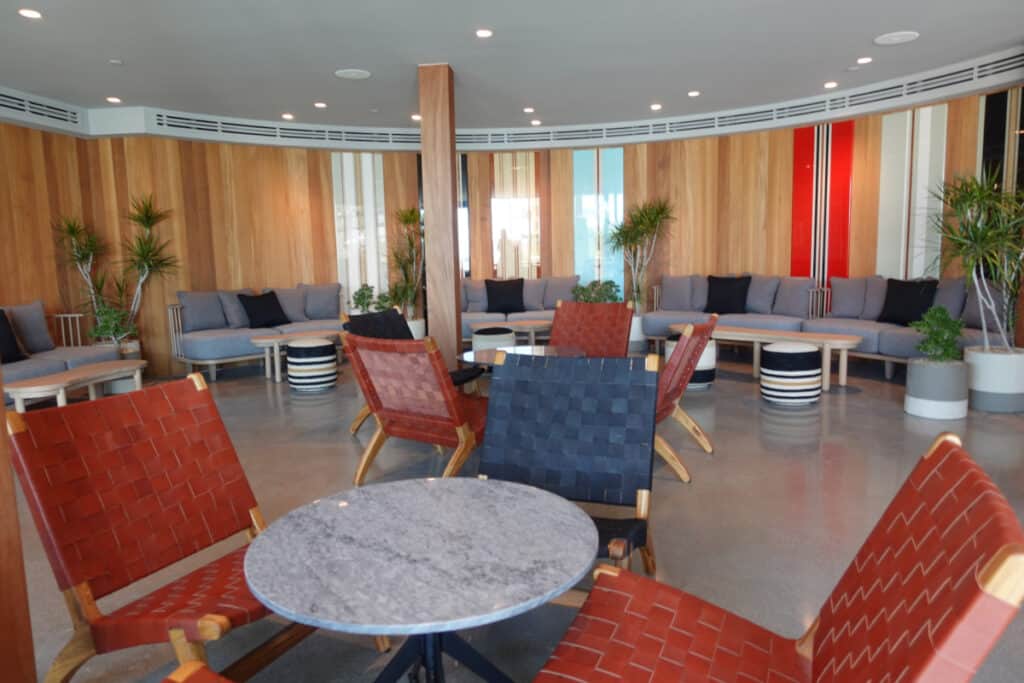 VAGA Restaurant & Bar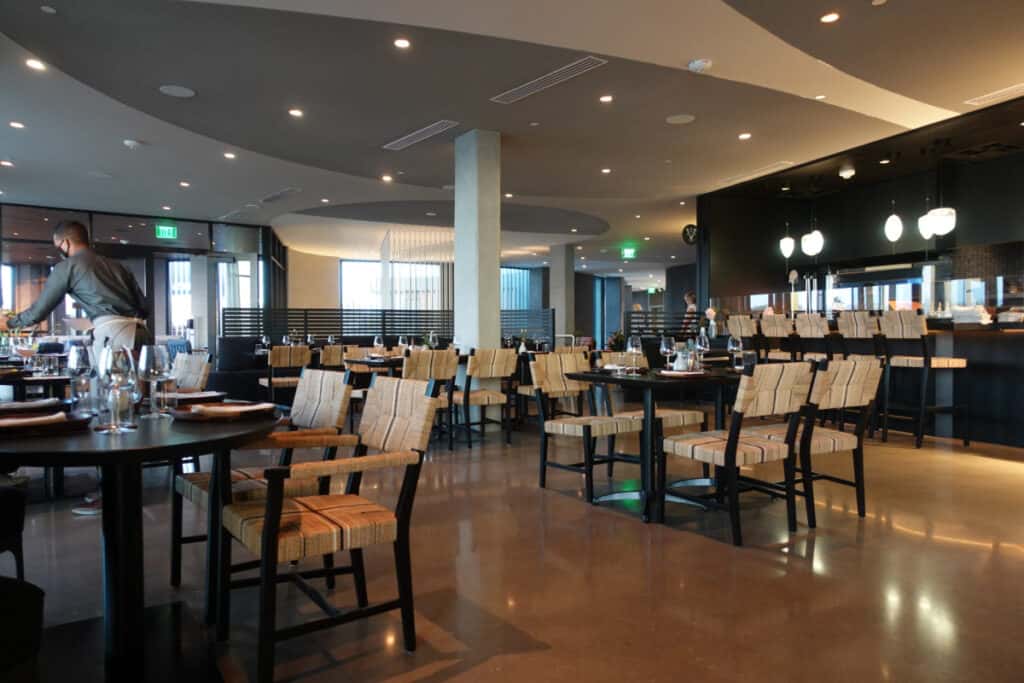 VAGA's Chef Claudette Zepeda features a menu that highlights sustainable and locally grown ingredients.
The restaurant is open daily for brunch from 7 am to 3 pm and for dinner every night from 5 pm to 9 pm. The bar & lounge open daily from 3 pm to 5 pm. You can order cocktails during brunch. 😉
You can dine inside or outside.
Pro-tip: The best seats are at The Perch, the Bar, and the farthest east table on the fake lawn.
As a Globalist, you can order any entrée, side, and non-alcoholic beverage from the brunch menu. This includes the VAGA burger and the Sea Bass.
We ate at VAGA several times. Instead of haute cuisine minuscule portions, you get normal-sized portions. You can read my review of VAGA Restaurant.
Spa Alila
Spa Alila, on the ground floor past the reception desk, is open.
Fitness Center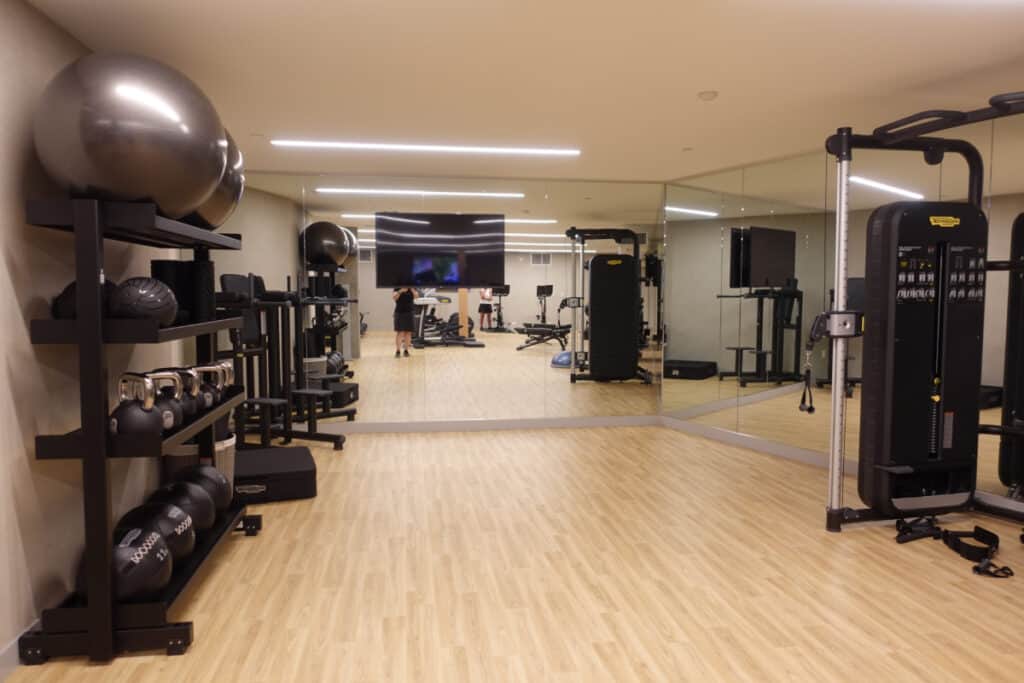 The fitness center is open 24 hours. For a smaller hotel, it's very well equipped with free weights, kettlebells, machines, treadmills, stair steppers, a rowing machine, and two Peleton bikes.
Use Points or Pay Cash
A free night at the Alila Marea Beach Resort costs 25,000 points. Hyatt points are easy to earn with cards like the World of Hyatt card, Chase Sapphire Preferred, and Ink Business Preferred.
Alila Marea Beach Resort
2100 N Coast Highway 101
Encinitas, CA
760-776-1234
Check rates & reviews: Expedia
Conclusion
Alila Marea Beach Resort overlooks Ponto State Beach. The luxury boutique beachfront resort is one of three Alila resorts in the United States.
The resort offers an intimate experience suitable to guests of all ages.
Based on my Alila Marea Beach Resort review, would you stay at this hotel?
Comment, tweet, or share this post.
Get the best credit card signup bonuses.
Follow us on Twitter | Facebook | Pinterest | Instagram | YouTube
Got a question? Or want help, suggestions, travel tips, learn how to travel for free, find out about travel deals, and maximize your miles and points? Use the subscription box below to sign-up and get post updates by email.
Traveling Well For Less has partnered with CardRatings for our coverage of credit card products. Traveling Well For Less and CardRatings may receive a commission from card issuers.
---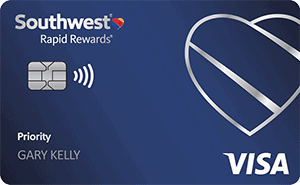 T
Southwest Rapid Rewards Priority Card's
newest signup bonus can get you up to 2 years of free flights!
 The
welcome offer is 100,000 points:
50,000 points after spending $2,000 in the first three months; another 50,000 points after spending a total of $12,000 in the first 12 months.
My favorite perks about this card are earning 3X points on Southwest purchases, 2X points on internet, cable, phone, streaming, ride share, and Rapid Rewards hotel and car rental partners, $75 yearly travel credit, 4 upgraded boardings each year, and no foreign transaction fees.
---
You can also get the 100,000 bonus
on the
---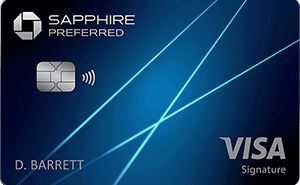 The Chase Sapphire Preferred
is the best card for beginning travel hackers.
It is the first card you should get to start traveling for free because the
welcome offer is 60,000 points
after spending $4,000 in the first three months.
My favorite perks about this card are earning 5X points on travel when booked through the Chase portal (2X if direct purchase), 3X points on dining , $50 yearly credit on hotels booked through the Chase portal, no foreign transaction fees, and transferring points to 13 airline and hotel partners like Hyatt, United, and Southwest.
---
---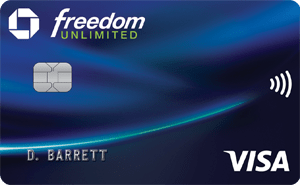 The
Chase Freedom Unlimited
is one of my favorite cards for earning cash back card and travel rewards.
 It offers a
welcome offer of $200
after spending $500 in the first three months.
My favorite perks about this card are earning
5% cash back at grocery stores the first 12 months (up to $12k)
,
unlimited 1.5% cash back on all purchases
and
no annual fee
. When paired with cards like the
Chase Sapphire Reserve
, you can use your points to travel for free.
Monday 12th of April 2021
This is one place where I honestly would not know which room to pick. All of them seem to have an amazing view - kind of giving you a FOMO - missing out on the others. The hot tub sounds amazing. And your tips on the best seating for meals are invaluable. I love the way you have made it affordable by tips on what card and points to use.
Saturday 10th of April 2021
I always love the rooms with a view, esp. mountain views and sea views. Interiors decated with beach photos & blown glass art? Wow! That's perfect. The grand view suite is just exquisite, with that humongous balcony. Good to know the pool is a family pool. Sometimes it is disheartening when I check into hotels and then discover their pool is adults only.
Saturday 10th of April 2021
I like how they built special views for each room. Even if you can't get a room with an ocean view, I believe the garden and the coastline views are not less special as the ocean ones. I can imagine people keep ordering drinks to keep lazing around the pool. Hehe..
Saturday 10th of April 2021
This location sounds perfect. I love the terraces off the rooms and the firepits are a bonus. The beach concierge service is brilliant and having surfboards and electric bikes available is quite convenient. Great tip to park for free at the Carlsbad or Encinitas train station
I love Alila properties because they have awesome customer service. Also usually are located in amazing spots in major areas and have beautiful architecture and this one seems like no exception. It has so many cafe/food options! And it is so cool they give you a bike option to go around. Would love to stay here when I visit San Diego!